Seasoned fresh lump crab meat, formed into patties, breaded and pan fried, then drizzled with a white wine and garlic butter sauce over pasta. That's a yummi meatless dinner for sure!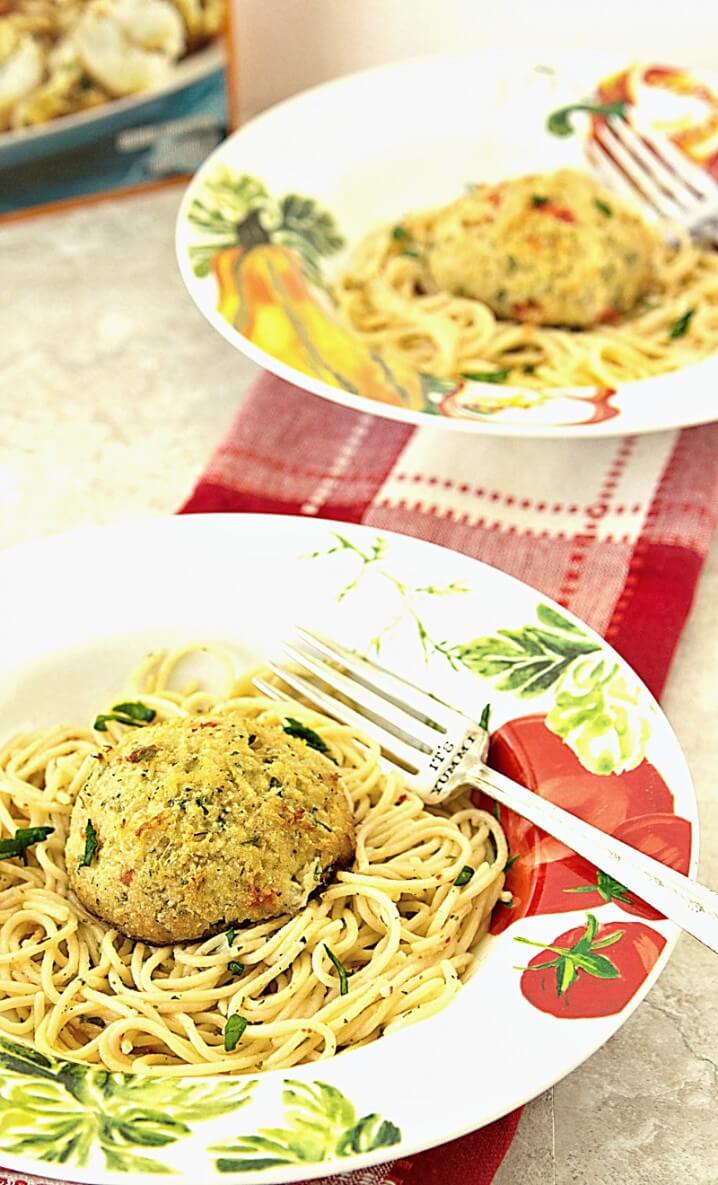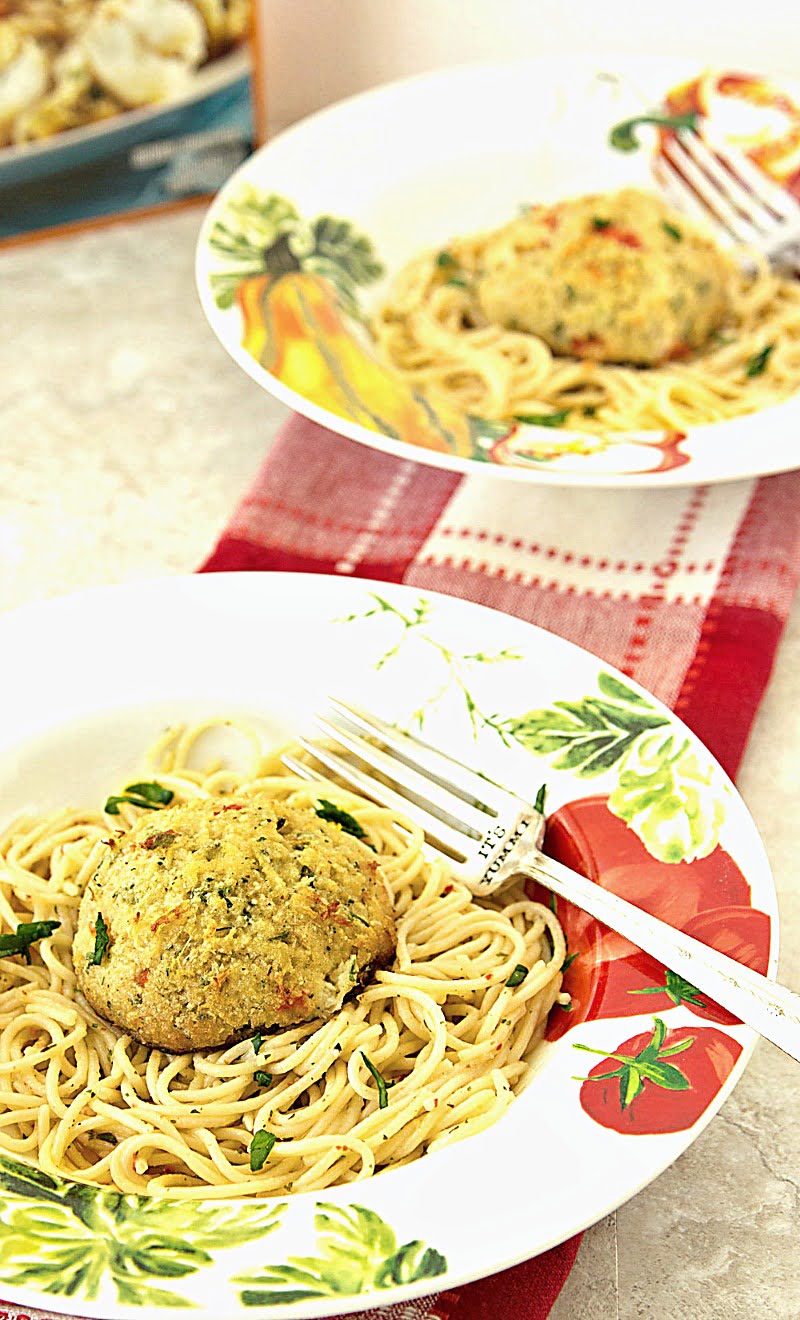 This crab cake scampi recipe was made as part of a compensated shop by Collective Bias, Inc. and its advertiser. All opinions are mine alone. #SamsClubSeafood #CollectiveBias
Brian and I enjoy fresh fish and premium seafood all year long, but most especially during the season of Lent, when we're trying to reduce our intake of meat.
Shrimp, crab, and scallops are our favorites. Since Brian loves my shrimp scampi recipe I really wanted to try making a crab cake scampi recipe this year.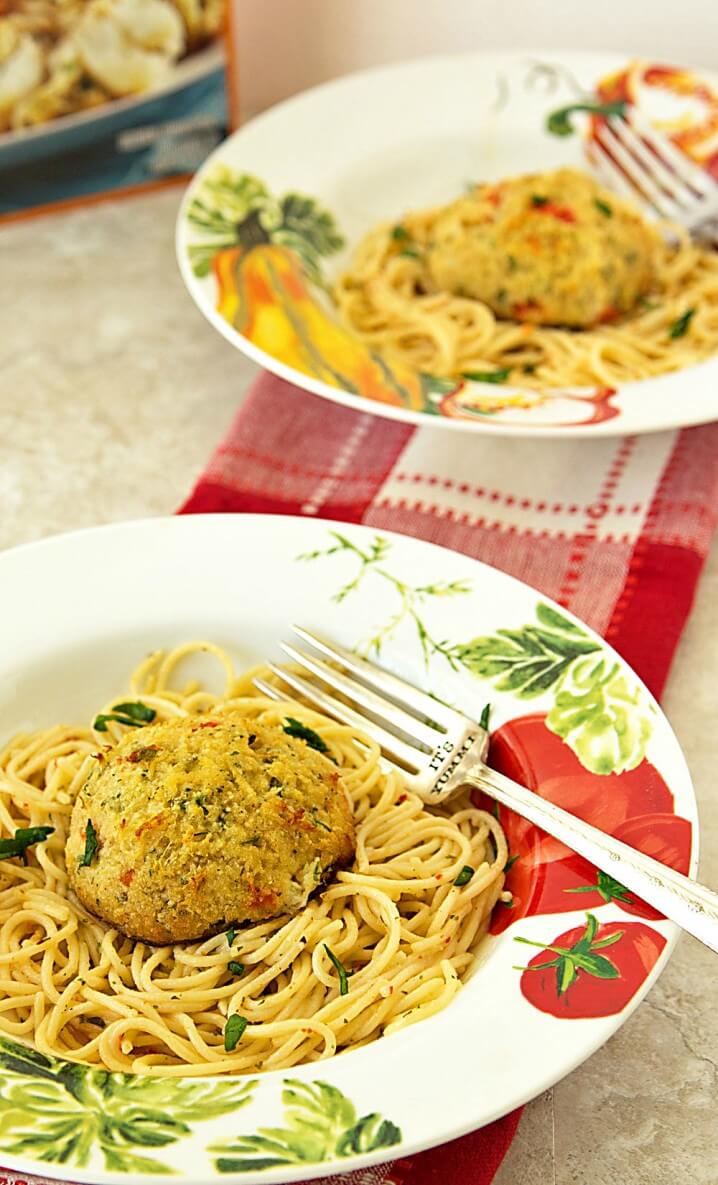 The biggest challenge in that regard is finding fresh seafood in Wisconsin. There's plenty of fresh Lake Michigan fish available, but our favorite seafood usually has to be shipped to Wisconsin from the east and west coast, and that means it's expensive.
It's a huge stretch on our grocery budget, so we don't do it very often, but it's nice to treat ourselves to a nice meal during the holidays, so I was prepared to shell out some extra money for good quality lump crab meat to make this crab cake scampi recipe. The great news is that, thanks to Sam's Club, I didn't have to!
I love shopping at Sam's Club, and I can always find good deals on fresh and frozen fish there, but until my most recent trip, I hadn't thought to look for frozen crab in the frozen food section. Look what I found, though!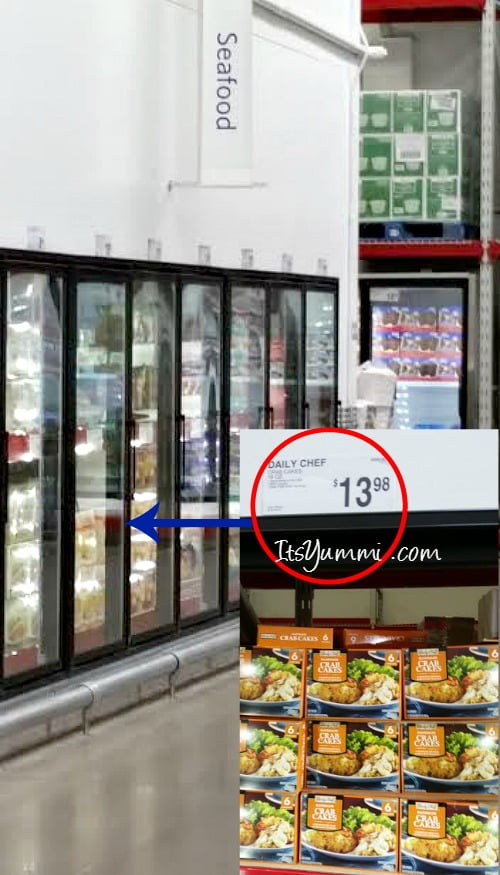 Omgosh, 6 Daily Chef™ Handmade Crab Cakes for $13,98… that's $2.30 each. I was so excited! Then I checked out the ingredient list and learned that they're made with sustainably harvested jumbo lump crab. A frugal and sustainable dinner for the big win! Plus, with 6 generously sized cakes in the box, Brian and I would be able to enjoy these for 3 meals during Lent.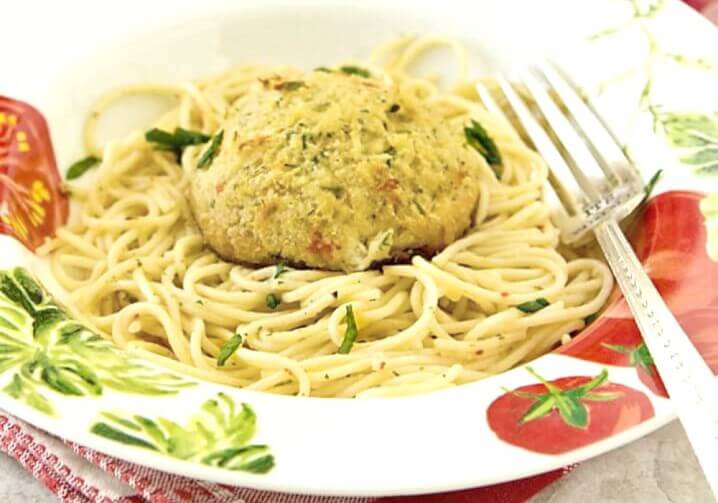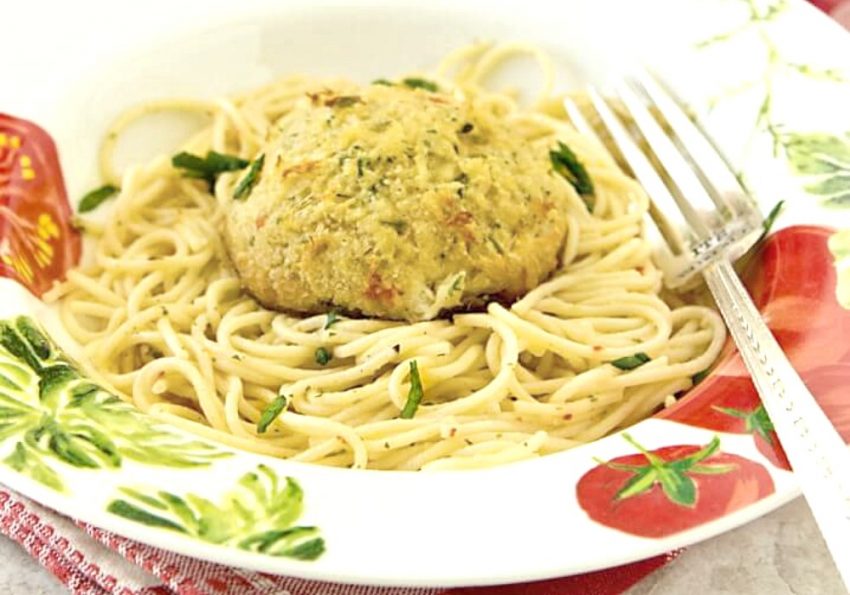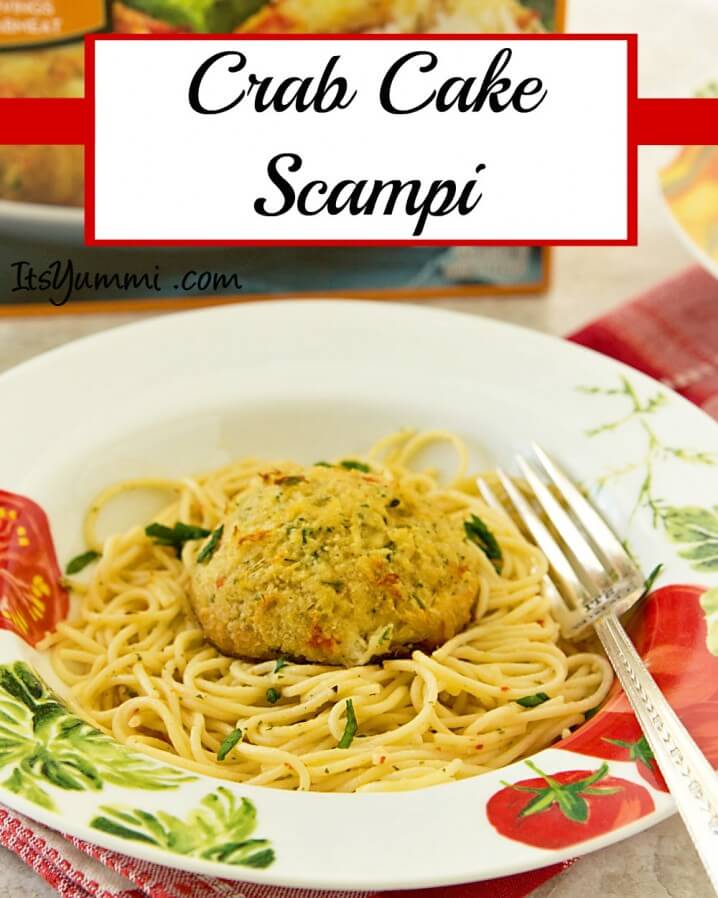 Before I left Sam's Club, I took a swing over to the dairy aisle for some butter, then I picked up a bottle of white wine and the dry pasta that I would need to make this dish.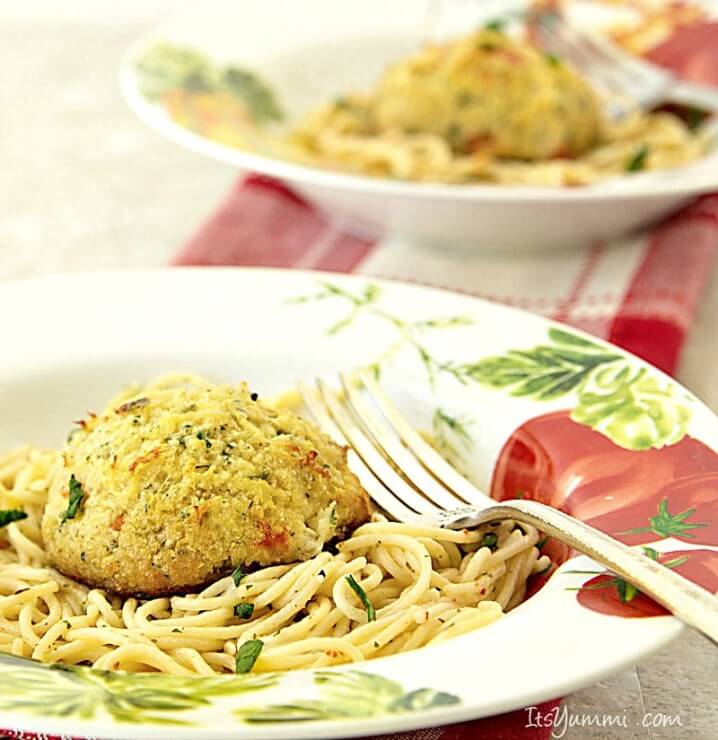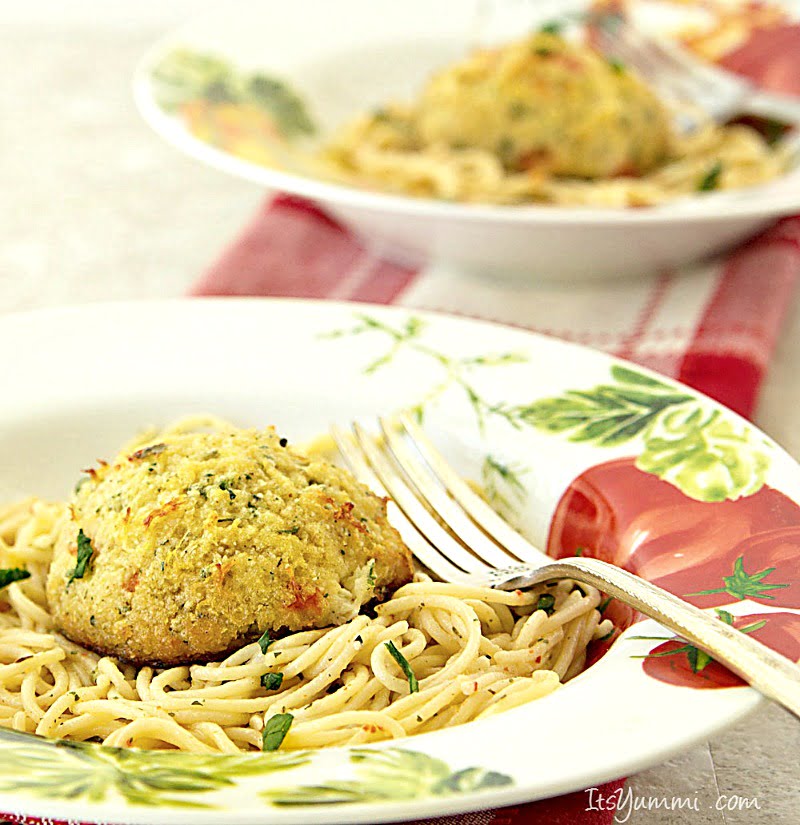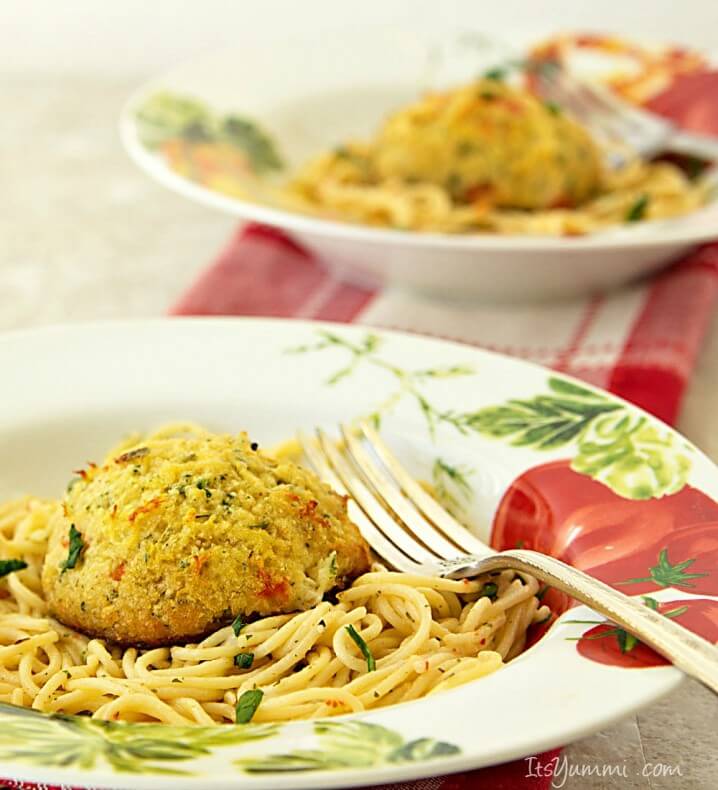 Oh, and don't forget the warm bread to serve with this scampi recipe! I recommend a batch of my easy, cheesy ranch biscuits or cheddar herb rolls. They both go perfectly with this scampi!
I have to admit, there's really not much that makes me happier than preparing my family a fresh, delicious dinner, and when it's easy, affordable, 5 ingredients, and it cooks up in 25 minutes, there's just no way that I can resist shouting, it's yummi!
Are you eating meatless meals for the season of Lent? Do you have any special holiday traditions? If so, I'd love for you to let me know what you're eating and what your family's traditions for Lent and Easter are!
OK, enough chit chat… grab your apron and let's cook!
I hope you enjoy this scampi recipe!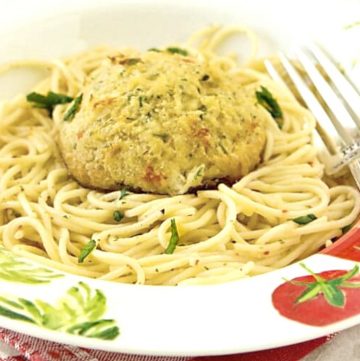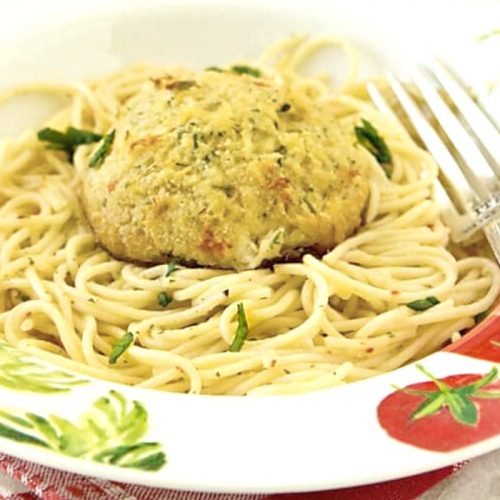 Crab Cake Scampi Recipe
Fresh, handmade crab cakes are served over pasta with a white wine and garlic butter sauce. Just 5 ingredients and 25 minutes to a yummi, meatless dinner. Serves 6
Ingredients
1

pound

dry thin spaghetti or other pasta of your choice

6

frozen

Daily Chef™ Handmade Crab Cakes

2

Tablespoons

unsalted butter

2

teaspoons

minced garlic

2

ounces

(1/4 liquid cup) dry white wine

Optional garnishes: fresh lemon wedges

fresh flat leaf parsley, finely chopped
Instructions
Heat oven to 400 degrees F.

Place crab cakes on a baking pan and cook in oven for 20-22 minutes, or until heated through.

While crab cakes are cooking, cook pasta to al dente per package instructions. When 10 minutes of cook time remains, prepare the scampi sauce.

Scampi sauce

Melt butter in a medium saute pan over medium heat. When butter has melted and foam has subsided, add garlic and saute for 2 minutes, or until garlic has softened and is aromatic.

Add white wine and turn to temperature to high, causing wine to boil. Allow to cook for about 30 seconds, until sauce has thickened slightly. Turn heat to low to keep warm while you drain the pasta and remove the crab cakes from the oven.

Toss drained pasta with scampi sauce, reserving a small amount for drizzling over the crab cakes, if desired. Serve cakes over pasta and garnish with lemon and parsley, if desired.
Nutrition
Calories:
483
kcal
Carbohydrates:
62
g
Protein:
21
g
Fat:
15
g
Saturated Fat:
5
g
Cholesterol:
92
mg
Sodium:
497
mg
Fiber:
3
g
Sugar:
2
g