Beach Cupcakes + Video Tutorial
Beach cupcakes are a fun and easy summer-themed dessert. In my opinion, the best cupcakes recipe to make for any summer party or to cheer you up in the middle of a cold winter!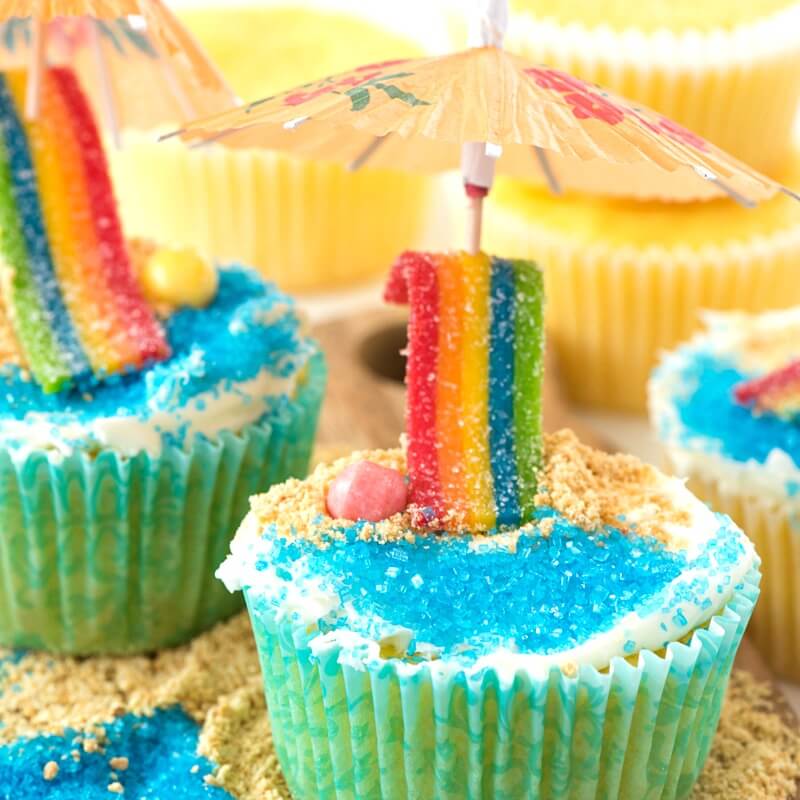 I still can't get over the unusually warm March we're having here in northeastern Wisconsin. It's been absolutely GORGEOUS! I keep thinking that because March came in like a lamb that there may be a late spring ice storm brewing up, but for now, I'm going to enjoy the sunshine. Enough so that I want to do some summer dreaming…making these beach cupcakes!
Apparently, I'm not the only one who is lovin' the sunshine. A friend of mine requested summer-themed treats for a business meeting and I was oh, so happy to oblige. With creative license, I created a day at the beach…in cupcake form!
Beach cupcakes are one of the best cupcake ideas for a fun summer party, don't you think so?
Beach Cupcakes Recipe Video
Check out this quick video tutorial to see how easy these cupcakes are to make! There's a printable recipe at the bottom of this post.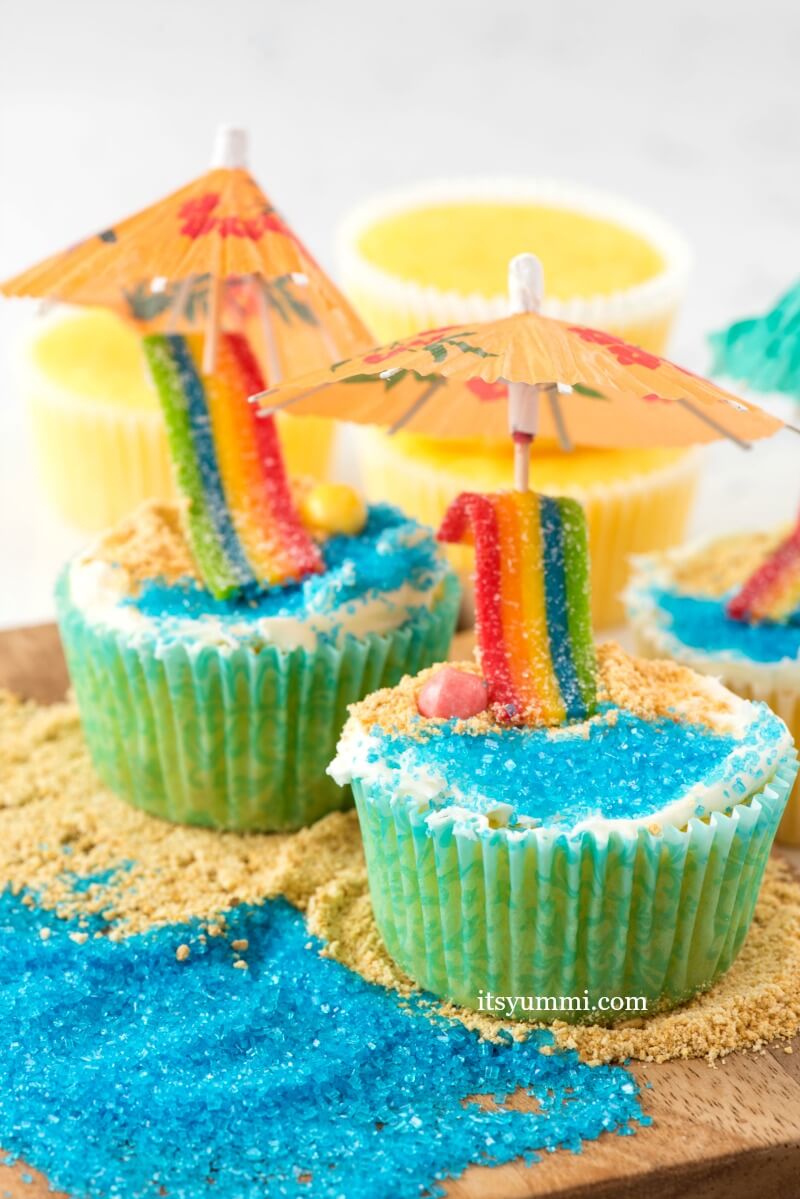 Do you think these beach cupcakes look a big ol' beach party waiting to happen?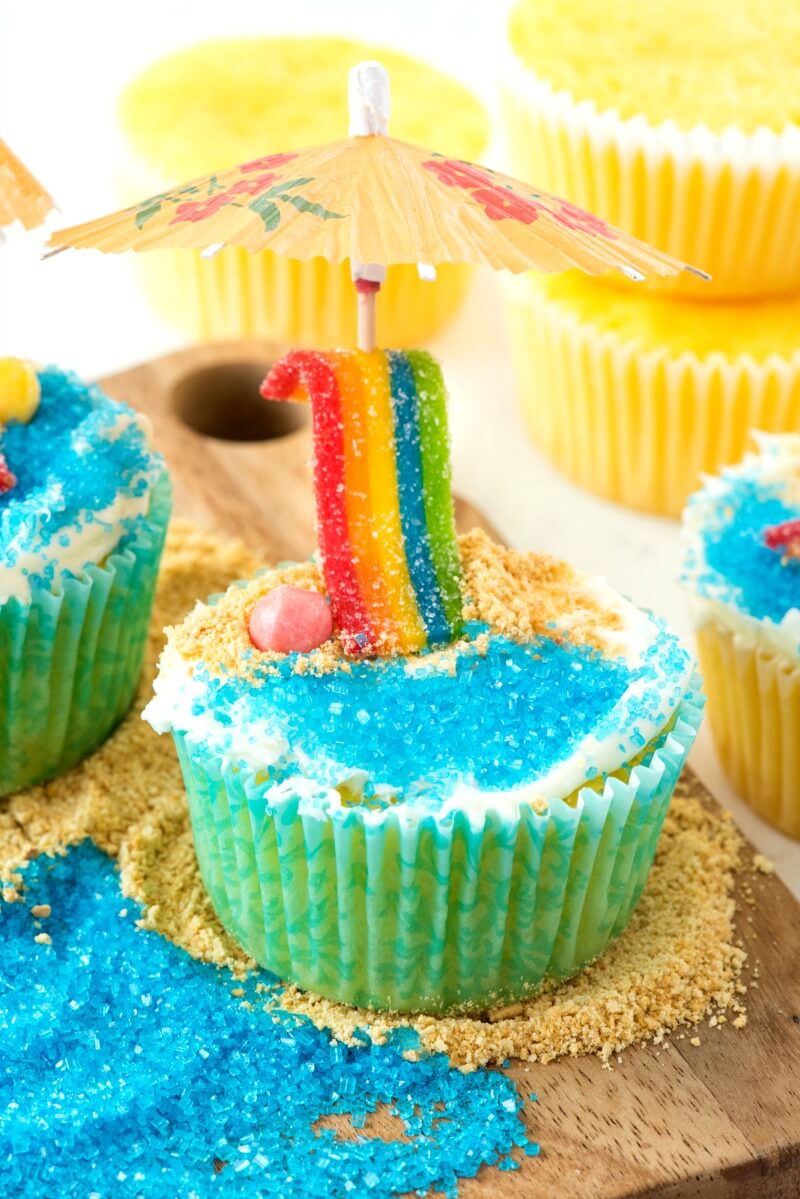 I hope you have a chance to make them, too. If you do, please share your photos with me!
How to Make Beach Cupcakes
For cupcakes from scratch, feel free to use any good lemon cupcakes recipe. If not, even a boxed lemon cupcake mix works great.
Next, add 1/2 teaspoon of lemon extract to the batter. I like my lemon cupcakes to have an extra burst of lemon flavor, and that's exactly what the extract helps with.
Bake and cool the cupcakes according to the recipe or box directions.
After the cupcakes are at room temperature, spread a thin layer of frosting over the top of each one. I use my friend Stef's recipe for vanilla buttercream frosting.
For the sand, use crushed Meyer lemon cookies. You can find them at Trader Joes, or on Amazon. More lemon….more love. Oh yeah…
Make the ocean with blue colored sugar. Spoon them on so that they won't mix in with the "sand" too much. Then, use the back of that spoon to press the sugar into the frosting a bit.
For the beach ball, I use Sixlet candies. I was going to use gumballs, but they were all so large that opted for something a bit smaller. Use whatever little round candies you enjoy or have on hand.
Making the beach chair was a challenge for me, but it won't be for you!
I looked everywhere for Fruit Stripe gum, but apparently, it can only be found at old time novelty candy stores, and I didn't have time to order it online.
So, I put on my detective cap and bolted for the dollar store to pour over the candy collection.
That's where I found sour candy strips. Thinking they would be flexible, like a stick of gum, I shaped one to look like a beach chair, but it snapped right out of shape.
Even royal icing isn't strong enough to hold the candy in place, but a toothpick works great!!
Poke the toothpick end of a cocktail umbrella through the candy strips to hold them into place. PERFECT!