I still can't get over the unusually warm March we're having here in northeastern Wisconsin.  It's been absolutely GORGEOUS!  I keep thinking that because March came in like a lamb that there may be a late spring ice storm brewing up, but for now, I'm going to enjoy the sunshine. Enough so that I want to do some summer dreaming…with a day at the beach cupcakes!
Apparently, I'm not the only one who is lovin' the sunshine.  A customer of mine ordered up some summer-themed treats for a business meeting and I was oh so happy to oblige.  She gave me creative license, so I decided to give them a day at the beach…in cupcake form!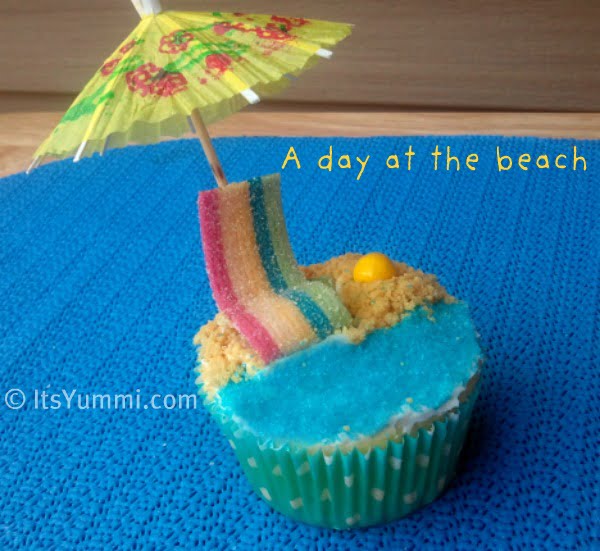 I made my favorite white cupcake batter (even a box mix would be great if you're in a hurry), then I added 3 packets of True Lemon Raspberry Lemonade mix to the batter, along with a 1/2 teaspoon of lemon extract.  I wanted the cupcakes to have an extra burst of lemon flavor, and that's exactly what the extract helped with.
After the cupcakes had cooled, I spread a thin layer of frosting over the top of each one.  I made a simple vanilla buttercream recipe, using the tried and true Wilton recipe that you can find HERE
For the sand, I used crushed lemon meyer cookies that I picked up from Trader Joes.  More lemon….more love.  Oh yeahhhh…
The ocean was made with blue sugar sprinkles.  I spooned them on so that they wouldn't get into the "sand" too much, then I used the back of the spoon to press the sugar into the frosting  a bit.
For the beach ball, I used Sixlet candies.  I thought about using a gumball, but I wanted something that wasn't quite so big.
The beach chair was my biggest challenge.  I looked EVERYWHERE for Fruit Stripe gum, but apparently, it can only be found at old time novelty candy stores, and I didn't have time to order any online.  No worries…I put on my detective cap and head down to the party store to pour over the candy collection.  I found some sour candy strips that were the perfect colors.  I was all excited, thinking that they would bend like  a stick of gum.  WRONG!  I shaped them and BOIIIIINGGG…. they would snap right out of shape.  I tried holding them into shape with royal icing, but it wasn't strong enough to hold, so I ended up poking the beach umbrella through the chair to hold it into place.  PERFECT!
I boxed them up and it looked like a big ol' beach party!  I hope you'll try making these Day at the Beach cupcakes, too.  If you do, please share your photos with me!