Grilled Chicken Bacon Onion Panini Sandwich
Grilled chicken, onions, bacon, and spinach are tucked between two slices of hearty bread, then grilled on a panini press. Deliciousness!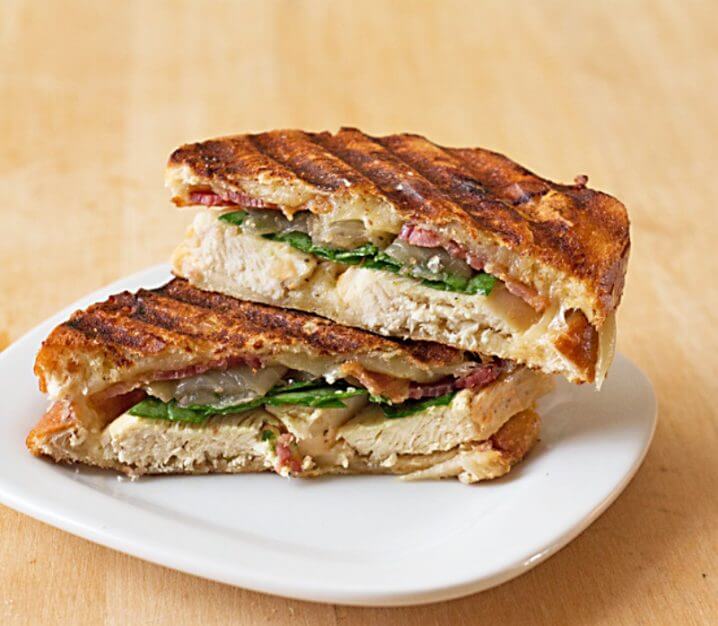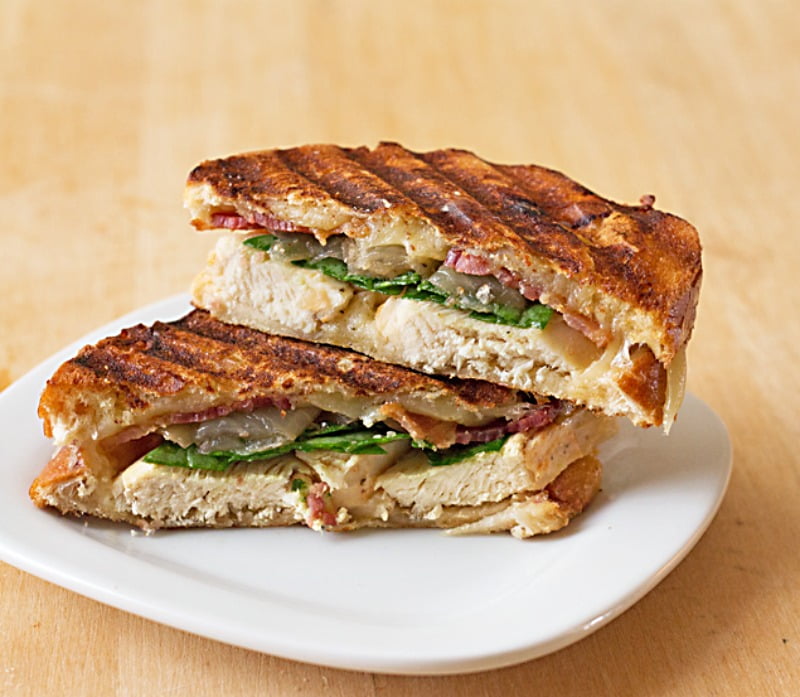 This panini sandwich recipe is part of social shopper amplification for Collective Bias and their advertiser. I was compensated for this post, but all thoughts and opinions are my own.
Friends, this grilled chicken sandwich is one to love!
I think simple seasonings like butter and sea salt can be the best flavor enhancers when it comes to creating tasty dinner recipes, but they aren't the healthiest of ingredients.
Butter is loaded with calories and cholesterol, and too much salt can cause high blood pressure. So some people are required to find suitable substitutes for those ingredients.
I think both are perfectly fine in moderation, but I'm a bit of a butter glutton. Can you imagine eating a slice of warm, homemade bread without butter on it? Or a dish of eggs Bemedict without the Benedict? To be honest, I get a bit woozy thinking about it.
The reality is that my dad died of heart disease before the age of 50, so I really need to monitor my cholesterol. Even if you don't have a history of heart problems, high cholesterol and hardened arteries can appear suddenly, so it's important to think about preventative measures.
What's a butter lover to do? Well, as I played around and tested different alternatives, I found that olive oil is an awesome and tasty substitute for butter.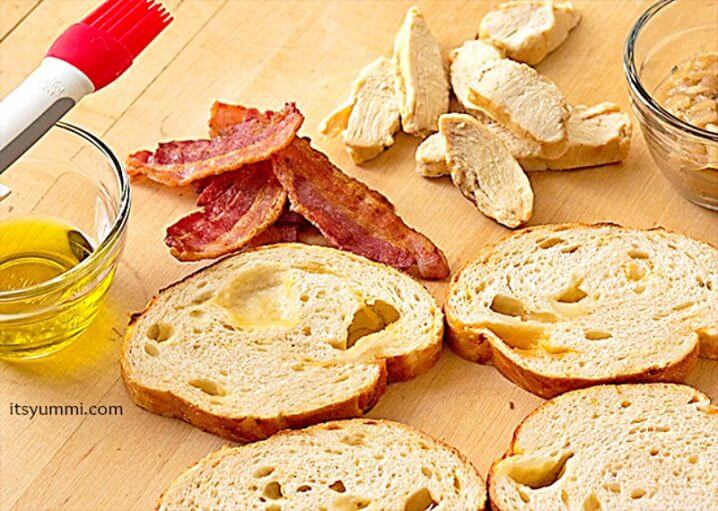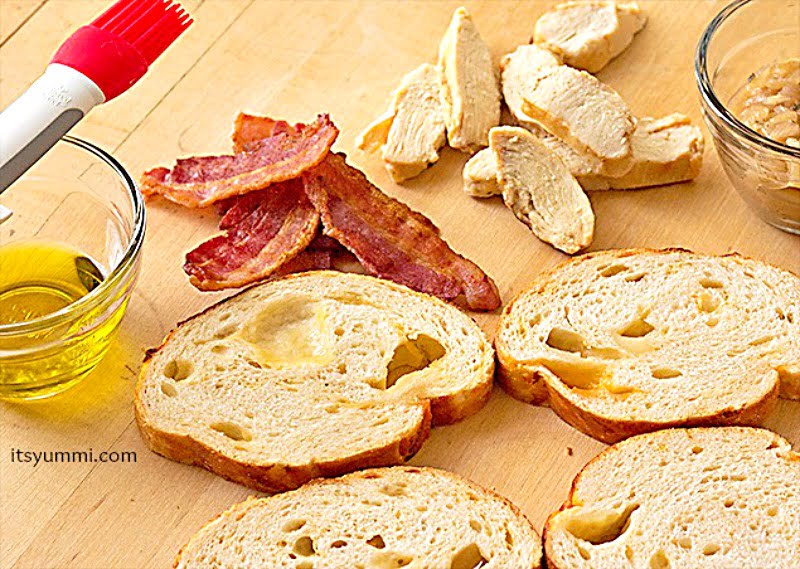 FOOD FACTS – OLIVE OIL
Olives are a fruit, and olive oil is a fruit juice derived from pressing or mashing the olives.
Olive oil contains only 33% saturated fat, while butter is composed of 66% saturated fat.
Olive oil has no cholesterol, while a serving of butter has 33mg of cholesterol.
Are all olive oils the same? Not at all!
Olive oil comes in 4 varieties: virgin, extra virgin, pure and light. Virgin means that no chemicals were used in the process of extracting the oil from the fruit. Extra virgin means that the olive oil has undergone several tests to confirm its taste and to verify that it's free of defects. Light olive oil is a blend of pomace olive oil, which is olive oil that's been extracted from the fruit using heat and chemicals.
It's a healthier form of fat , so I use olive oil regularly, and I'm content with that decision.
However, Star created a butter flavored olive oil! If I can have healthy olive oil with the taste of butter, I think I may be able to have the best of both worlds.
I bought some at Walmart and was excited to create a recipe with it.
For a simple taste test, it would've been easy to drizzle some over potatoes before roasting, or to toss some fresh veggies with it, but I really wanted to test the buttery flavor out on something that I typically use butter with.
So, I decided to make a grilled chicken panini.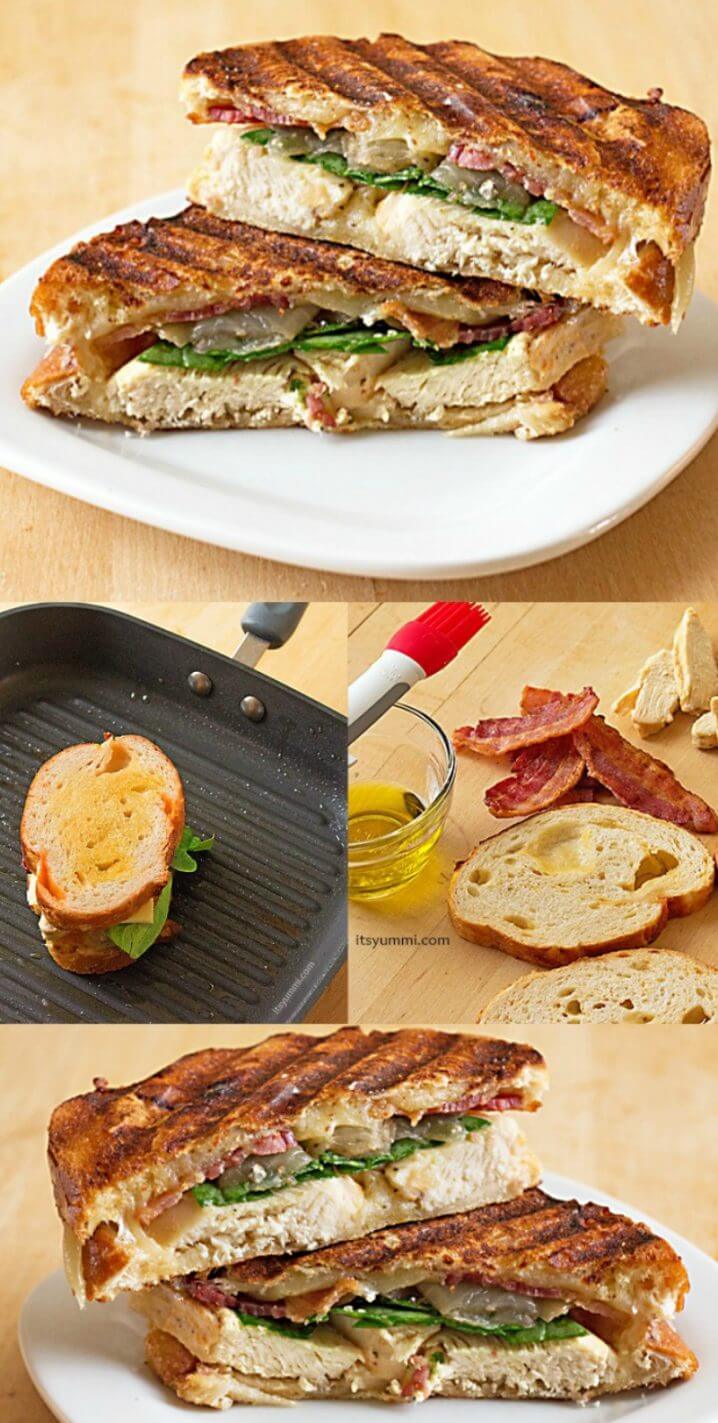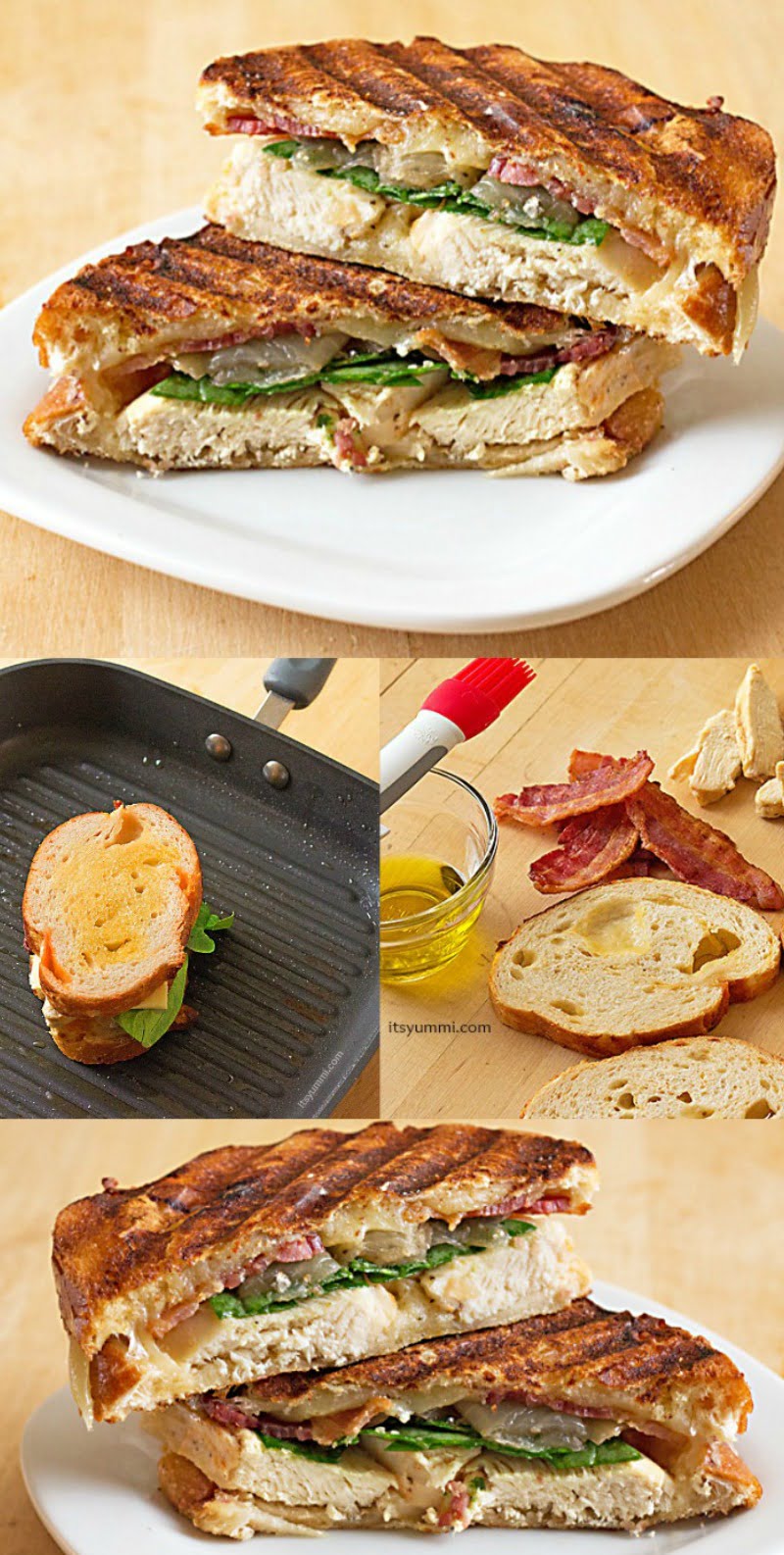 Grilled sandwiches must be perfectly crispy on the outside to taste their best. So, I used olive oil on the bread instead of butter. On the inside: Caramelized onions, baby spinach, crisp bacon, aged cheddar cheese, and grilled chicken.
Fresh chicken breast and Star olive oil in my Costco shopping cart. Check. "But the frozen foods section has precooked, Tyson grilled chicken strips", I thought. I use it often in recipes like mushroom chicken bourguignon, and it's in this recipe, too.
Precooked chicken means less prep and less cooking time for this grilled chicken sandwich, plus it's delicious. It's a win-win.
If you don't have a panini press, you can use a grill pan or a heavy cast iron skillet.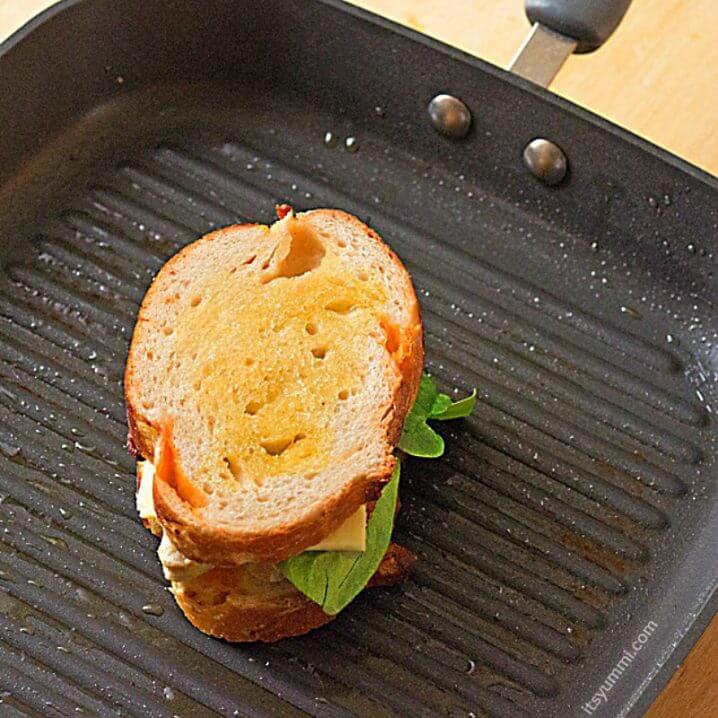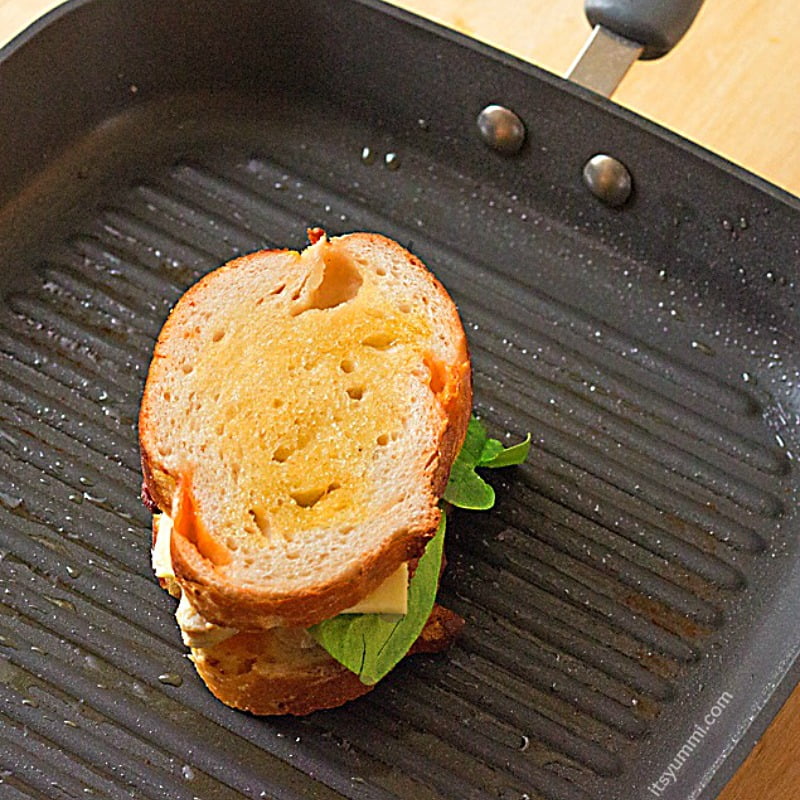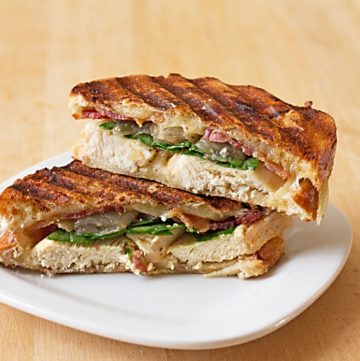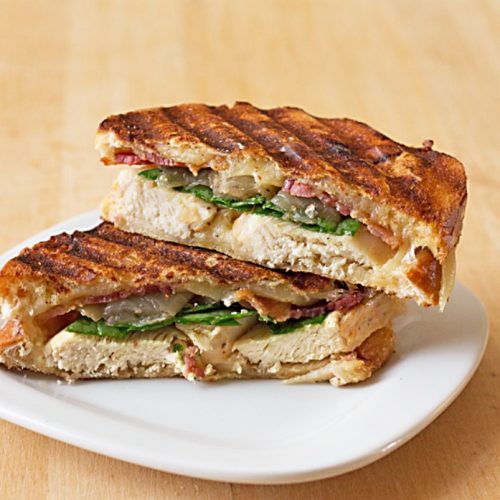 Cheesy Grilled Chicken Bacon Panini
Tender grilled chicken, crisp bacon, caramelized onions, and cheese all tucked between two slices of sourdough bread. It doesn't get more delicious than this for lunch!
Ingredients
2

slices

of hearty bread (I used sourdough)

2

ounces

cooked chicken breast

thinly sliced

2

slices

cooked bacon

1

Tablespoon

butter flavored olive oil

divided

2

Tablespoons

caramelized or grilled onions

6

baby spinach leaves

1

ounce

cheese (your choice)
Instructions
Lightly grease inside of a panini press or pan with 2 teaspoons olive oil. Preheat panini press or pan while you assemble your sandwich. Use pastry brush to apply olive oil onto one side of both slices of bread. Onto the dry side of one slice, layer chicken, onions, bacon, spinach, and cheese. Top with remaining slice of bread, coated side up.

Place sandwich into panini press and close lid (or weigh it down in a pan). Grill for 2-3 minutes or until sandwich has compressed, bread is grilled, and cheese has melted.
Nutrition
Calories:
753
kcal
Carbohydrates:
32
g
Protein:
40
g
Fat:
51
g
Saturated Fat:
16
g
Cholesterol:
115
mg
Sodium:
952
mg
Fiber:
4
g
Sugar:
4
g