Creamy Tomato Soup with Grilled Cheese Croutons
Creamy tomato soup and a grilled cheese sandwich; Is there a better comfort food recipe? Usually not, but this creamy tomato soup is garnished with grilled cheese croutons, making it the best comfort food meal around!
Disclosure: This post is sponsored by Collective Bias, Inc. and its advertiser, Pick 'n Save. I was compensated, but as always, all thoughts and opinions are my own.
Is it cold in your part of the world right now? Dang, it's been a cold winter for the majority of the United States! It's 20 degrees below zero as I type this, and there's no relief from the cold in sight for at least another 6 weeks.
Comforting Creamy Tomato Soup
When a pile of blankets and mittens don't remove the shiver from my bones, I turn to warm comfort food for relief, and this warm, creamy homemade cream of tomato soup recipe fits the bill perfectly. Top it off with the perfect grilled cheese sandwich that's been turned into croutons, drink it with a mug of homemade hot cocoa, and I've just planted myself into comfort food heaven.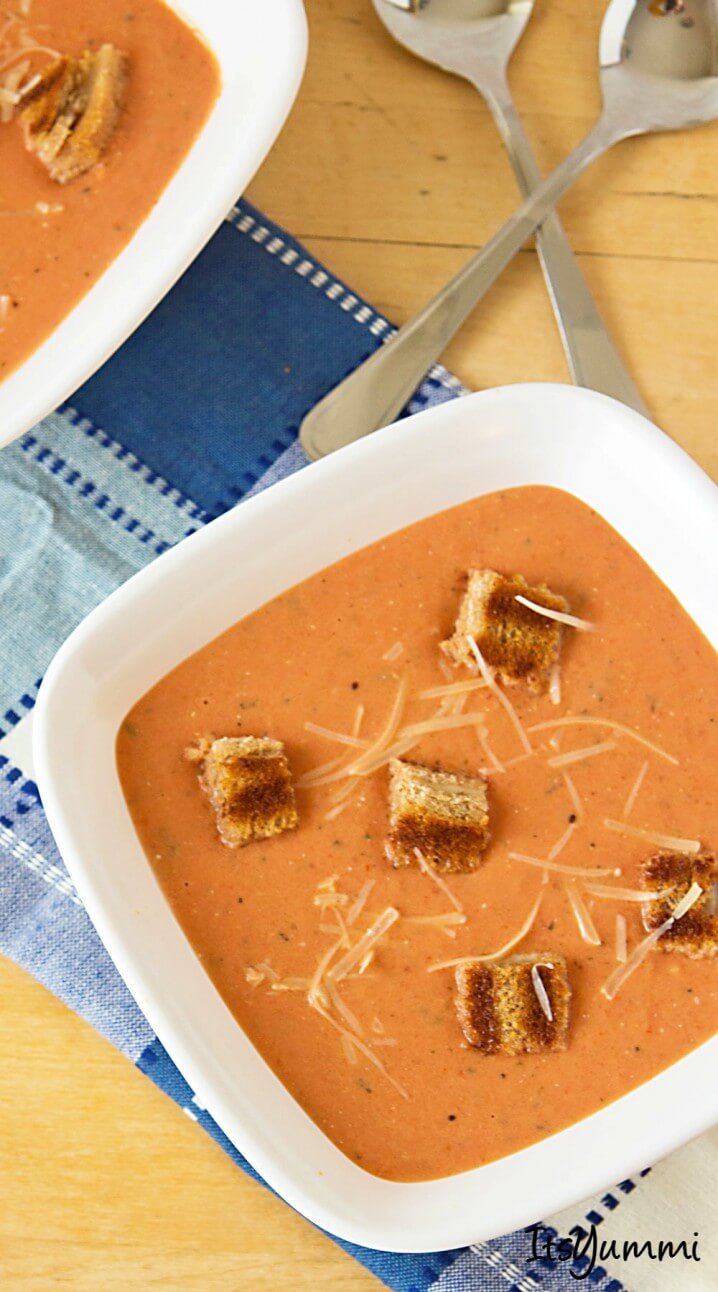 Better yet, all of the ingredients I needed to make my homemade cream of tomato soup were available at a Wisconsin grocery store located just a mile away from my apartment. Convenience! Pick 'n Save, I heart you.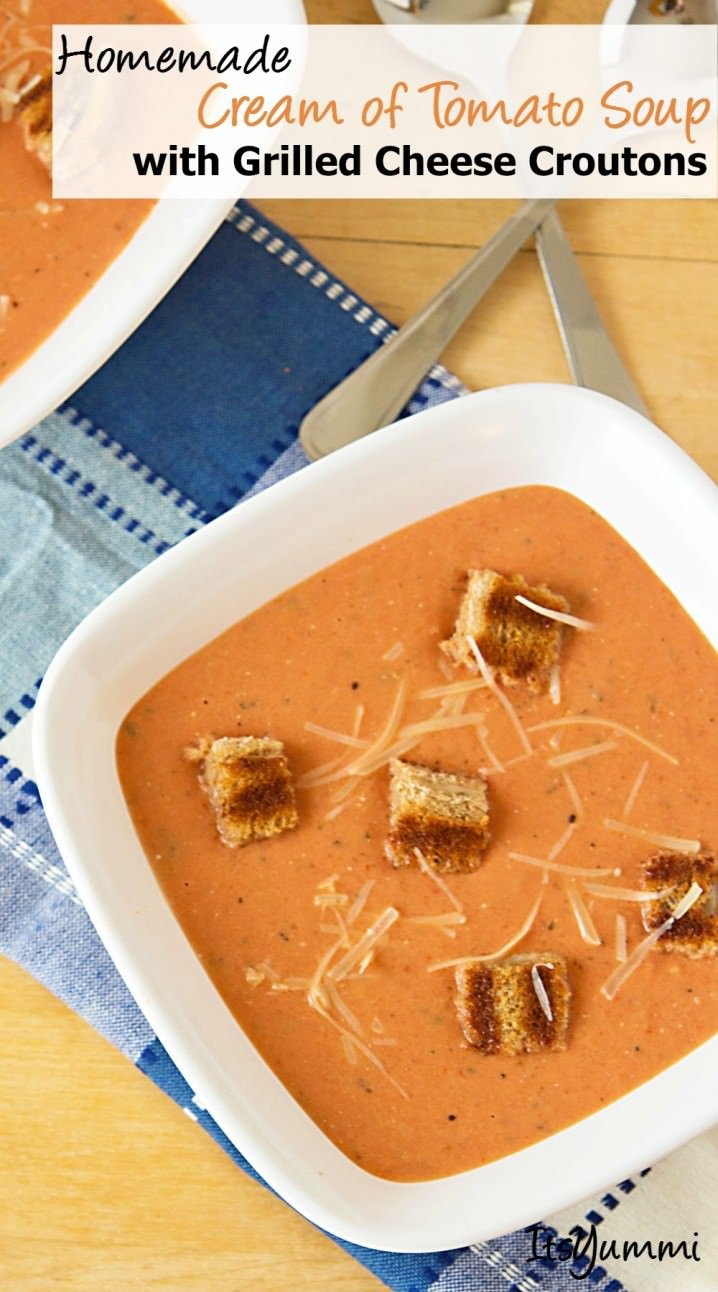 For the past 8 years, I've been making tomato soup when Brian's out of town on business or when I know he won't be home for dinner. He loves fresh and canned tomatoes, but he hates tomato soup, especially creamy tomato soup.
Yes, he's sometimes strange, but I love him nonetheless. I've learned that acceptance is the key to all of my problems today. 😉
On 99.9 percent of days, Brian is a culinary trooper. He'll try anything I conjure up in the kitchen.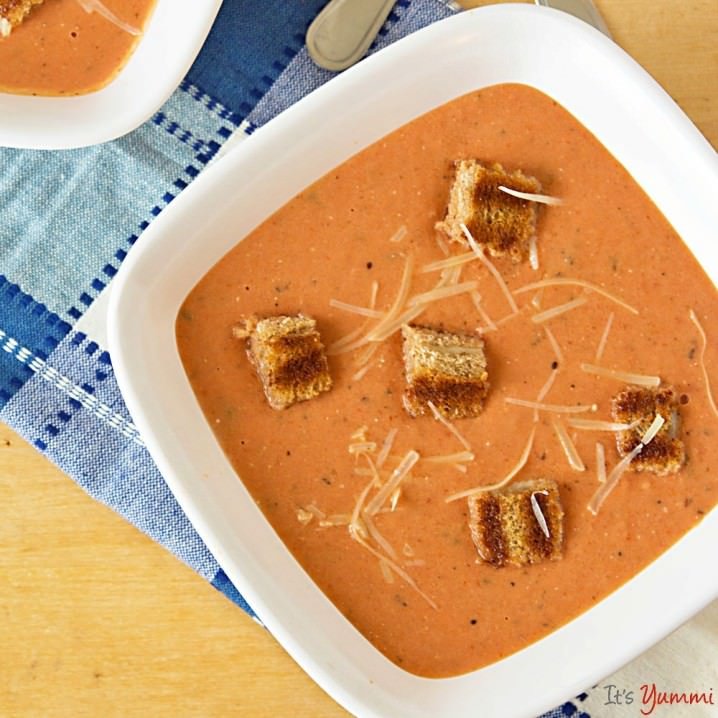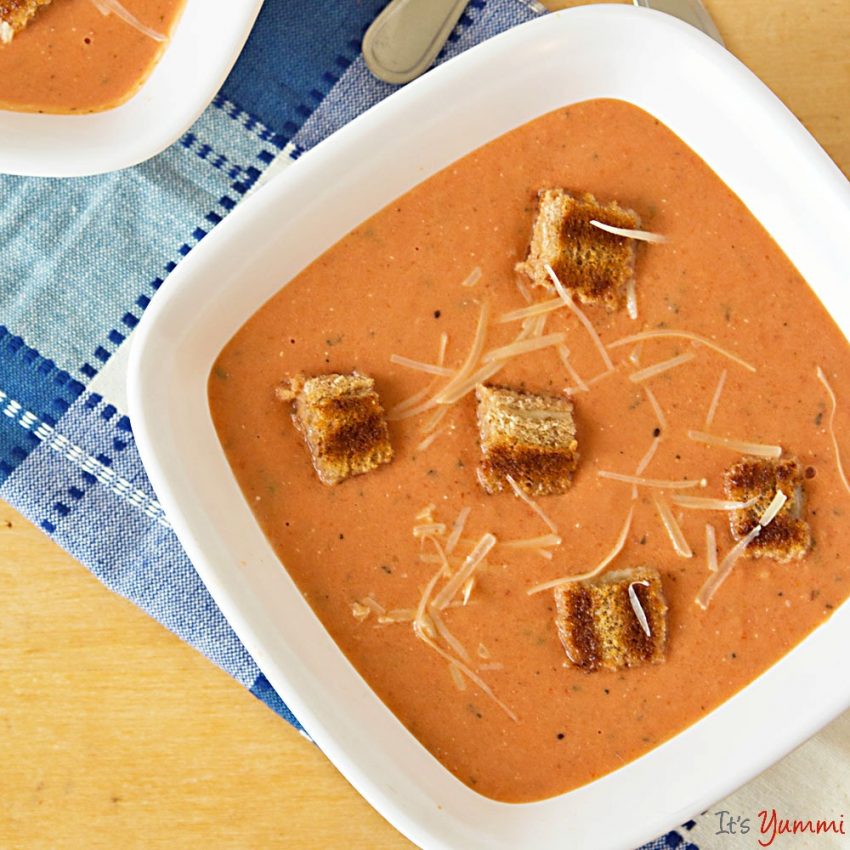 Considering Brian's disdain for tomato soup, I thought that this recipe would fall into the .01 percent category and that I'd end up eating it all by myself. Not that it would have been a horrible thing to be "forced" to eat an entire batch of my favorite soup, mind you. But I do need to keep my husband fed.
So I became a sneaky wife, making two minor adjustments to the soup… adjustments made for the sake of convenience, and for Brian's hungry stomach. I'm happy to report that my plan worked out perfectly.
Homemade Soup using Canned Tomatoes
I make the creamy tomato soup using canned tomatoes instead of breaking down and cooking fresh tomatoes. Brian and I both love the taste of Muir Glen organic tomatoes, so I felt like it would give me a leg up in the quick and easy meal department. Also in the convenience department, as it slashed two hours of cooking time, because I didn't have to cook down fresh tomatoes.
What else did I do? I added one of amazingly awesome grilled cheese sandwich into the soup. That's right. I said INTO the soup.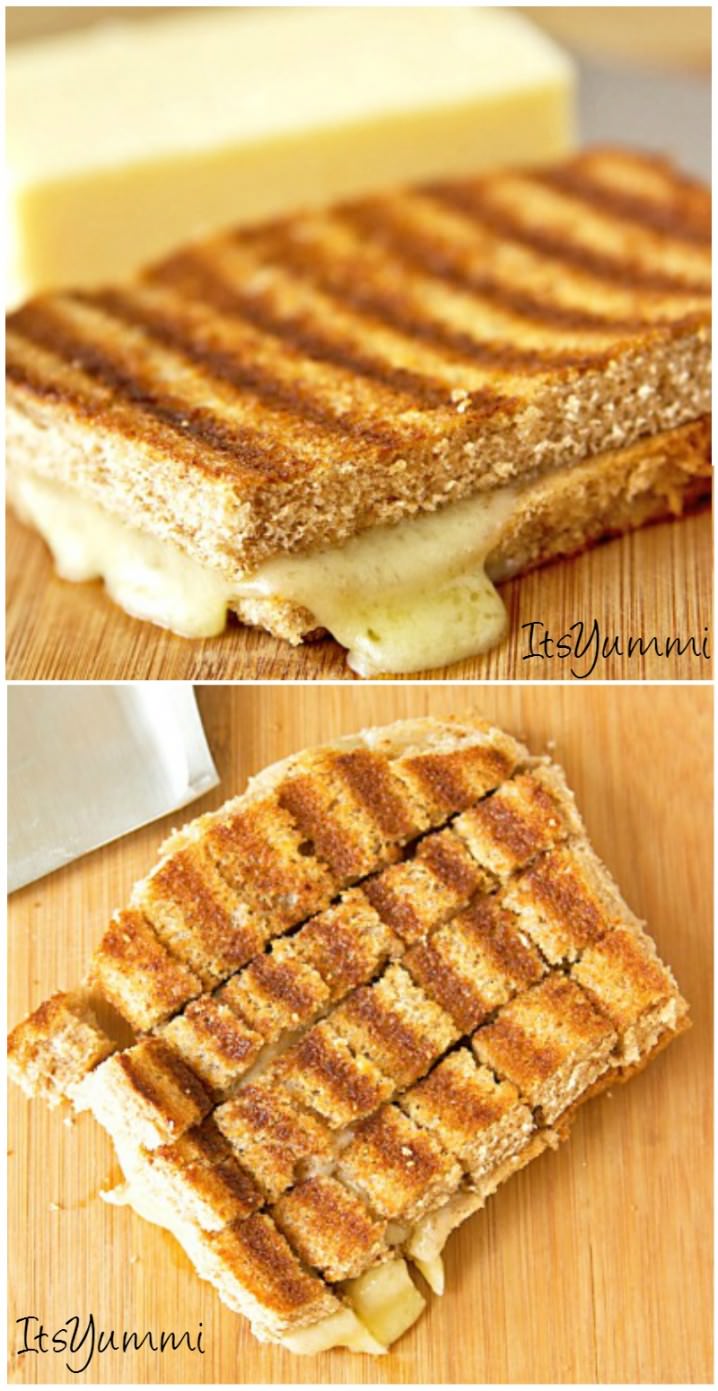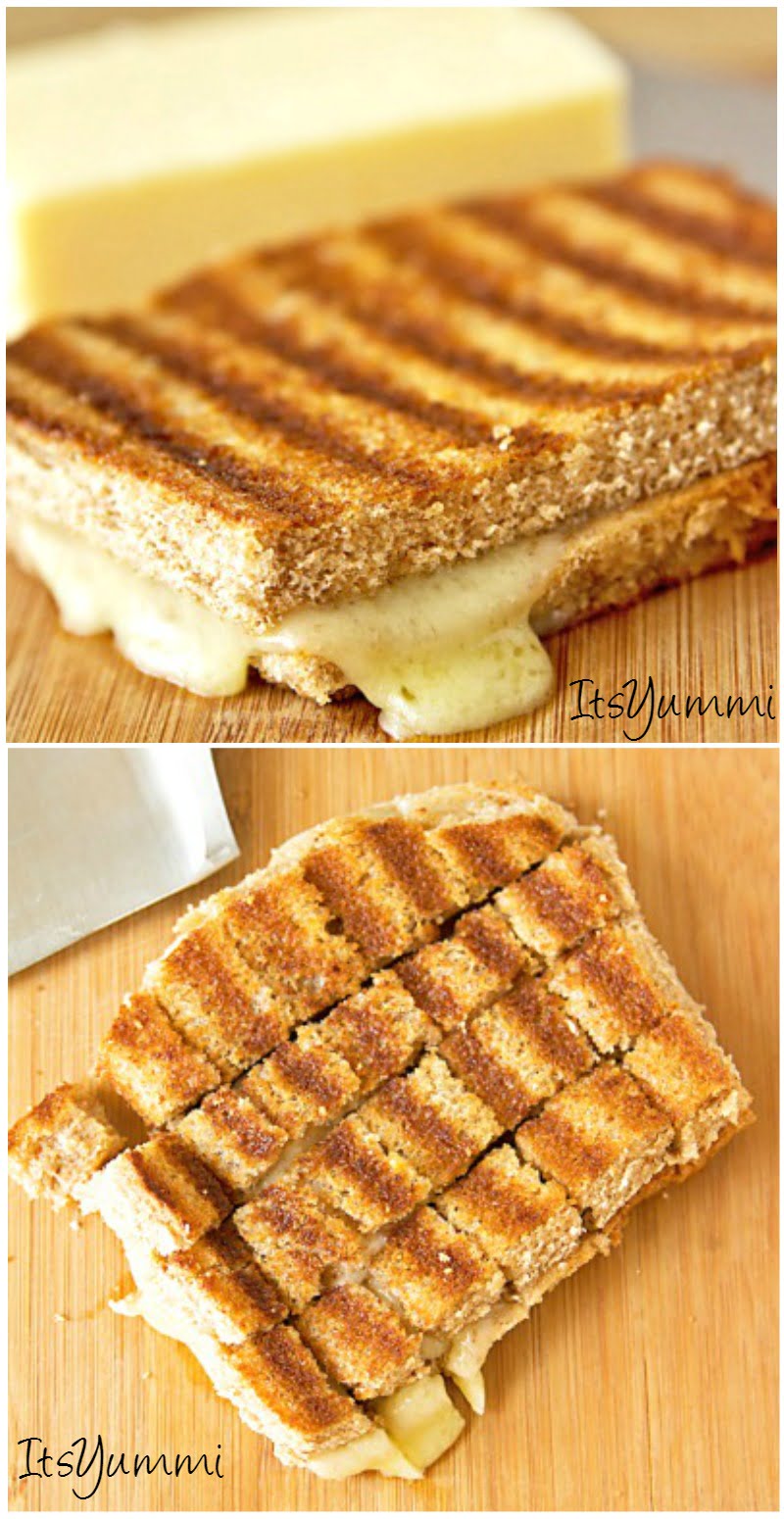 For the sake of Brian's taste buds, I added an awesome finishing touch to the creamy tomato soup… a crunchy, ooey gooey, grilled cheese sandwich, turned into croutons!
How to Make Grilled Cheese Croutons
For the grilled cheese croutons, I made another smart decision, using some fresh white cheddar from the deli counter. No processed orange cheese slices for me, please. It feels a bit immoral to live in the Dairyland state and use chemical-laden cheese when there's fresh Wisconsin cheddar as far as the eye can see.
Anyhoo, I made the grilled cheese as the 15-minute soup recipe was cooking. Yep, this is a 15 minute dinner recipe!
Grill the sandwich, then cut it into crouton-sized pieces.
Ladle the soup into bowls, then toss in the grilled cheese croutons and add a sprinkle of Parmesan cheese.
Serve with your favorite side dish, like orzo vegetable salad and finish the meal with an easy dessert.
This creamy tomato soup dinner rocks our world!
For more delicious recipe ideas and great grocery savings, visit the Pick 'n Save social media pages, on Facebook, Twitter, and Pinterest.
How to Make Creamy Tomato Soup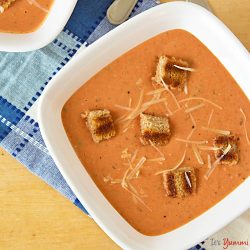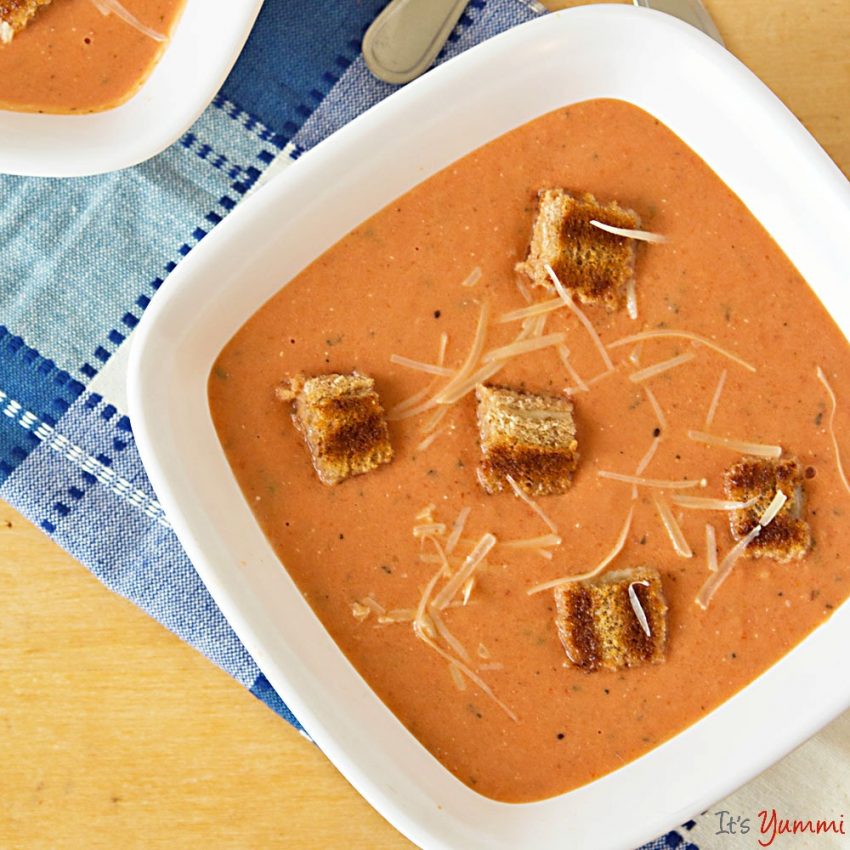 Creamy Tomato Soup with Grilled Cheese Croutons
This soup is smooth and creamy and perfect for warming you up, even on the coldest of days. It cooks up in 15 minutes, making it one of the easiest weeknight dinners you can make!
Ingredients
56

ounces

canned crushed tomatoes

(2 cans, 28 ounces each)

1 ½

cups

vegetable stock

14 ½

ounces

canned stewed tomatoes

4

ounces

cream cheese

cut into cubes

2

teaspoons

dried oregano

½

teaspoon

dried basil

¼

teaspoon

garlic powder

1 ½

Tablespoons

granulated sugar*

optional (see notes)

1

cup

Half and Half

1

cup

heavy cream
Instructions
Process the crushed tomatoes in a blender or food processor, one can at a time, until smooth. Set aside.

Add crushed tomatoes and vegetable stock to a 6 quart or larger saucepan. Whisk to combine, then bring to a boil over high heat, then reduce heat to medium and simmer for 10 minutes.

Meanwhile, in the same blender or food processor you used before, add the stewed tomatoes and cream cheese. Cover and process until smooth.

Gradually stir the cream cheese mixture, oregano, basil, garlic and sugar into the pan with the tomatoes and stock.

Place half and half and cream into a large, heat proof bowl. Temper the half and half and whipping cream by slowly whisking about a cup of the hot tomato mixture into the cold mixture (this will prevent the cream from curdling). Whisk the tempered mixture back into the saucepan with the rest of the soup and let it warm through for a couple of minutes, but don't let it boil.

Garnish with a grilled cheese sandwich (remove the crust prior to grilling, if desired) that has been cut into small, crouton-sized squares, and sprinkle with a bit of freshly grated Parmesan cheese.
Notes
Adding sugar to this soup is optional. I find that it helps to cut the acidity that canned tomatoes usually have.
Nutritional information is for 1 cup of soup, without grilled cheese croutons
Nutrition
Serving:
1
cup
Calories:
279
kcal
Carbohydrates:
23
g
Protein:
6
g
Fat:
20
g
Saturated Fat:
11
g
Cholesterol:
67
mg
Sodium:
621
mg
Potassium:
775
mg
Fiber:
4
g
Sugar:
13
g
Vitamin A:
1350
IU
Vitamin C:
22.8
mg
Calcium:
159
mg
Iron:
3.6
mg