2 Homemade Easter Treats – Chocolate Pretzels and Bark
Homemade Easter treats add a nice touch to any Easter basket. Looking for Easter basket ideas? White chocolate Easter bark and chocolate covered pretzels are easy treats that take just 10 minutes to make! Homemade white chocolate treats are less expensive than store bought chocolates, and they taste better, too… because they're made with love!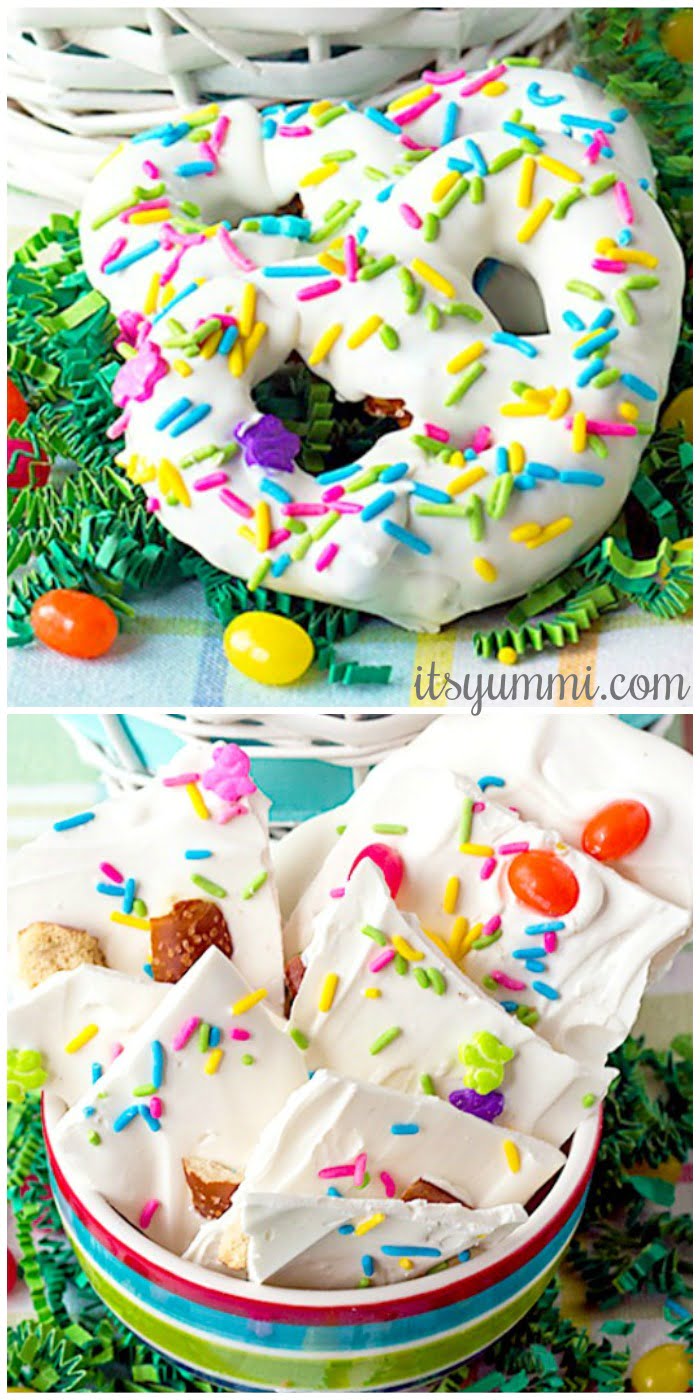 I don't have kids living in my house, but that doesn't stop me from craving homemade Easter chocolates! When I'm shopping and my eyes get a glimpse of the chocolate Easter bunnies, marshmallow eggs, and jelly beans, my craving for Easter treats kicks in. I get really giddy over sweet and salty treats. My favorites are chocolate covered pretzels and chocolate covered potato chips. You have tried chocolate covered potato chips, haven't you? SO good – especially if they're covered with white chocolate!
On rare occasions, I visit the artisan chocolate shop in town to buy Easter treats, but lately, the prices have been way out of my budget. Simple white chocolate Easter pretzels cost $16 a pound… that's crazy! I love sweet treats for Easter, but I am not willing to pay those crazy prices for it, and you shouldn't have to either!!
Let me show you how to make your own homemade Easter candy. You can make chocolate bunny bark and white chocolate covered pretzels, for less than ten bucks TOTAL! It probably goes without saying, but if you're not a fan of white chocolate you can use any type of chocolate to cover your homemade Easter treats.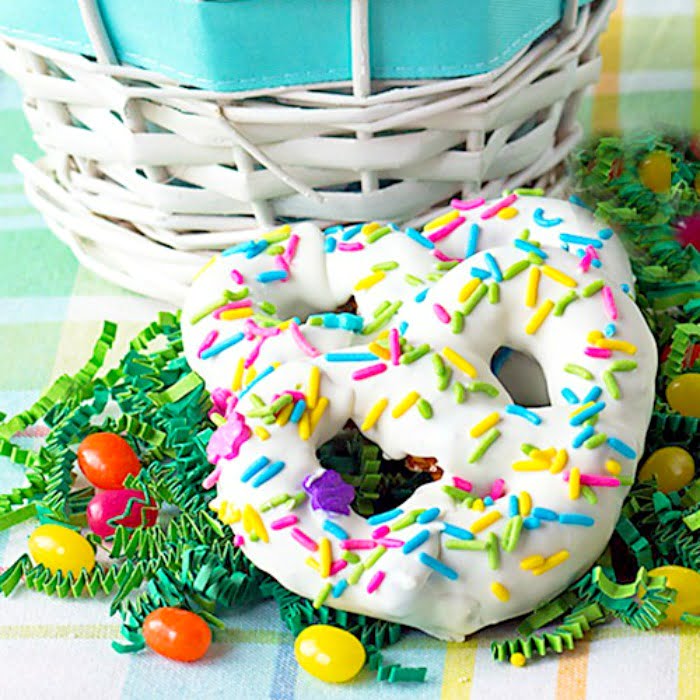 Ingredients Needed to Make Homemade Easter Treats:
Parchment paper or wax paper. My favorite are the parchment paper sheets. They're pre-cut to fit my baking sheets. Huge time saver!
2 bags of white chocolate chips or bright white candy melts. I prefer using the candy melts because they've already been tempered, so they can be melted in a microwave over and over again without getting clumpy.
1 bag of jelly beans. I love the Starburst ice cream flavors jelly beans… have you tried them?! Obviously, you can use any brand or flavor of jelly beans that you like.
Festive Easter sprinkles. I bought the ones with the cute little candy bunnies and chicks in them from Amazon, but any sprinkles will work.
Dutch style Bavarian pretzels. Dutch style pretzels are the big, thick ones. They are much easier to coat than tiny pretzels, and in my humble opinion, they look prettier, too.
You can make the homemade Easter treats in any order, but I think it's easiest to make the white chocolate Easter pretzels first.
This is because after the pretzels have been dipped into the chocolate, you can use the leftover melted chocolate to create the white chocolate Bunny Bark.
Oh, and be sure to save any broken pretzels so you can add the pieces to your Bunny Bark.
More White Chocolate Dessert Recipes: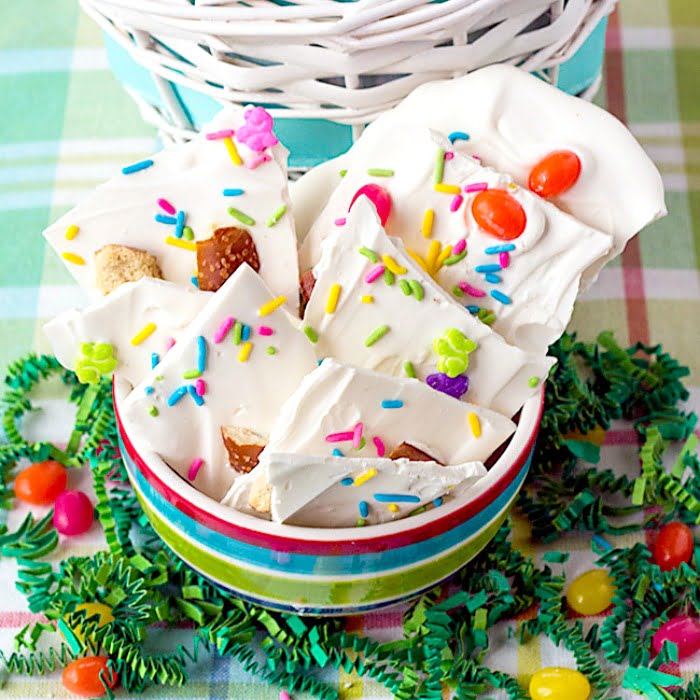 I hope you enjoy your homemade Easter treats! If you love white chocolate desserts, here are a few you might want to make: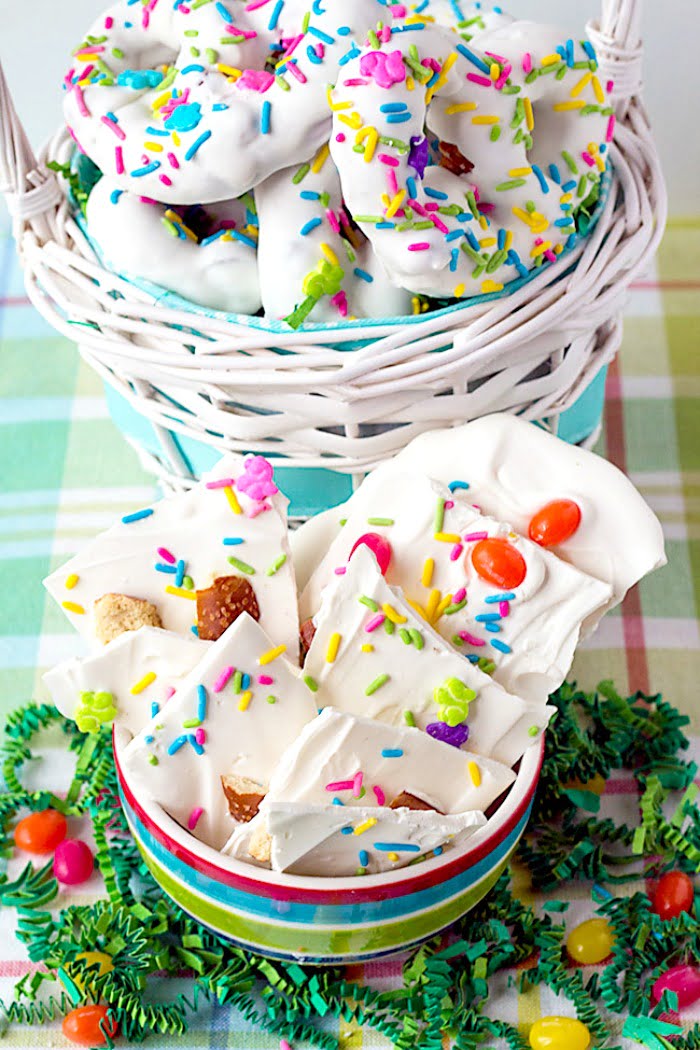 More Delicious and Easy Chocolate Easter Treats:
Chocolate Pretzels and Bunny Bark – Homemade Easter Treats Recipes:
If you make either (or both) of these Easter treats, I'd love to hear about it. Please leave me a comment and if you don't mind, a rating on the recipe would be awesome, too. It helps other readers to see your notes and ratings.
Happy Easter!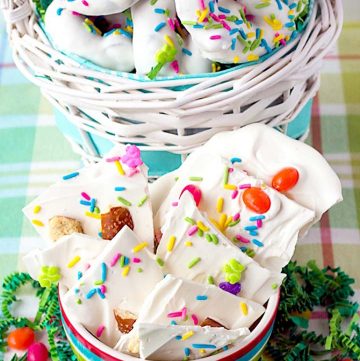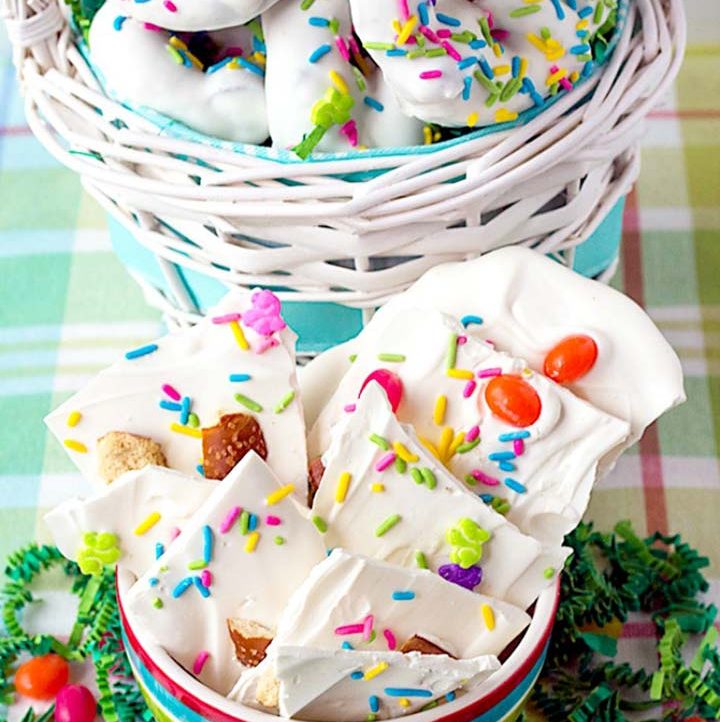 White Chocolate Easter Candy in 10 Minutes!
White chocolate covered pretzels and white chocolate Bunny Bark are super easy to make, in less than 10 minutes, and for much less money than it would cost to be them from a chocolate shop.
Ingredients
4

Dutch Bavarian pretzels (save any broken pretzel pieces for the bark)

16

oz.

white chocolate melts or chips

Festive sprinkles

Jelly beans
Instructions
Pretzels Instructions
In a microwave safe medium size bowl, add white candy melts or white chocolate chips. If using white chocolate chips, add 2 tablespoons of vegetable shortening.

Microwave, stirring every 30 seconds until completely melted, OR place chocolate into a stainless steel bowl and melt in a double boiler on the stove top.

Use your fingers or a fork to dip pretzels into and out of chocolate. It's hot, so be careful! Let excess chocolate drip off back into the bowl.

Place pretzels onto sheets of parchment or wax paper to dry.

Add sprinkles while chocolate is still wet.

Store pretzels between layers of parchment paper in a well sealed container.
Bunny Bark Instructions
Coat a 9-by-12 1/2-inch rimmed baking sheet with non-stick cooking spray, and line with parchment, leaving an overhang on ends. Melt chocolate using the same method mentioned above. Pour chocolate onto the baking sheet, and use an offset spatula to spread in an even layer.

Immediately place sprinkles, jelly beans, and any broken pretzel pieces over chocolate. Once the bark has cooled and set, peel off the parchment paper and break into wedges.

Store bark between layers of parchment paper in a well sealed container.
Notes
If stored in a well sealed container, this homemade Easter candy should stay fresh for a couple of weeks.
Nutrition
Calories:
389
kcal
Carbohydrates:
80
g
Protein:
9
g
Fat:
4
g
Saturated Fat:
1
g
Polyunsaturated Fat:
1
g
Monounsaturated Fat:
1
g
Cholesterol:
3
mg
Sodium:
926
mg
Potassium:
101
mg
Fiber:
2
g
Sugar:
0.3
g
Calcium:
26
mg
Iron:
5
mg