Banana cheesecake bars with white chocolate drizzle are delicious, and such an easy dessert recipe! This is an ALMOST no-bake dessert recipe (just the crust is baked). The banana blondie crust holds no-bake banana pudding cheesecake filling, with white chocolate drizzle and banana slices on top. This is the best banana pudding dessert for cheesecake lovers!
<<< CLICK HERE TO PIN THE BANANA CHEESECAKE BARS RECIPE >>>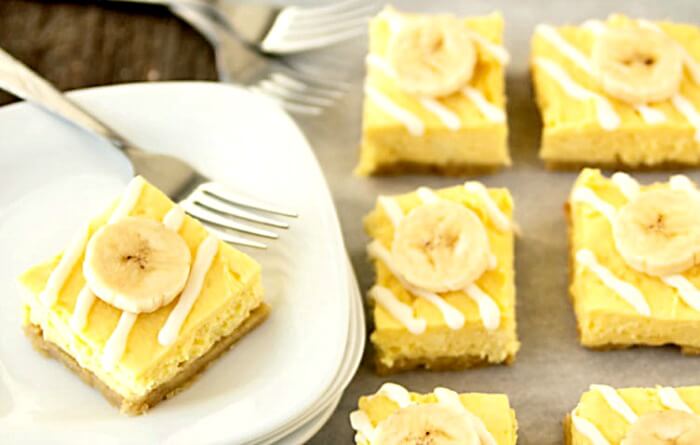 Whenever I see homemade southern banana pudding, my thoughts instantly gravitate to a childhood friend of mine, Paula. Or rather, her grandmother. In her grandmother's kitchen, there was almost always a batch of creamy banana pudding waiting to be devoured. Creamy, delicious homemade banana pudding! Jump forward in time to the year I fell in love with cheesecake. Truthfully, obsession is the best term to describe my affection for cheesecake. I've requested it as my birthday dessert nearly every year, for as far back as I can remember.
When I was younger, I had no idea that cheesecake desserts were so expensive to make. Even with a membership at Sam's Club, the cost to buy the dairy products for a traditional cheesecake recipe makes my wallet cry a little bit.
Now I understand why after I requested a birthday cheesecake every year, my mom would smile at me, then turn her head and sort of roll her eyes. I'm sure the cost to make enough cheesecake to serve our huge family was a hefty investment. But if my mom was still alive, I'm sure she would say that I am worth every penny she spent. 😉  Besides, I was born on my dad's birthday, so making one birthday cheesecake was really a dual birthday purpose. 😉
Later on in life, I learned that no-bake cheesecake was a thing. Not just any old thing, either! No bake cheesecakes are delicious, AND much less expensive and easier to make! So when it came time to create this dessert recipe, I brought my two dessert loves together into dessert marriage.
Banana cheesecake pudding bars are the perfect dessert, combining my passions for banana pudding and cheesecake.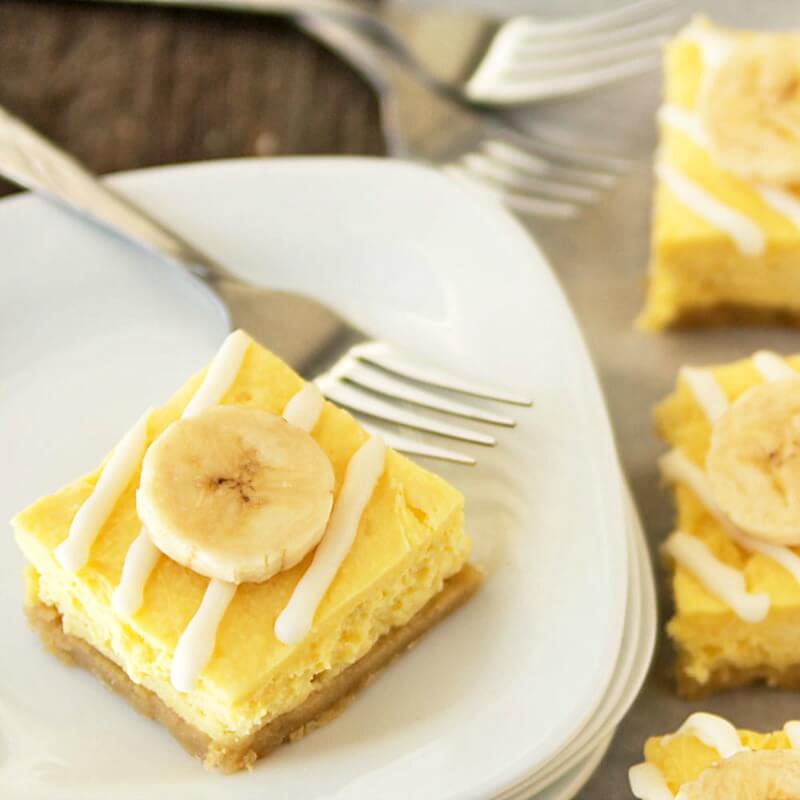 Making the banana cheesecake bars is beyond easy, not to mention, quick! Waiting for them to chill in the fridge is the most difficult part.
I think the banana blondie crust is what sets these cheesecake bars apart from other cheesecake bar recipes. Jocelyn (Grandbaby Cakes) uses a banana blondie crust for her banana cheesecake bars, too. Her recipe inspired me to create this cheesecake pudding dessert, simply adding white chocolate to compliment the banana cheesecake flavor.
Making Banana Cheesecake Bars Using Instant Pudding
The combination of bananas and brown sugar makes them rich, but because there isn't a lot of sugar in the recipe, they're not overly sweet. You can use either traditional banana cheesecake pudding mix or sugar free. With sugar free pudding in my pantry, and 50 excess pounds to lose, sugar free is the obvious choice for me.
Speaking of banana pudding, have you seen Melissa's banana pudding dip recipe, or Amanda's banana pudding poke cake recipe? Ohmigerd… I need both of these banana desserts ASAP!!
Sorry for the tangent… my love for banana desserts is long and strong! 🙂
So back to my recipe… a drizzle of white chocolate and sliced bananas on top of the banana cheesecake bars, and you've got a dessert that's as pretty as a picture.
And pretty desserts are a great thing, since we eat with our eyes first.
Also, after you make the almost no bake banana cheesecake bars, I would very much appreciate it if you would please come back to rate the recipe and leave a comment letting us know what you think of it. It helps other readers when they can see how well a recipe has turned out for other people. Thank you!
How to Make Banana Cheesecake Bars with White Chocolate Drizzle
[simple-recipe:13218a]