Hot Artichoke Dip will be the super hero at your next get together. Homemade dip-able bliss is easy and full of flavor.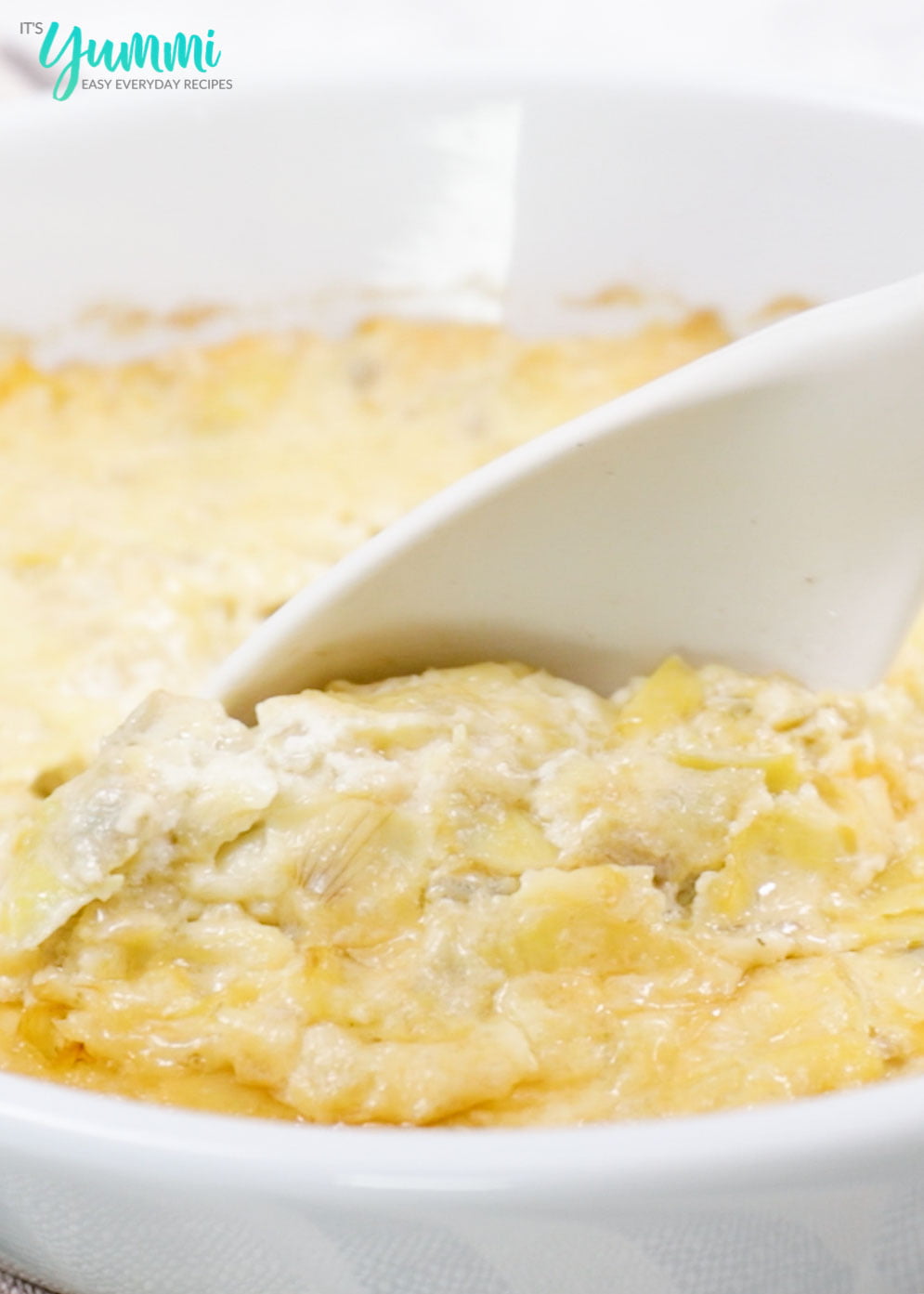 Hot Artichoke Dip is one of our favorite go-to dips for game day, holidays and so much more. It's rich and savory, bringing a comfort food feeling. This appetizer will please.
Hot Artichoke Dip 101
Appetizers don't have to be complicated to be good. We're admittedly a little obsessed with appetizers because they can be a one-size fits all for any occasion.
What is hot artichoke dip made of? Like we said before, apps don't have to be complicated. This recipe is made with artichoke hearts, mayonnaise, Parmesan and garlic. Simple. Flavorful. Amazing!
How do you prepare an artichoke? The part we need for this recipe is the artichoke heart, which is the bottom. Pull off the outer "petals" and scoop out the fuzzy layer to reveal the heart. You can also always use a can of artichokes if you want a bit less fuss.
How healthy are artichokes? Low in fat (and calories), high in fiber and vitamins, artichoke are considered to be one of the most antioxidant-rich vegetables.
How to store your dip: Always refrigerate any leftover dip. Reheat in the oven to refresh its hot deliciousness.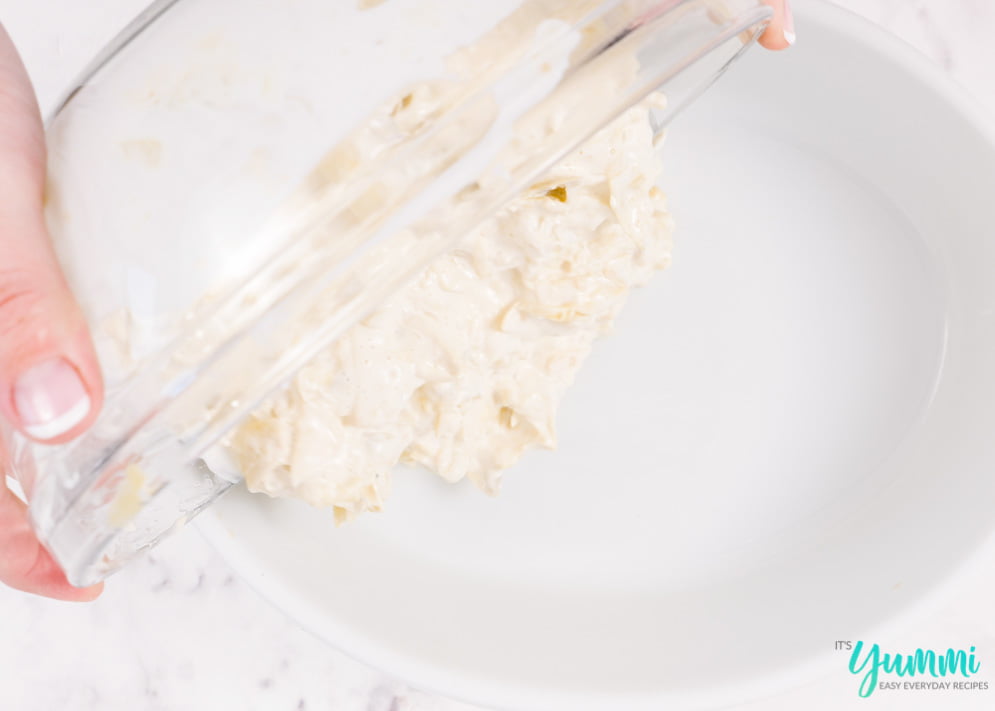 Options for artichoke petals
So there is more than just the artichoke hearts. Bonus, you also can eat the "meat" from the petals, dipping them into hot butter and using your teeth to squeeze or scrape the good stuff out.
If you want to get fancy, butter isn't your only option.
Honey mustard, mayonnaise, balsamic vinegar, sriracha sauce, or even butter and lemon are all tasty ways to enjoy the rest of your artichoke.
Additional flavors to your dip
There are a few simple options to add some flavor to your dip, if you so choose.
Bacon is one of our go-to add-ins for dips, a little salty protein goes a long way. There's also jalapenos for a little heat, green chiles, goat cheese, mozzarella, feta (or really any cheese!)
You can also switch up your seasoning a little. We do recommend trying this with a little bit of your dip rather than the whole batch, to season to taste. For example, we have a favorite apple wood rub that we often use on pork or chicken. A little bit mixed into our hot artichoke dip is heavenly.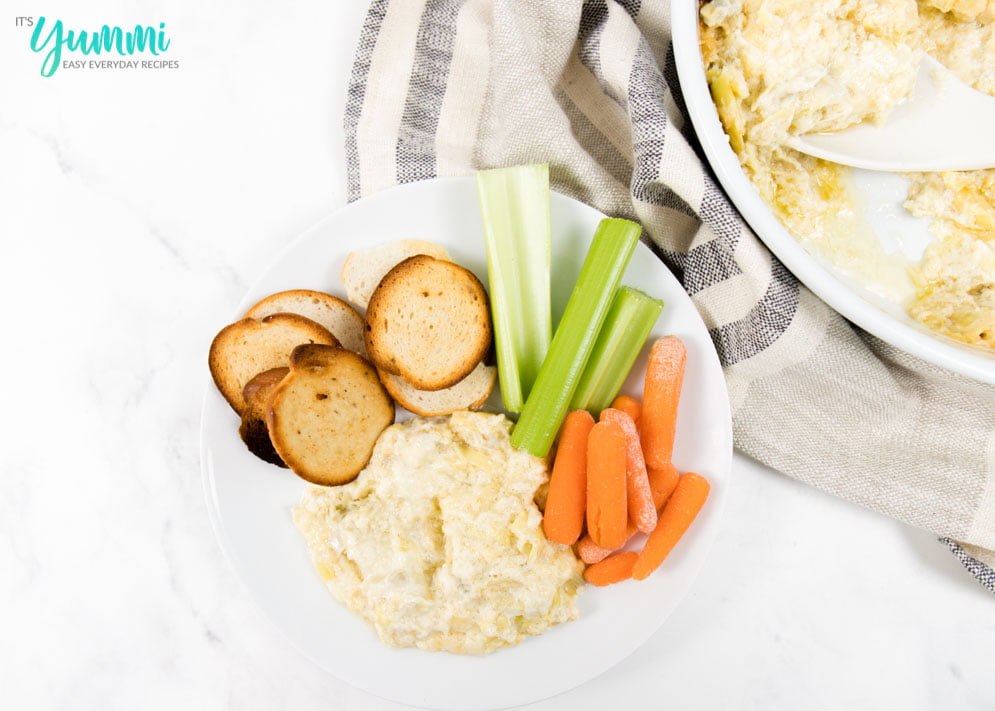 What to serve hot artichoke dip with
We like to serve our dip with crispy, salty pita chips, but there are some other yummi options!
Raw vegetables like carrots, cucumbers, celery, etc.
Flatbread
Homemade corn tortilla chips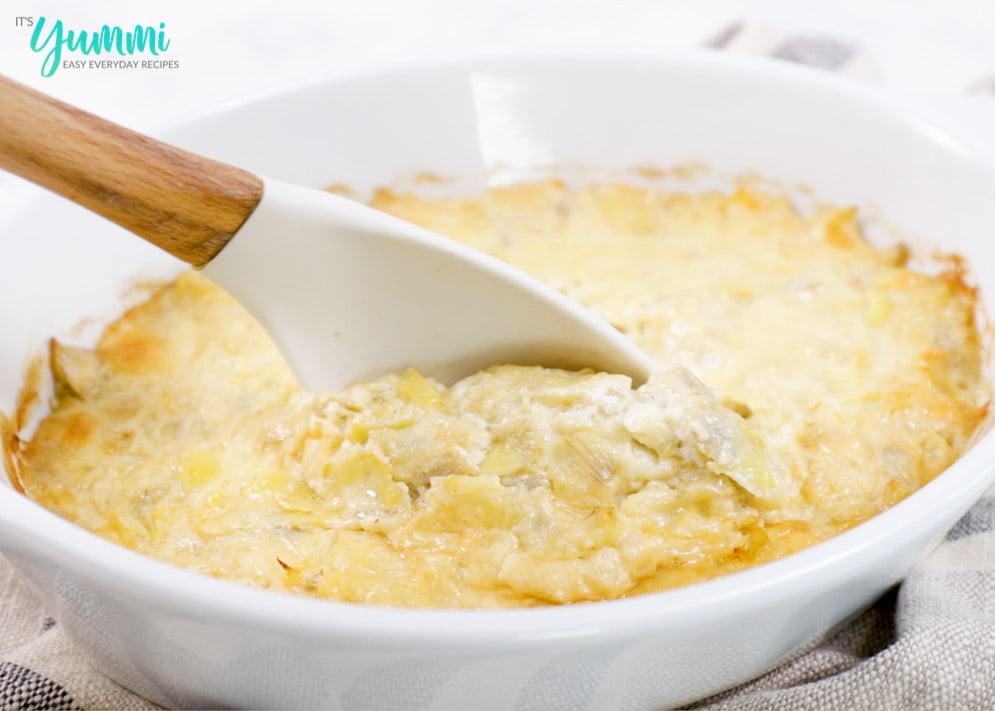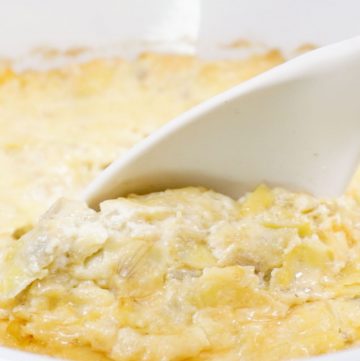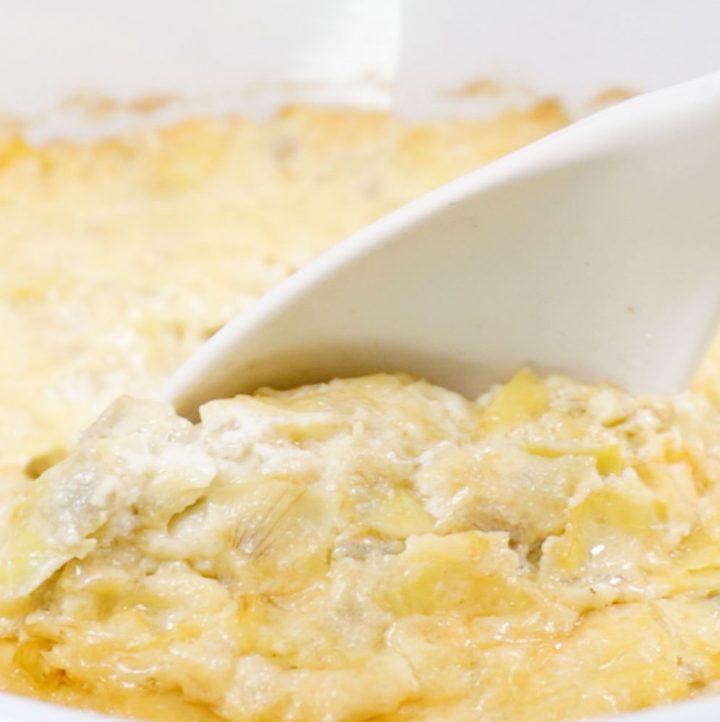 Hot Artichoke Dip Recipe
4 simple ingredients are baked to create this creamy hot artichoke dip recipe. It's an easy appetizer or game day snack that your crowd will love!
Ingredients
14

ounces

canned artichoke hearts

drained and chopped

1

cup

mayonnaise

1

cup

Parmesan cheese

1

clove

garlic

minced
Instructions
Heat oven to 350 degrees F.

Place all items into a large bowl and stir to combine.

Spread into a 9-inch pie plate or similar baking dish.

Bake for 18-20 minutes, or until hot and bubbly.

Serve with chips, flatbread, or raw veggies.

Refrigerate any leftovers for up to 4 days and reheat in oven or microwave before consuming.
Nutrition
Serving:
2
tbsp
Calories:
196
kcal
Carbohydrates:
2
g
Protein:
3
g
Fat:
19
g
Saturated Fat:
3
g
Cholesterol:
13
mg
Sodium:
377
mg
Potassium:
11
mg
Vitamin A:
410
IU
Vitamin C:
7
mg
Calcium:
107
mg
Iron:
0.3
mg