Italian Sausage with Peppers and Onions
Italian sausage with peppers and onions is on deck for a delicious 4th of July grilling party. Come join our virtual picnic!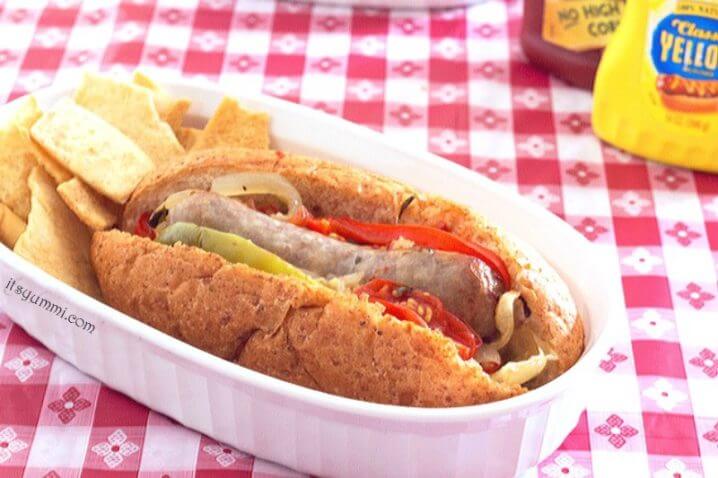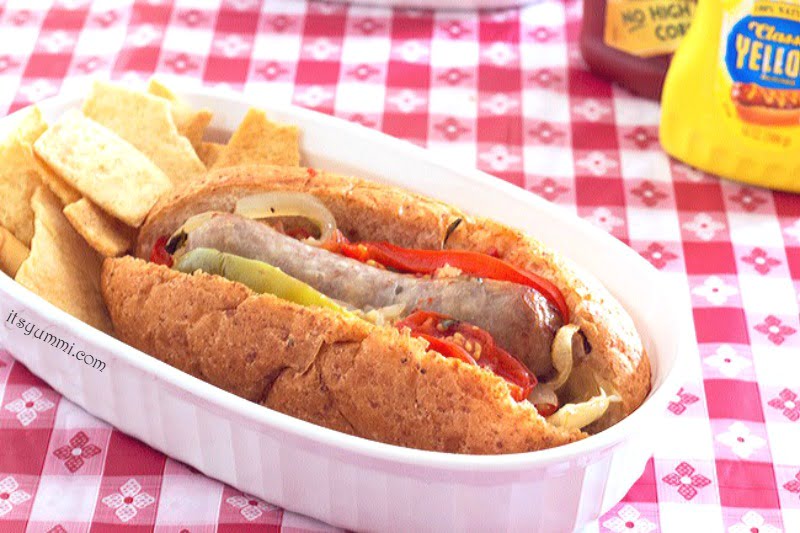 If you missed my last couple of posts, you may be blinded with confusion right about now. No worries, I'll explain. The Flavors of Summer Virtual Picnic is a collaboration of several wonderful food bloggers and a some generous sponsors. We're sharing recipes using delicious summer ingredients.
In addition to that, there's a great recipe sharing opportunity running along side this Flavors of Summer event. I'll share that information with you, but first, feast your eyes on this favorite summer recipe of mine: Italian sausage with peppers and onions!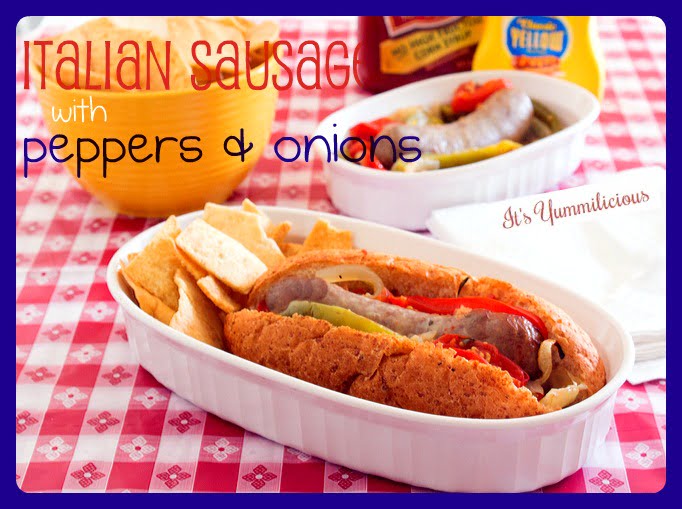 Because I live so close to the Johnsonville sausage headquarters, I've been consuming their line of pork products for as far back as I can remember. Today's recipe uses their Italian sausage, but I'd be a poor excuse for a Cheesehead if I didn't mention how tasty their bratwurst are. Especially when they are topped with proper condiments. Proper condiments like sauerkraut and spicy mustard, or grilled Vidalia onions. If you're not into spicy condiments, a simple yellow mustard would be perfect.
If you plan to top this with ghastly neon green pickle relish *shudder* or ketchup in front of me, you'd best prepare yourself to be chastised, belittled, and possibly even cursed at. Don't mess around with these links of love. They are not hot dogs, nor should they be treated as such! If you want to play with fun hot dog toppings and condiments, go visit my buddy, Adam. He's livin' the bachelor life this week while his wife and almost all of his kids are out of town. He plans to consume massive quantities of heavily condimented dogs and then make all sorts of manly noises as he digests them. I hope he was thoughtful enough to deliver gas masks to his neighbors next door. I digress. Back to my Italian sausage with peppers and onions.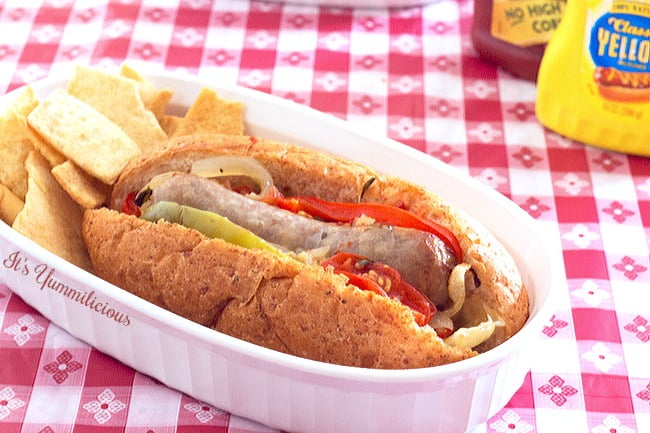 Most people cook their sausages on a grill, and that's what I would have preferred to do in this case. But it was hotter than Satan's sauna outside on the day I made these, and the last thing I wanted to do was stand outside to cook.
So, I heated my oven to 400 degrees, tossed my veggies with some extra virgin olive oil, cradled the sausages on top of them and baked everything together. I thought I might disappointed with the lack of char flavor, but the flavors came through perfectly.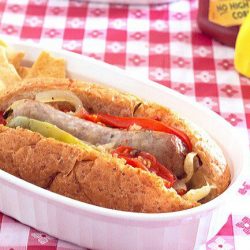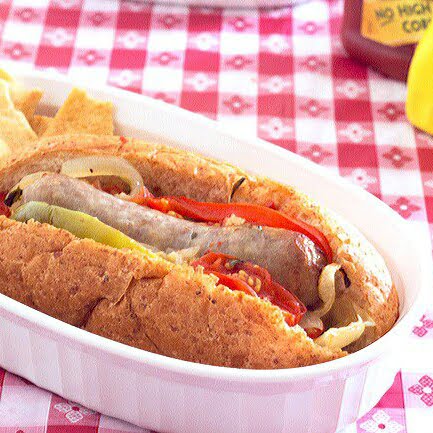 Italian Sausage with Peppers and Onions
Sweet Italian sausage is paired up with roasted tomatoes, Vidalia onions, and sweet bell peppers to make for a great summer time dish.
Ingredients
1

pound

Johnsonville Italian Sausage (about 6 links)

6

hoagie rolls

1

large Vidalia onion

sliced thinly

1

large green bell pepper

sliced into long, thin strips

½

pint

cherry tomatoes

halved

2

tablespoons

extra virgin olive oil
Instructions
Heat oven to 400 degrees F.

Place onions, bell pepper, and tomatoes into the bottom of a 9″ x 12″ baking dish. Drizzle olive oil over the vegetables and toss to coat. Spread them evenly throughout baking dish.

Piece each sausage with a fork two times on both sides and nestle them evenly on top of vegetables. The holes will allow the sausage juices to escape, helping to provide flavor to the vegetables.

Bake in 400 degree oven for 20-25 minutes, or until no pink remains and internal temperature of sausage reaches 165 degrees.

Serve sausage in buns with roasted vegetables and condiments of your choice.
Nutrition
Calories:
647
kcal
Carbohydrates:
65
g
Protein:
22
g
Fat:
33
g
Saturated Fat:
10
g
Cholesterol:
57
mg
Sodium:
1209
mg
Fiber:
5
g
Sugar:
5
g