Key Lime Cheesecake with a Hazelnut Crust
This key lime cheesecake dessert has a hazelnut crust! It's the perfect combination of tangy, sweet, creamy, and crunchy. Your brunch guests will be begging you for this recipe!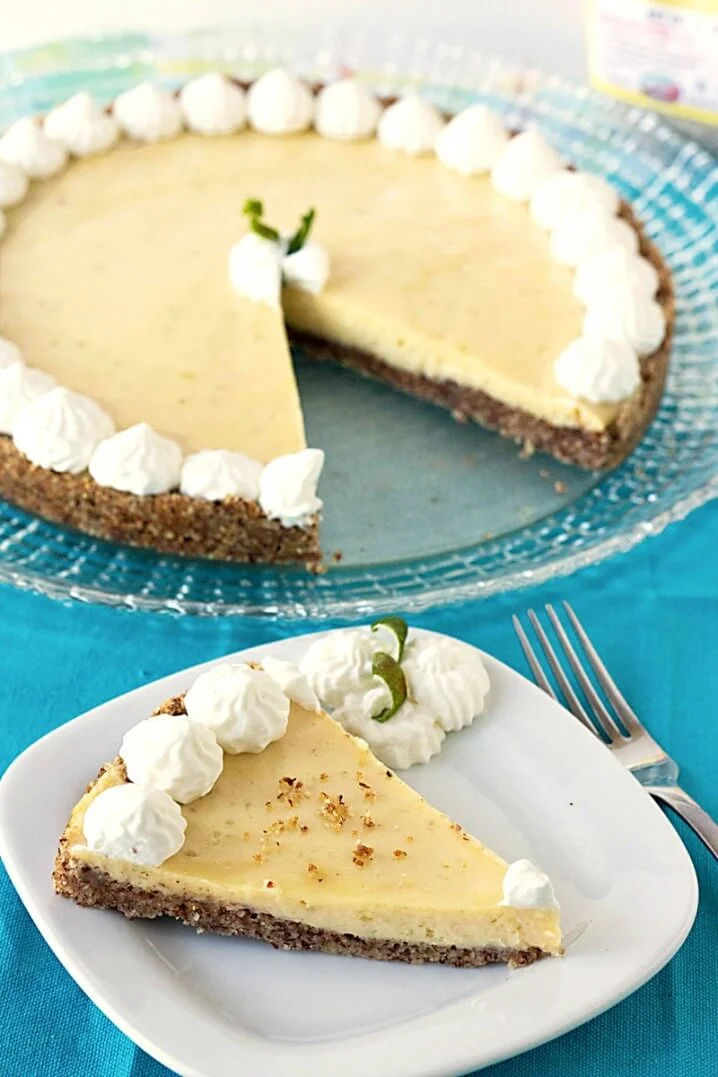 This isn't the variety of key lime cheesecake that I normally make. One of the Brunchweek sponsors is Bob's Red Mill. If you've been around this blog before, that name should ring a bell. They're responsible for the Low-Carb Baking Mix that I've used in nearly all of my baked goods lately, and they also make the steel cut oats that I used in my recipe for Carrot Cake Steel Cut Oatmeal.
Anyway, they sent over some hazelnut flour for me to try, and I was so excited about it! Oh, and to make this key lime cheesecake especially sweet, I had help from another sponsor…I used Dixie Crystals sugar!
FOOD FACTS – Hazelnuts and Hazelnut Flour
Origins and Fun Facts
Hazelnuts (also referred to as Filberts) date back to 283 B.C. That's when, according to a manuscript found in China, the filbert took its place among the five sacred nourishment that God bestowed on human beings.
In the early days, the filbert was used as a medicine and a tonic. More than 1,800 years ago, Greek physician Dioscorides emphasized the properties of the filbert: "It cures chronic coughing if pounded filbert is eaten with honey. Cooked filbert mixed with black pepper cures the cold. If the ointment produced by mashing burnt filbert shells in suet is smeared on the head where hair does not grow due to normal baldness or to some disease, hair will come again." Oregon grows 98% of hazelnuts produced in the US—but only a fraction of the world's supply of hazelnuts are grown here; the vast majority of hazelnuts are grown in Turkey, Spain, and Italy.
Nutrition
Hazelnuts are a healthy source of Vitamin E and monosaturated fat. They're also a good source of protein, and they're low in carbohydrates.
Hazelnuts are naturally gluten-free. (Bob's Red Mill packages their Hazelnut Meal Flour in a gluten-free facility, too, which makes it safe for gluten-free eating!)
According to the Bob's Red Mill website, "Replacing 30% of the flour in your baking with hazelnut meal will add wonderful texture and flavor while reducing the total carbohydrates. This makes it perfect for those following a low carbohydrate or paleo diet."
CLICK HERE to see nutritional values for hazelnut flour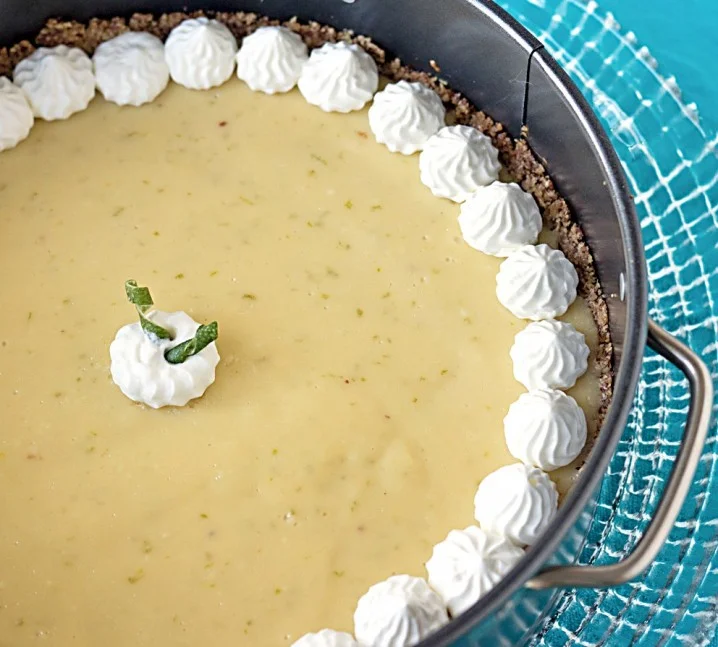 Please don't think that I'm a horrible person for making this key lime cheesecake a full fat, calorie loaded dessert. I just figured that Mother's Day and Sunday brunch are a time to indulge a little bit.
Watching our waist line and calorie counting can happen again tomorrow. Today, I think we should feast on the indulgence!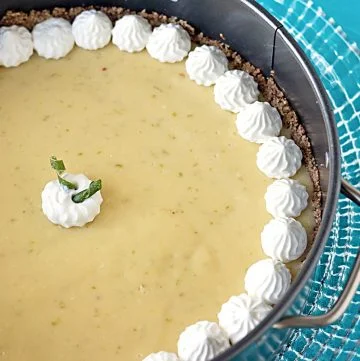 Key Lime Cheesecake with a Hazelnut Crust
A creamy, sweet, tangy, and crunchy experience with every bite, this key lime cheesecake will be a huge hit for dessert!
Ingredients
CRUST

6.6

ounces

(1.25 cups) hazelnut meal or flour

3

ounces

(6 Tablespoons) unsalted butter

2

ounces

(1/4 cup) granulated sugar

FILLING

8

ounces

cream cheese

softened

2.5

ounces

(1/2 cup) granulated sugar

zest of one lime

juice of one lime

½

teaspoon

pure vanilla extract (or lemon extract)

2

eggs

whipped cream for garnish
Instructions
Heat oven to 350 F.

To a medium bowl, add hazelnut flour, sugar, and melted butter. Use a spoon to stir until combined. Press mixture into the bottom and barely up the sides of a 9-inch springform pan.

Place into heated oven and bake for 10 minutes. Remove pan from oven and allow crust to cool while you prepare the filling.

To a large mixing bowl, add cream cheese, sugar, lime zest, lime juice, and extract. Use an electric hand or stand mixer to blend on high speed until mixture is combined and creamy. Add eggs and mix on medium speed, just until combined.

Pour mixture into crust and bake for 40 minutes, or until center is almost set. Remove from oven and leave pie in springform pan. Refrigerate for at least 2 hours. Garnish with whipped cream and lime slices or zest before serving.
Nutrition
Calories:
401
kcal
Carbohydrates:
22
g
Protein:
7
g
Fat:
34
g
Saturated Fat:
12
g
Cholesterol:
94
mg
Sodium:
120
mg
Fiber:
3
g
Sugar:
18
g
Still hungry? Take a look at the other delicious brunch recipes in today's lineup!
Brunch Beverages:
Brunch Eggs:
Brunch Main Dishes:
Brunch Sides:
Brunch Breads and Grains:
Brunch Desserts:
Key Lime Cheesecake with a Hazelnut Crust, from me!
Sacher Torte, from Roxana's Home Baking.
UPDATE: The giveaway ended and the entry form and rules were removed from this post.