Banana Bread Muffins are quite possibly the most addictive and delicious healthy snack you'll ever make! They're a favorite in the lunch box. Looking for a delicious snack that won't require you to wear stretchy pants when you eat it? Try this recipe for banana bread bites.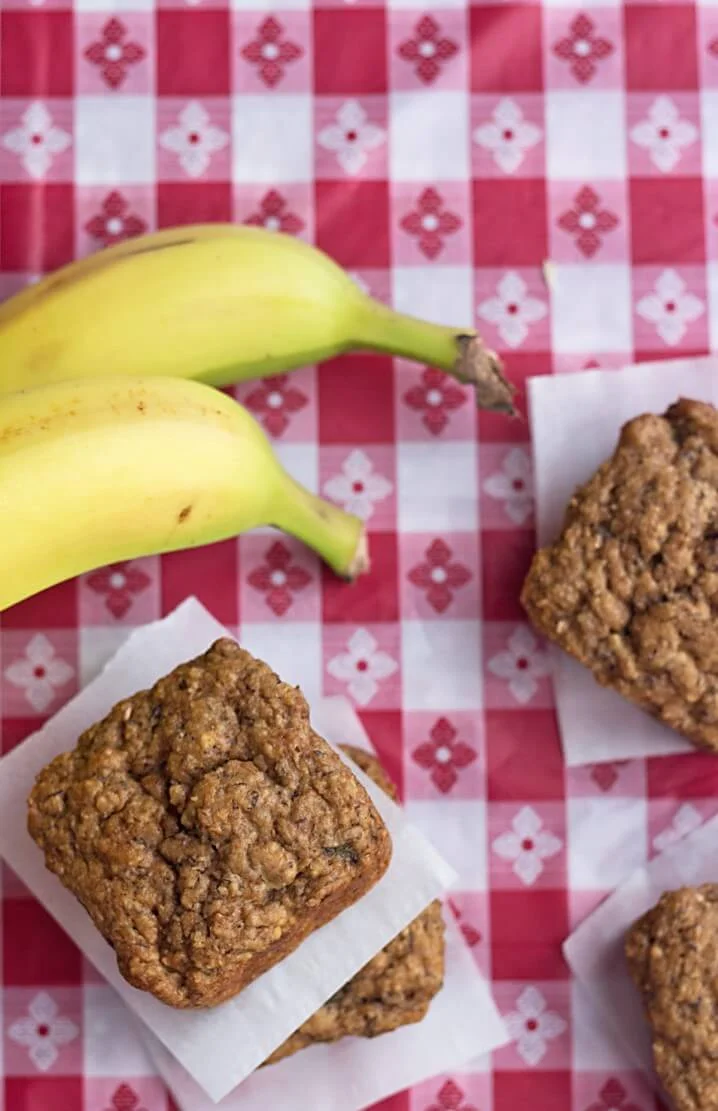 Hey there! Thanks for stopping by to see me! I hope your weekend's been a great one. Mine was pretty danged awesome. The weather is finally starting to warm up and the last bits of snow are trying like crazy to melt, so my winter blues are packing up their bags and heading out of town. I can't wait for the lilacs to bloom. Then I'll believe it's spring in Wisconsin.
Earlier last week, I mentioned on my Facebook page how out of control my excess weight has become. I started gaining weight shortly after my hysterectomy last August, and once the cold weather kicked in, the pounds just packed themselves onto my bod. I'm not a winter sports lover, so the extent of my exercise has been lifting my leg to get over snow drifts and raising my arm to get my coffee mug to my lips. Things are SO crazy bad now that none of my clothes from last spring fit me. UGH.
My obsession with carbs and sugars is wicked! Instead of bitching about it (ok, I guess that WAS a bitching of sorts), I decided to take some action to fix the problem by making more low carb snacks.
Banana Bread Bites
The last time I was baking with bananas, I made this recipe for banana bread muffins. I decided to update my photos for this post at the same time. I left the old ones at the bottom of this post., and I think you'll agree, there's been a slight improvement in my photo quality. 😉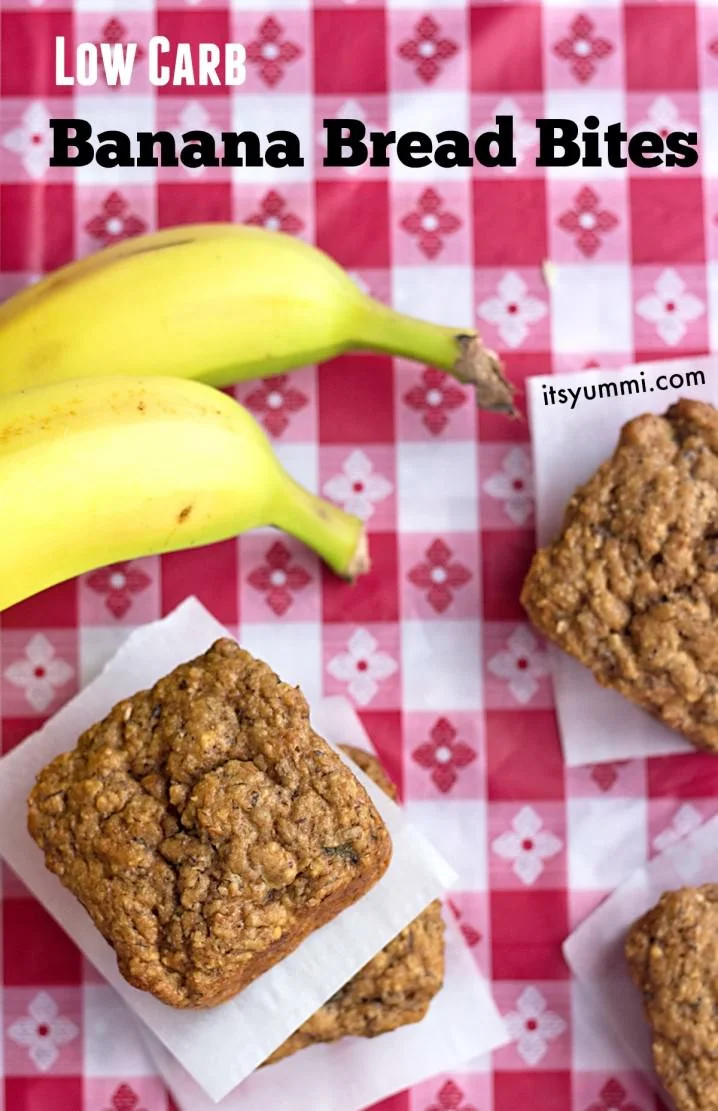 I acknowledge my love of simple carbs and sugars, and I can honestly say that I have no desire to give them up completely. I'll feel WAY too deprived if I let them go completely from my eating plan. SO, I decided to create some healthier options to indulge my sweet tooth and my bread obsession. Thanks to the help of low carb baking mix from Bob's Red Mill, it may not be quite as tough as I initially thought.
Baking with Bananas
I love baking with bananas because they're a great ingredient to substitute for high fat ingredients like butter.
Also, I am addicted to quick breads like pumpkin loaf, blueberry muffins, and banana bread muffins.
The thing is, quick breads are typically loaded with so many unhealthy carbs and sugars that it could cost me half a day's worth of Weight Watcher points to indulge in one. Thankfully, I created this low carb muffin recipe, so now I don't need to freak out every time I'm craving something carby.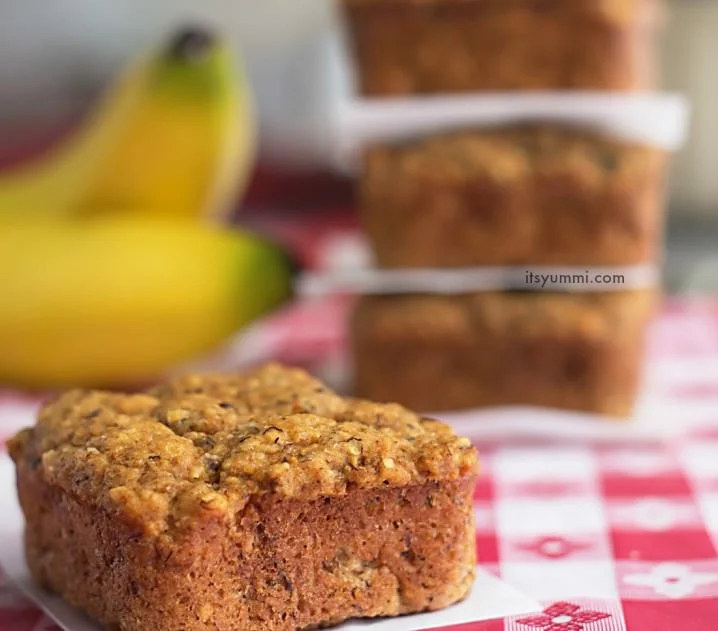 After I calculated the nutrition for the low carb banana bread muffins and realized that they're so much healthier of a snack, I could hardly believe it.
Whether you're monitoring your food intake or not, these low carb banana bread bites are a tasty, healthy treat that are perfect for a breakfast on the run or a mid-afternoon snack.
I hope you enjoy this low carb banana bread recipe!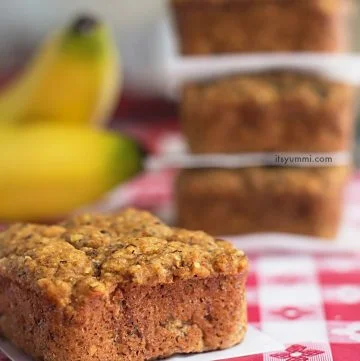 Banana Bread Muffin Recipe
These banana bread muffins are low in carbs and simple sugars, making them a perfect for breakfast on the run or a great snacking option any time of day. This low carb recipe makes 12 regular sized muffins or 24 mini muffins.
Ingredients
2

cups

almond flour

1

cup

oat flour

¼

cup

erythritol

or other cup-for-cup sugar substitute

½

teaspoon

Kosher salt

1 ½

tablespoons

baking powder

½

teaspoon

ground nutmeg

1

teaspoon

ground cinnamon

1

large egg

1 ½

cups

water

2

ripe bananas

mashed

1

teaspoon

vanilla extract

1

tablespoon

canola oil

½

cup

unsweetened applesauce
Instructions
Preheat oven to 350 F; Line 24 standard sized muffin cups with papers or spray lightly with nonstick spray.

In large mixing bowl, whisk together flours, erythritol, salt, cinnamon, nutmeg, and baking powder. Make a well in center of ingredients and set aside.

In medium bowl, combine egg, oil, water, applesauce, mashed banana, and vanilla extract. Whisk until well combined; Pour wet contents into bowl with dry ingredients and stir with wooden spoon until all baking mix has been incorporated.

Place 3 Tablespoons batter into each cup and bake for 22-24 minutes, or until toothpick inserted into center of muffin comes out clean. – Remove pan from oven and allow muffins to cool in pan for 3 minutes, then transfer to wire rack to cool completely
Notes
The nutritional information was compiled from information listed on the My Fitness Pal website and may or may not be completely accurate. Nutritional information could vary depending on ingredients used.
1 regular sized muffin has 10.5 net grams of carbohydrates
1 mini sized muffin has 5.25 net grams of carbohydrates
Nutrition
Serving:
1
muffin
Calories:
186
kcal
Carbohydrates:
17
g
Protein:
6
g
Fat:
11
g
Saturated Fat:
1
g
Cholesterol:
13
mg
Sodium:
107
mg
Potassium:
271
mg
Fiber:
3
g
Sugar:
4
g
Vitamin A:
30
IU
Vitamin C:
1.8
mg
Calcium:
115
mg
Iron:
1.4
mg