There's a new dessert in town, and this little gem is low carb and delicious! In just 3 minutes, you can be enjoying this Low Carb Meyer Lemon Mug Cake!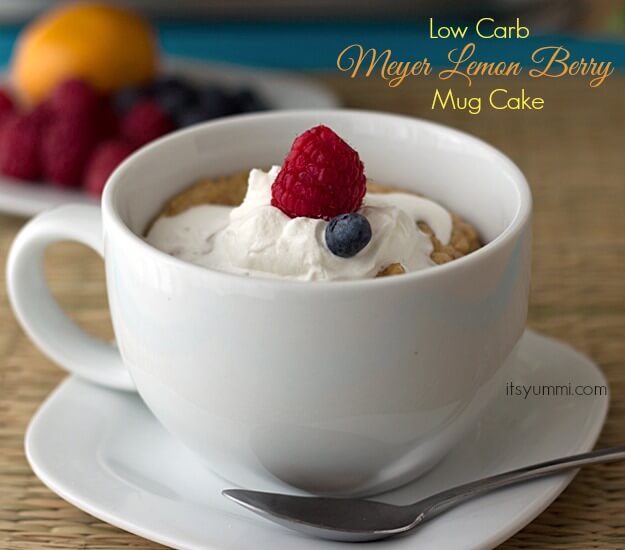 Some of you may recall that a few months ago, I participated in a group blogging project named "Healthy Ways Wednesday".
Well, the group took a hiatus for the holidays, but we're back! The thing is, we're now posting with an overall "healthy life, happy life" philosophy, and our posts will be published on Saturdays. So each week, be sure to stop by and see my new "happy and healthy" posts, and if you love them, PLEASE share them with your family and friends.  Oh, and each week, I'll be sharing the links to posts written by other members of the Happy and Healthy group. I hope you'll take a minute to stop by their blogs when you're finished here. They've got some amazing recipes and information to share, too!  The list of other bloggers is listed below my recipe.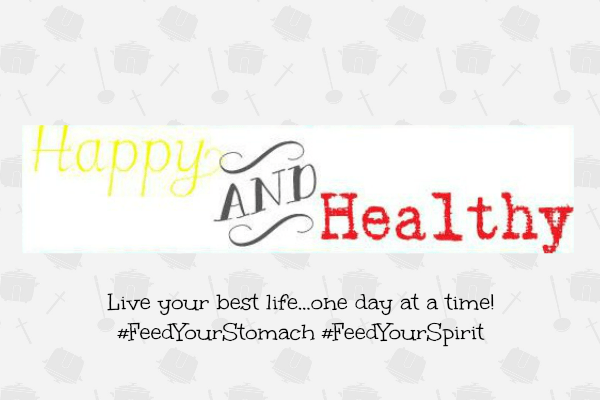 I mentioned in a blog post a couple of days ago that my goal for this year is no longer to lose 50 pounds by my 50th birthday. Instead, I want to be #FitAt50. I want to increase my overall health, and in more ways than just physically. I want to be emotionally and spiritually healthier, too.  I want to be completely happy and healthy, and I want to do it in baby steps…one day at a time.  Little successes will become milestones to keep my motivation going. I'd like to continue to help you #FeedYourStomach and #FeedYourSpirit, too.  I'll be posting healthier recipes (even desserts!) and motivational and educational tips to help you stay happy and healthy right along with me.
For those of you who prefer indulgent recipes like this one (one of my most indulgent recipe of 2013!) please know that there is STILL a place setting for you at my virtual table. I'll still be posting those tasty treats, too.  I'd never deny you access to those yummi foods!  🙂
Have you noticed how often lemons are associated with negativity? You know… things like "Don't be a sour puss." or "When life gives you lemons, add sugar (or tequila!) and make lemonade."  I'm here to say that lemons make me smile. They're bright and they remind me of sunshine. Oh, and MEYER LEMONS are the best, because they've got a sweetness about them that you won't find in traditional lemons.  Adam from The Unorthodox Epicure blogged all about the fruit in his post, "Meyer Lemons 101". I received a bag full of them from my friends at Frieda's Produce (thanks Frieda's!) and when sunshine like that arrives in the middle of a dreary, cold winter, it's time to celebrate happiness and healthiness!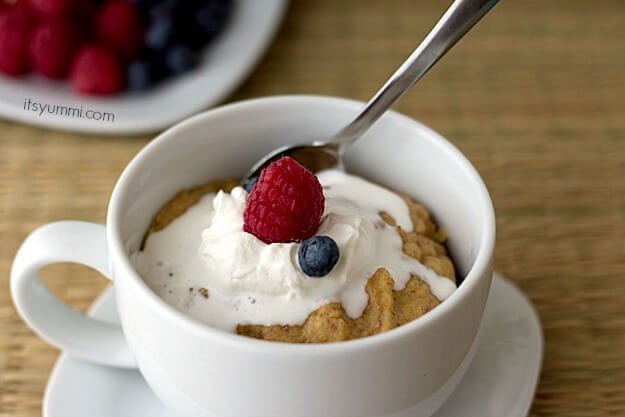 I made this delicious Meyer Lemon Mug Cake Recipe lower in carbs by replacing the traditional, all-purpose flour with my favorite substitute, Bob's Red Mill Low Carb Baking Mix. It's only got 6 net carbs per serving! You can find it in most whole food stores, but I buy mine in a 4-pack from Amazon to keep the cost down.  If you want or need the recipe to be gluten free, you can substitute almond meal instead.
As far as artificial sweeteners go, I'm partial to the low-glycemic "Pre-Sweet™" from NuNaturals. You can substitute just about any granulated (non-liquid) form of sweetener that you'd like, and of course, you can always use real sugar, too.  If you use liquid sweeteners, you'll need to reduce the amount of dry ingredients accordingly.
SO TELL ME… What's one thing you want to do to make 2014 a great one? I look forward to seeing your answers! Oh, and if there's something I can do to help with that (a recipe you'd like to see or a topic you'd like me to discuss), please leave a comment below this post to let me know.
So who's ready to make a delicious, healthy dessert… in less than 3 minutes?!  Whoa… how is that even possible?! Grab your apron and I'll meet you in the kitchen to show you!
Low Carb Meyer Lemon Mug Cake
Please check out the great posts from fellow Happy and Healthy bloggers!  Just click on their names and you'll be taken to their post for this week.
Lindsay from The Live-In Kitchen
Nicole from Wonky Wonderful