Ina Garten Mac and Cheese with Bacon
Ina Garten grown up mac and cheese is not your ordinary macaroni and cheese! It's loaded with a rich, creamy cheese sauce that is made from 3 types of cheese! The crispy bacon mixed in adds flavor and texture to this grown up comfort food.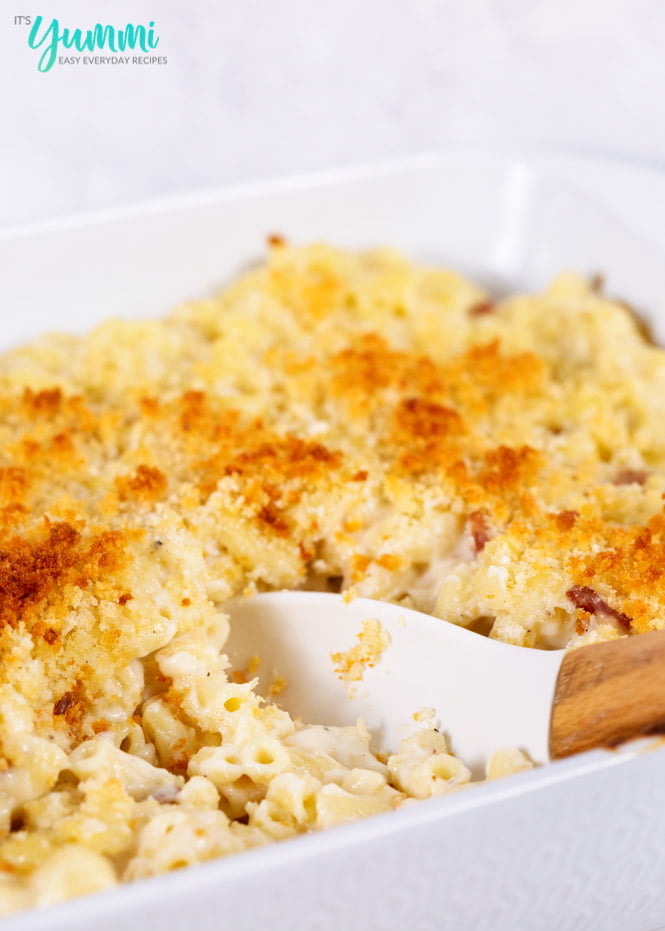 Mac and cheese lovers of the world, unite! This easy, cheesy dinner is easily the most indulgent mac and cheese that you'll ever eat! Bonus: It's FANTASTIC for a crowd!
It's no secret that we are a huge fans of food. We watch a few of our favorite chefs who can teach us their cooking secrets. I learn the methods necessary to roast the world's juiciest turkey and create a succulent stew.
Many of our friends sit down to watch episodes of Real Housewives and Grey's Anatomy, while I watch stars like Ina Garten. I love watching Ina create goodness in her kitchen. She's down to earth, elegant, and incredibly talented.
I'm a comfort food junkie, so when I saw Ina Garten's Grown Up Mac and Cheese recipe on a whim, I had to make it!
Ina Gartens Macaroni and Cheese has it all
Smoky crispy bacon. ???? It has 3 types of cheese to start ???? . Oh my word yes. Creamy Cheesy Cheese Sauce with so much delicious flavor and it is absolute decadence at it's finest. This Mac and Cheese seriously HAS IT ALL.
Ina's recipe starts with a basic bechamel sauce, kicked up with a rich blend of sharp cheddar and Gruyère cheeses.
It's even more grown up with the addition of fresh tomatoes and homemade bread crumbs on the top. It sounds delightful in its own right, but good tomatoes are hard to come by right now. I had to find an acceptable substitute. So we've adapted this recipe a little bit. In reality, we really are here for the cheese sauce.
You top with breadcrumbs to create this crispy crunch crust that is just to die for. Watch the recipe video below. You'll see what I'm talking about. This crust is something we want you to enjoy.. so…
Can This Mac and Cheese Be Made Ahead of Time or Frozen?
Truly if you are making this for the first time you want to make this the day of. You can create the sauce and add to the casserole dish with breadcrumbs the day of or even day before if need-be. I strongly recommend baking this up until you are ready to serve it though.
Seriously… you'll understand. There is NOTHING better than freshly baked and cheesy mac and cheese.
Can we freeze it? If you've got leftovers from thanksgiving (although I would be surprised if you did) you can most definitely freeze this. The sauce will get a little more on the dry side when you dethaw and rebake but it is definitely doable and MOST DEFINITELY good enough to enjoy. We hate wasting food.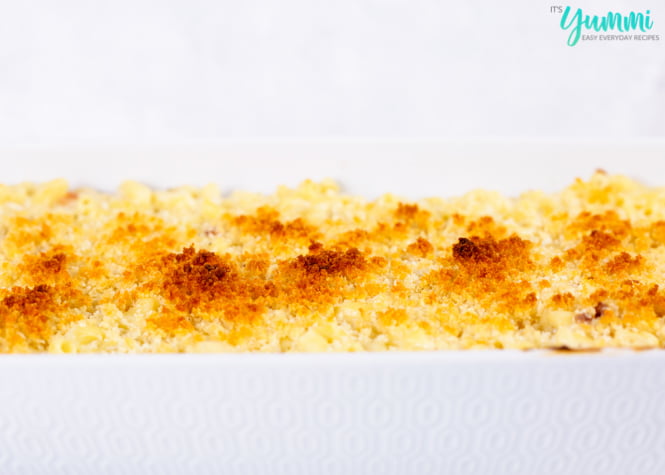 This is not your average macaroni and cheese from a box
I'm sure that kids will enjoy a bowl of this comfort food, but it's definitely not a taste you'll get from a blue box.
When it's possible, I never turn down opportunities to use bacon, and kids, this was a possible moment!
In addition to bacon, I added more cheese. I used a white cheddar and Gruyère blend, but then I took the sauce to a sophisticated level.
The third cheese into the pot is crumbled Blue Cheese, and for even more creaminess, a couple of ounces of cream cheese. Four cheeses? Oh, yes I did!
What? You've never seen a a cheese lover doing what she does best?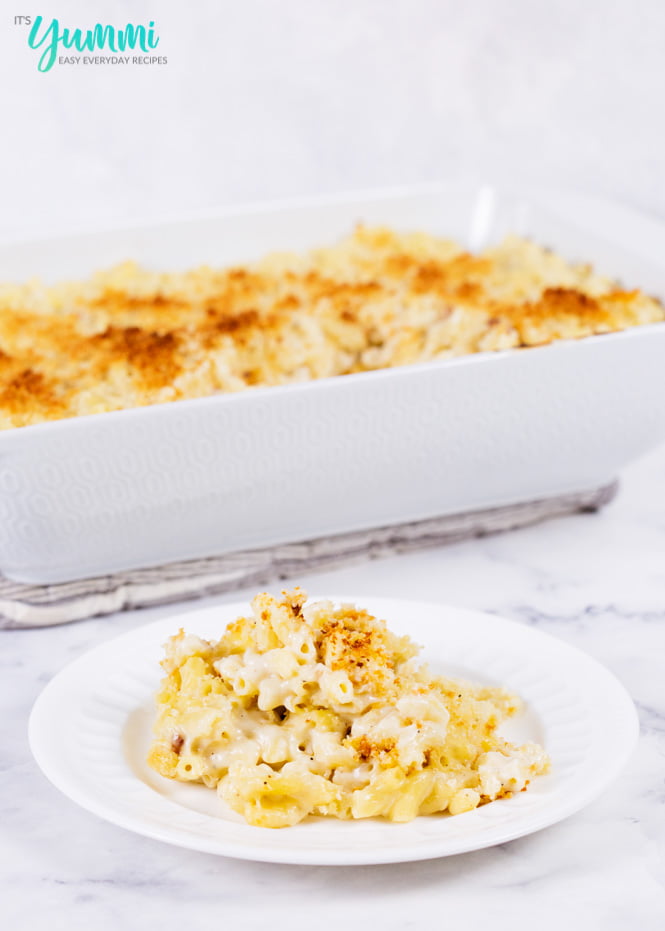 Come on now. You know you need to have Ina Garten grown up mac and cheese in your belly.
If you love comfort foods with cheese you'll love these!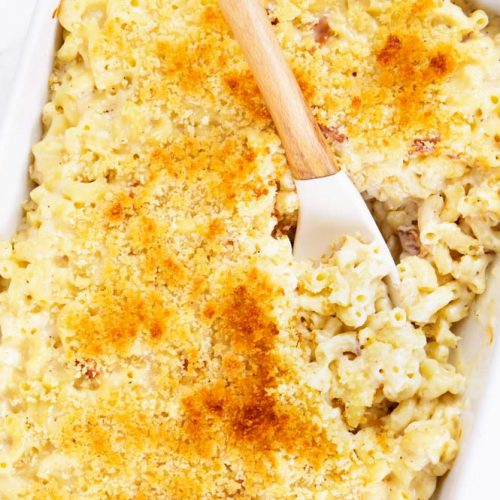 Ina Garten Grown Up Bacon Mac and Cheese
This mac and cheese isn't kid stuff from a blue box, but your kids will love it! It's loaded with 4 cheeses and bacon. It's baked macaroni and cheese made with grown ups in mind! Ina Garten grown up mac and cheese is not your ordinary macaroni and cheese! It's loaded with a rich, creamy cheese sauce that is made from 3 types of cheese!
Ingredients
Kosher salt

1

pound

uncooked elbow macaroni

(or small pasta shape of your choosing)

32

ounces (4 cups)

milk

4

ounces (8 Tablespoons)

unsalted butter

divided

½

cup

all-purpose flour

6

ounces

Gruyère cheese

grated

8

ounces

white cheddar cheese

shredded

4

ounces

ounces crumbled blue cheese

2

ounces

cream cheese

softened

4

ounces

crisply cooked and crumbled bacon

½

teaspoon

freshly ground black pepper

½

teaspoon

nutmeg

½

cup

Panko bread crumbs
Instructions
Heat oven to 375 degrees.

Bring a large pot of water to a rolling boil. Add enough salt to make the water taste "like the sea". Add the macaroni and cook according to the directions on the package, 6 to 8 minutes. Drain well in a colander.

Meanwhile, heat the milk over medium heat in a small saucepan, but don't boil it. Melt 3 ounces (6 tablespoons) of butter in a large (4-quart) pot and add the flour, stirring to create a roux.

Cook over low heat for 2 minutes, stirring with a whisk. Slowly whisk the hot milk into the roux and cook over medium heat, stirring occasionally, until thickened and smooth.

Turn heat to low and add all cheeses, crumbled bacon, pepper, and nutmeg. Add the cooked macaroni and stir well. Pour into a 3-quart baking dish.

Melt the remaining 2 tablespoons of butter, combine them with the bread crumbs, and sprinkle on the top. Bake for 20 to 25 minutes, or until the sauce is bubbly and the bread crumbs are browned on the top.
Nutrition
Serving:
1
serving
Calories:
768
kcal
Carbohydrates:
58
g
Protein:
34
g
Fat:
44
g
Saturated Fat:
25
g
Cholesterol:
127
mg
Sodium:
793
mg
Potassium:
454
mg
Fiber:
2
g
Sugar:
8
g
Vitamin A:
1227
IU
Calcium:
653
mg
Iron:
2
mg