Making Pastry Dough in a Food Processor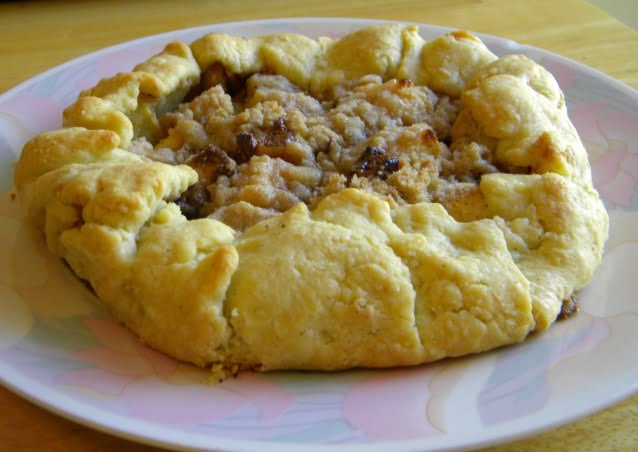 With Thanksgiving less than one week away, it's time to fire up the oven and officially start the 2011 baking season. Now THAT'S something to gobble about!
The secret to serving a perfectly yummilicious pastry dessert lies in using fresh ingredients, and in making a flaky, buttery, light-as-air crust. There are numerous suggestions for making perfect pastry dough, all of which I've tried on my journey for the perfect pie.
Fortunately for you, I've already made all of the pastry flops and learned the hard lessons to be able to avoid you the embarrassment of serving a holiday pie that tastes like a cardboard box. Here are my tricks of the trade:
MAKING BEAUTIFUL PASTRY DOUGH IN A FOOD PROCESSOR
1.  Measure your ingredients accurately, using a good quality kitchen scale.  There are thousands to choose from, ranging anywhere from $8 to $180 dollars.  I'm a frugal girl on a limited budget, but I also wanted a good quality, accurate, and reliable scale.
Incidentally, I wasn't compensated for that review, I really do just love my scale! Anyhoo, on to tip #2…
2. Make sure that ALL of your ingredients are very cold before you start working with them.
I even put my dry ingredients into the freezer for a quick chill for about 20 minutes before I start making the recipe. The most important thing is to have your butter as cold as it can possibly be. If it's too warm, it will spread before the pastry has had time to incorporate and start baking in the oven. This will leave you with a finished product that is heavy, dense, and dry.
3. Don't overwork the dough.
This is one time when you should definitely heed the parental warning to stop playing with your food.  The more you mix, roll, knead, and touch your dough, the more unhappy you will be with the results.  Some people prefer to use a pastry cutter to incorporate their butter.
I've tried using one to make pastry dough, but I found that I was still working the dough too much when trying to get the butter incorporated, and I also found it a bit of a pain when the cold butter got stuck between the blades.  Then I found this video on YouTube for making the perfect pie crust.  The video suggest the use of a food processor to make the dough.  In my opinion, that idea is pure genius!  By making the dough in the processor, it takes nothing more than a few quick pulses and the cold butter is beautifully incorporated into the dry ingredients.
In fact, maybe you should watch the video, too. He also talks about how he adds cider vinegar to his dough to make it extra flaky. I love that tip, and it's 100% true. This recipe makes a pastry crust that melts in your mouth!
Here's the recipe, as mentioned in the video.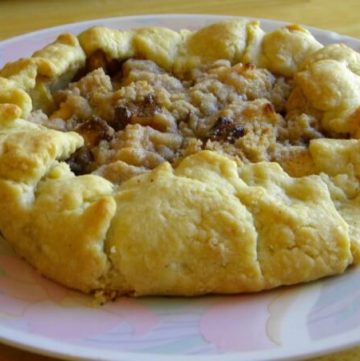 How to Make Pastry Dough in a Food Processor
Learning how to make pastry dough in a food processor will help you create a perfect, flaky pie crust EVERY TIME. This foolproof method keeps your warm hands away from the dough and helps to prevent overworking it, which can cause pie crust to be tough.
Ingredients
2

cups

all-purpose flour

plus extra for dusting

.25

cup

cake flour

.5

cup

unsalted butter

VERY cold and cubed

.5

cup

shortening

VERY cold and cubed

.5

tsp

salt

5-6

tbsp

ice water

1.5

tsp

apple cider vinegar
Instructions
Add the flours and salt to the bowl of a food processor and combine by pulsing 3 times.

Place cubed butter into the processor and combine with flour by pulsing 5-6 times.

Add shortening and pulse 5-6 times.

Add cold water and cider vinegar slowly while pulsing. Mix until it is almost incorporated into a ball.

Chill for 30 minutes (if necessary), then cut into two pieces, one slightly larger than the other (you'll use the larger piece for the bottom crust). Roll out the dough on a floured surface and place into a pie plate.
Notes
This recipe makes enough pastry dough for one double-crust, 9-inch pie.
Nutrition shown is for the entire batch of dough
Nutrition
Serving:
1
batch
Calories:
2744
kcal
Carbohydrates:
213
g
Protein:
30
g
Fat:
197
g
Saturated Fat:
84
g
Cholesterol:
244
mg
Sodium:
1189
mg
Potassium:
267
mg
Fiber:
7
g
Vitamin A:
2835
IU
Calcium:
65
mg
Iron:
11.9
mg
I wish you the best of success making your pastry dough… and I hope you have an absolutely yummi holiday meal!
~Becca