Microwave caramel sauce is the quickest way to have rich, homemade caramel sauce. No candy thermometer is needed to make this easy caramel sauce recipe, because it cooks in a microwave!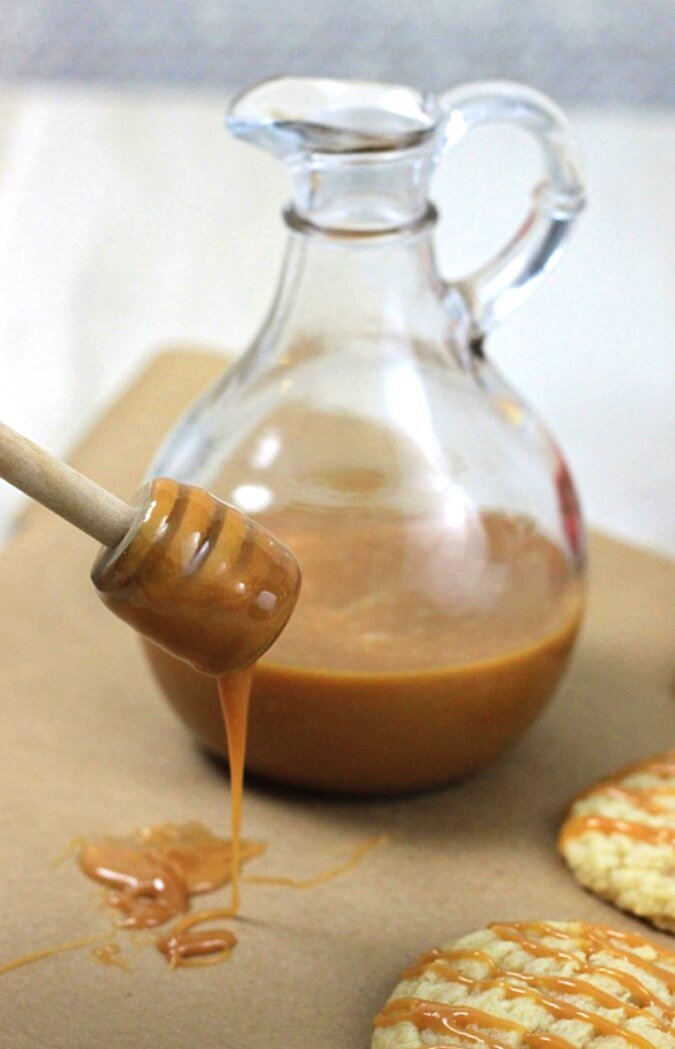 This microwave caramel sauce is the perfect go-to dessert sauce recipe. The recipe is easy to make, and the caramel sauce stays soft after cooling. Many traditional caramel candy based sauces become chewy and hard once they come to room temperature, but not this one! Traditional caramel candy sauces might be good for making candy, stuffing into things like Snicker's cupcakes, or coating caramel apples. but for me, chewy sauce on ice cream or drizzled over cake is not a yummi experience!
So, for desserts that aren't good with a chewy caramel sauce, I use this microwave caramel sauce recipe instead.
Why this microwave caramel sauce recipe works:
The secret to keeping the caramel sauce softer is in using corn syrup. Because it stays soft, this caramel sauce is great for things like drizzling over apple slices, topping cookies, and eating right out of the jar. Is corn syrup healthy? No, it's not. I use organic corn syrup so that I can be sure that it's made with non-GMO corn, but the fact is, corn syrup = sugar.
One of the bonuses of this microwave caramel sauce is that all of the ingredients are shelf stable and last a long time. That means I can stock up on everything I need and have it all ready to go in 3 minutes.
Seriously, this microwave caramel sauce recipe comes together in as little as 3 minutes!
Great uses for this caramel sauce:
topping or add-in for ice cream
dress up apple pie when company comes over
dip or drizzle for cookies or fresh fruit.
Oh my gosh, I want to dip my friend Susan's peanut butter chocolate shortbread cookies into the caramel sauce, and I think drizzling it onto Joanne's snickerdoodles would be amazing!!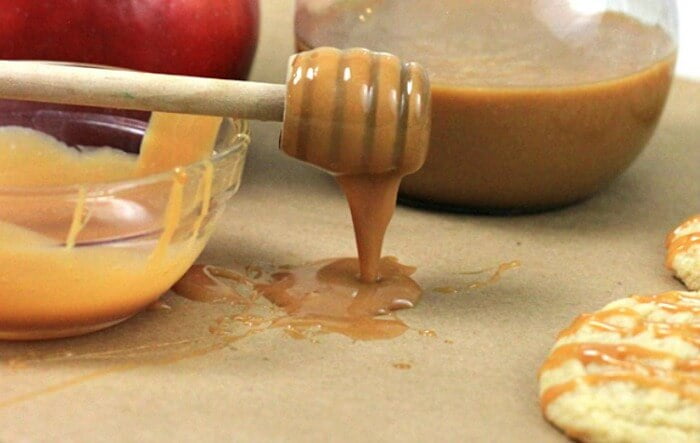 Plus, this recipe is easy to scale up or down for different portion sizes. You can make as little as a single serving, or enough to put into jars to give as holiday food gifts. Simply make the sauce, pour it into a pretty jar and then cover the lid with pretty paper or fabric. Add a ribbon and a nice tag to make a knock-your-socks-off last minute gift. Traditional caramel candy flavors are sure to please almost anyone!
Finally, clean up is a breeze. Some caramel sauce recipes require carefully watching the sugar as it cooks, and the use of a candy thermometer. They also create a big mess in the kitchen.
This caramel sauce recipe is made in one bowl, in the microwave. That means no messy pots, no burned sugar mess, and no candy thermometer needed – which is a gold star in my book!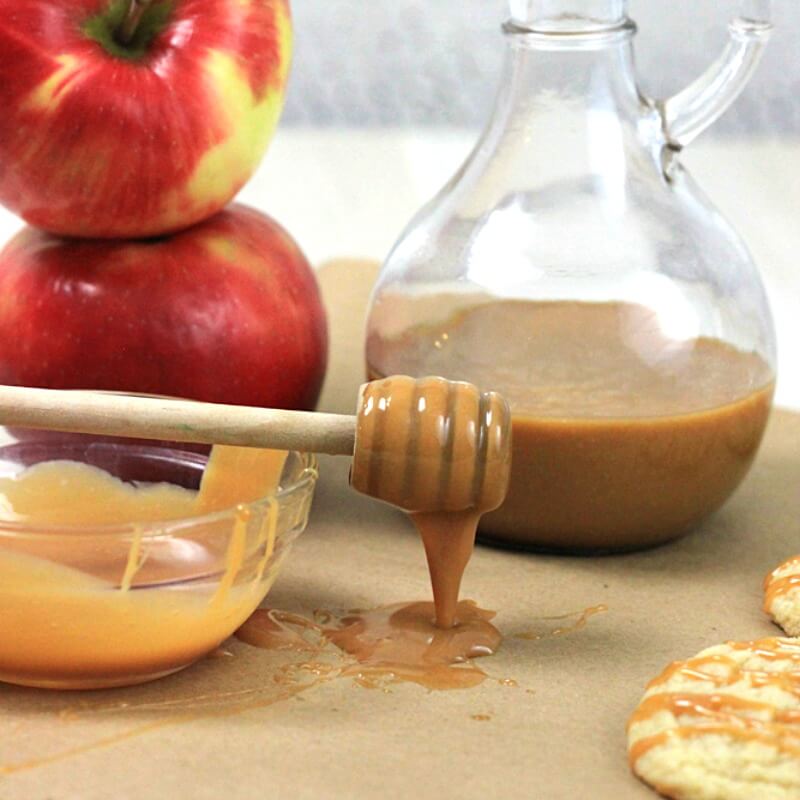 Ingredients you'll need to make this microwave caramel sauce recipe:
caramel bits
Light Corn Syrup
2 tablespoons water
It's that easy.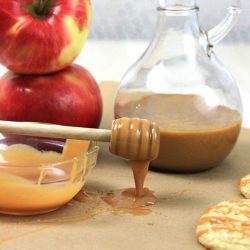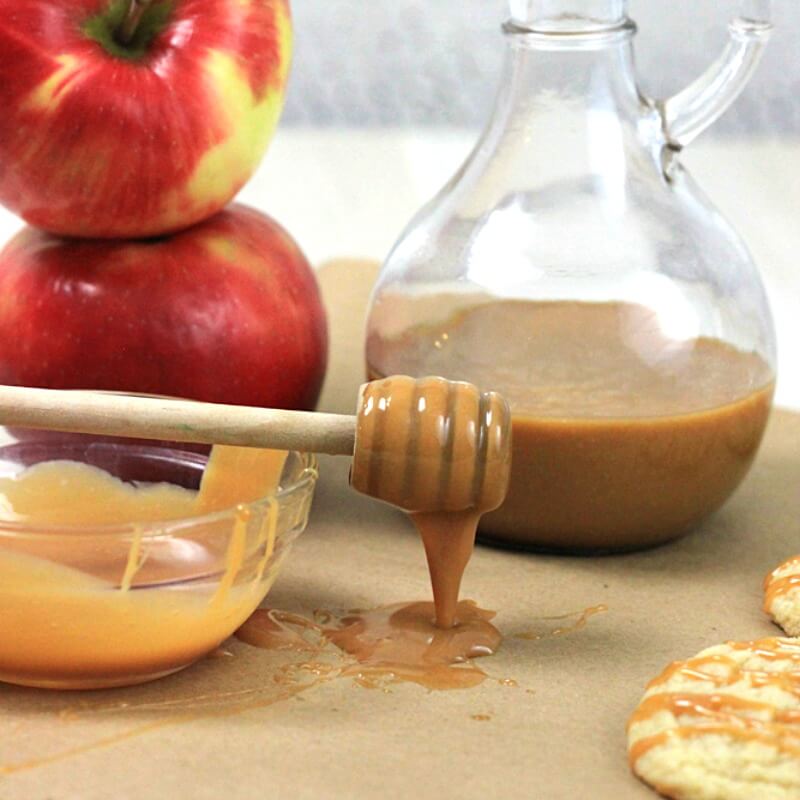 Microwave Caramel Sauce
A simple caramel sauce, made in about 3 minutes, using a microwave!
Recipe yields 1 cup of caramel sauce.
Ingredients
1

cup

caramel bits

(or equivalent caramel chews, unwrapped and cut coarsely)

4

tablespoons

Light Corn Syrup

(I use organic corn syrup)

2

tablespoons

water
Instructions
In a microwave safe dish, combine caramel bits, syrup and water.

Microwave in 30 second intervals, stirring after each until caramel is soft and sauce is incorporated.

Pour into a jar, over cookies, etc. Keep leftovers in the refrigerator.
Notes
Nutrition shown is for the entire recipe (1 cup) of caramel sauce.
Nutrition
Serving:
1
g
Calories:
520
kcal
Carbohydrates:
122
g
Protein:
3
g
Fat:
5
g
Saturated Fat:
1
g
Cholesterol:
4
mg
Sodium:
230
mg
Potassium:
151
mg
Sugar:
114
g
Calcium:
109
mg