Good Luck Foods for New Year's Day – Old Fashioned Pickled Herring
Old fashioned pickled herring, if you're into eating good luck foods for New Year's Day, is a recipe you will definitely want to make!
Are you the superstitious type? The kind to stay clear of ladders and black cats on Halloween, avoid all contact with office furniture on April Fool's Day, and consume mass quantities of good luck foods for New Year's Day?
Good Luck Foods for New Year's Day
Rumor has it that eating these foods on New Year's Day will bring you good luck for the year:
black eyed peas
collard greens
Chinese noodles, and
pickled herring
For the most part, I'm not really into that sort of thing. Go ahead and throw a ladder in my way, I'll walk under it with out fear…Heck, I'll DEFINITELY do that before climbing it. I tend to get wobbly on ladders.
April fool's jokes don't bother me. Go ahead and stick me to my desk with colored duct tape…maybe then I'll actually get some work done instead of getting up to grab a cookie or join in on a game of "replace your boss's salt shaker with sugar".
As for New Year's, I don't make resolutions because I'm then destined to break them 2.75 hours later. Instead, I set goals and pray for God's help and a heck of a lot of willpower in reaching them. Starting off the year with a little bit of good luck never hurt anyone though, or so I've been told.
As for the traditional New Year's Day good luck foods, I don't like black eyed-peas (except when they're singing "I Gotta Feeling") and I eat green leafy veggies all year 'round and they don't bring me much good luck (but they DO keep me healthy).
Old fashioned pickled herring is what brings me more hope, happiness, and luck for the new year than just about anything. Not only did I find it on this list with 9 other lucky foods, it's also a cherished memory of mine from my childhood, because my dad LOVED pickled herring!
This month, the challenge given to me and the other bloggers in The Recipe Redux group is to tell you all about new year's foods that bring good luck. So HERE'S my story…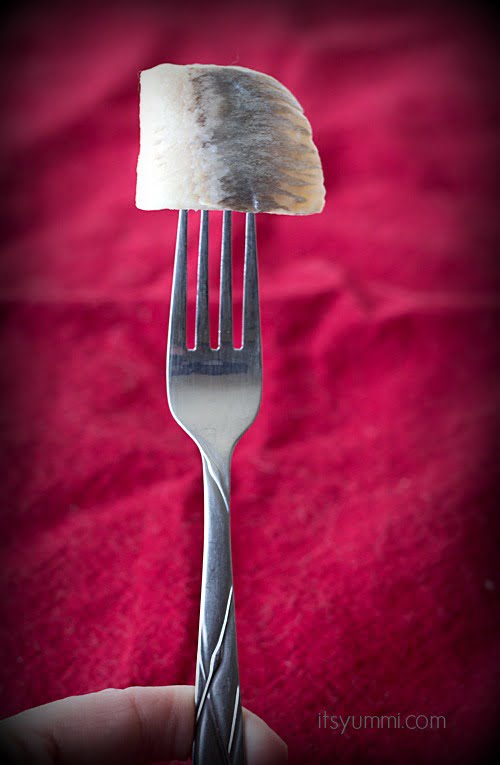 Pickled Herring on New Year's Day
Old fashioned pickled herring…on a fork. It's one of several foods that legend says will bring you good luck if eaten on New Year's Day. Allow me to explain how the lucky mojo worked in my family.
I've been told that my blood line carries some deep German roots. I believe this to be true because I get giddy at the site of sausages and sauerkraut, but also because German's are known to be a bit stubborn, and well, I might have just a TEENSY bit of stubbornness in me.
My dad definitely fit that bill, too! He believed that eating traditional pickled herring on New Year's Day would bring our family a year of good luck, and somewhere along the line, he threw in one extra requirement… Prior to eating it, the head of the household was to place that pickled herring on a fork and run around the block with it, shouting "Happy New Year!" to all of the neighbors. Umm, have I mentioned that I grew up in southeastern Wisconsin, where the temperatures are usually below zero on New Year's Day? Yeah, my memory seems to recall that Mr. German man dad usually ran around the block wearing not much more than a pair of trousers, an undershirt and his house slippers. No wonder he shouted so loudly; he was probably trying to keep himself warm.
FOOD FACTS
Herring –
Herring are a type of fresh and saltwater schooling fish that primarily feed on plankton
There are over 200 species of herring
Herring are HEALTHY! They're high in the long-chain Omega-3 fatty acids, EPA and DHA. They're also a good source of vitamin D.
Around my part of the country, Alewife Herring are the most commonly found. I remember family trips to Door County during spawning season, when the Lake Michigan beaches were strewn with stinky Alewives. There were so many, my dad would take a broom and sweep off a spot in the sand for my brother and I to build sand castles in. Little did I know that I'd one day, I'd learn the recipe to pickle those little buggers, place them onto slices of pumpernickel cocktail bread and have them find their way down into my stomach…delightfully sweet and wonderful.
Pure, raw herring is a little difficult to come by, unless you live in eastern Europe, where it's fished pretty regularly. In the United States, the best chance of making this recipe is by using salted herring, which you can pick up from most fish mongers or butcher shops. You might want to call ahead to make sure they carry it. Otherwise, they can order it for you.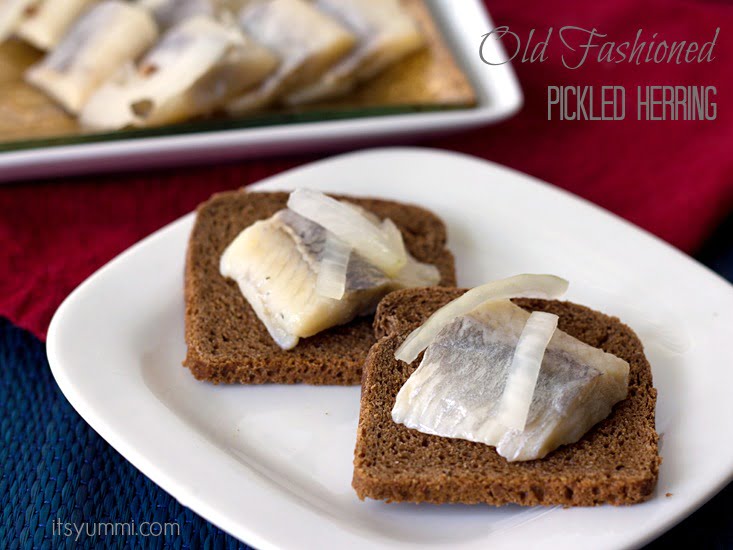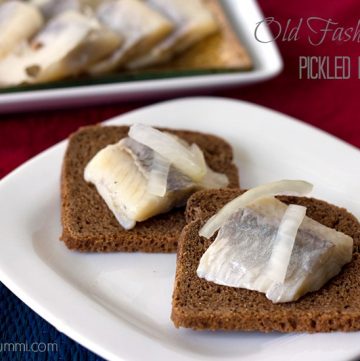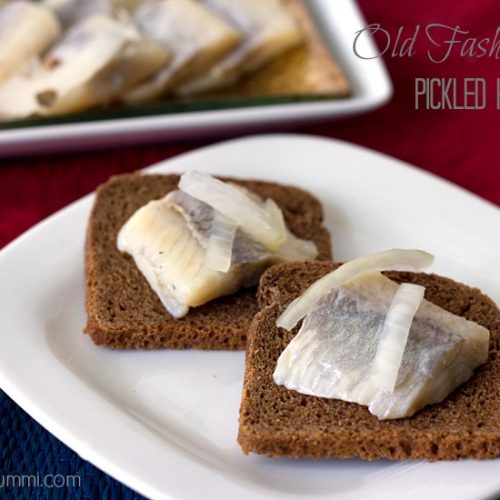 Old Fashioned Pickled Herring
Heart healthy herring fillets are marinated in pickling spices, giving them a sweet flavor and great taste! This recipe for pickled herring is fun to make, too!
Ingredients
3

whole salted herring

cleaned and filleted, skin left on (My butcher did this part for me)

2

cups

milk

1 ½

cups

water

1

cup

white sugar

8

ounces

white vinegar

2

teaspoons

ground allspice

2

teaspoons

whole yellow mustard seeds

1

teaspoon

caraway seeds

1

Tablespoon

peppercorns (I used tri-color

but black will also work)

1

small onion

sliced into thin rings

¼

cup

fresh dill weed

2

bay leaves

1

piece

(2-inches) fresh horseradish

cut into big slices
Instructions
Soak the herring fillets in milk for 12 to 24 hours to draw out excess salt. Drain, rinse with cold tap water, and pat dry with paper toweling or a kitchen towel. Cut the fillets crosswise into 2-inch strips.

In a saucepan, combine water, sugar, vinegar, allspice, mustard seeds, caraway seeds, and peppercorns. Bring mixture to a boil, stirring to dissolve the sugar. Remove from heat and cool completely.

Arrange herring fillets, onion, dill, bay leaves, and horseradish in a glass dish or glass canning jar. Pour the cooled pickling mixture into the jar so that all the ingredients are completely covered with the liquid. Cover and refrigerate overnight or up to 2 days before serving.
Nutrition
Serving:
4
pieces
Calories:
213
kcal
Carbohydrates:
37
g
Protein:
5
g
Fat:
4
g
Cholesterol:
10
mg
Sodium:
116
mg
Potassium:
142
mg
Fiber:
1
g
Sugar:
34
g
Vitamin A:
200
IU
Vitamin C:
3.3
mg
Calcium:
208
mg
Iron:
0.7
mg