Pizza Dough without Yeast
Homemade Pizza Dough without yeast is entirely possible and we'll show you how. It is incredibly easy to make and is super versatile. Pizza is for dinner tonight!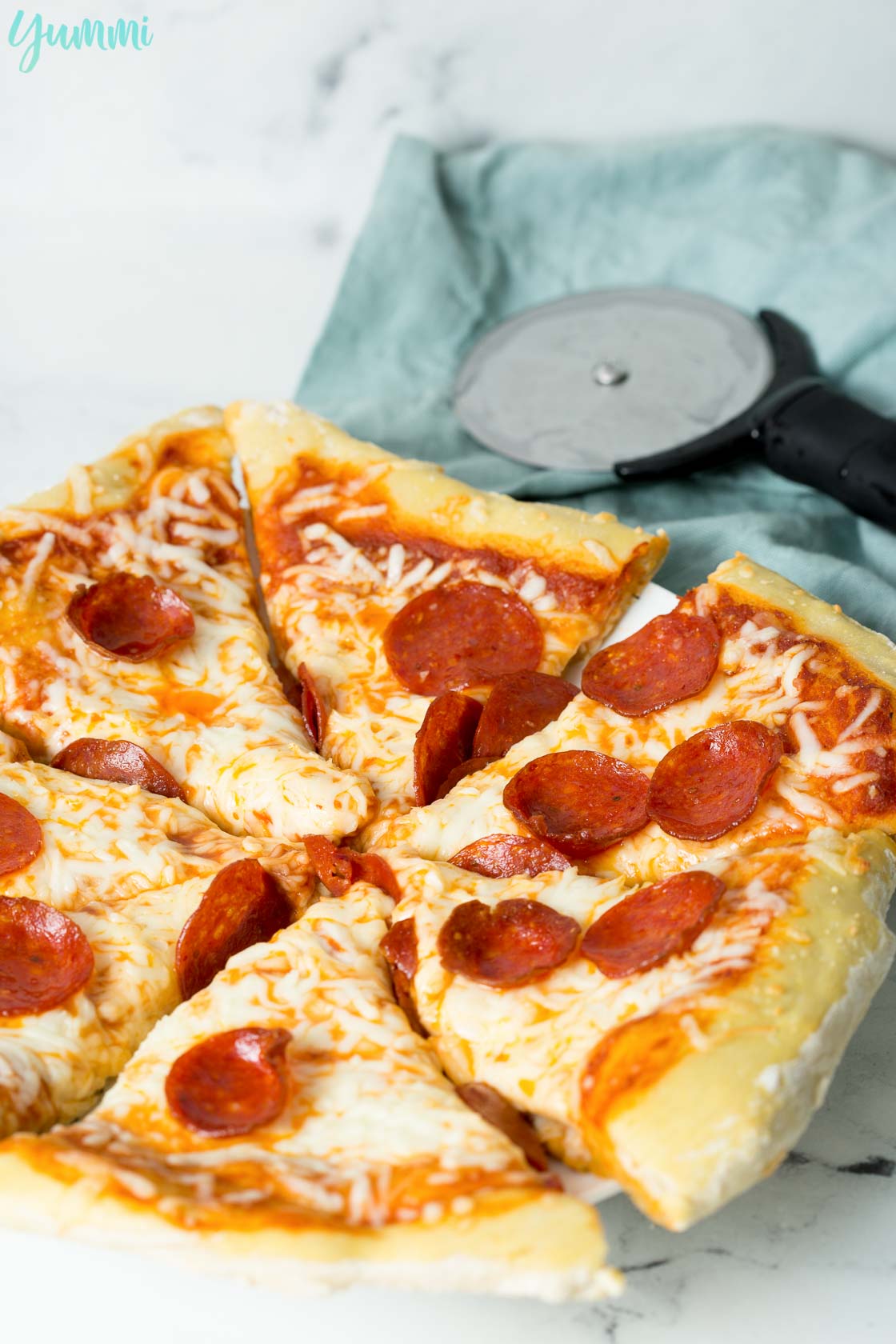 A little about us. We truthfully like to avoid yeast based breads when we can. While yeast breads definitely have their time and place like with our whole wheat bread. There are times that we are just looking for something quick to pull together for dinner. This Homemade Pizza Crust is the solution.
We'll go through with you step-by-step on how to make this pizza crust without yeast. Just trust us. This is delicious.
Can you make pizza dough with yeast?
Yesssssss you cannnnn. There are many ways that you can enjoy pizza and many versions will have yeast to make it. 99% of the time these days we've lost track of the days and don't realize how it's the weekend already. So a quick pizza crust was needed.
Have you heard of yogurt dough?
Some people call it 2-ingredient dough because they'll make it with just flour and yogurt. While the results of this are alright we find adding just a few other basic staple ingredients to the mix really make this yogurt dough out of this world delicious. I know this sounds odd, but trust us.
What you'll need: All-purpose flour, seasoning, yogurt and an egg.
If you look at other yogurt dough pizzas you'll find them being a bit more cardboard like. I like to describe it as 'gluten-free-pizza-like'. Have you ever had gluten-free pizza before? It's generally rather cardboard-like without much fluff to the edges. Ours competes with traditional pizza crust! We actually made these everything bagels with this same dough.
Once you combine your ingredients together you'll want to place it onto a well floured surface. Knead the dough until it comes together into a ball. You will want to liberally flour your hands so it doesn't stick and then once it is kneaded together you can roll it out to what size you would like!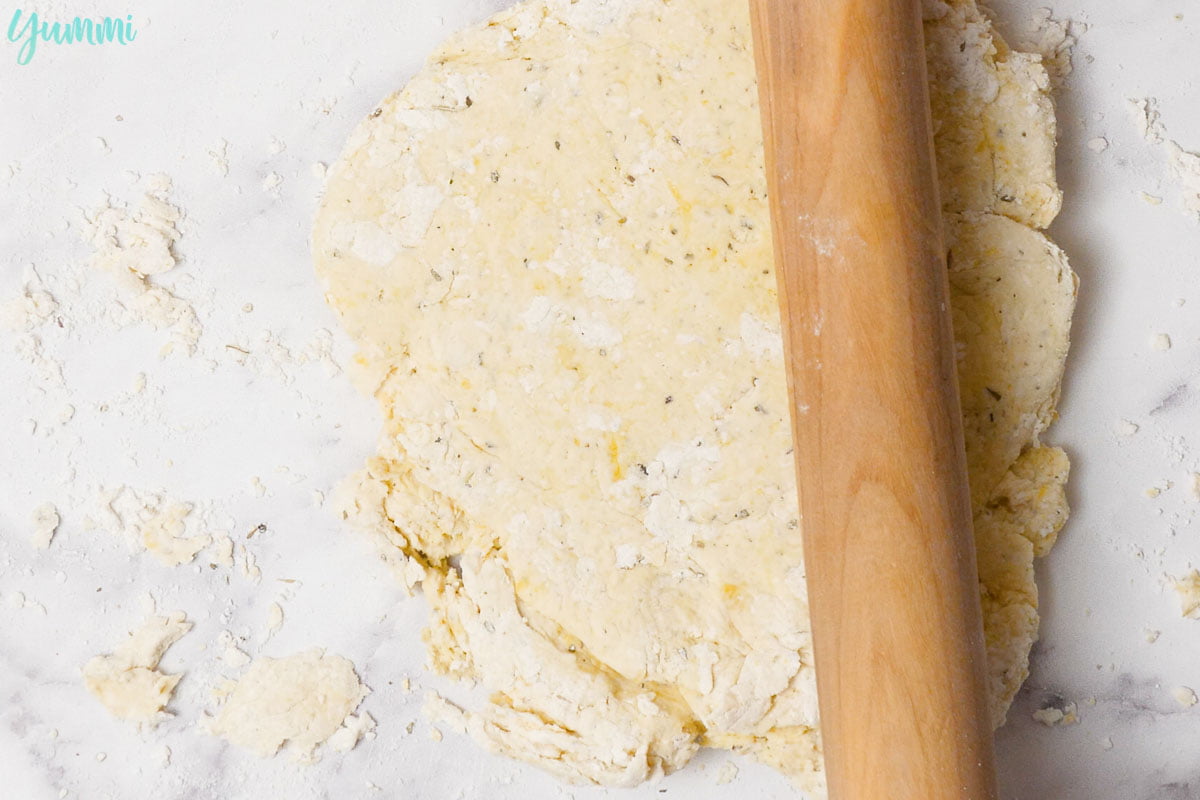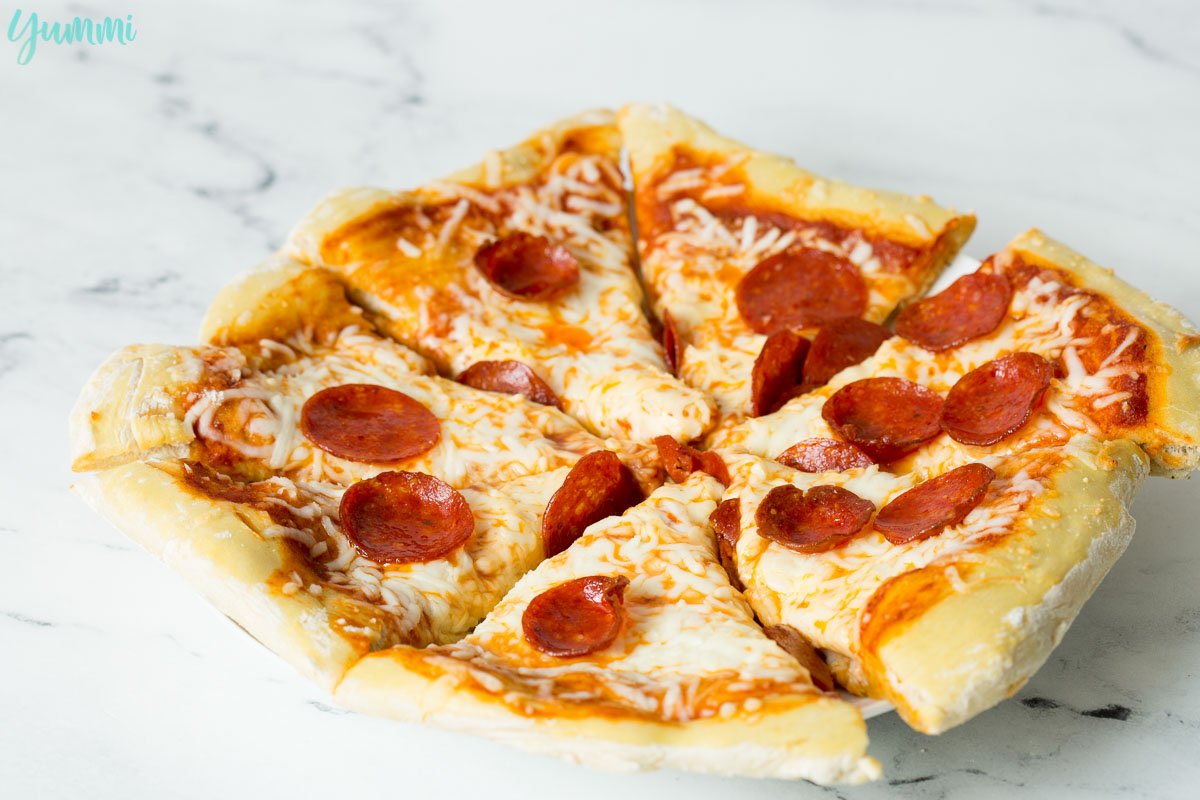 TOPPINGS FOR PIZZA
Sauces: Can't forget about the sauce. You can opt for a standard marinara or this low carb pizza sauce for a classic pizza.
With toppings the possibilities are endless. As you see when went for the classic pepperoni and cheese pizza.
Other toppings: Bacon, ham, pepperoni, sausage, chicken, onions, green peppers, fresh tomatoes, mushrooms are strong topping options.
Beyond the sauce and toppings, mozzarella cheese is our go to, but we like to add a little cheddar as well.
Mozzarella tip: If you are using blocked mozzarella be sure that it is mozzarella made for pizza! The mozzarella balls swimming in liquid will undoubtably release all their extra water into the pizza while it bakes. The results are less than appealing.
Another unique pizza crust idea not requiring any yeast is fatdough pizza. Check out That's Low Carb's Fathead Pizza Dough recipe. You can't go wrong with either of these dough options!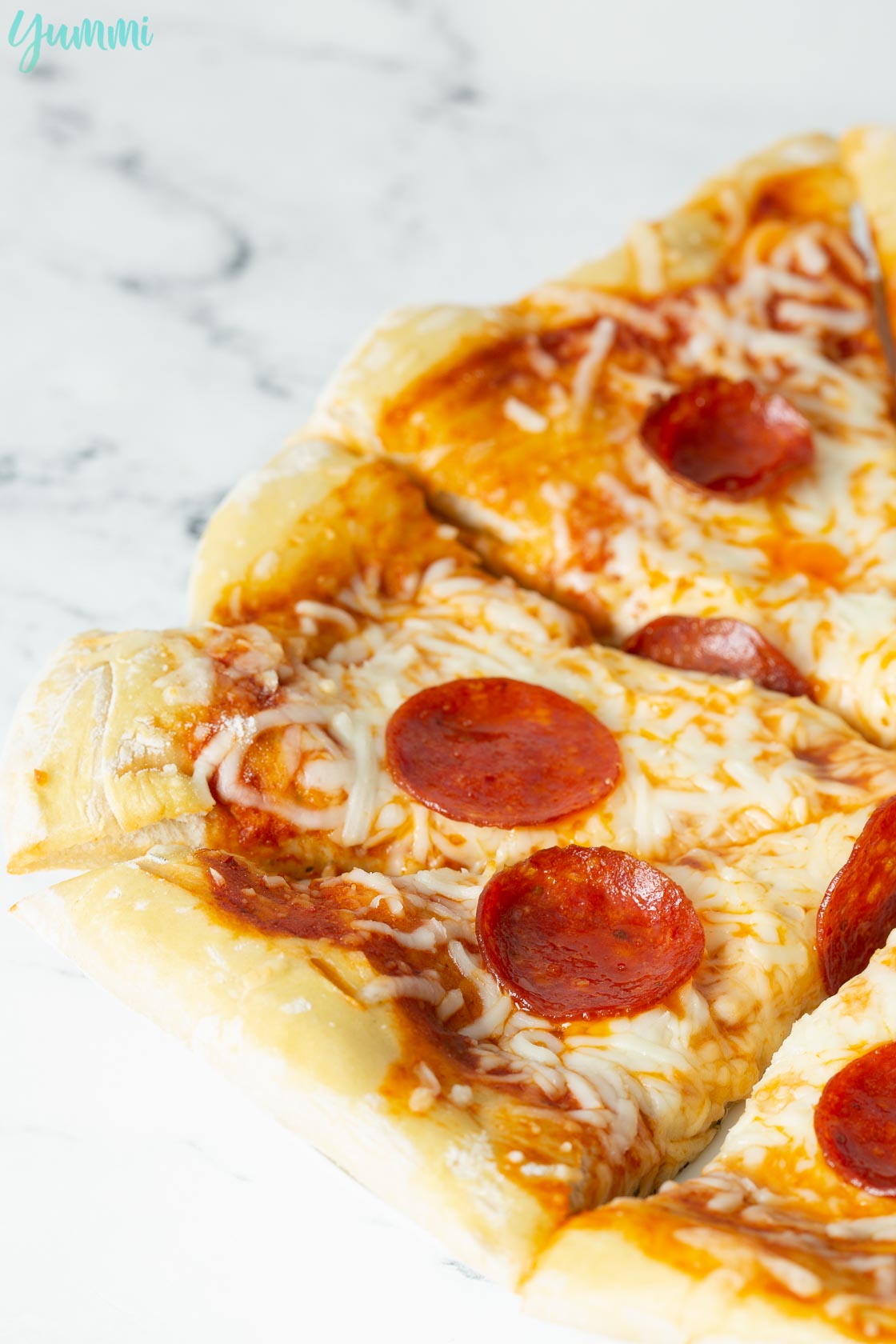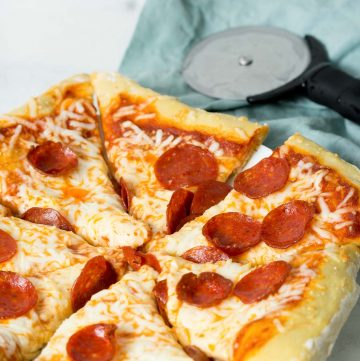 Pizza Dough without Yeast
Homemade Pizza Dough without yeast is entirely possible and we'll show you how. It is incredibly easy to make and is super versatile. Pizza is for dinner tonight!
Ingredients
1 ½

cups

all-purpose flour

+ more for rolling

2

teaspoon

Italian seasoning

1

teaspoon

baking powder

½

teaspoon

garlic powder

½

teaspoon

sea salt

¾

cup

plain yogurt

(I personally like full-fat yogurt but greek works too)

1

egg

1

Tablespoon

olive oil

marinara sauce, pizza toppings
Instructions
Preheat oven to 375 degrees F. Prepare a pizza pan with nonstick parchment paper.

In a medium bowl, whisk together gluten-free flour, baking powder, salt. Stir in yogurt and 1 whisked egg. Gently fold until dough forms.

Pour dough onto a well floured surface and knead dough a few times for it to form into a ball.

Roll out dough into a 12-inch circle. You can roll it out larger if you desire a thinner crust. Brush pizza crust with olive oil. Add marinara sauce and toppings of your choice.

Place dough onto prepared pan. Bake for 20-25 minutes, or until crust is cooked and toppings are done to your liking.
Nutrition
Serving:
1
pizza
Calories:
1001
kcal
Carbohydrates:
158
g
Protein:
32
g
Fat:
26
g
Saturated Fat:
8
g
Cholesterol:
188
mg
Sodium:
1319
mg
Potassium:
1001
mg
Fiber:
7
g
Sugar:
9
g
Vitamin A:
488
IU
Vitamin C:
1
mg
Calcium:
512
mg
Iron:
11
mg