Pomegranate No Bake Whipped Cream Cheesecake
This whipped cream cheesecake is fancy enough to use for holidays like Christmas or Valentine's Day, but quick and easy enough that you can make it any time of the year! It's a no bake favorite!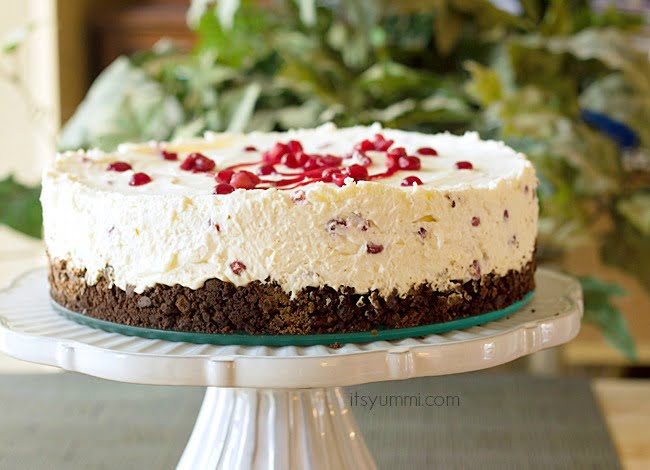 Did you see this post on my Facebook page? I announced my new found obsession with pomegranates, and I have to say that the beautiful jewels inside of the flesh are quickly becoming one of my favorite fruits. They're sweet, crunchy, and packed with nutrients!
FOOD FACTS – POMEGRANATES
Antioxidant-rich, pomegranates are also loaded with Vitamin C, Vitamin K, and Potassium
Polyphenol antioxidants help protect the body against "free radicals" – unstable molecules that cause damage to our bodies over time. Polyphenol antioxidants in pomegranate juice include punicalagin, a polyphenol unique to pomegranates and anthocyanins, which is responsible for giving pomegranate juice its rich red color.
Pomegranates were one of the very first fruits to be cultivated, over 4,000 years ago! The name "pomegranate" derives from the Middle French "pomme garnete" – literally "seeded apple." It is also sometimes referred to as a Chinese apple.
Sadly, I can't find healthy looking poms in northeastern Wisconsin very often, so I'm grateful for the companies that have decided to take on the fussy work of selecting ripe ones and removing the arils from the flesh for me. I was introduced to a couple of those companies during the Fresh Summit conference, and the generous samples that I was given to bring home with me are just about devoured now. I love that they're being marketed as a healthy snack for kids, too. The cute, portable containers they come in have spoons under the lid so they're ready to eat anytime.
So, m'loves… about this cheesecake. It's a no-bake variety. That'll score points with some of you, especially if you're of the time-crunched variety. Here's the thing, though. When it comes to cheesecake, I rarely make no-bakes. I have this incredibly delicious (and somewhat top secret) recipe that was given to me by a friend a couple of years ago. A close version of it was used to make my Berry Lemon Cheesecake.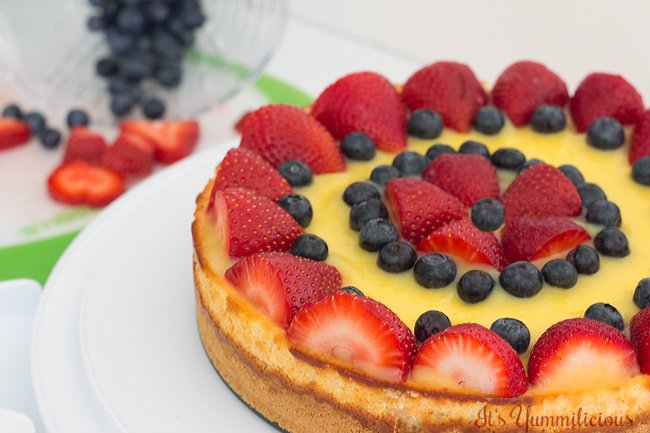 When you have a fabulous recipe that tastes incredible and bakes up well, how often do you not want to make it? In my case, I didn't want to make it because I was out of eggs. Or I might have been lazy. Maybe both. ANYhoooo…
Finding a no-bake cheesecake recipe to use wasn't an a problem. There are variations all over the Internet. I adapted one that I found here. The issue for me, the ridiculously poor "no-bake" baker, was following the directions to make it properly.
See how beautifully tall and airy looking the whipped cream cheesecake is? Well, how do I say this? To be blunt, it's supposed to be a dense cheesecake. The reason it's not is because I'm (say it with me) a ridiculously awful "no-bake" baker! I decided not to read the directions all the way through before starting the project. That's one of the worst mistakes ever! Always read the instructions, gang. Always.
I sort of skimmed over the part where it told me to mix the cream cheese, sugar, and vanilla until fluffy. I did that… but I also included the heavy whipping cream that the recipe called forlater in the directions. The heavy whipping cream that I added was supposed to be WHIPPED first and then folded into the rest of the ingredients. Yours truly, Ms. Doofus, combined it without whipping, leading to a very liquidy batter. One that would never have set up properly on its own in the fridge. So after I realized the error, I put on my culinary thinking cap and tried not to bawl my eyes out at the thought of chucking eight bucks worth of ingredients down the drain.
I determined that the only solution to a wet batter was to thicken it somehow. Corn starch would not work in this case. Corn starch cake is not something that sounds yummi to me. I suppose I could have added more gelatin, but I didn't want to end up with pudding. I just need to get rid of a little bit of the liquid. So, I took an additional cup of heavy whipping cream and whipped it up like I should have done in the first place! Then I folded that whipped cream into the liquid-y batter. TA-DA! It thickened right up…. but there wasn't enough room in my 9-inch springform pan for all of the batter. I decided that was fair, considering the extra volume I had created. I ended up with about a half cup or so of extra batter, so I filled up a couple of small ramekins with it for a single serving treat.
The above mentioned recipe development is called culinary improvisation. Cooking entertainment, stand-up comedian style, if you will. I've determined that I'm pretty freaking good at it! 🙂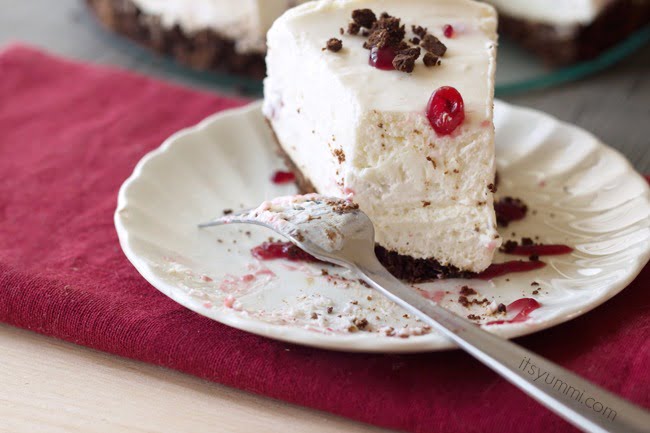 IMPORTANT NOTE: The recipe shown below is based on you NOT recreating my mistakes! While my whipped cream cheesecake did taste delicious, it was very light and airy. It tasted more like cream cheese flavored whipped cream than a true cheesecake. It would be the PERFECT consistency for a layered parfait dessert, though.
Follow the directions below and whip the heavy cream before mixing it into the rest of the ingredients and you'll have a delicious, traditional no-bake cheesecake. If you truly want to try the whipped cream cheesecake exactly as mine turned out, you'll need 2 cups of heavy whipping cream. One cup will get added as is, and the second cup will get whipped and added right before pouring the mixture into the pan.
I hope you love this no bake whipped cream cheesecake!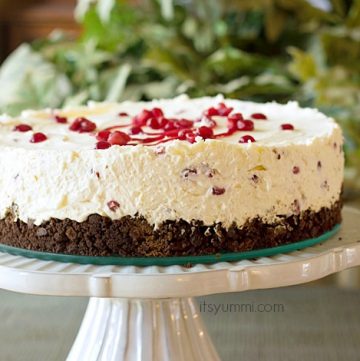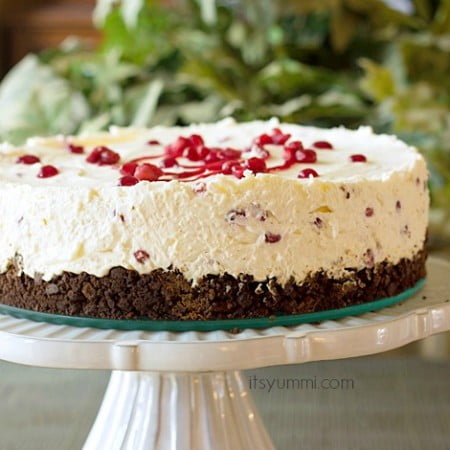 Pomegranate No Bake Whipped Cream Cheesecake
This no-bake whipped cream cheesecake has a chocolate cookie crust, a cream cheese base, and it's loaded with deliciously sweet pomegranate arils. Pure decadence!
Ingredients
FOR THE CRUST
2

cups

chocolate cookie or graham cracker crumbs

2

ounces

unsalted butter

melted
CHEESECAKE MIXTURE
1

cup

pomegranate arils

.25

oz

(1 envelope) powdered gelatin

½

cup

water

24

ounces

cream cheese

softened

¾

cup

sugar

1

teaspoon

vanilla extract

1

cup

whipping cream
POMEGRANATE SAUCE
2

cups

pomegranate juice

¼

cup

packed brown sugar

1

Tablespoon

cornstarch
Instructions
Heat oven to 375 degrees F.

Mix cookie crumbs thoroughly with melted butter Gently press crumbs into the bottom and up 1″ of the sides of a 9″ spring-form pan. Bake in heated oven for 10 minutes. Remove pan from oven and cool completely.

Sprinkle the gelatin over the water in a small saucepan. Let it sit for 5 minutes, then heat until gelatin has dissolved. Set aside to cool.

Using an electric mixer, whip the cream cheese, sugar and vanilla until fluffy. Mix in gelatin. Set aside.

In a separate bowl, use the electric mixer to whip the cream until stiff. Gently but completely mix cream cheese and 1/2 cup pomegranate arils into the whipped cream. Spoon into prepared, cooled crust. Smooth out the top.

Refrigerate for 2 hours or until set. (Can be made a day ahead)
FOR POMEGRANATE SAUCE
Place pomegranate juice in medium saucepan over high heat. Bring sauce to a boil; reduce heat and simmer (slow boil), uncovered, about 10-12 minutes or until liquid has reduced by half (you'll want 1 cup reduced liquid).

Stir together 1/4 cup brown sugar and 1 tablespoon cornstarch. Add to juice. Cook and stir until thickened and bubbly. Cook and stir 2 minutes more, then transfer to a medium bowl, cover with plastic wrap, and cool to room temperature. Store covered in refrigerator until serving time.
SERVING
To remove cheesecake from pan, gently run a sharp knife around the inside of the pan, then release the spring form. Drizzle with pomegranate sauce and top with remaining pomegranate arils.
Nutrition
Serving:
1
slice
Calories:
466
kcal
Carbohydrates:
38
g
Protein:
5
g
Fat:
33
g
Saturated Fat:
18
g
Cholesterol:
99
mg
Sodium:
247
mg
Potassium:
220
mg
Sugar:
29
g
Vitamin A:
1170
IU
Vitamin C:
1.5
mg
Calcium:
79
mg
Iron:
0.3
mg