Shrimp Creole Recipe (Dinner Under 30 Minutes)
Shrimp Creole is a easy-to-make seafood dinner with fresh shrimp, tomatoes, and the "Holy trinity" of onions, celery, and sweet bell peppers. Oh, and don't forget the hot sauce!
Shrimp Creole originated in southern Louisiana's "Creole" region. Down there, the seafood is plentiful and it is so fresh, it practically jumps out of the boat and onto your plate. I love shrimp, but I am forever embarrassed by the lack of fresh seafood at the Wisconsin grocery stores.
When I do find a batch that doesn't smell like the death of the ocean, I buy it, but I pay so much money for it that the rest of my menu usually suffers for it. I repeat… the menu plan usually suffers, but not always!
Enter stage right: shrimp Creole.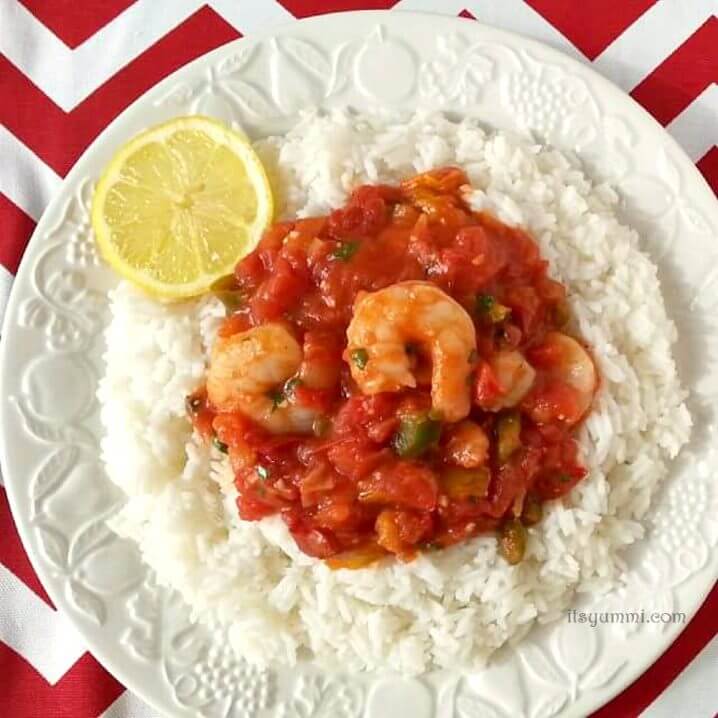 This quick and easy dinner can be cooked and ready to serve in just under 30 minutes, making it perfect for Brian and I. He's always super hungry when he gets home from work and I've been working hard all day too, so I usually don't cook things up until he gets home. Well, unless I'm making one of our favorite slow cooker meals.
This shrimp Creole is loaded with flavor, it's filling, and it has some of the least expensive pantry ingredients in it; rice, canned tomatoes, onions, celery, and sweet bell peppers. I only have $50 a week to spend on groceries, so when $20 of it is used buying shrimp, you'd better believe that I'm going to find a way to stretch the money for the remaining ingredients.
Hey, growing up in a house with 7 other people can make you a little bit crazy, but it also makes you a whole lot frugal. I'm pretty proud of my smart shopping habits.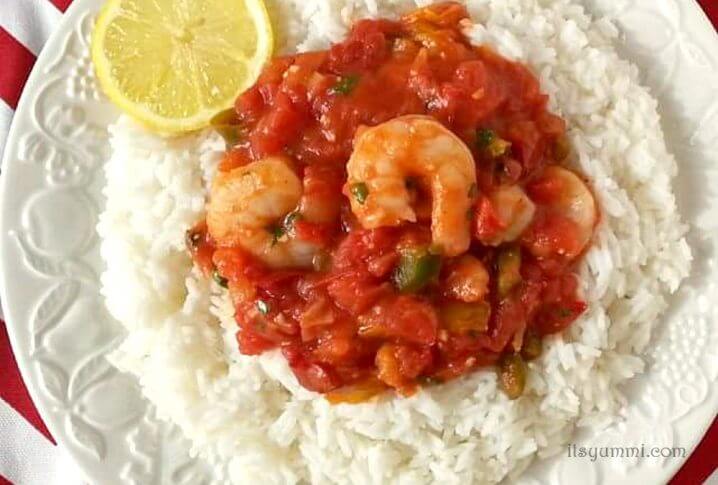 If you're not able to find fresh shrimp in your area, don't worry. Almost every grocery store stocks frozen uncooked shrimp and frozen cooked shrimp. If you buy the cooked shrimp, the only thing that needs to be done to it after thawing is to warm it up, so just toss it into the creole in the final 2 minutes. If you're using uncooked shrimp that you've thawed out, let it drain well and then use it in the recipe just as if you had purchased it fresh.
I hope you love this shrimp Creole recipe!
Oh, and if you're a seafood lover like I am, be sure to come follow my Fish and Seafood board on Pinterest. There are some amazing recipes there from my favorite food bloggers!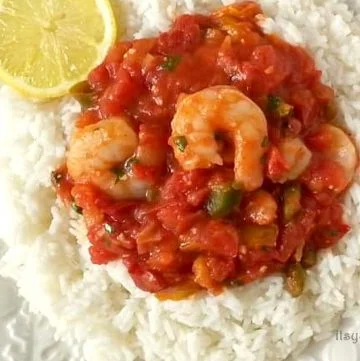 Shrimp Creole Recipe: Dinner in Under 30 Minutes
Tender shrimp, tomatoes, and a "holy trinity" of vegetables are seasoned with Creole spices cooked up, and served over hot rice. The perfect dinner in under 30 minutes!
Ingredients
2

ounces

(1/4 cup) butter

1

cup

yellow onion

diced

1

cup

celery

diced

1

garlic clove

minced

2

Tablespoons

all purpose flour

¾

teaspoon

salt (more or less

if desired)

1

teaspoon

sugar

⅛

teaspoon

cayenne pepper (more if desired)

1

teaspoon

paprika

1

small bay leaf

4

drops hot sauce (more if desired)

1

medium green bell pepper

cleaned and diced

19

oz

canned tomatoes

2

pounds

fresh shrimp**

peeled and deveined
Instructions
Melt butter in frying pan over medium heat. Add onion and celery and cook slowly until vegetables are tender, about 5 minutes. Add garlic and cook for 2 more minutes.

Stir in flour and seasonings until well blended. Stir in bell pepper and tomatoes.

Reduce heat to low and cook for 10 minutes, stirring occasionally. Add shrimp and cook until shrimp turns pink (3-4 minutes).

Serve over cooked rice.
Notes
** You can also use thawed from frozen uncooked shrimp.
This recipe is from Lynn at Southern with a Twist . She graciously granted me permission to share it in this post.
Nutrition
Calories:
221
kcal
Carbohydrates:
12
g
Protein:
22
g
Fat:
10
g
Saturated Fat:
5
g
Cholesterol:
211
mg
Sodium:
977
mg
Fiber:
3
g
Sugar:
5
g