French onion soup is a delicious, slow cooked bowl of caramelized onions in a savory rich stock. When topped with a toasted crouton and lots of melted cheese, it becomes a comfort food recipe like no other. This is the best French onion soup recipe I've ever made, and hands down, the best I've ever eaten!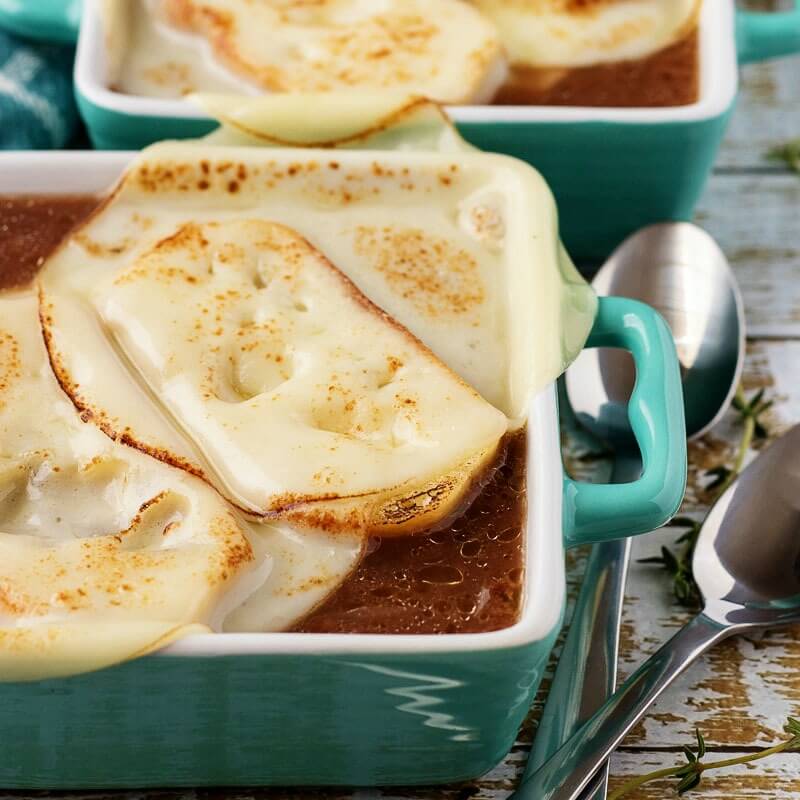 Patience has never been my strong suit, especially where cooking and baking are concerned.
I distinctly remember the Christmas I received an Easy Bake Oven. Every little girl's dream… baking up brownies via an incandescent light bulb. Learning with the Easy Bake Oven was the ONLY way that I would one day be as beautiful and talented as Miss Betty Crocker herself.
I recall stirring up the batter, pouring it into a "pan" no larger than the palm of my 7-year old hand, slipping it under the bulb…and then the waiting commenced. I just knew in my brownie lusting heart that I would receive the luxuries of my labor soon enough. So I waited…and waited…and flipped on a Donny & Marie 45 to while away the time. Then I TRIED to wait some more, but who was I kidding? I squished my hand through the back end of the machine, just far enough in to burn my fingertips on that damned 100 watt bulb. I pulled the pan of brownies out of the oven, grabbed at it with my skinny little fingers and burned my tongue as I tossed the gooey, under cooked batter down my hatch. Ah, memories.
Decades later, here I am, still suffering from Want-It-Nowitis. Even though I have the talent and supplies necessary to make a pan of brownies from scratch (and darned tasty ones at that!), I've been known to buy a boxed mix now and then *gasp*. I do it for no reason other than the reduced time it takes to prepare, bake, and be able to eat said brownies. Short cuts for the win. MOST of the time.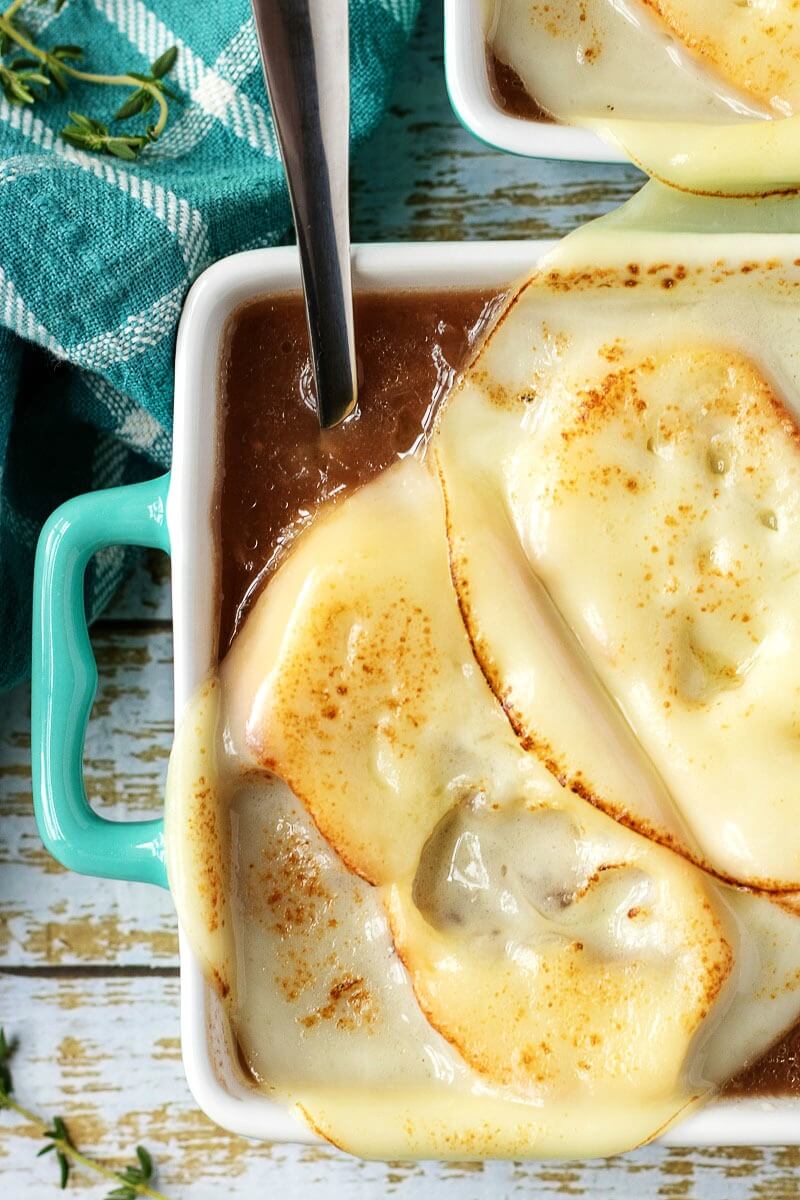 How to Make the Best French Onion Soup
French onion soup is one dish, however, that I've learned NEVER to cut corners on where time is concerned. Slow roasted French onion soup involves a pot full of caramelized onions, and caramelizing onions takes time. In other words, this is not a quick soup recipe. But it is the best French onion soup recipe!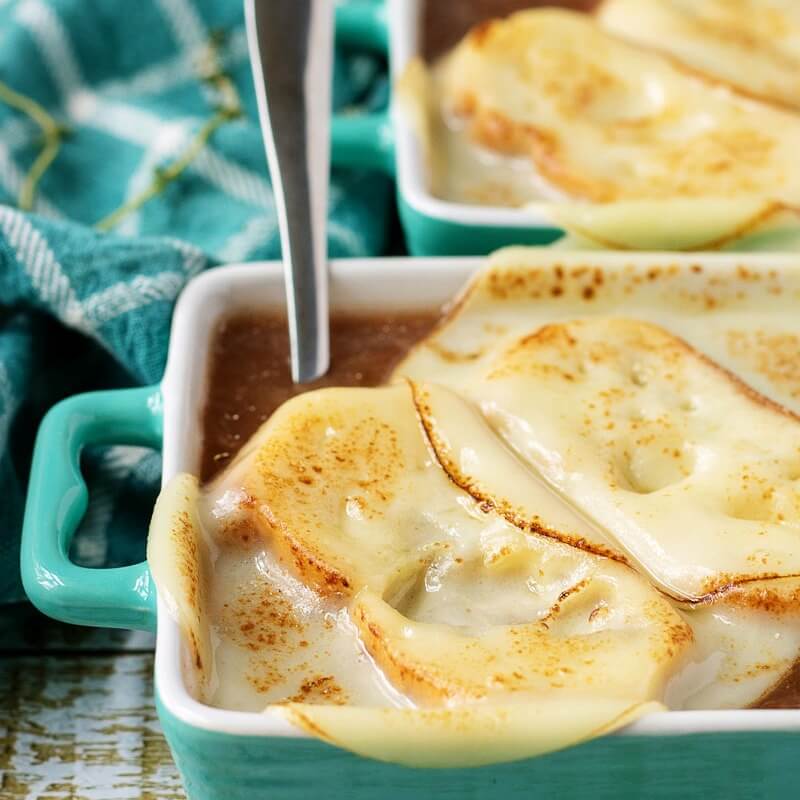 What is Caramelization?
Scientifically speaking, caramelization is the process whereby certain foods are transformed on a molecular level to remove the water, (usually by evaporation) leaving nothing but sweet goodness and a darkened color behind. Caramelization is why cookies get brown in the oven, and it's also what transforms ordinary onions into a pot of delicious, homemade French onion soup!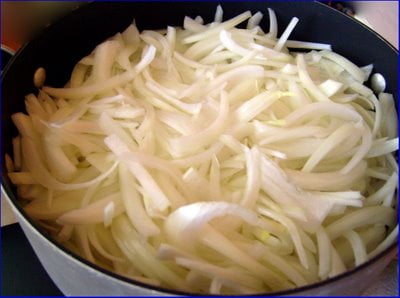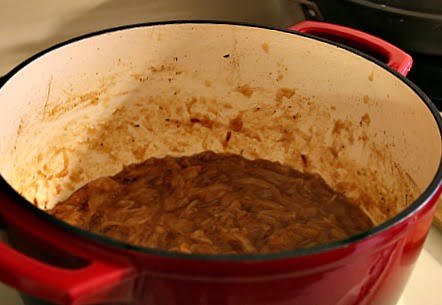 PLEASE don't give me that sad face. I realize that the contents in the pot look a bit like a slimy mess of worms, but caramelized onions are out of this world good!
They are the KEY INGREDIENT to this being the best French onion soup! I have the ticket to take them to the top level of goodness. When you add caramelized onions, some wine, seasoned stock, mushrooms, and a few spices together, it's a good thing. Then you add a crispy crouton and melted cheese to the top and you've got yourself one great thing! A yummi bowl of the BEST French onion soup, my friend!
Let's head into the kitchen and I'll show you why patience is a virtue worth practicing!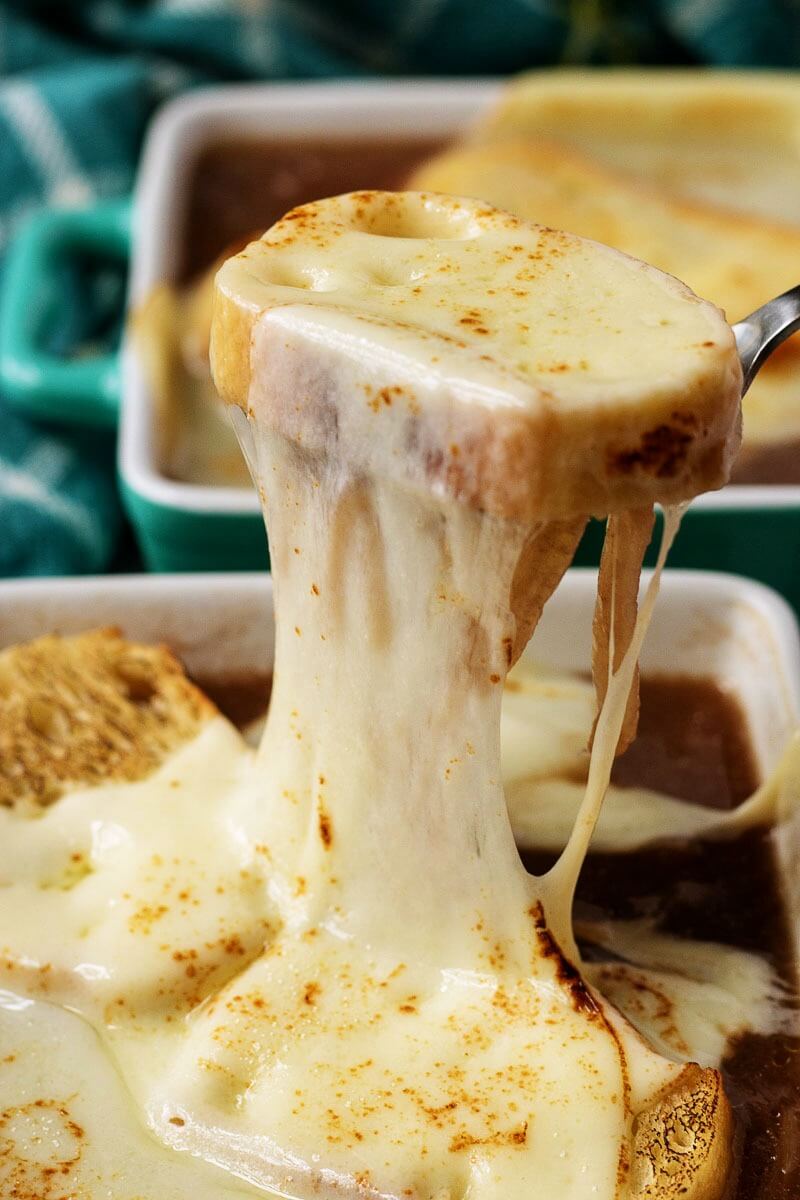 Best French Onion Soup Recipe Notes:
If you want to keep the fat and calories low in your French onion soup, use LOW FAT cheese and LOW SODIUM broth.
Weight Watchers Freestyle Smart Points: Based on the ingredients noted in the recipe, one cup of soup without the cheese and crouton has 3 Weight Watchers Smart Points (based on the Freestyle program). If you add one ounce of cheese and 1/2 inch slice of baguette to the top, you will need to add an addition 9 points, bringing the total to 12 Smart Points per cup! Yikes!
Do yourself a favor. Make this recipe and see if you think it's the best French onion soup you've ever tasted. Then please come back and leave me a comment and rate the recipe!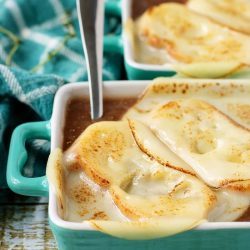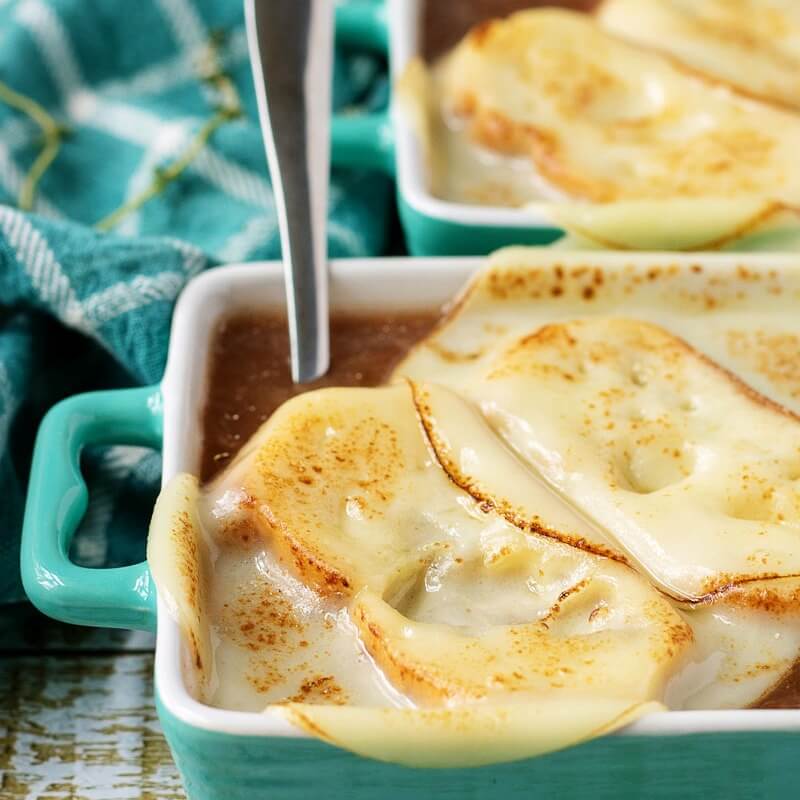 Best French Onion Soup
The onions are the secret to this being the best French onion soup. They're slowly caramelized in a Dutch oven over several hours, leaving the soup flavorful, filling, and perfect for a chilly night warm up!
Ingredients
For the Soup:
3

tablespoons

unsalted butter

cut into 3 pieces

6

large

yellow onions

(about 4 pounds), halved pole to pole & cut into 1/4-inch thick slices

Kosher salt

to taste

2

cups

water

plus extra for deglazing

½

cup

dry sherry

4

cups

low-sodium chicken broth

2

cups

beef bone broth

or beef stock

2

teaspoons

dried thyme

or 6 sprigs fresh (tied with kitchen string)

1

cinnamon stick

1

bay leaf

Ground black pepper

to taste
Cheese Croutons:
1

French baguette

cut into 1/2-inch slices

2 ½

cups

shredded Gruyère cheese

(about 12 ounces)
Instructions
For the soup:
Adjust oven rack to lower-middle position and heat oven to 400 degrees. Generously spray inside of heavy-bottomed large (at least 7-quart) Dutch oven with nonstick cooking spray. Place butter in pot and add onions and 1 teaspoon salt. Cook, covered, 1 hour (onions will be moist and slightly reduced in volume).

Remove pot from oven and stir onions, scraping bottom and sides of pot. Return pot to oven with lid slightly ajar and continue to cook until onions are very soft and golden brown, 1 to 1.5 hours longer, stirring onions and scraping bottom and sides of pot after 45 minutes.

Carefully remove pot from oven and place over medium-high heat. Using oven mitts to handle pot, cook onions, stirring frequently and scraping bottom and sides of pot, until liquid evaporates and onions brown, 15 to 20 minutes, reducing heat to medium if onions are browning too quickly. Continue to cook, stirring frequently, until pot bottom is coated with dark crust, 6 to 8 minutes, adjusting heat as necessary. Scrape any brown bits (fond) that collects on spoon back into onions.

Stir in 1/4 cup water, scraping bottom of pot to loosen crust, and cook until water evaporates and bottom of pot has formed another dark crust, 6 to 8 minutes. Repeat process of deglazing 2 more times, or until onions are very dark brown. Stir in sherry and cook, stirring frequently, until sherry evaporates, about 5 minutes.

Stir in broths, 2 cups water, thyme, cinnamon stick, bay leaf, and 1/2 teaspoon salt, scraping up any final bits of browned crust on bottom and sides of pot. Increase heat to high and bring to simmer. Reduce heat to low, cover, and simmer 30 minutes. Remove and discard herbs, then season with salt and pepper
Make the Croutons:
While soup simmers, arrange baguette slices in single layer on baking sheet and bake in 400-degree oven until bread is dry, crisp, and golden at edges, about 10 minutes. Set aside.
To Serve:
Adjust oven rack 6 inches from broiler element and preheat broiler.

Set individual broiler-safe crocks on baking sheet and fill each almost to the brim with soup. Top each bowl with 1 or 2 baguette slices (do not overlap slices) and sprinkle evenly with Gruyère. Broil until cheese is melted and bubbly around edges, 3 to 5 minutes. Let cool 5 minutes before serving.
Notes
Weight Watchers Smart Points (based on Freestyle program) per 1 cup = 12 with cheese crouton or 3 without cheese crouton
Adapted from Cooks Illustrated "Perfect French Onion Soup"
Nutrition
Serving:
1
cup
Calories:
505
kcal
Carbohydrates:
38
g
Protein:
27
g
Fat:
26
g
Saturated Fat:
14
g
Cholesterol:
75
mg
Sodium:
529
mg
Potassium:
458
mg
Fiber:
4
g
Sugar:
7
g
Vitamin A:
710
IU
Vitamin C:
11.3
mg
Calcium:
647
mg
Iron:
2.5
mg