Southern Style Mustard Potato Salad
Southern style mustard potato salad is the perfect side dish! Boiled potatoes are mixed with crunchy celery, cooked eggs, and a creamy mustard dressing in this classic southern recipe.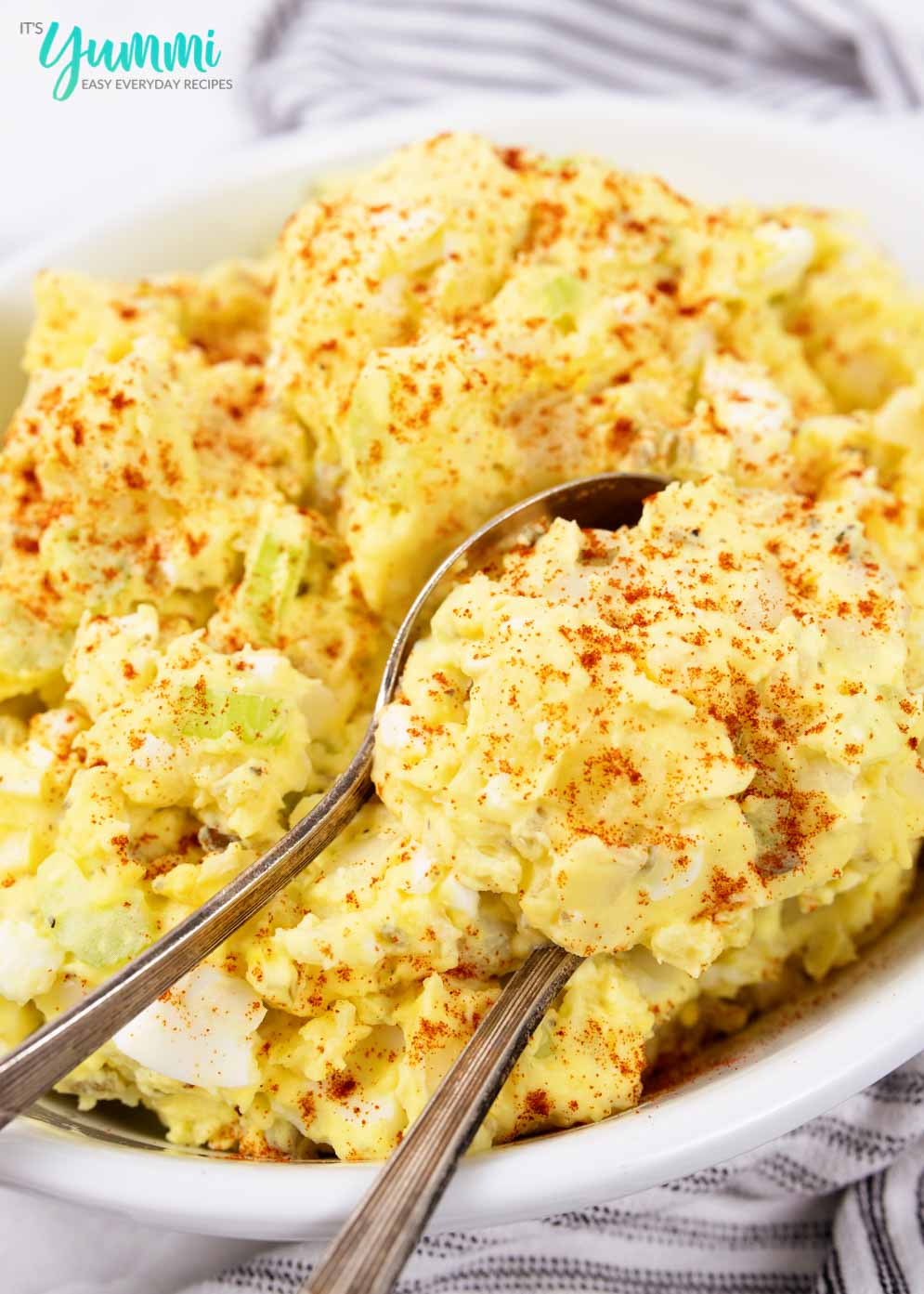 There isn't much that is better than a lovely side of mustard potato salad on a summer day. Or when you are trying to make a budget dish during 'what we shall not name'. I noticed we've had an increase on traffic for potato salads and it gave me the idea that yeah, potatoes are a fantastic staple ingredient that we have on hand.
Born in the midwest we aren't born and bred southern but that doesn't mean we don't enjoy our takes on when we've experienced heavenly southern cuisine in the past. The closest I've come to true southern cuisine is with my skillet bacon cornbread recipe. Even that isn't completely authentic, because I added cheddar cheese to the recipe. Seriously, how could I not add cheese?
We remember the honey ham, corn muffins, collard greens, and delicious southern style mustard potato salad that tasted just like this one does.
How do I know this? Well, to be honest, I don't know that it's an identical carbon copy. But I do know that it's pretty darn close, because I tweaked the ingredients over and over. I kept at it, until I was able to take a bite, close my eyes, and be transported in my mind to that little southern cafe.
The great thing about many potato salad recipes is that they're versatile. It's easy to adapt and tweak ingredients to suit personal tastes, dietary restrictions or whatever you may have in the pantry right now.
Southern Mustard Potato Salad Cooking Tips
It's important to taste and season as you go, but remember that the longer the potato salad sits in the fridge, the more intensified and developed the flavors will become.
Make sure you use crisp and crunchy celery. It makes this dish such a delight with crisp celery.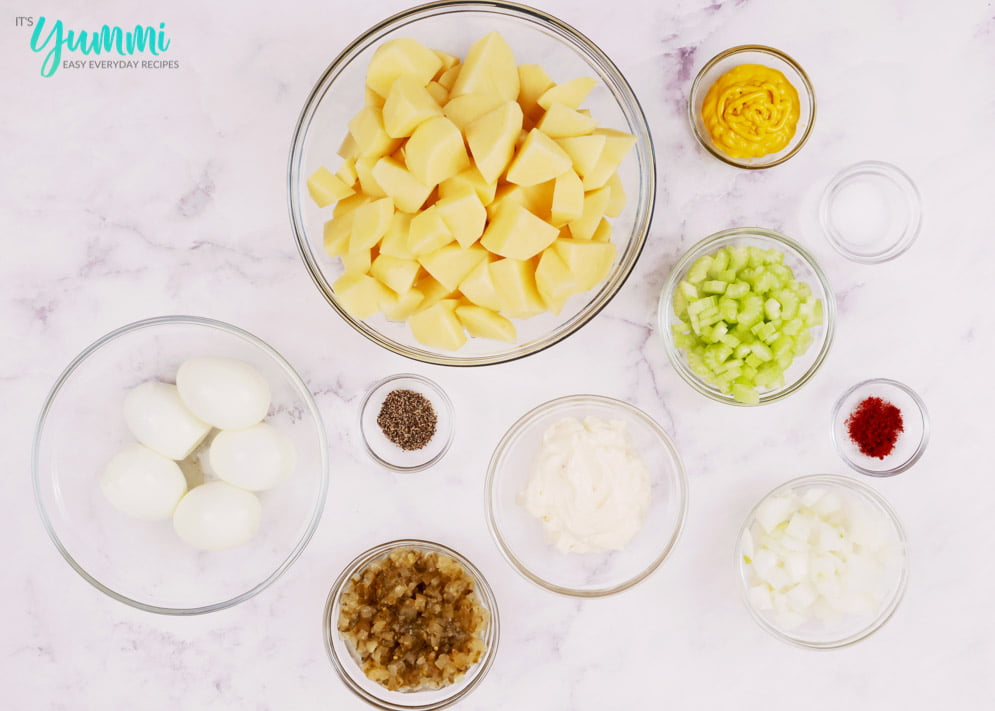 What will I need to make this mustard potato salad?
Fortunately you'll need very few ingredients and many of the ingredients you can either pull from your pantry, fridge or order online have delivered to you!
Russet Potatoes is what we used and what our recipe calls for but potato of any variety really can work. If you don't have russet potatoes you can use other varieties if that is what you have on hand.
You'll also need: eggs, celery, onion, pickle relish, mustard, mayonnaise some seasoning.
How to store potatoes?
I think there is a common misconception that potatoes have gone 'bad' once they begin growing little growths out of them. AKA eyes.
Potatoes growing eyes out of them is not a bad thing. Just means they are in a warm environment and are trying to grow more potatoes. So simply pop the eyes off and place them in a cool dark place. They should last about 2-3months in a proper cool environment with little eye growth and even if they have a bit you can simply pop them off and use like normal.
For the better good of your southern style mustard potato salad, please make sure that you're using crisp celery!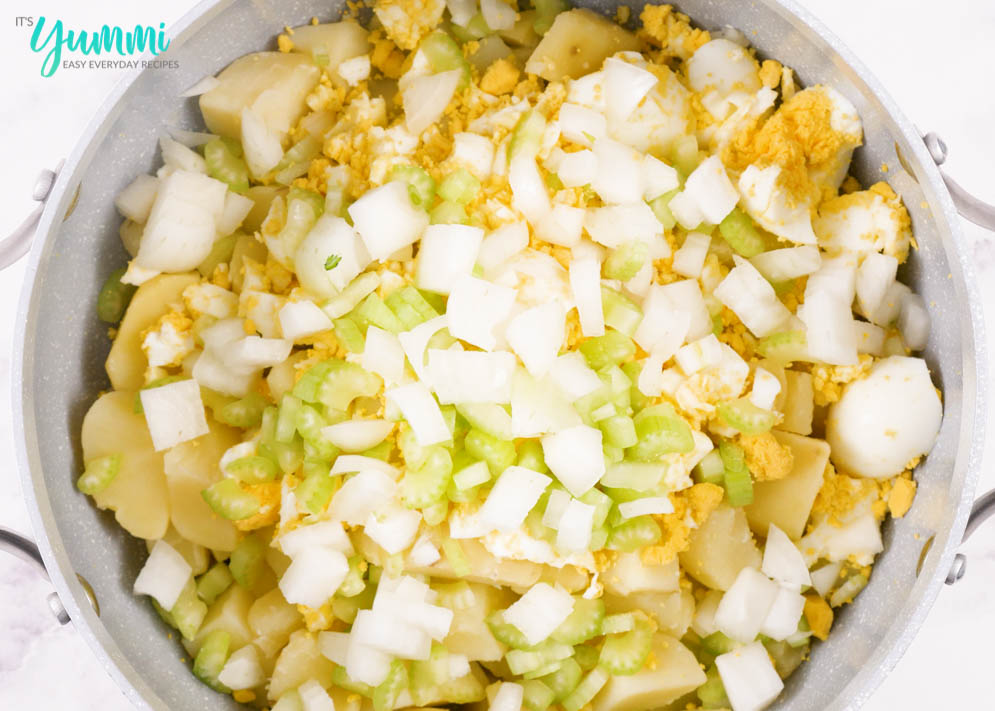 How can I grow my own potatoes?
Another fun project to do with the kids (since we've got so much time these days) I thought I'd share how you can actually grow your own potatoes from old potatoes you have laying around that are getting a bit soft and mushy. Don't throw them away!
After you've got your fill of potatoes simply slice a potato with the eyes (eyes are the growths that come out of your potatoes when they are sprouting and look like an alien) and plant in the dirt or large planter – plant with the eyes up towards the sky.
Cover with about 1 inch of soil and water. When the plant starts growing up, cover with more soil.. continue this process until top of the soil of the plant bin is at it's max and then let them grow.. once the plant begins to die back by the end of the summer start digging in the big and you'll have a bunch of potatoes!
Growing Home Celery: You can also re-grow celery by placing the bottom of the celery in about 1 inch of water and water fill it back up when it goes low. Place on your window sill for some sun and it'll begin growing back too.
This use to be my project every summer many years back as a kid.. might be time to bring it back don't you think? We've got more southern mustard potato salad to eat. 😉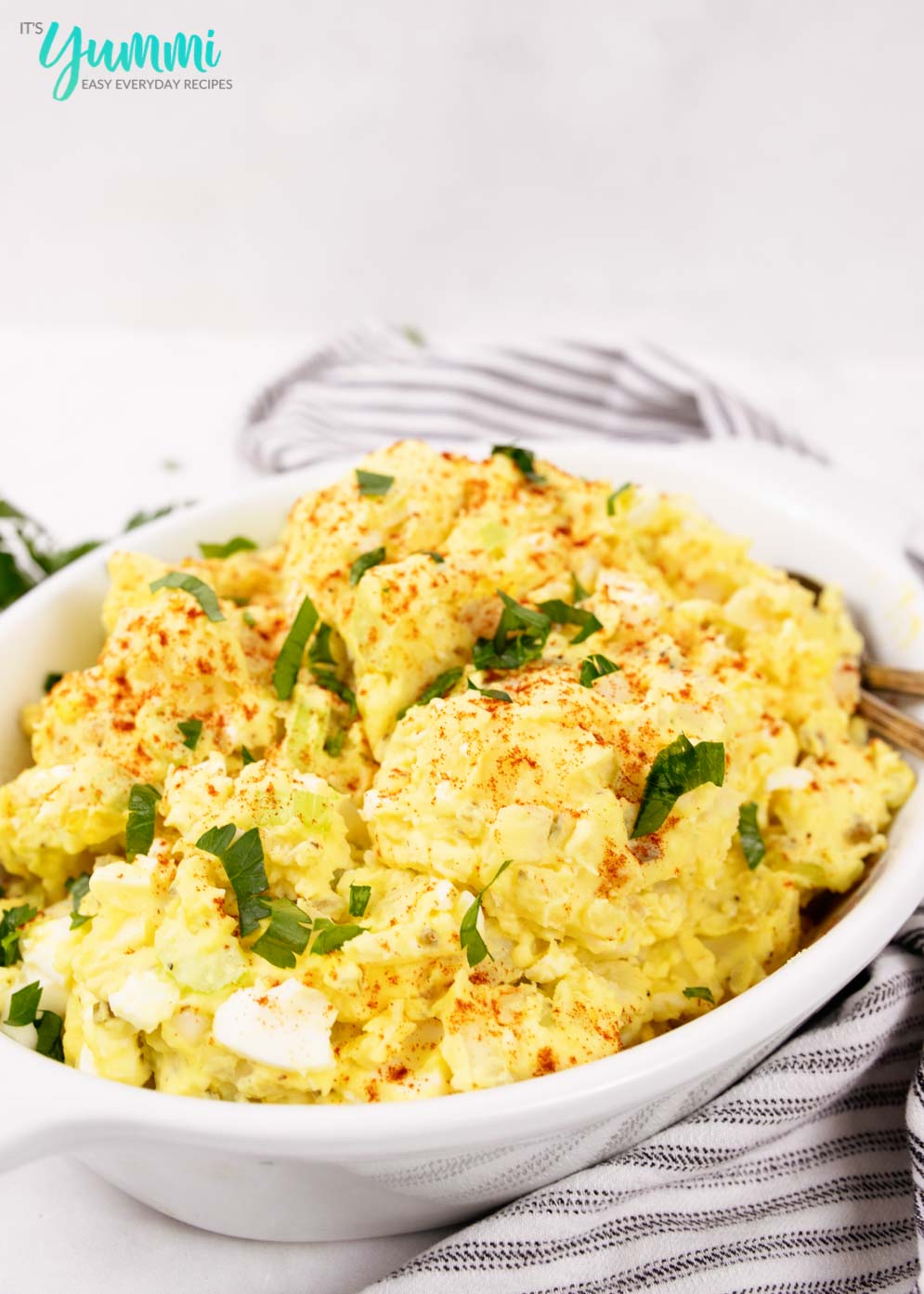 Storage and Can you Freeze Mustard Potato Salad
Storing: If properly store in an airtight container potatoes salad will last in the fridge up to 3 to 5 days. I honestly prefer potato salad the next day. It's a lot like chili where the flavors are just enhanced.
Serving: It's also really important to mention that with potato salad being a staple at summer cookouts that you do not want to leave a potato salad out at room temperature for more than two hours so be aware of that when you are serving this during cookouts.
Freezing: You CAN freeze this potato salad but BEWARE that the consistency of the salad will not be the same. It will be 100% more soggy and mushy. Not to say that the flavors won't still be really good but that the texture and consistency might be off putting to some.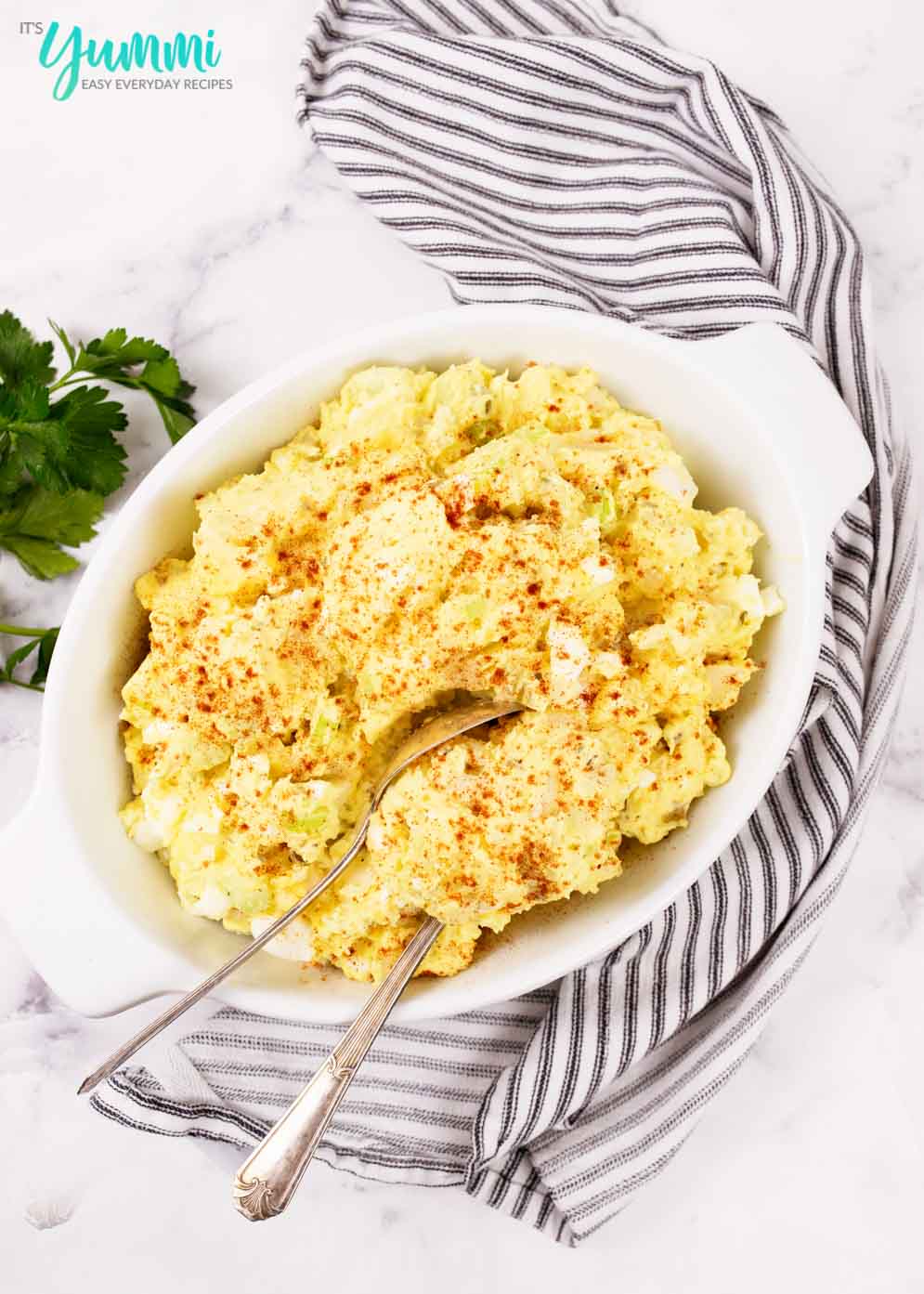 This southern mustard potato salad is the perfect dish to whip up right now. Don't you think?
Between being able to grow your own potatoes and re-grow the celery we are sustainably able to enjoy some potato salad without stepping a foot in the grocery store and saving money. WINNNNERRR 😉
Other recipes you may enjoy: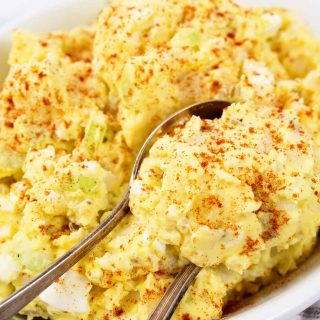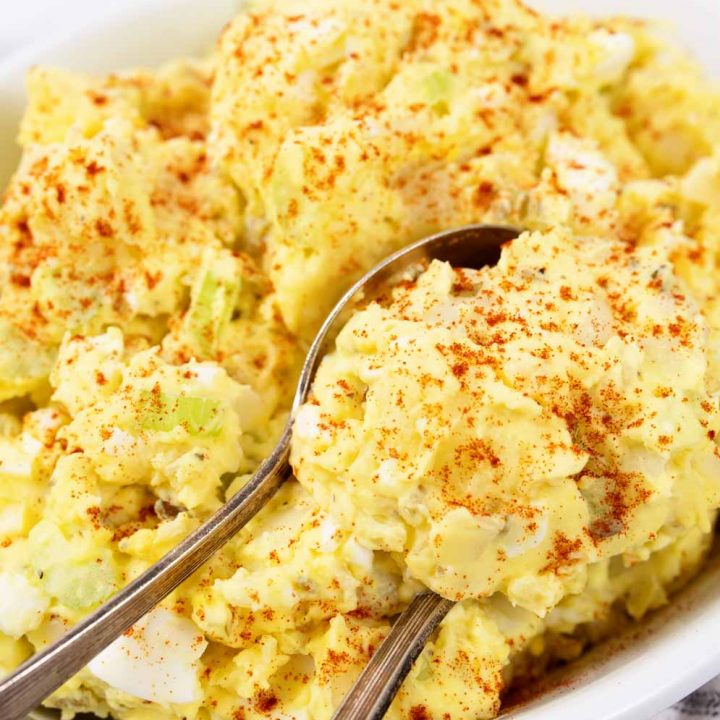 Southern Style Mustard Potato Salad Recipe
Tender potatoes, crunchy veggies, mustard, eggs, and a creamy dressing make this easy potato salad recipe a family favorite.
Ingredients
2

pounds

russet potatoes

peeled and cubed (4-5 potatoes)

1.5

teaspoons

salt

5

large

eggs

hard-boiled, peeled and smashed lightly with a fork

2

stalks

celery

finely diced

1

small

Vidalia onion

finely minced

½

cup

dill pickle relish

plus 2 Tablespoons juice

2.5

Tablespoons

yellow mustard

(or creole style for extra kick)

½

cup

mayonnaise

¼

teaspoon

salt

(more or less to suit your taste)

¼

teaspoon

black pepper

(more or less to suit your taste)

Hungarian paprika

for garnish
Instructions
Add 4 quarts of water to a 6-quart pot and bring to a rolling boil over high heat. Add potatoes and salt and

cook until potatoes are just starting to fall apart, about 10 minutes..

Drain potatoes well in a colander and return them to hot pan for a minute to dry out excess water.

Place the potatoes, eggs, celery, onion, pickle relish and juice into a large mixing bowl.

Add half of the mustard and mayonnaise and stir well to combine.

Add enough of remaining mixture to give the potato salad a creamy consistency, but not too wet.

Add salt and pepper, adjusting to taste if needed.

Refrigerate until ready to serve. The longer it sits, the more the flavors will meld together.

Just before serving, sprinkle with paprika.
Notes
If you like your potato salad to have more of a bite, reduce the cooking time of the potatoes, but for food safety purposes, be sure that they can be pierced easily with a fork before consuming them. (Raw potatoes contain anti-nutrients, and they can also contain a potentially lethal toxin, especially if they have a green color.)
Nutrition
Serving:
1
serving
Calories:
301
kcal
Carbohydrates:
26
g
Protein:
8
g
Fat:
18
g
Saturated Fat:
3
g
Cholesterol:
162
mg
Sodium:
1165
mg
Potassium:
589
mg
Fiber:
2
g
Sugar:
1
g
Vitamin A:
330
IU
Vitamin C:
7.1
mg
Calcium:
47
mg
Iron:
2.1
mg