Brown Butter Bacon Pasta (4 Ingredient Dinner)
Brown butter bacon pasta tastes fancy and indulgent, but it's the perfect weeknight meal. Taking less than 20 minutes to make, and with just 4 ingredients, this recipe is a keeper!
Hello bacon lovers! I hope that you're ready for another Bacon Month recipe, because this one will rock your world! This brown butter bacon pasta uses just 4 ingredients, one of which is another recipe of mine.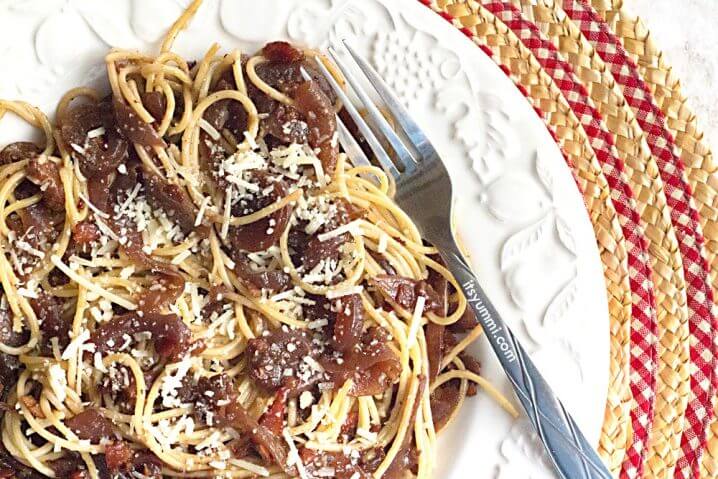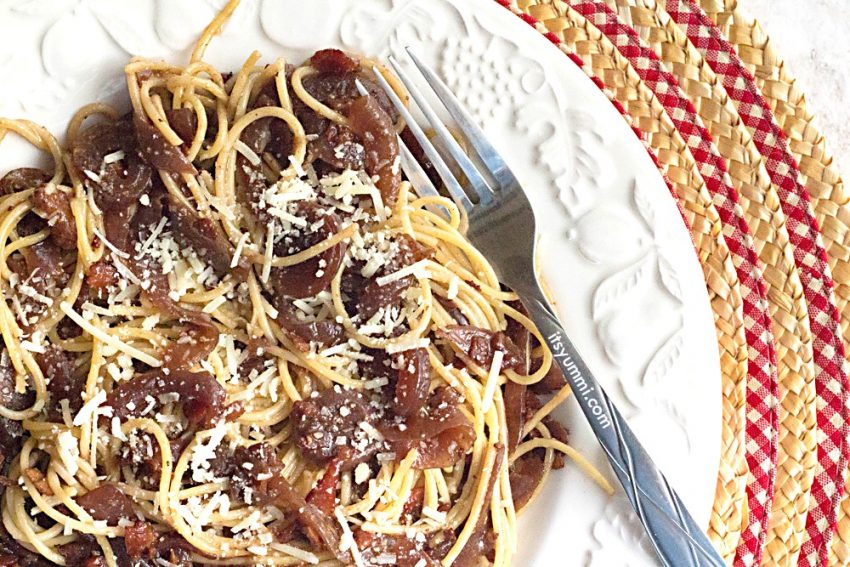 In Monday's post for balsamic bacon onion relish, I suggested that you make up a big batch for later use. This post is proof that I didn't lie.
If you followed my advice and you have a jar of the relish in your fridge right now, give yourself a gold star! If you didn't make any yet, I still adore you, but you'll need to make some relish.
OK, so bacon relish is ingredient numero uno in this delicious brown butter bacon lover's dinner.
The second ingredient needed to make this recipe is cooked spaghetti noodles, or a pasta shape of your choice. Want brown butter bacon fusilli? Go for it! If rotini noodles are more your style, pop those twirlies into the boiling water, then get ready to toss them into some browned butter goodness.
My lazy girl's version of spaghetti carbonara calls for pasta, bacon, caramelized onions, and browned butter. It's fancy and indulgent, and gosh darn it, indulgent food calls for calories and fat! Sometimes you just have to live it up, and there's no better time to live it up than during #baconmonth, right? Just follow the wise hashtag and #PutSomePigInIt, then put some browned butter in it, too!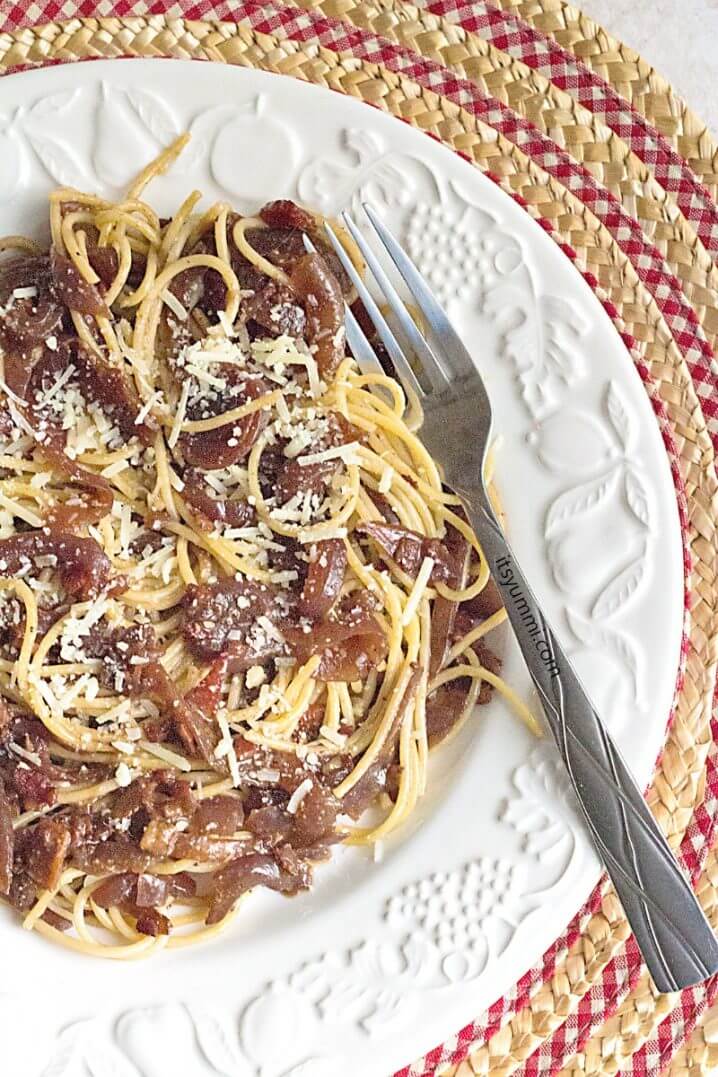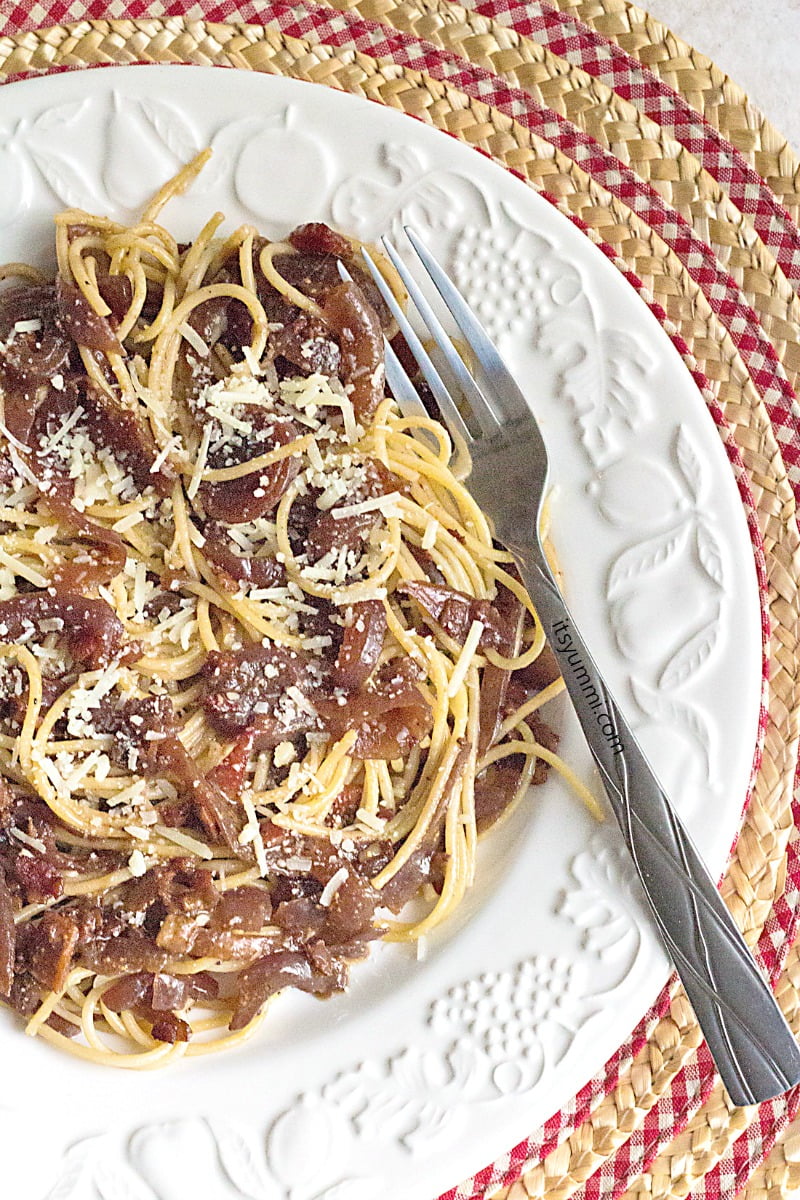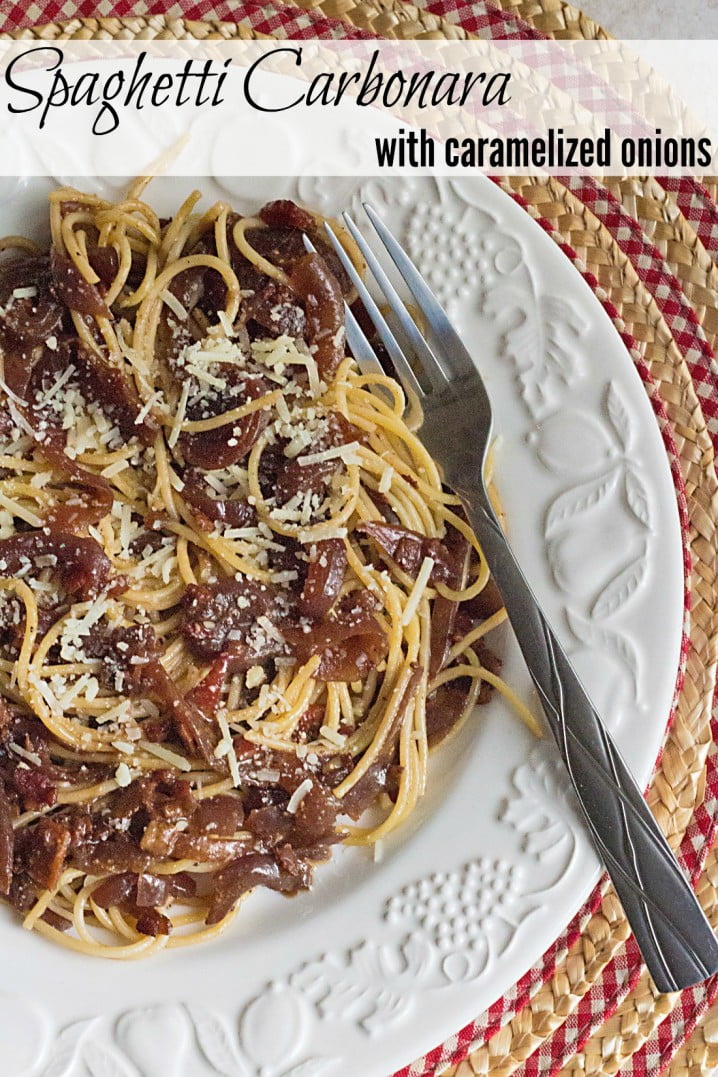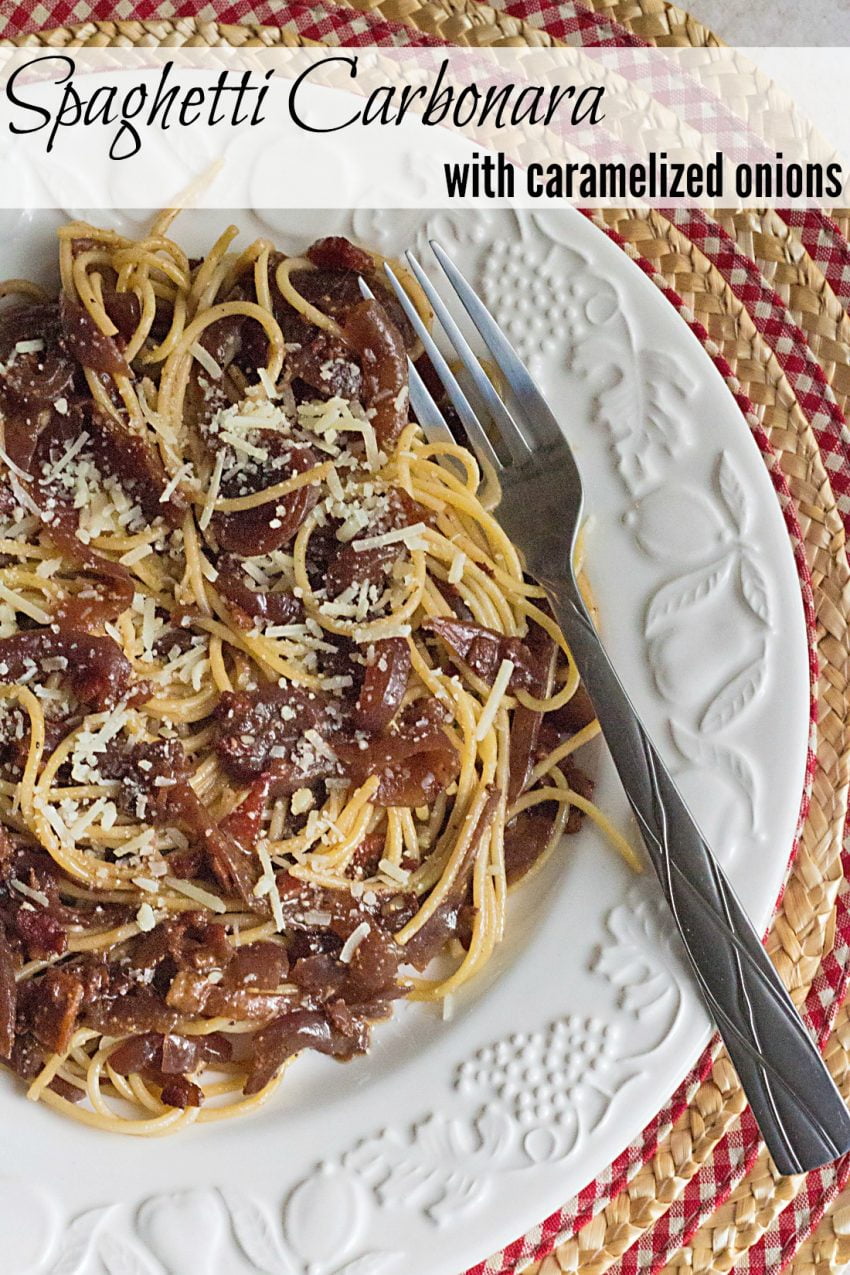 If you've never tasted butter that's been browned, you're in for a treat, my friend. To make it, butter is melted low and slow, allowing the milk solids in the butter to cook off. This causes the butter to turn a gorgeous shade of amber, and it develops a nutty taste that is heavenly!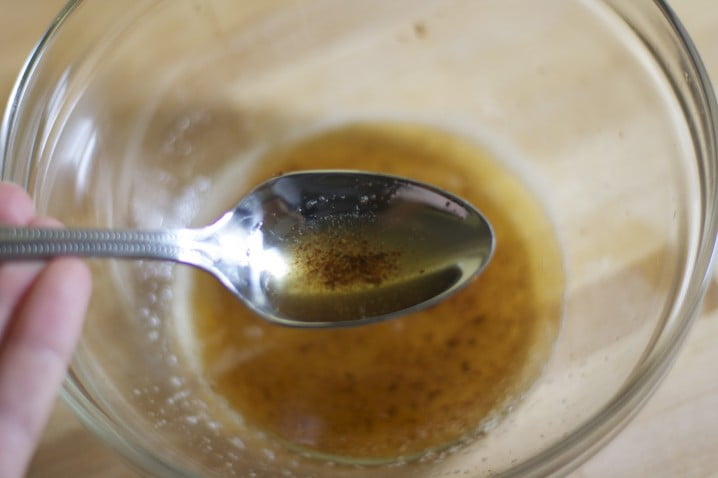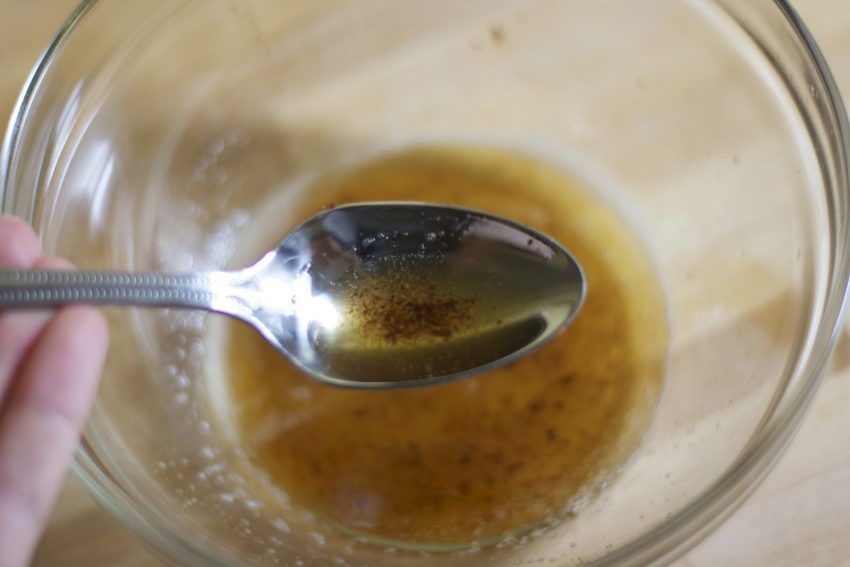 It has a nutty taste that will glide across your tongue and make you want to do a happy dance! Watch this quick tutorial to learn how to make it:
The 4th and final ingredient needed for this recipe is freshly grated Parmesan cheese. Pull out ye grater and shred, my friend, shred. Whatever you do, please do not use packaged pre-shredded cheese. This is very important, because pre-shredded cheeses have an anti-caking agent added to them that helps to prevent clumping. That nasty chemical agent prevents clumping, but also prevents the cheese from melting properly. So please, buy yourself a shredder box or a food processor and make yourself some fresh, melt-worthy Parmesan cheese!
This bacon brown butter pasta is best served along side some homemade garlic rolls or biscuits and a delicious garden salad.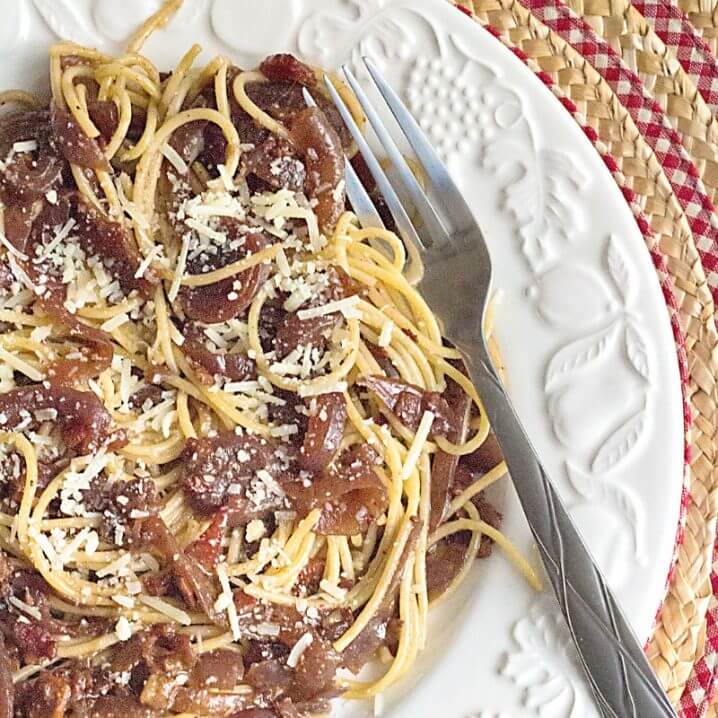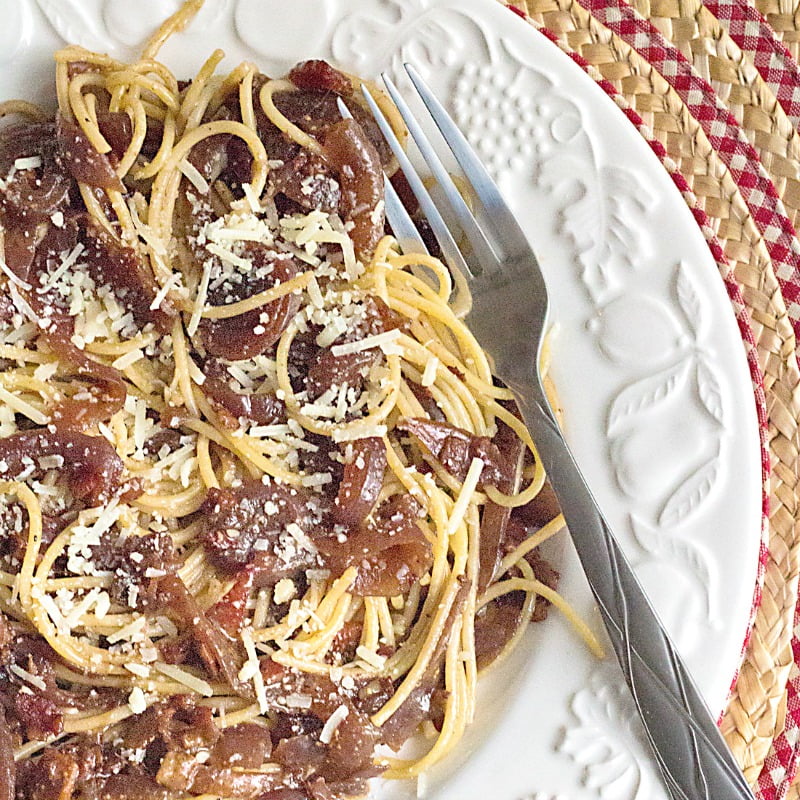 If for no other reason, serve the salad so that there'll be a tinge of green and healthy goodness along with the bacon and butter naughtiness.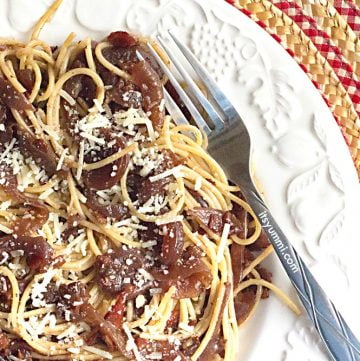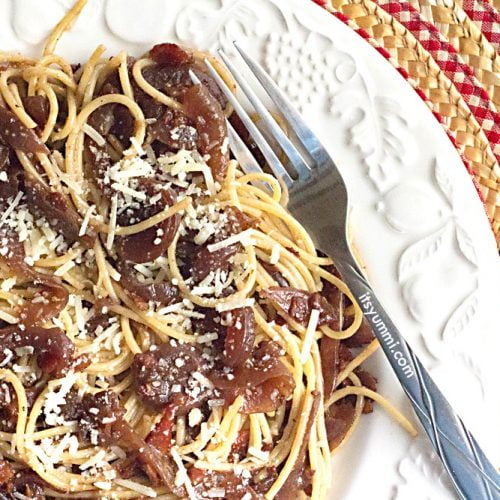 Brown Butter Bacon Pasta
Tender pasta is topped with crispy bits of bacon, caramelized onions, and browned butter for a quick and easy weeknight dinner.
Ingredients
1

pound

spaghetti or pasta of your choice

2

cups

balsamic bacon onion relish

2

tablespoons

browned butter (3-4 tablespoons salted butter will yield 2 tablespoons browned)

¼

cup

freshly grated Parmesan cheese
Instructions
Prepare browned butter in a large skillet or shallow saucepan. Once browned, remove pan from heat, leave butter in pan and set aside.

Cook pasta according to al dente (pasta should be cooked, but still have a bite to it). Remove from heat and drain water from noodles but do not rinse them.

Add bacon onion relish to the pan with the browned butter. Put pan back onto medium heat. Cook, stirring occasionally, until relish is heated through.

Combine pasta to pan with sauce and stir to coat. Cook on medium heat for 1-2 minutes to warm thoroughly. Use pasta tongs to transfer pasta to serving plates. Garnish with freshly grated cheese and serve.
Nutrition
Calories:
659
kcal
Carbohydrates:
128
g
Protein:
18
g
Fat:
10
g
Saturated Fat:
5
g
Cholesterol:
20
mg
Sodium:
1098
mg
Fiber:
5
g
Sugar:
39
g