Easy Spring Rolls Recipe with Tuna
This easy spring rolls recipe with tuna and vegetables makes a great summer meal for lunch or dinner. Wrapping spring rolls isn't difficult (I'll show you how) and you can fill them with many different fillings.
Tuna fish is an often overlooked seafood. Seafood contains a range of nutrients, including healthy omega-3 fats. According to the 2010 Dietary Guidelines for Americans, eating about 8 ounces per week (less for young children) of a variety of seafood can help prevent heart disease. (source)
If you're anything like me, the Summer season keeps you active and on the go. I like foods that are light, healthy, and portable to take along with me. This sun dried tomato tuna fish easy spring rolls recipe is perfect for that. It packs up well for a trip to the beach, work, or even a picnic with your family.
I looked closely at the shelves the last time I went shopping. I noticed that many of the grab 'n go foods that are ready to eat are filled with processed chemicals. They're also high in unhealthy fats, sodium, and in some cases, calories.
However, the canned seafood aisle surprised me a bit. I've always known that fish is a healthy protein, and I also know from my experience working with them on my 3 easy tuna recipes post that brands like Bumble Bee® work hard to keep the quality and freshness of their products at their best.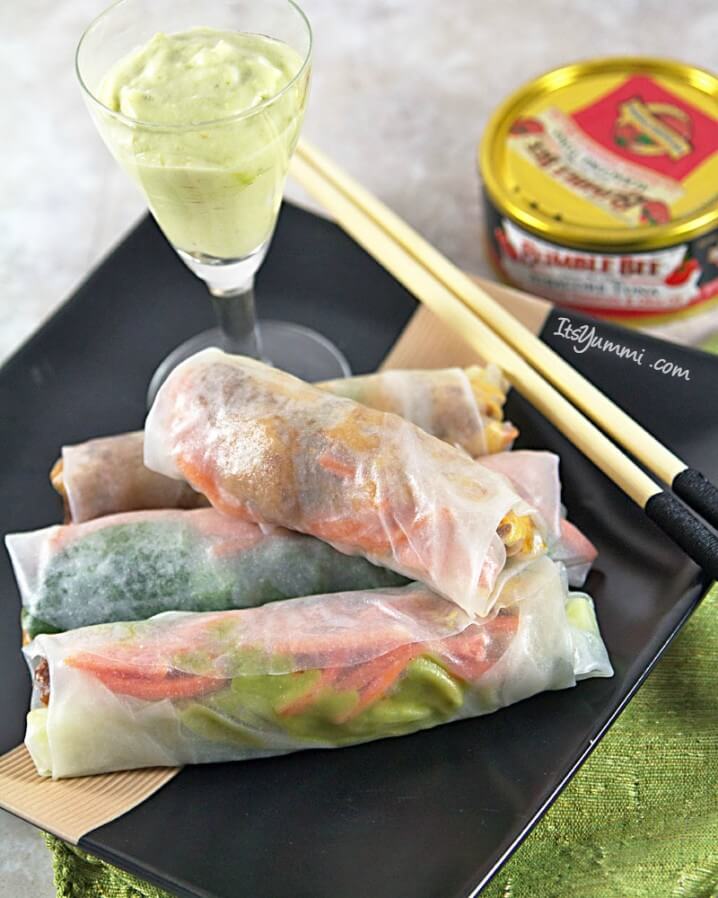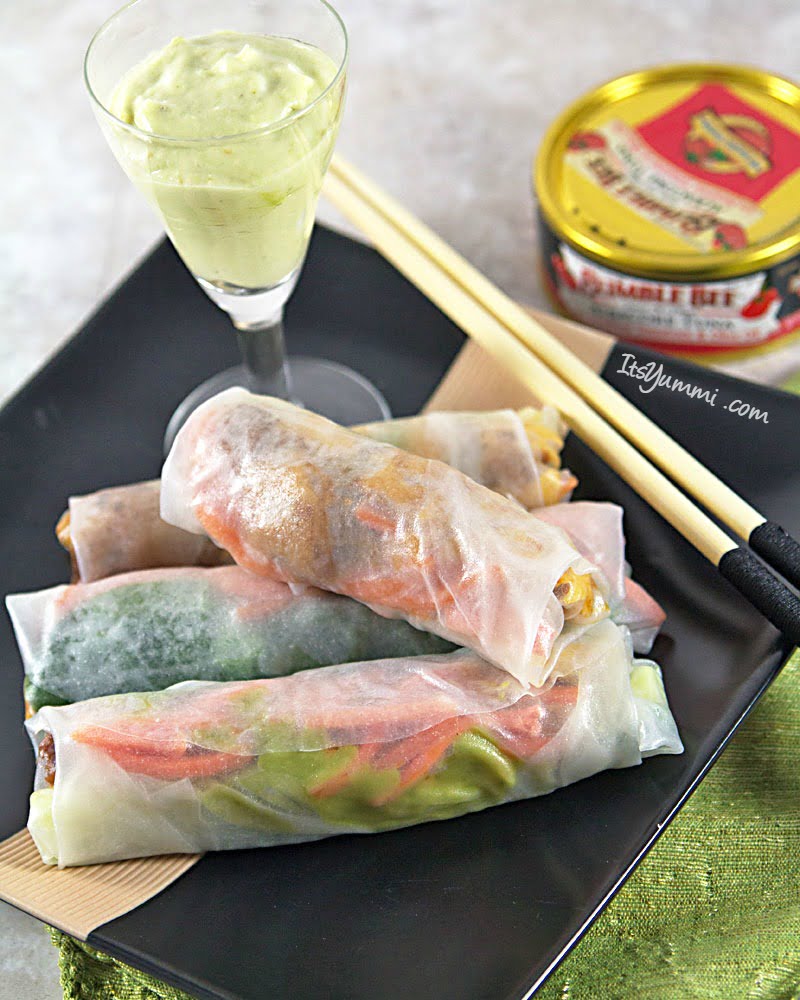 Why I Choose Tuna Fish
Of all the seafood choices, why did I choose to use tuna fish? Let me explain. For the last two years, I've tried to shed some excess weight and get into better shape. I've eaten more low carb foods and increased how much water I drink. I've exercised the little bit that my body will allow me to. And I'm eaten more healthy produce, heart healthy fats, and proteins.
This easy spring rolls recipe fits those standards almost perfectly, except for the rice paper wrappers, which come in at a whopping 48 grams of carbs for just ONE wrapper. That means a serving is going to be just one of these tuna fish spring rolls. So have one as a snack at the beach, or pair it with a healthy salad like Kale Sprouts with Asparagus and Baby Beets.
Easy Spring Rolls Recipe
Spring rolls are easy and fun to roll up and eat, and the Bumble Bee® Prime Fillet® Gourmet Flavors Albacore tuna that I used for this recipe comes in portable and convenient 2.5oz pouches or 5oz cans, so you can even wait to put them together until right when you're ready to eat them. Convenience for the big win!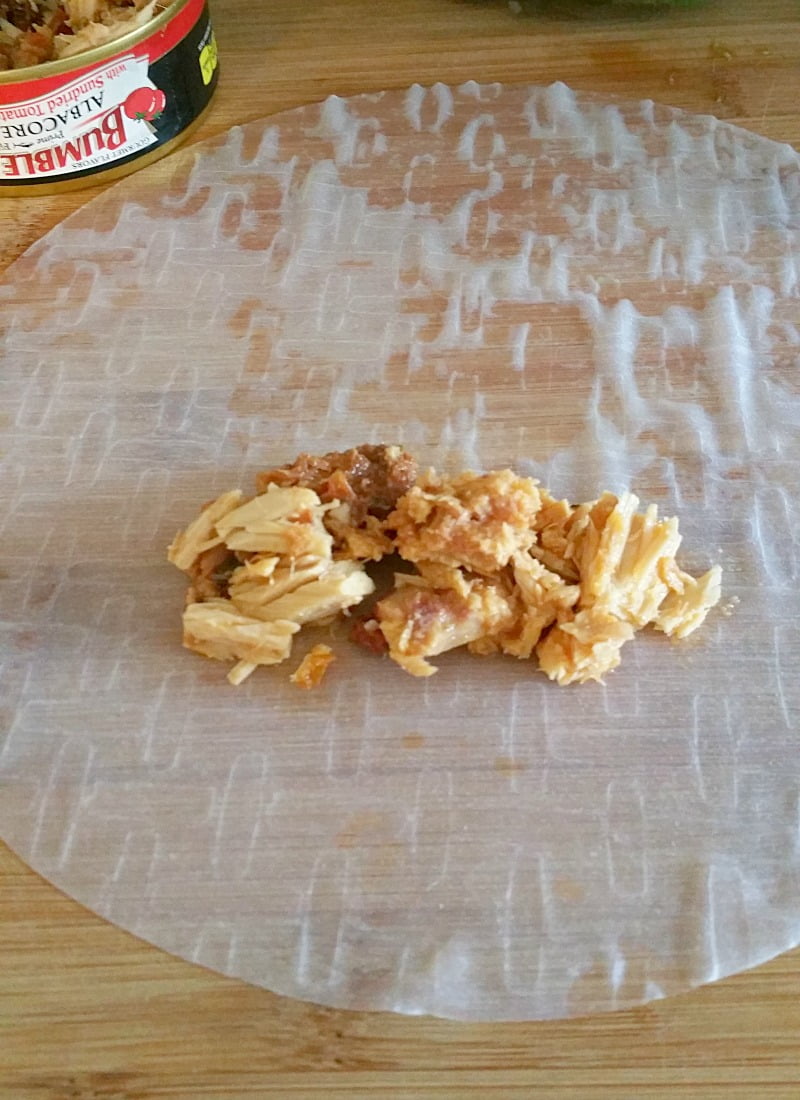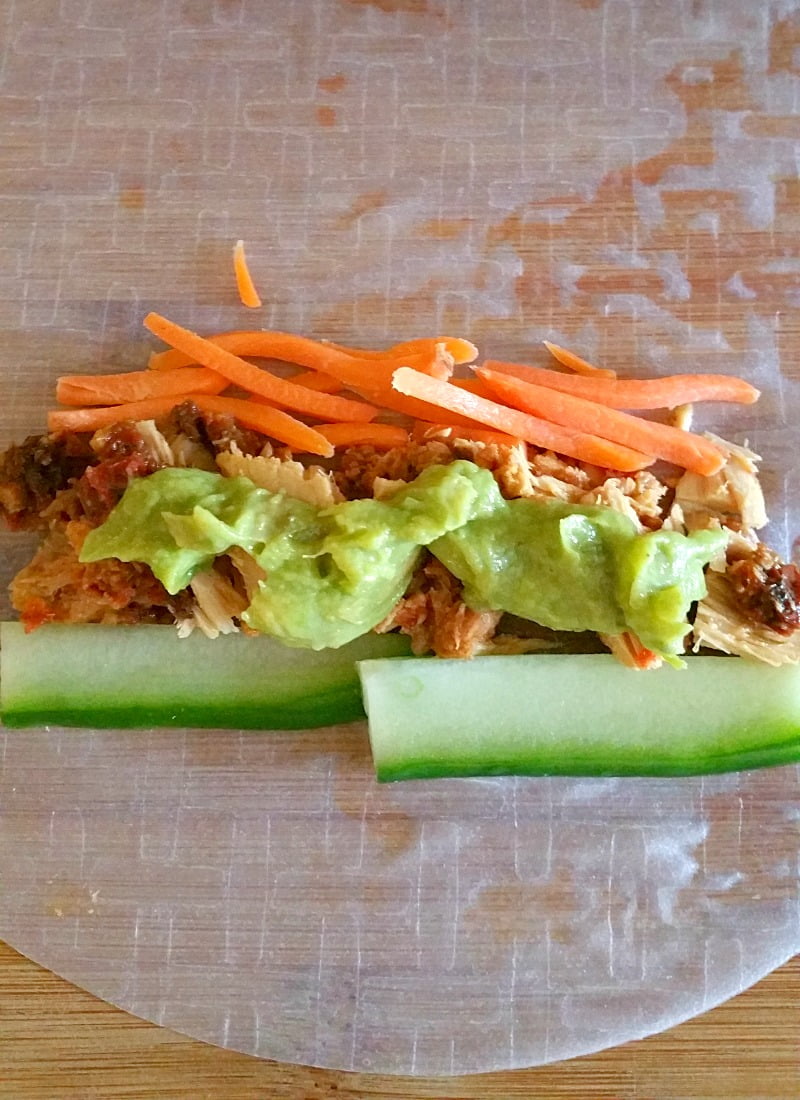 I chose to use the Bumble Bee® Prime Fillet® Albacore Tuna with Sundried Tomatoes & Olive Oil flavor for my Spring rolls, but there are two other flavors available that would taste really great in these rolls, too. Chipotle & Olive Oil or with Jalapenos & Olive Oil. The jalapeno flavor is what I used in my healthy deviled eggs recipe. Yum!
Tips for Wrapping Spring Rolls
Spring roll wrappers are very fragile! If you'll be transporting them anywhere, lay them flat and try to arrange them so they won't be shaken around too much.
Gently place each wrapper into a bowl of warm water before piling your ingredients onto the wrappers. You don't want them water logged, but you want the color to turn from white to clear,
Place your filling about 1/3 of the way up from the bottom of each wrapper. Leave about an inch on both sides unfilled so you can fold the sides in before you begin rolling them up from the bottom. They're a bit fragile, so roll gently, but use firm pressure to keep the roll as tight as possible.
The presentation is part of the "awesome factor" of spring roll recipes. Place any items that you want to be seen through the wrapper on the bottom and build up from there. Because I wasn't sure which way would look the best, I made each one differently. I liked the avocado and carrots peeking through the wrapper more than the others.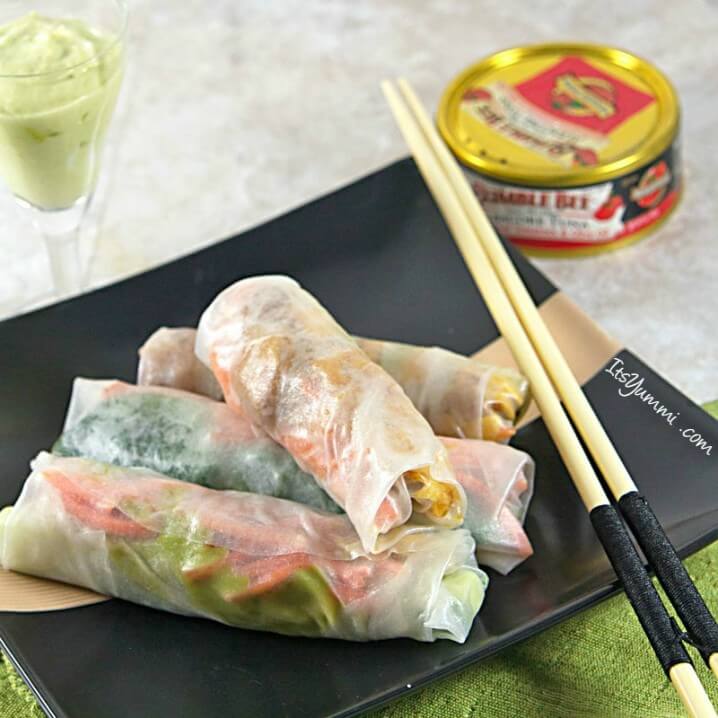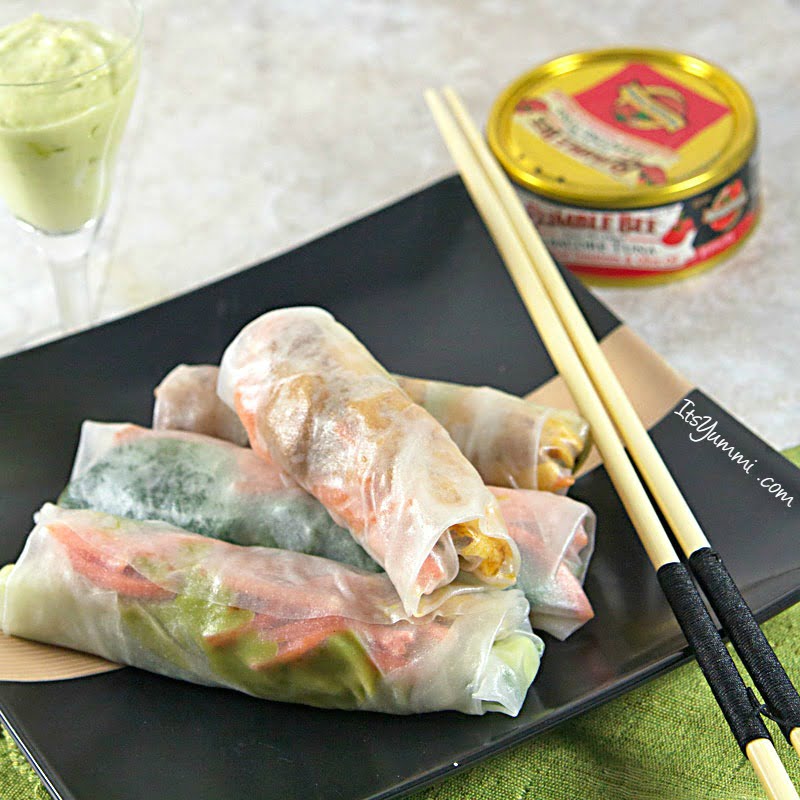 This was my first time making a spring rolls recipe. It's obvious that I need practice, but I think I did a good job overall.
Do you have any favorite albacore tuna recipes, or maybe something you'd like to see made with tuna fish?
I'm always looking for great recipe inspiration, so please leave me a comment below. I'd love to hear from you, and if you would take a moment to please rate this easy spring rolls recipe, I'd really appreciate it!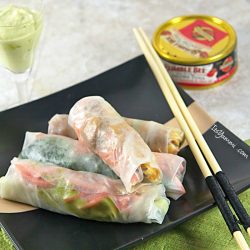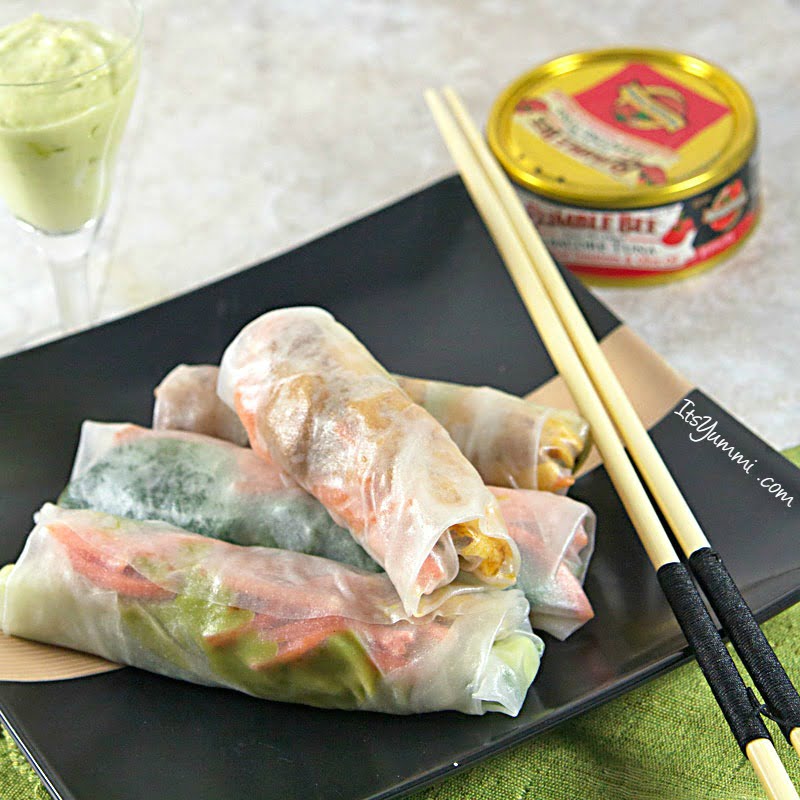 Tuna Spring Rolls Recipe
For this easy spring rolls recipe, rice paper spring roll wrappers are filled with healthy albacore tuna, crunchy veggies and avocado to make a delicious, portable appetizer or light meal on the go.
Ingredients
4

rice paper spring roll wrappers

5

ounces

Albacore tuna fish

(I used Bumble Bee® Sundried Tomato with Olive Oil)

½

cup

julienne cut carrots

(I took a short cut and used prepackaged matchstick cut)

¼

seedless cucumber

thinly sliced (skin on or off is your preference)

½

cup

baby spinach leaves

or similar greens

1

avocado

pitted, peeled, and smashed
Instructions
Prepare a hard, clean, and dry work space in front of you. Prepare one Spring roll at a time before moving on to the next.

Placing your hands underneath for support, gently submerge a spring roll wrapper into a bowl of warm water, or through water from a faucet. Gently shake to remove excess water and lay the wrapper onto the work space.

Place 1/4 of each ingredient onto a wrapper, starting about 1/3 of the way up from the bottom, making sure to leave at least 1-2 inches unfilled from both sides of the wrapper.

Fold the bottom up and over the filling, then fold in both sides and continue rolling from the bottom up, using slight pressure to create a tight roll, but not too tight so as to tear the wrapper.

Serve with soy sauce, hot sauce, or an avocado-sour cream aioli (recipe in the notes section)

Well refrigerated, the Spring rolls should last about 4-5 days, but they're best eaten the day they're prepared.
Notes
For Optional Dipping Sauce – Avocado-Sour Cream Aioli:
Mix 1/2 cup smashed avocado or guacamole with 1/4 cup sour cream (you could also use mayonnaise, but the consistency will be thicker and the taste won't be as fresh and tangy).
Nutrition
Serving:
1
roll
Calories:
211
kcal
Carbohydrates:
17
g
Protein:
12
g
Fat:
10
g
Saturated Fat:
1
g
Cholesterol:
12
mg
Sodium:
266
mg
Potassium:
476
mg
Fiber:
4
g
Sugar:
1
g
Vitamin A:
3120
IU
Vitamin C:
7.6
mg
Calcium:
27
mg
Iron:
1.4
mg