If you love to decorate cookies that are almost too beautiful to eat, Julia should be your go-to source for recipes, cookie decorating tips, and project ideas.
You may already be familiar with Julia. She has a wonderful website, and her first book, Cookie Swap:Creative Treats to Share Throughout the Year, was a best seller. She is the winner of three Cordon d'Or cookbook awards, and the Secretary-Treasurer for the International Association of Culinary Professionals.
Ultimate Cookies is a great follow-up to Cookie Swap, and it is chock full of gorgeous cookie goodness!
From the beginning, Julia drew me in like Pooh Bear to a honey pot with this line in her introduction:
"If you've got the decorating bug but not any experience, just pick up this book and go for it."
That line screamed to my inner baker. "Raise your hand, Becca, because she's talking to you!"
The sad truth is, I suck gumballs when it comes to hand/eye coordination. This means my dessert decorating is nothing short of disastrous. I can bake cookies and cupcakes that taste heavenly and melt in your mouth. But if you need them decorated, ask a 1st grader to do it for you.
Seriously. If you don't believe me, here are examples of what beautifully decorated cookies look like:
These are Julia's decorated cookies, as published in Cookie Swap.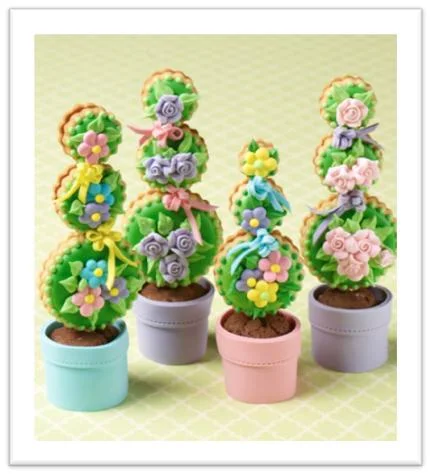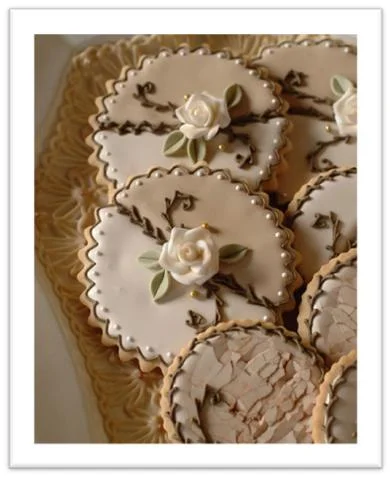 Photo Credit: Steve Adams
In addition to Julia's great project ideas, she explains very delicately and sweetly in Ultimate Recipes that with a steady hand, some practice, and patience, it's possible for almost anyone to create cookies as beautiful as hers are.
I guess emphasis should be placed on practice, because the photos below are my first attempt at decorating with royal icing: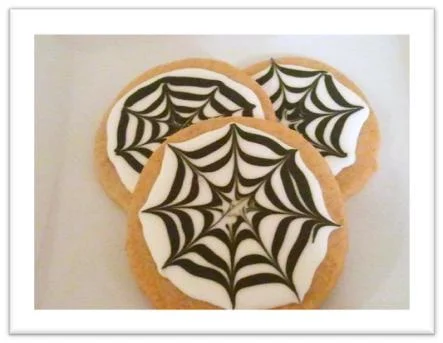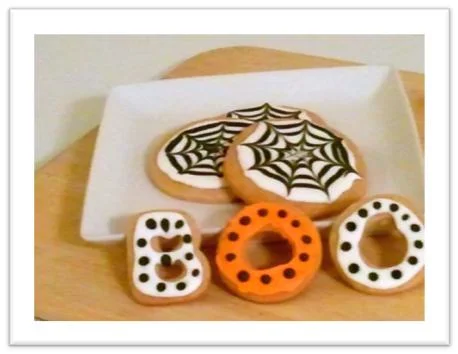 Yes, I know. They are nothing close to the beauty of ultimate cookies.
But I had so much fun creating them, I almost didn't care! Julia's tips revealed that the royal icing on my cookies was too thin, causing the drips.
Ugliness aside, thanks to the book's basic sugar cookie recipe, they taste delicious! The cookies have a crisp exterior and a tender, buttery interior, just the way I like them. I made the cinnamon cookie variation, so they were perfect for Brian to take to a Halloween party at work.
Incidentally, I may or may not have eaten 5 servings of chilled cookie dough while I was baking these cookies. What kind of cook would I be if I didn't taste the food I was going to serve, right? You'll have to buy the book to see the endless variations of the basic sugar cookie recipe. The orange-clove and cinnamon varieties are my favorites, but the basic sugar cookie recipe is at the bottom of this post.
Julia's book has tips and tutorials that you aren't likely to find in other books. A few included are:
Instructions to make custom cookie cutters (something I can't wait to try!)
Tips on saving money by making your own parchment paper decorating cones
Decorating techniques that are easy for beginners
More advanced design ideas, like decorating with wafer paper, adding bead work, and stenciling.
Another feature of Ultimate Recipes that I love is how well everything is laid out.
The table of contents is thorough, and the alphabetized index makes it super easy to find the projects you'll want to work on.
There are project ideas for virtually every holiday in this book, and you're going to find great gift-giving ideas, too. Julia gives easy step-by-step directions for making the dough, rolling and cutting out the cookies, and helpful information for preparing the royal icing. I think her foolproof directions and troubleshooting tips make it possible for older children to follow along and decorate.
Of course, there are beautiful pictures throughout the book too, making it easy for me to fall more in love with each turn of a page. With over 40 projects to try, this book is sure to have something that you'll want to try.
With practice and patience, maybe our 2011 holiday projects will look something like these beautiful, ultimate cookies!
Have fun creating these ultimate cookies! This is Julia Usher's signature sugar cookies recipe: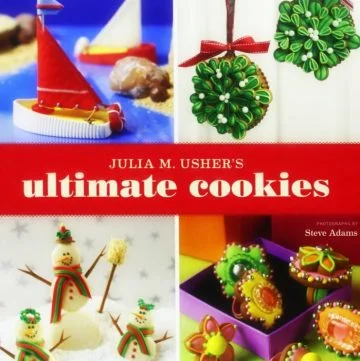 Julia Usher's Signature Sugar Cookie Recipe
This cut-out sugar cookie recipe comes from the cookbook, Ultimate Cookies, by Julia Usher. It is included verbatim, with permission from the author and publisher. © Julia M. Usher's Ultimate Cookies (2011, Gibbs Smith)
Ingredients
2

cups

all-purpose flour

1.5

teaspoons

baking powder

¼

teaspoon

salt

6

tablespoons

(3 oz) unsalted butter

softened

⅓

cup

shortening

¾

cup

granulated sugar

1

large

egg

1

tablespoon

whole milk

½

teaspoon

vanilla extract
Instructions
Combine the flour, baking powder, and salt in a small bowl. Set aside for use in Step 4.

Using an electric mixer fitted with a paddle attachment, beat the butter and shortening on medium speed until creamy.

Gradually add the sugar and beat until light and fluffy, about 1 minute. Do not over mix, or your cookies will dome upon baking, making them more difficult to decorate later.

Whisk together the egg, milk, and vanilla extract in another bowl.

Slowly blend into the butter mixture on low to medium speed and mix until smooth. Scrape down the sides of the bowl, as needed, to ensure even mixing.

Turn the mixer to low speed and gradually add the reserved dry ingredients, mixing until just incorporated.

Flatten the dough into a disk, wrap tightly in plastic, and refrigerate about 3 hours, or until firm enough to roll without sticking.

Position a rack in the center of the oven and preheat the oven to 375°F. Line 2 cookie sheets with parchment paper (or silicone baking mats) and set aside.

On a lightly floured surface, roll the dough to a 1?8- to 3?16-inch thickness. (Note: It's best to roll these cookies no thicker than 3?16 inch in order to keep them their flattest for decorating.)

Cut out assorted shapes with your favorite cookie cutters or the cutters or templates specified in the project you've chosen. Carefully transfer the cookies to the prepared cookie sheets with an offset spatula, leaving no less than 3?4 inch between each cutout.

Baking time will vary considerably with cookie size and thickness. Bake until the cookies are lightly browned around their edges, about 8 to 10 minutes for 2 1?2-inch round cookies or as specified in your project. Let particularly long or delicately shaped cookies cool 1 to 2 minutes on the cookie sheets before transferring to wire racks. Otherwise, immediately transfer to racks and cool completely before frosting and/or assembling with Royal Icing or decorating.
Notes
For easiest handling, the dough should be chilled about 3 hours before rolling and cutting.
The dough can be frozen for 1 month or more with minimal loss of flavor if wrapped tightly in plastic and then foil.
For best eating, store baked cookies in airtight containers at room temperature and enjoy within 7 to 10 days.
Recipe yields 1 pound 6 ounces dough or 36 to 40 (2 1/2-inch) round cookies
Nutrition
Serving:
1
cookie
Calories:
77
kcal
Carbohydrates:
9
g
Fat:
4
g
Saturated Fat:
1
g
Cholesterol:
10
mg
Sodium:
18
mg
Potassium:
26
mg
Sugar:
4
g
Vitamin A:
65
IU
Calcium:
10
mg
Iron:
0.4
mg
More delicious and easy cookie recipes to bake:
Strawberry Lemon Linzer Cookies
Blackberry Linzer Cookies Recipe