Today's Easter brunch recipe for Shredded Potato Nests with Spicy Aioli was developed as part of a social shopper amplification for Collective Bias and its advertiser. I'm a member of the Collective Bias community and I was compensated for my work, but all thoughts and opinions in this post are my own.
C'mon, you guys…let's play a game!
OK, close your eyes…
Whoops. Wrong game to play when you need to read words on a monitor.  Umm, never mind the crazy lady behind the blog.
Picture bundles of parslied shredded potatoes, diced ham, seasonings, and cheese, baked up until golden brown, then picture popping them into your mouth with a bit of spicy aioli. Fabulous, right?! These shredded potato nests are creamy, spicy, crunchy, and delicious, and they can be served up as an appetizer or a side dish at your next brunch.  Come on in to my virtual kitchen and I'll show you how quick, easy, and fun these are to make!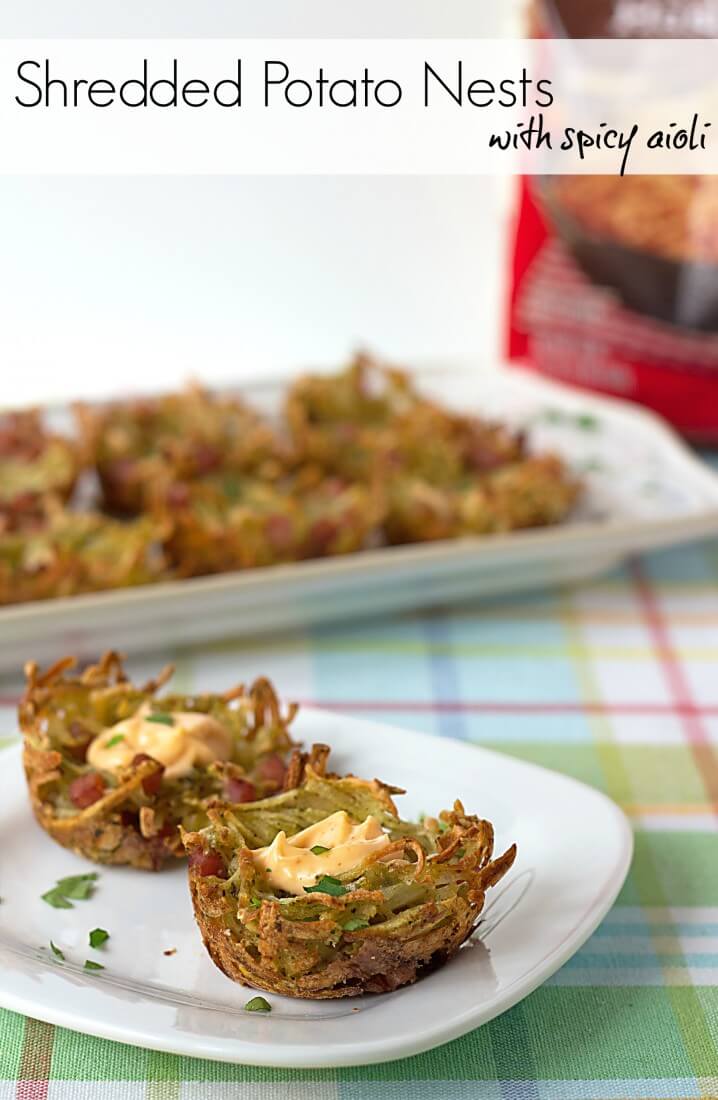 Easter will be here before I know it, so I thought I'd better get my act together early this year and plan out a nice Easter brunch for Brian and I. Last year was a disaster. Not a bit of planning took place, so I threw together a non-traditional dinner at the last minute. I refuse to be a slacker this year! Not having family to entertain doesn't stifle my desire to prepare a nice meal for us to enjoy. Appetizers are a must, as are things like hot cross buns, our very favorite spring veggie (asparagus), potatoes, and a lamb roast.  Like most guys, Brian loves mashed potatoes, but even he said he wanted something lighter this year. We're both trying to kick some excess weight, so at first, I thought I'd just make us baked potatoes. But seriously… baked potatoes??  How boring can you be, Becca?  I was over at Walmart picking up a few things anyway, so I thought I'd peruse the aisles and see what recipe inspiration I could think of.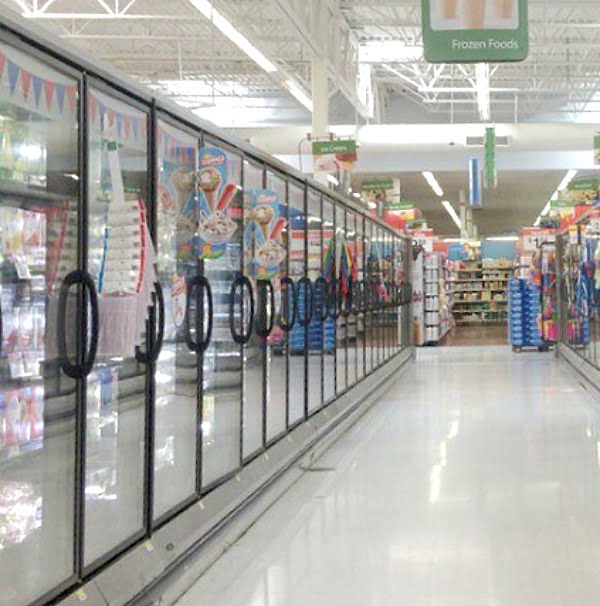 When I was walking past the woven straw Easter baskets, That's when the inspiration kicked in and I decided to try my hand at making little baskets of potatoes.  THEN I saw the green Easter grass and even more ideas flew into my head.  Ooooo, green grass in the basket.  What food would best resemble grass?  Why, shredded potatoes, of course!  #ImSoSmart  I tossed a bag of Ore-Ida Shredded Hash Brown Potatoes into my cart and kept on movin'. I needed to figure out how to make them green.  Some of you know that I stopped using food coloring last year, so I wanted to use a food source that had lots of chlorophyll in it.  I was going to pick up some spinach to try, but then I remembered that I had a big bunch of parsley at home, and hello… parsley tastes ahh-mazing with potatoes!  #SoSmartAgain  I had a game plan and was super excited to head home and get my plan into action!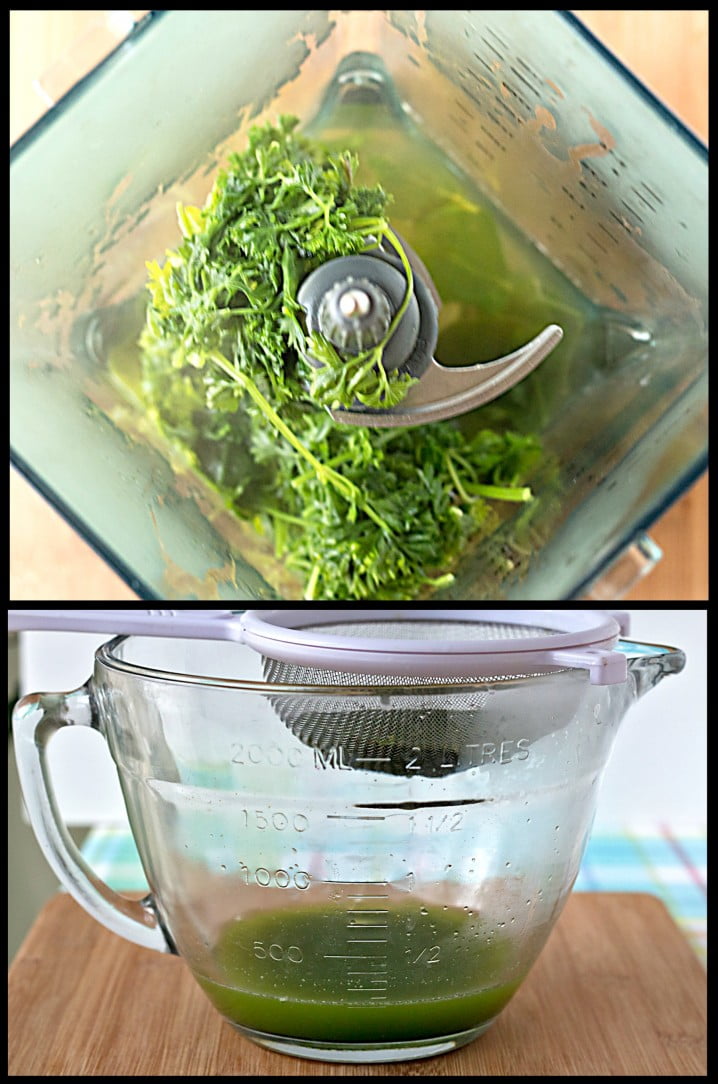 First step: Cook down the parsley with some water, reduce it a little bit, and bring on the Spring color!  I strained out the parsley and I was left with a nice liquid to soak my frozen shredded potatoes in.  I didn't thaw them or anything… just tossed 'em up a bit to make sure everything was covered.  I let them sit in the liquid for about 10 minutes and then I stirred in some diced ham, cheese, and seasonings.  Trust me, gang…these are seriously THAT easy to make!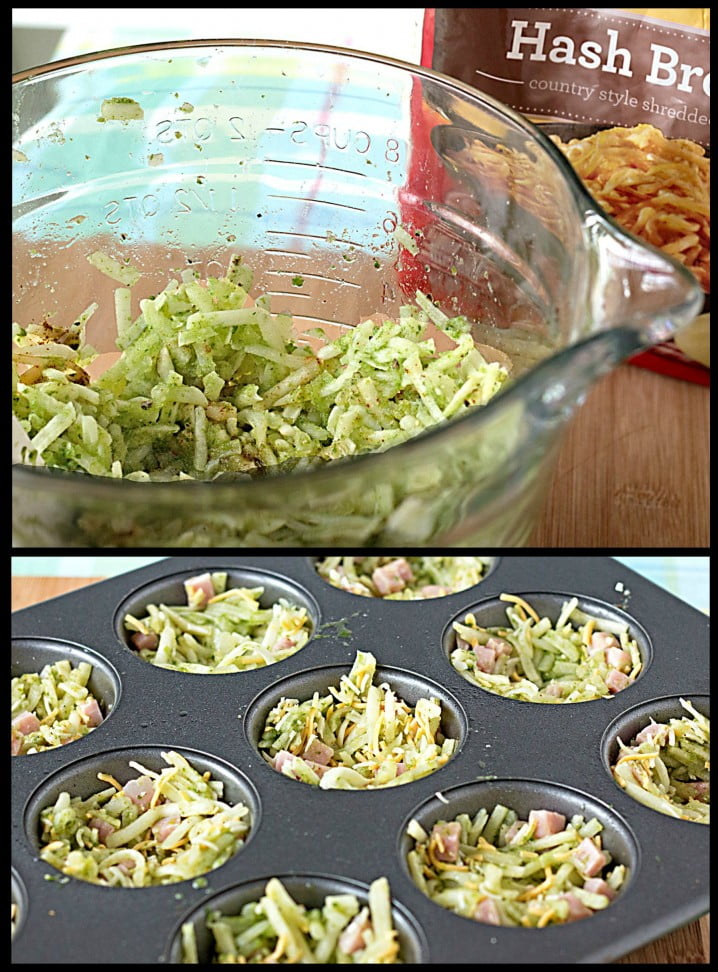 I flipped the oven on to 425 and let it heat up while I assembled everything.  Oh, before I forget, please be sure to spritz the wells of the cupcake pan with olive oil to prevent sticking. Otherwise, you're bound to have a struggle removing the delicate little baskets…. which then no longer looked like baskets.  Baskets have handles, Bec.  These were NESTS!  Shredded potato nests!  Incredibly easy to make, absolutely adorable to look at, and trust me…positively yummi to eat!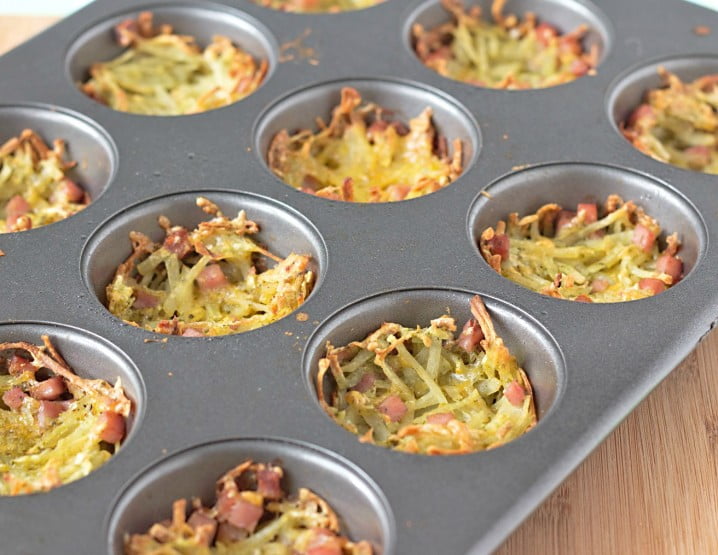 With a recipe this perfect to serve for brunch, do we really need a lamb roast anyway?  Being the potato lovers that we are, and with the little bits of ham for protein, these adorable and delicious shredded potato nests will be the star of the show!
So tell me…What's YOUR favorite thing to eat for brunch?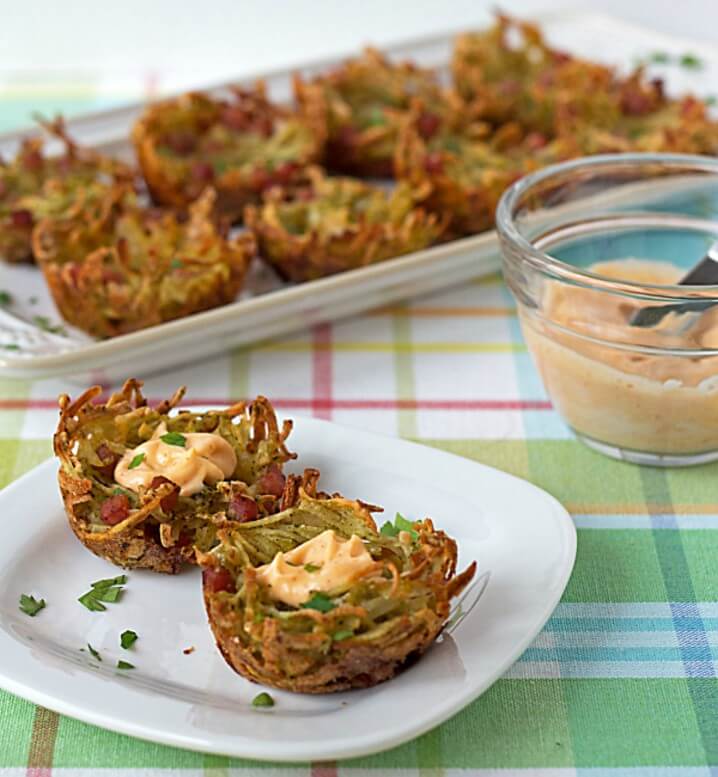 Just a reminder that I'm hosting a big giveaway once I have 1,000 people subscribed to get my newsletter.  We're getting close, and you KNOW that you want that big shopping spree! Besides, you don't want to miss any of my new recipes anyway, right?  Just enter your info here and they'll come straight to your inbox!
OK, so are you ready to cook?  Grab your apron and I'll meet you in the kitchen!
Shredded Potato Nests with Spicy Aioli