How to Make Perfect Mashed Potatoes
This easy mashed potato recipe will rival the Thanksgiving Turkey or Holiday Ham at your next family gathering. Light, smooth, and whipped to perfection with just a few simple ingredients makes for the perfect holiday or weeknight side dish.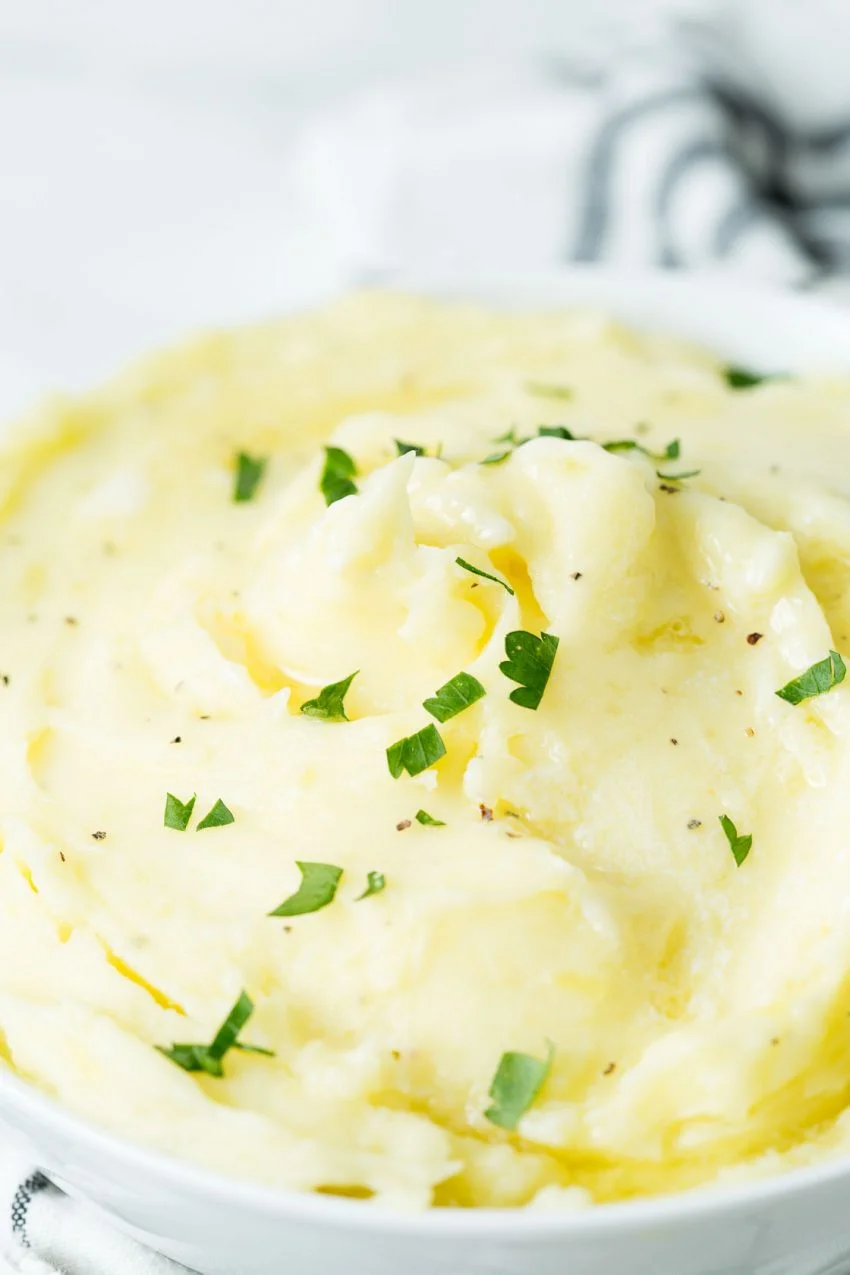 The centerpiece to Thanksgiving may be a turkey, however, you can expect some pushback from family if you do not also have the perfect mashed potato side dish. Homemade and easy to whip up, you're not going to know how you got along all these years without this recipe!
We love potatoes!
Potatoes in general are a staple to many American homes. Whether they are Twice Baked Potatoes, Shepard's Pie topped with mashed potatoes, or Purple Sweet Potato Pie for dessert – we can't get enough of them!
Random Fact: The Potato Association says the average American consumes nearly 142 pounds of potatoes per year, especially at Thanksgiving!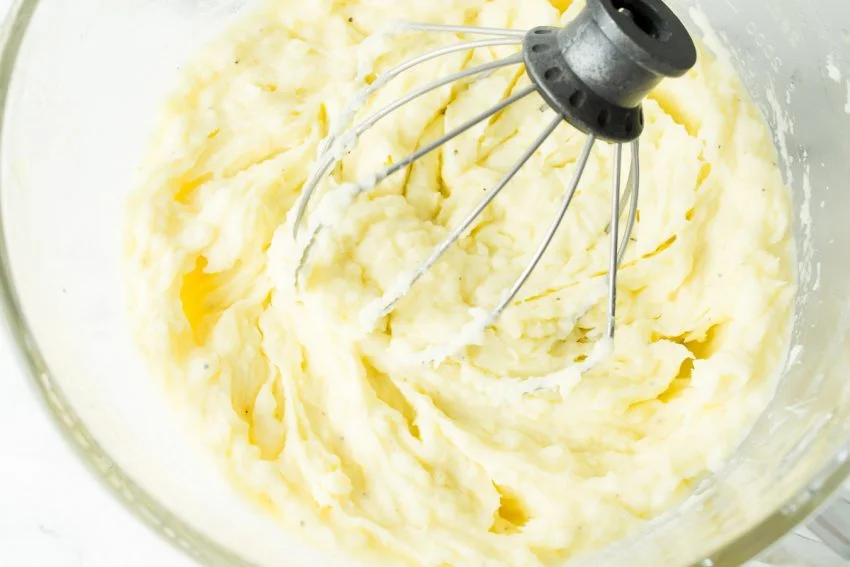 What to know when making Mashed Potatoes
I have a few tips and tricks to help you make the best mashed potatoes. Doesn't matter whether you're looking to satisfy a crowd or just your own tastebuds – you'll be sure to nail these perfectly creamy mashed potatoes every time.
How much mashed potatoes per person
To determine how much mashed potatoes you'll need to make for dinner, calculate 1/3 to 1/2 pound of potatoes for every adult person at your dinner table. Use that as a base start. I like to double my batches so I am sure to have leftover mashed potatoes.
What ingredients do you need?
For the most basic (process wise – not taste!) and the easiest of mashed potatoes you'll need Yukon Gold potatoes, unsalted butter, milk, salt and pepper.I recommend unsalted butter so that you can control the salt content and really nail the taste that you and your company likes.And milk, whole milk preferred, to really thicken the mashed potatoes, keep them glossy and rich!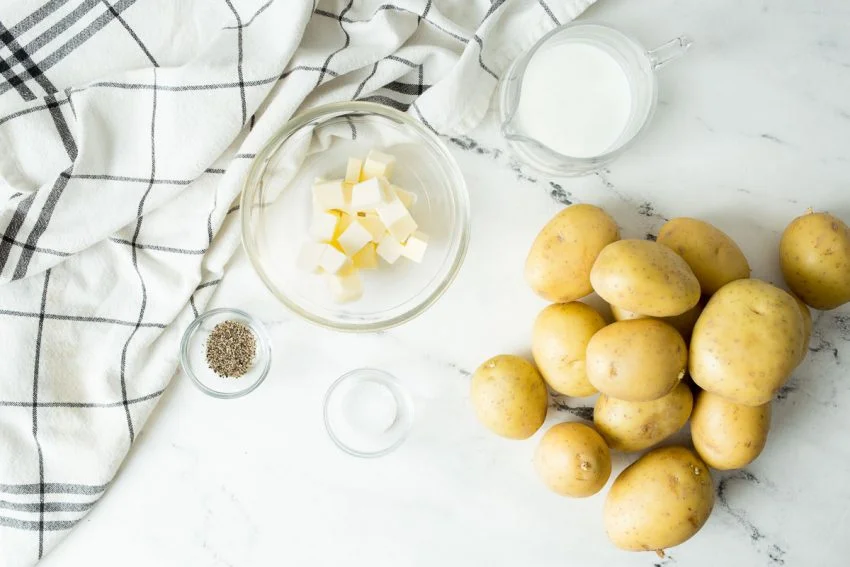 What potatoes are best for mashed potatoes?
The type of potato to use in your recipe depends on the type of mashed potatoes that you're looking to eat. With over 4,000 varieties to choose from, I've broken it down into a few commonly shopped for kinds to help you decide what potato based on your dish or desired style of mashed potatoes.
Sturdy, yet fluffy = russet potatoes = amazing baked potatoes
Smashed or chunky, with thin skins = baby reds = delicious fried potatoes
Smoother, with a thin skin = yellow potatoes, like Yukon Gold or white potatoes = silky smooth mashed potatoes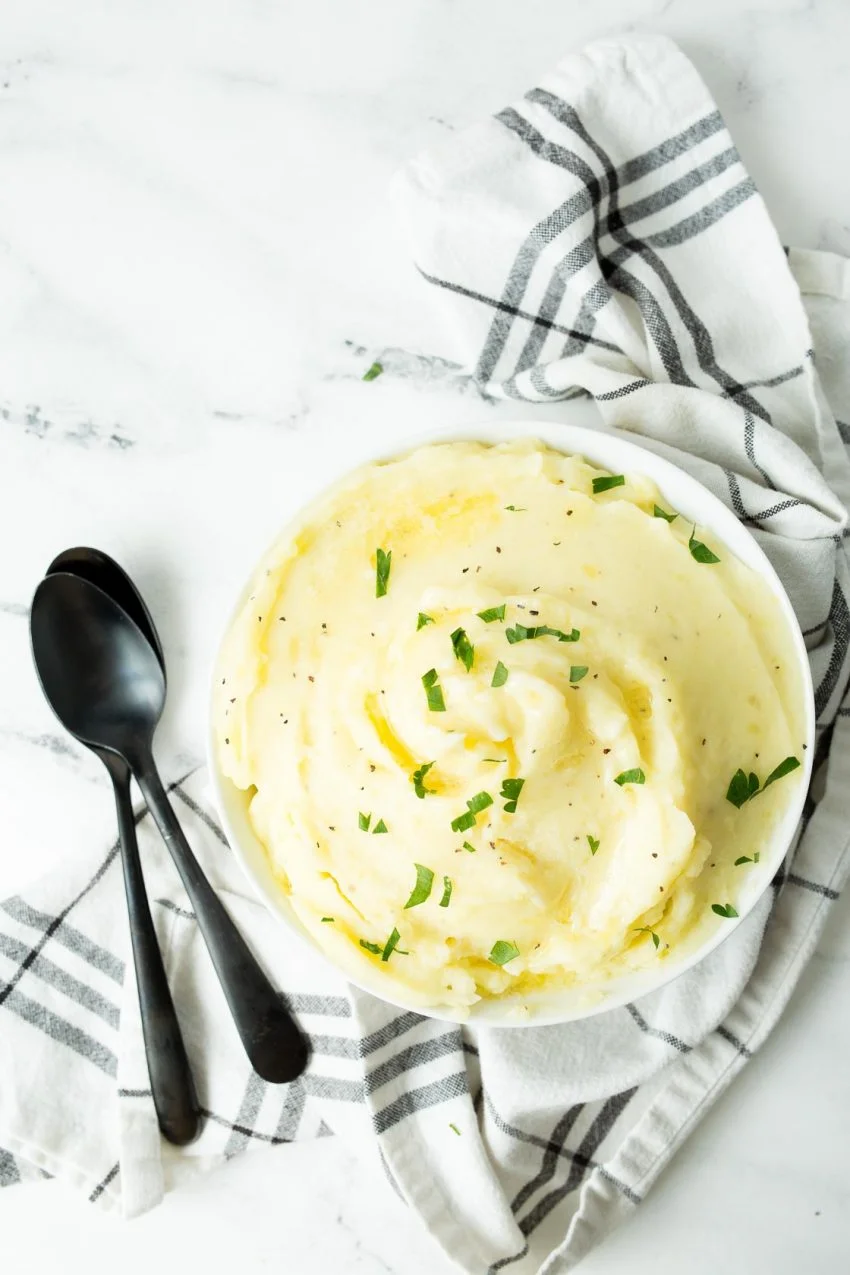 Tips for making the best mashed potatoes
Scrub your potatoes and wash them using cold water. Avoid using warm or hot water to wash or soak your potatoes, as it is very easy to start cooking them as you wash. This will cause them to cook in part and stop. Making for some very hard and chunky mashed potatoes.
Peel and quarter or dice your potatoes into even cubes before boiling. You will cut your cooking time down significantly based on the size of the potato cubes you cut. Also, be sure to remove any skin prior to dicing.
Use a Kitchen-Aid stand mixer for a quick whip. Fitted with the paddle attachment, break up the potatoes once boiled. After the potatoes have broken down and before adding your butter and milk, fit the mixer with the whisk attachment. Both tools do their job quickly and easily, ensuring you do not overmix your potatoes.
Add the butter melted, and milk warm. Adding cold butter and milk to hot potatoes will cause the mixture to seize up and become pasty in consistency.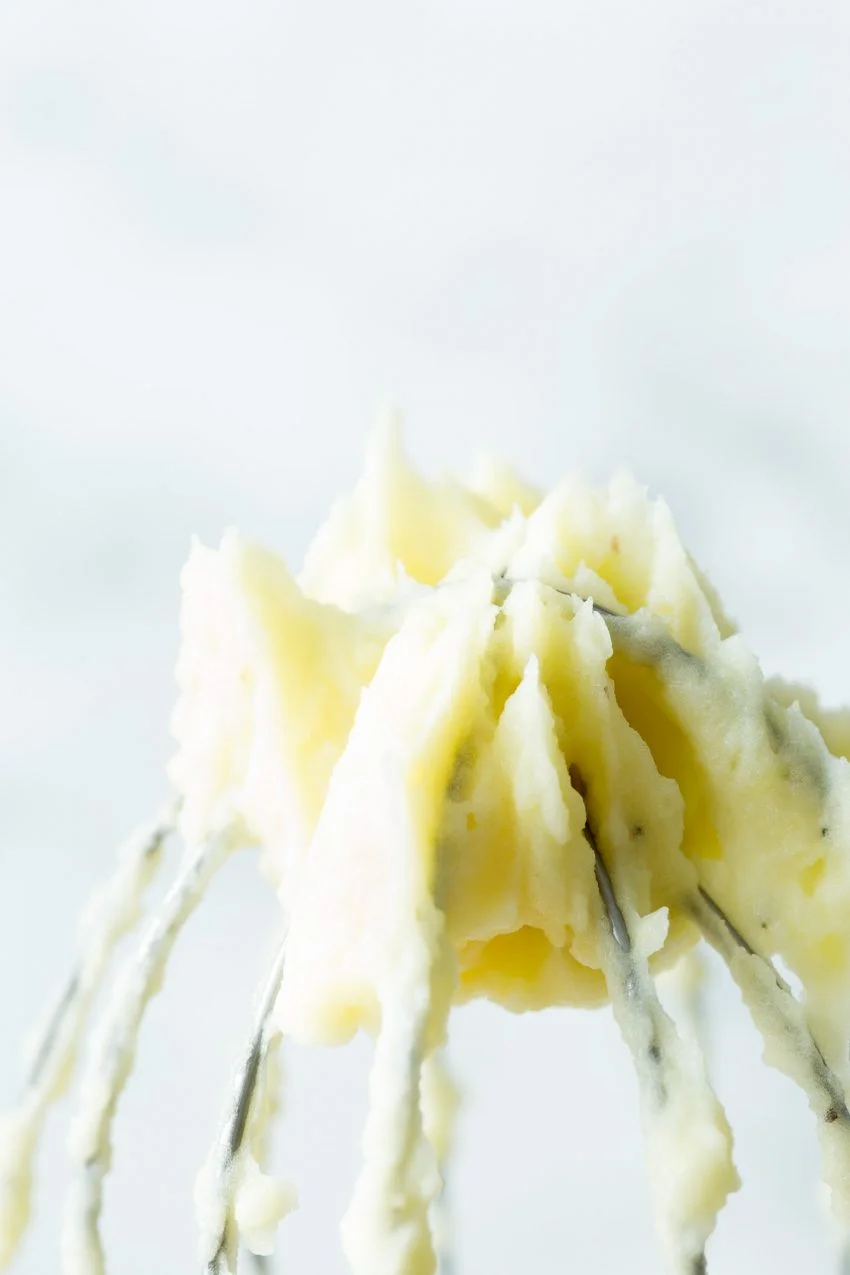 What can you make with leftover mashed potatoes?
What to serve with mashed potatoes?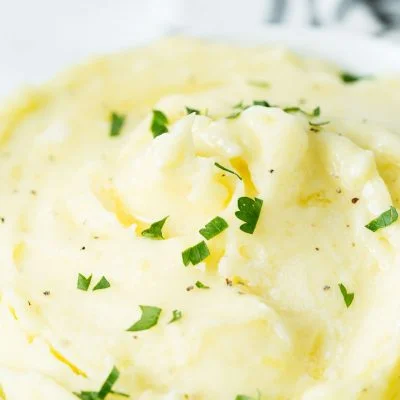 How to Make Perfect Mashed Potatoes
Light, fluffy, creamy, perfect mashed potatoes. This is the side dish that holiday side dish perfection is made of!
Equipment
Large pot

knife

vegetable peeler

cutting board

kitchen-aid stand mixer

paddle attachement

whisk attachment

small sauce pot
Ingredients
4

pounds

Yukon Gold or russet potatoes

3

ounces

(6 tablespoons) unsalted butter

2

ounces

(1/4 liquid cup) milk

any variety

½

teaspoon

kosher salt (more or less

if desired)

¼

teaspoon

white or black pepper (more or less

if desired)
Instructions
Wash, peel, and cut potatoes into quarters.

Place potatoes into a large pot and add enough cold water to cover them by 2 inches, then bring to a boil over high heat. Once potatoes are fork tender (about 10-12 minutes), drain water and return to the pot for a minute to absorb excess moisture.

While potatoes are boiling, place butter and milk into a small saucepan over medium low heat and allow butter to melt, then reduce heat to lowest setting possible to keep mixture warm.

Mash potatoes in the bowl of a stand mixer using the paddle attachment (or with a potato masher) to remove large lumps, but don't over mash them. Once potatoes are mashed, change to whip attachment. IF USING A POTATO MASHER, just mash potatoes half way before following the next step..

Add 1/2 of the heated milk mixture, salt and pepper to the potatoes and use whip attachment to mix on medium high speed, just until the liquid has absorbed into the potatoes, about 10 seconds. If using a potato masher, follow the same steps, using the masher as quickly and lightly as possible to incorporate the milk mixture.

If the potatoes appear too dry, add more of the milk mixture and mix quickly again.

Taste and add additional seasoning, if desired.
Nutrition
Calories:
347
kcal
Carbohydrates:
55
g
Protein:
7
g
Fat:
12
g
Saturated Fat:
8
g
Cholesterol:
31
mg
Sodium:
180
mg
Fiber:
4
g
Sugar:
2
g