Cheesy Hash Brown Potato Nests
Cheesy hash brown potatoes are a staple for weekend breakfasts and brunches. To create the perfect bite sized brunch recipe, cheesy hash brown potatoes with smoked ham, shredded cheese, and fresh parsley are baked in muffin tins, creating bite sized Cheesy Hash Brown Potato Nests!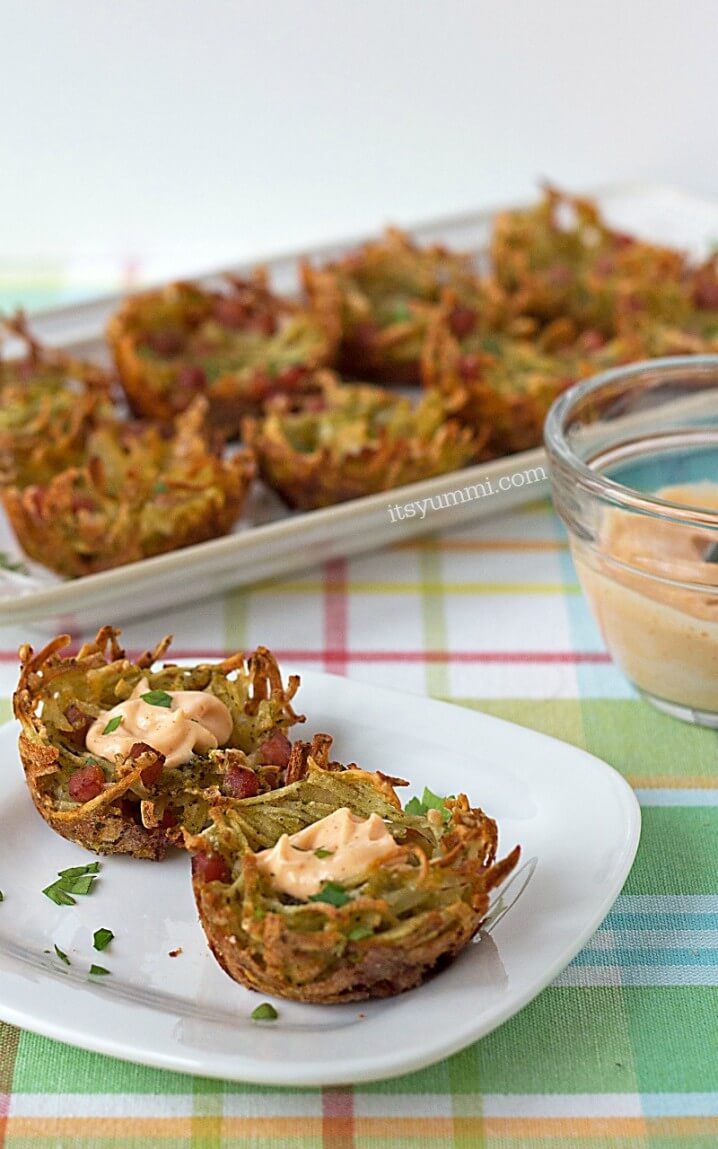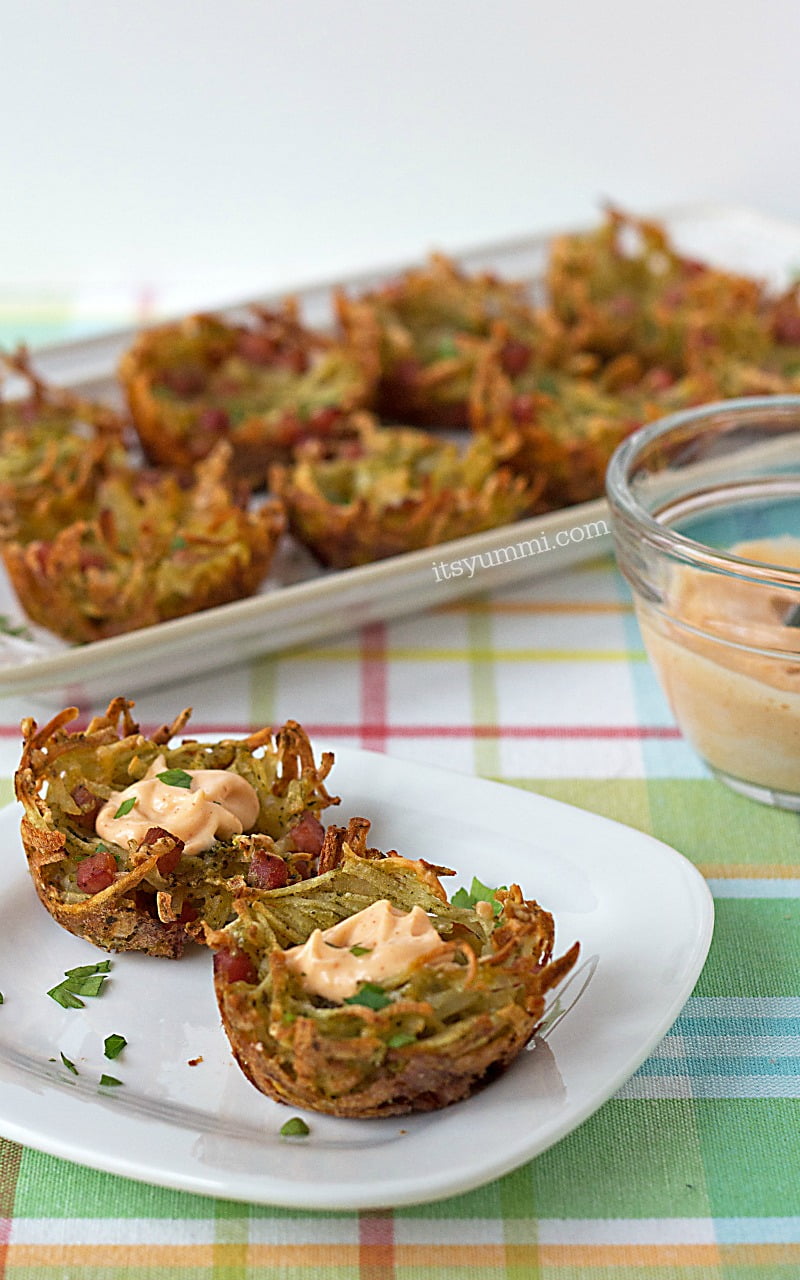 Imagine bundles of parslied shredded hash brown potatoes, diced ham, cheese, and seasonings, formed into the shape of bird nests, baked up until golden brown. Now picture popping them into your mouth with a dollop of spicy aioli on the top. Fabulous, right?!
These bite sized brunch bites are a little bit spicy, salty, crunchy, and delicious, and they can be served as an easy appetizer or side dish for holiday brunches, spring parties, or weekend breakfasts. Step into the virtual kitchen and I'll show you how quick, easy, and fun the recipe is to make!
Bite Sized Cheesy Hash Brown Potatoes
These tasty shredded potato bites were part of the Easter brunch menu I created for Brian and I. Last year's Easter brunch was a disaster. Not a bit of planning took place, so I threw together a non-traditional meal at the last minute. I refused to be a slacker again this year!
Not having family to entertain doesn't stifle my desire to prepare a nice meal for us to enjoy. Appetizers are a must, as are things like hot cross buns, steamed asparagus with homemade poppy seed dressing, some form of potatoes, and a lamb roast.
Like most guys, Brian loves creamy mashed potatoes, but even he said he wanted something lighter this year. We're both trying to kick some excess weight, so at first, I thought I'd just make us baked potatoes, but that sounded too boring to me.
Hash Brown Potatoes Recipe Inspiration
When I was walking past the woven straw Easter baskets at Walmart, the inspiration kicked in to try my hand at making little baskets made out of potatoes. Then I saw green Easter grass and even more ideas flew into my head. Ooooo, the hash browns would become green grass, just like you see in Easter baskets!
What food would best resemble grass? Hash brown potatoes, of course! I tossed a bag of Ore-Ida Shredded Hash Brown Potatoes into my cart and kept on movin'. I needed to figure out how to make them green.
Some of you know that I stopped using food coloring a while ago, so I wanted to use a food source that had lots of chlorophyll in it (that's what makes naturally green things green). I was going to pick up some spinach to try, but then I remembered that I had a big bunch of parsley at home and parsley tastes amazing with potatoes! With a game plan set, I was super excited to head home and get my cheesy hash brown potato baskets into action!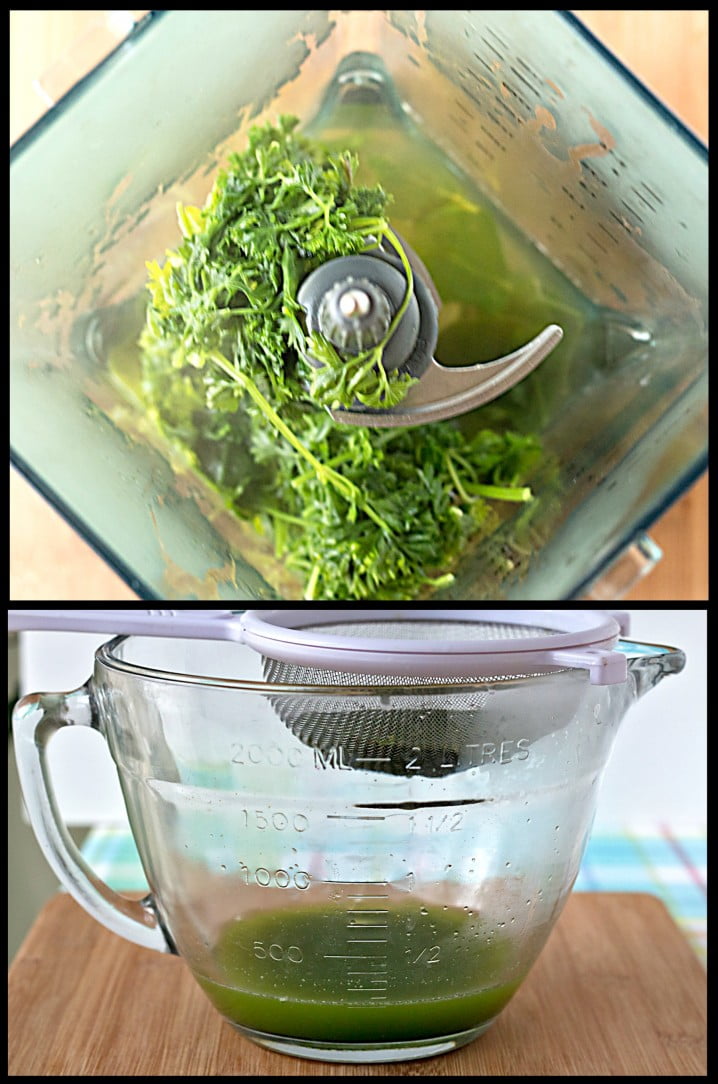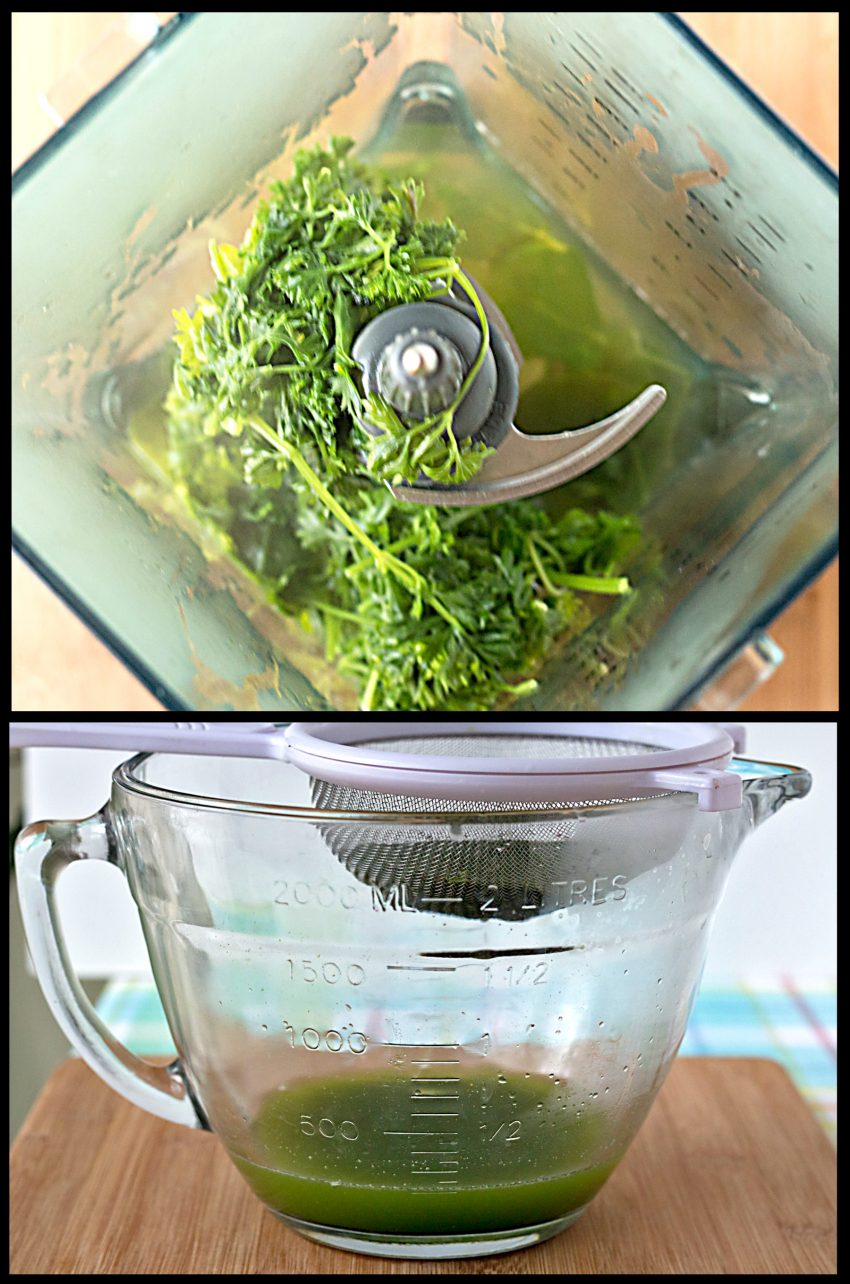 First step:
Cook down the parsley with some water, reduce it a little bit, and bring on the Spring color! I strained the parsley, leaving naturally colored green liquid to soak the shredded potatoes in. I didn't thaw them or anything. You just toss them up a bit to make sure everything is covered, then let them sit in the liquid for about 10 minutes. After that, you stir in some diced ham, cheese, and seasonings. That's it, gang…these cheesy hash brown potatoes are seriously that easy to make!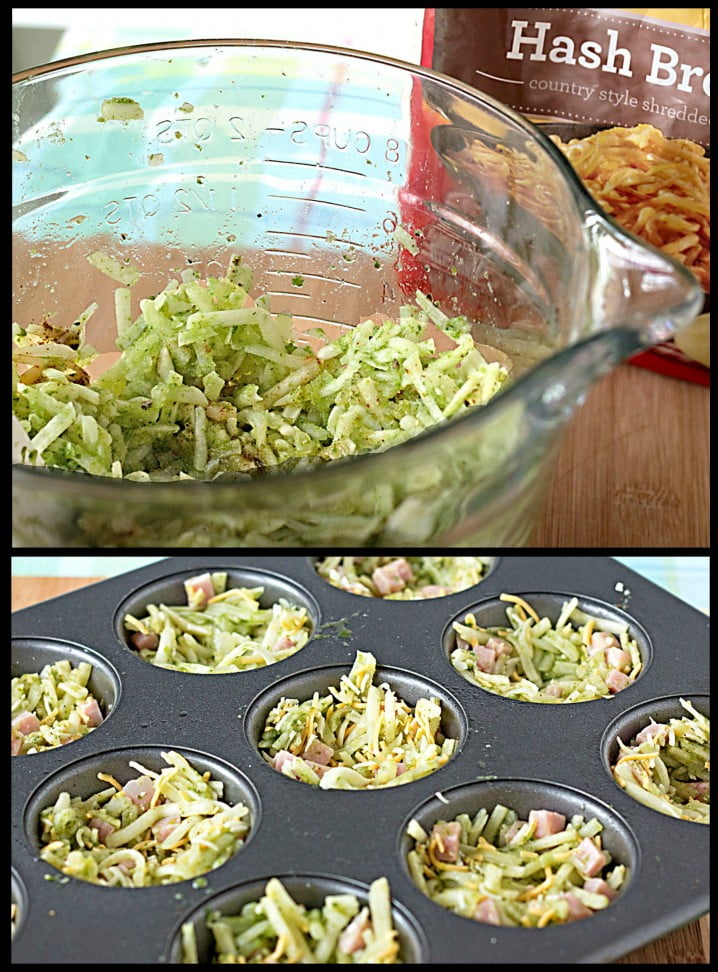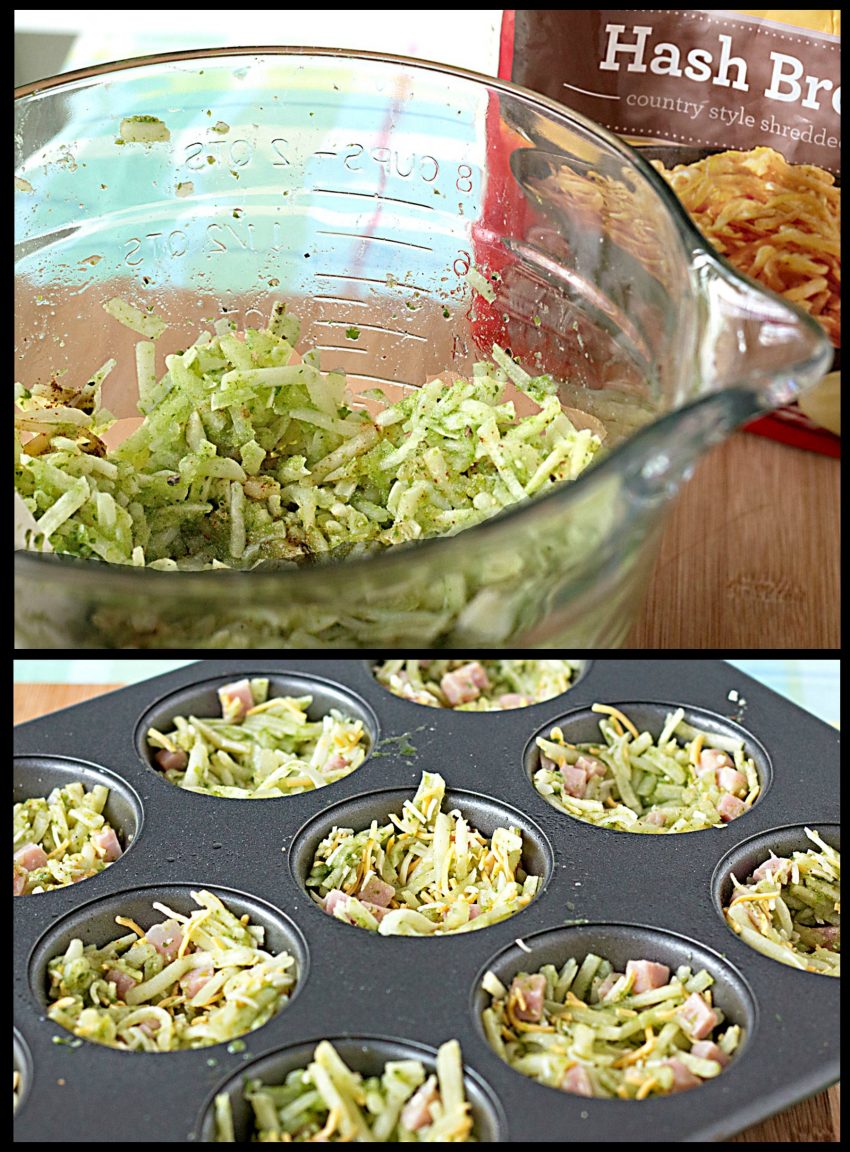 Turn the oven on to 425 and let it heat up while you assembled everything. Oh, before I forget, please be sure to spritz the wells of the cupcake pan with olive oil to prevent sticking. Otherwise, you're bound to have a struggle removing the delicate, baked hash brown potatoes.
As I was removing them from the muffin tin, it occurred to me that these little potato bites looked NOTHING like Easter baskets.
Umm, Easter baskets have handles, Bec. These are hash brown potato NESTS!
Oh well. They're incredibly easy to make, absolutely adorable to look at, and trust me, positively yummi to eat!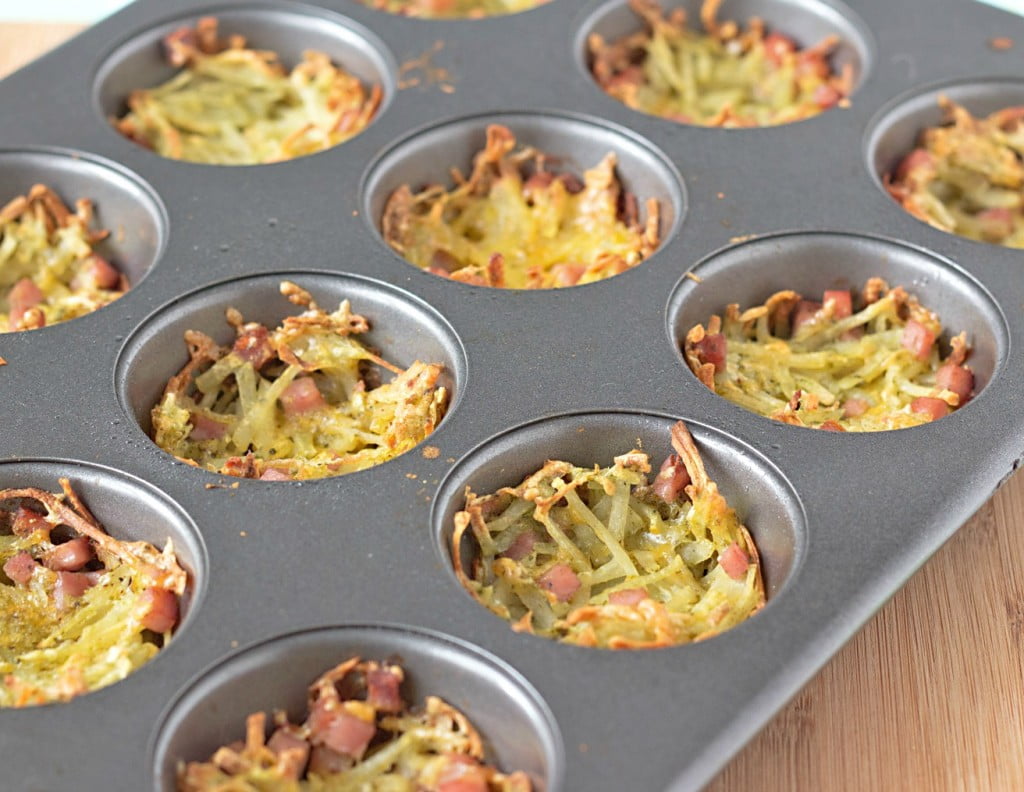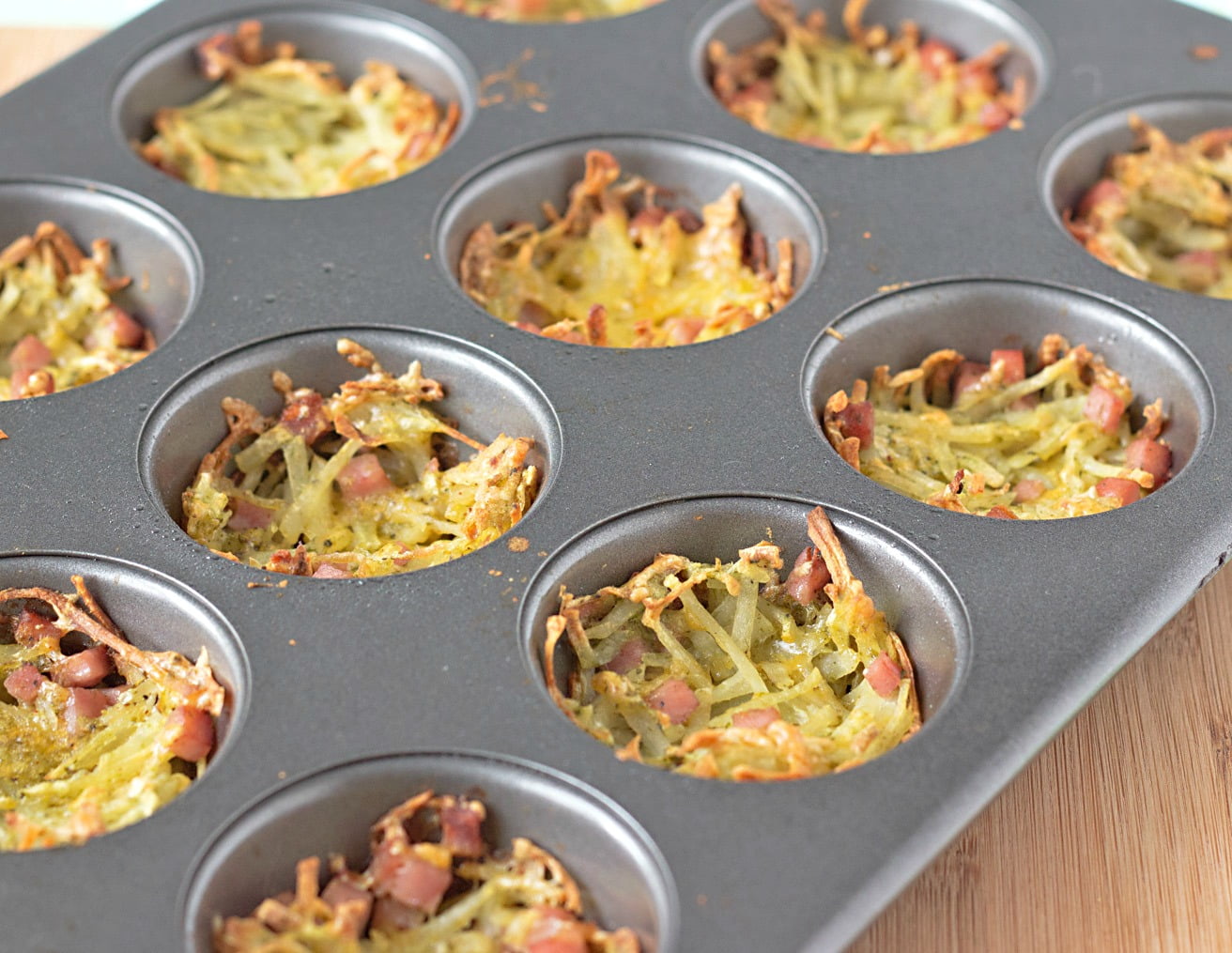 With a bite sized brunch recipe this perfect, do we really need to serve anything else? Well, unless it's just an appetizers brunch, you should probably make a main dish. But these cheesy hash brown potatoes with ham may be the star of the show anyway!
Oh, and I bet the cheesy hash brown potato nests would be awesome to serve on Mother's Day, too! They're easy enough for kids to make, but let a grown up put them into the oven.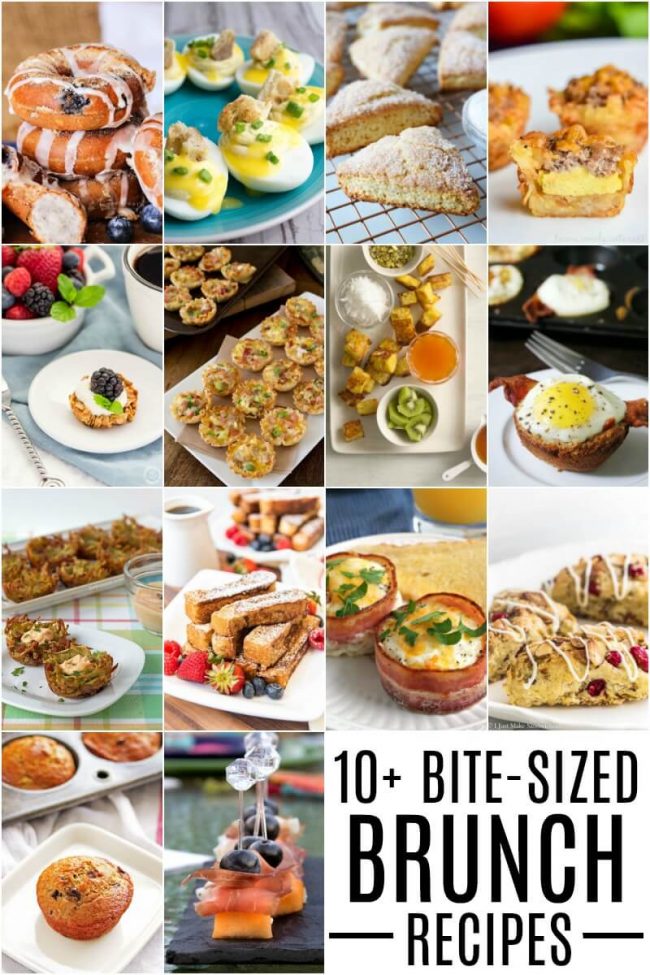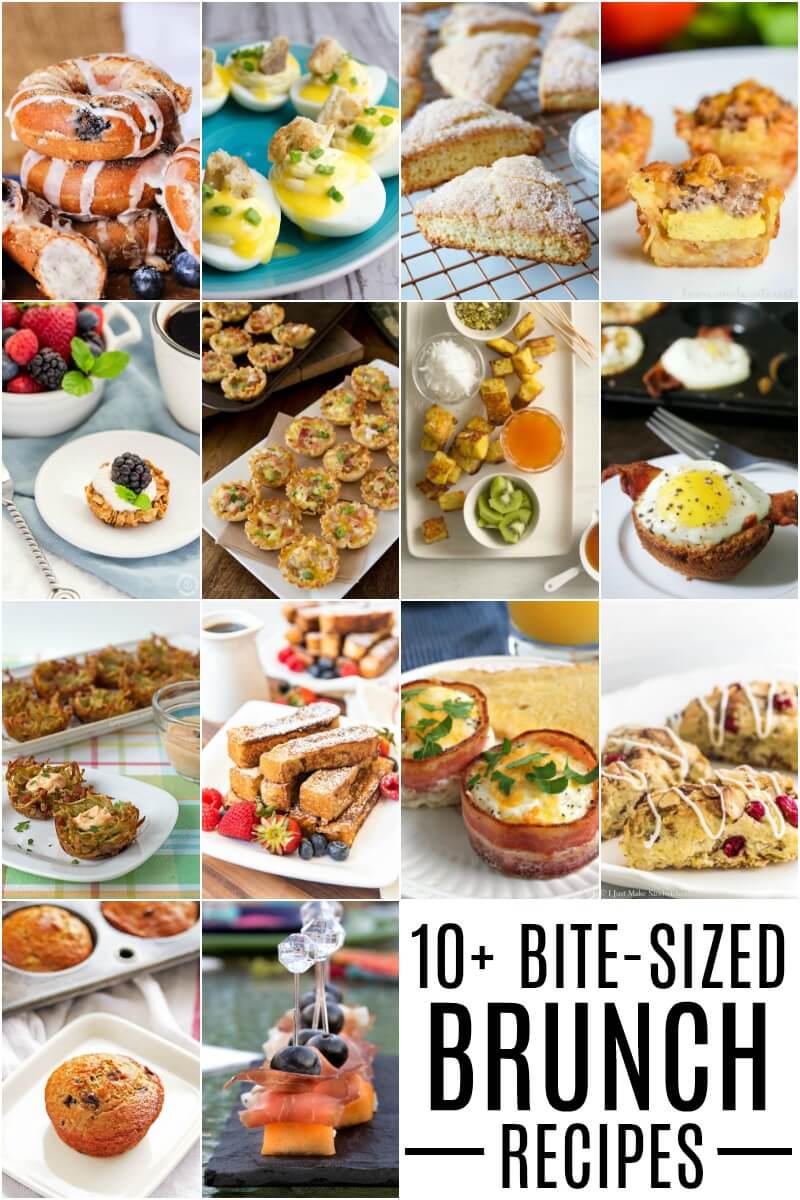 More Bite Sized Mother's Day Recipes:
So tell me…What's YOUR favorite thing to eat for brunch?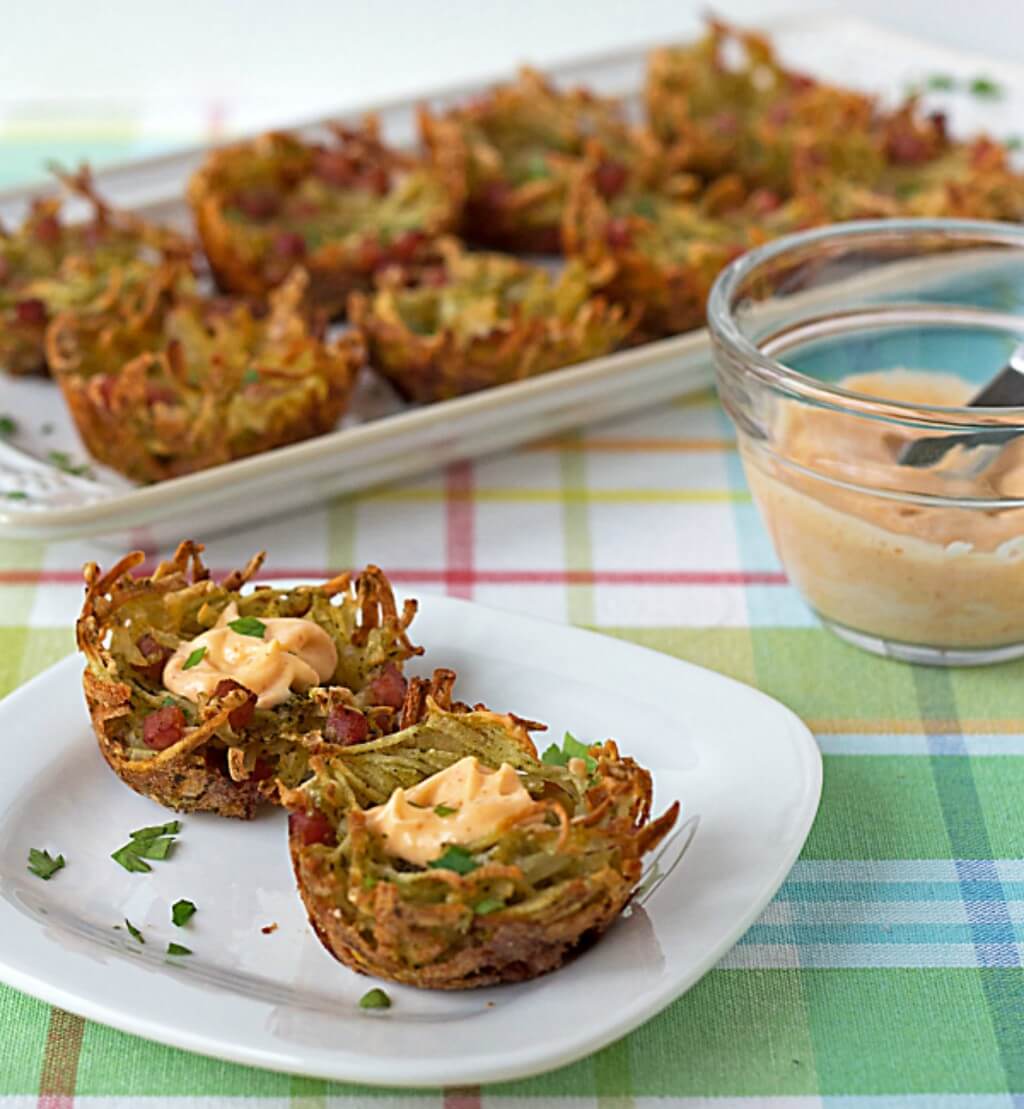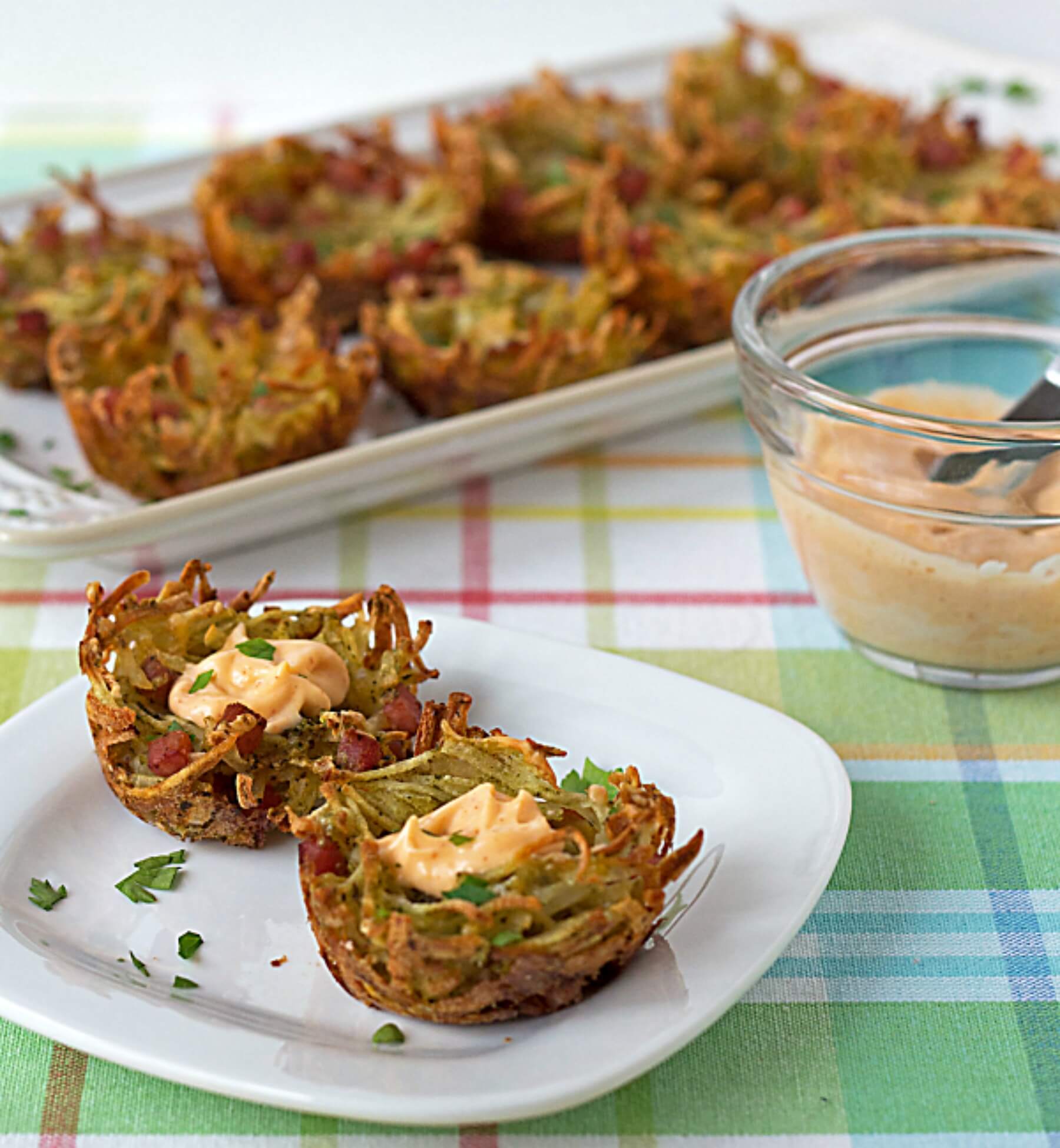 How to Make Cheesy Hash Brown Potato Nests: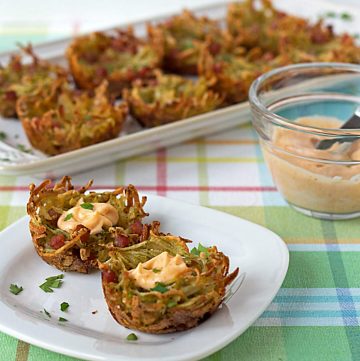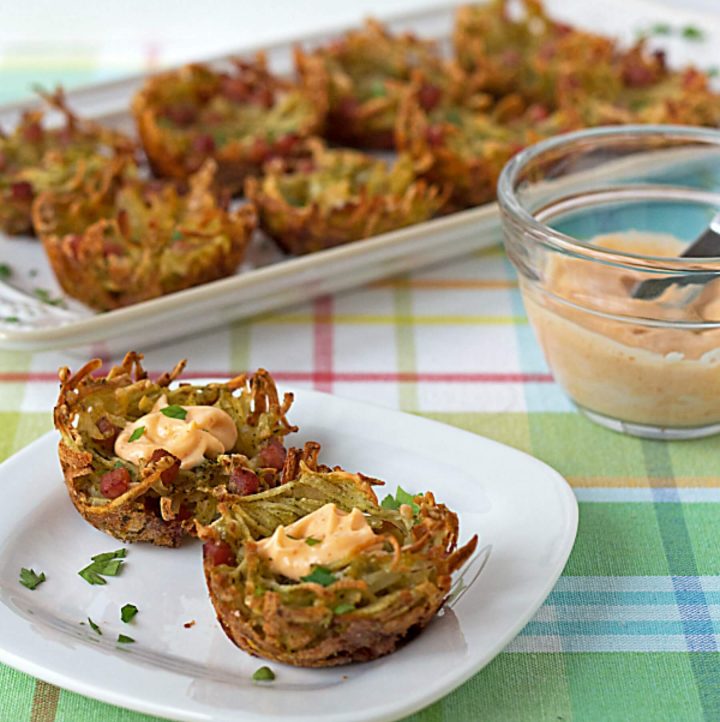 Cheesy Hash Brown Nests
Bundles of parslied shredded potatoes, diced ham, and cheese are nestled together and baked up until golden brown. Served with a side of spicy aioli, these are sure to be a beautiful brunch appetizer or side dish!
Ingredients
For Nests:
Avocado oil

or other neutral flavored oil

2

cups

parsley

stems removed (approx. 1 large bunch)

8

ounces

water

4

cups

frozen shredded hash brown potatoes

1

cup

diced ham

1

cup

shredded cheese

(I used colby jack)

¼

teaspoon

cayenne pepper

¼

teaspoon

black pepper

⅛

teaspoon

onion powder

⅛

teaspoon

garlic powder

¼

teaspoon

salt

(more if desired, to taste)
For Spicy Aioli:
1

cup

mayonnaise

2

Tablespoons

Sriracha

or other hot sauce

1

teaspoon

smoked paprika

1

clove

garlic

minced

1

lime

zested and juiced

⅛

teaspoon

kosher salt
Instructions
Heat oven to 425 degrees F.

Use a pastry brush or paper towel to grease wells of a 12-cup muffin pan with oil; set pan aside.

Place parsley into a small saucepan and add water. Bring to a boil over high heat, then reduce heat to medium and cook for 10 minutes. Strain liquid into a large mixing bowl, Add 2 Tablespoons of cooked parsley to the bowl and discard remaining parsley.

Add frozen shredded potatoes to the bowl with parsley water. Stir to coat and allow mixture to absorb into potatoes for 5-10 minutes. Add remaining ingredients to the bowl and stir to combine.

Fill wells of muffin pan with potato mixture and use back of a spoon to press mixture against bottom and sides of each well Drizzle or brush tops with a little more oil (this will help them develop a nice golden, crispy top).

Bake at 425 for 30-40 minutes, or until potatoes are golden brown, but still slightly moist in the center. Remove pan from oven and allow nests to cool in pan for 2 minutes.

Run an offset spatula or the edge of a butter knife along the inside edge of the wells to help release the nests from the pan. Transfer to a serving platter and serve warm, topped with aioli and additional chopped parsley, if desired.
For Spicy Aioli:
Place all ingredients into a small mixing bowl. Using a spoon, stir to combine.

Taste and if desired, season with additional salt and/or hot sauce.
Notes
To adapt this recipe for vegetarians, feel free to omit the ham.
Nutrition
Serving:
2
nests
Calories:
458
kcal
Carbohydrates:
28
g
Protein:
11
g
Fat:
33
g
Saturated Fat:
7
g
Cholesterol:
40
mg
Sodium:
906
mg
Potassium:
556
mg
Fiber:
3
g
Sugar:
1
g
Vitamin A:
2035
IU
Vitamin C:
44.7
mg
Calcium:
143
mg
Iron:
3
mg