Baked Turkey Meatballs without Breadcrumbs
Baked turkey meatballs are a healthy turkey meatball recipe made from ground turkey and sweet, caramelized onions. You can have these easy meatballs for appetizers or dinner, in less than 30 minutes! Come on in to the virtual kitchen and I'll show you how to whip up a batch for dinner tonight!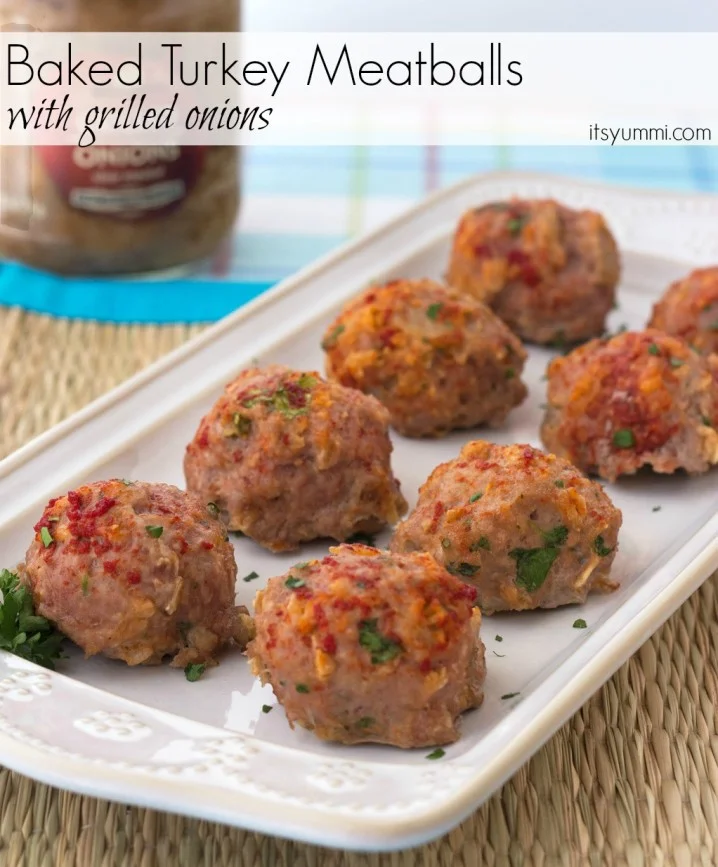 I'm running crazy busy this weekend, so I pulled this easy meatball recipe from my favorite Pinterest board to whip up for dinner tonight.
Can you make and freeze meatballs?
Actually, baked turkey meatballs freeze really well, so I recommend making a triple batch. Then you can freeze them for a quick and easy dinner any night you want them.
How to Freeze Baked Turkey Meatballs
To freeze the turkey meatballs, just prep them as outlined in the directions below. Then:
Allow the meatballs to cool slightly.
Place them onto a rimmed baking sheet lined that's been lined with parchment paper or a silicone baking mat.
Put the whole kit and kaboodle into the freezer. It'll take a couple of hours for them to freeze.
Once the baked turkey meatballs are frozen, transfer them to airtight plastic freezer bags or freezable storage containers, label them, and place them back into the freezer. Then, just pull them out when you need them.
Reheating Turkey Meatballs from Frozen
You can reheat the frozen baked turkey meatballs in any of the following ways:
in the oven
microwave
slow cooker
pressure cooker (Instant Pot), or
cooked in a pot of sauce or stock on the stove top
Of course, you can also put the container of frozen meatballs into the refrigerator to thaw first before reheating them, too. Easy peasy!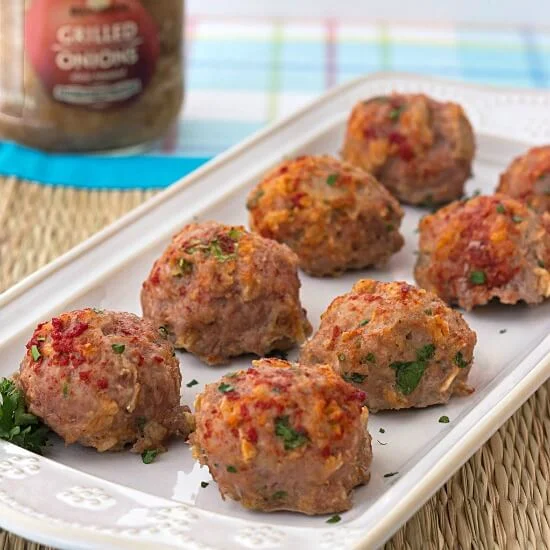 Meatballs without Breadcrumbs
Making the turkey meatballs without breadcrumbs turns them into a gluten free meatball that everyone can enjoy for dinner. These baked turkey meatballs are healthy and they freeze beautifully!
Serving Suggestions for Baked Turkey Meatballs
These baked turkey meatballs are delicious served:
As a main dish, served with pasta and sauce
Over rice with some veggies, or
On a bed of homemade mashed potatoes and gravy
As an appetizer, served with my Asian dipping sauces or some fresh marinara sauce or pizza sauce.
I originally made this recipe for my good friends at Gill's Onions. They have a delicious line of onion products that are grown and manufactured using sustainable practices and they're super convenient to use! Check out the products here and then hop over to your local grocery store for them and stock up. They're yummi goodness!
MORE EASY MEATBALL RECIPES!
How to Make Baked Turkey Meatballs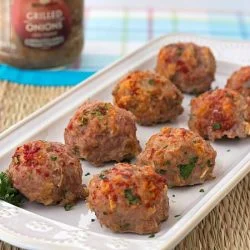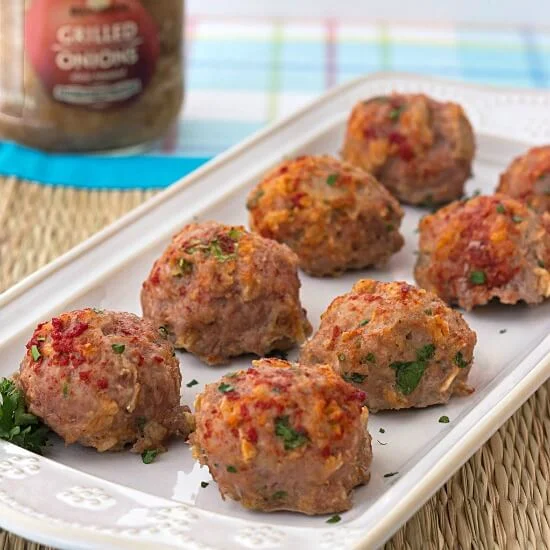 Healthy Baked Turkey Meatballs without Breadcrumbs
Making the meatballs without breadcrumbs makes them a gluten free meatball that everyone can enjoy for dinner. These baked turkey meatballs are healthy and they freeze beautifully!
Ingredients
1

cup

rolled oats

⅓

cup

milk

any kind

1

pound

lean ground turkey

½

cup

grilled onions

¼

teaspoon

garlic powder

⅛

teaspoon

onion powder

¼

teaspoon

freshly cracked black pepper

⅛

teaspoon

sea salt

or kosher salt

1

large

egg

3

tablespoons

finely chopped flat-leaf parsley

1

Tablespoon

extra-virgin olive oil

1

tablespoon

tomato paste
Instructions
Heat oven to 400F.

Line a rimmed baking sheet with parchment paper, or spray lightly with non-stick cooking spray, or line with a silicone baking mat.

Soak oats in milk in a small bowl until softened, about 2 minutes. Squeeze oats to remove any excess liquid; discard milk.

Lightly beat egg in a large mixing bowl, then add turkey, onions, oats, and seasonings. Use gloved hands or a mixing spatula to incorporate all ingredients together. Use a large cookie scoop (3 Tablespoon size) or gloved hands to form 18 meatballs. Space evenly on prepared baking sheet.

Stir together tomato paste and olive oil and brush over meatballs. Place pan into oven and bake until meatballs are just cooked through and a food thermometer inserted into the center reads 163 degrees F., about 15 to 20 minutes.

Serving suggestion: Serve meatballs over rice or pasta with your favorite sauce, or alone, along with a garden salad.
Nutrition
Serving:
4
meatballs
Calories:
272
kcal
Carbohydrates:
17
g
Protein:
31
g
Fat:
8
g
Saturated Fat:
1
g
Cholesterol:
108
mg
Sodium:
211
mg
Potassium:
525
mg
Fiber:
2
g
Sugar:
2
g
Vitamin A:
410
IU
Vitamin C:
7
mg
Calcium:
57
mg
Iron:
2.3
mg