Bison chili just may become the best chili recipe you've ever tasted. Unlike any other healthy chili recipe you've had before, iron-rich bison is cooked low and slow in dark red wine, with several layers of spices, bulgur, and fiber-rich black beans. It's a hearty, healthy, comfort food and one delicious dinner!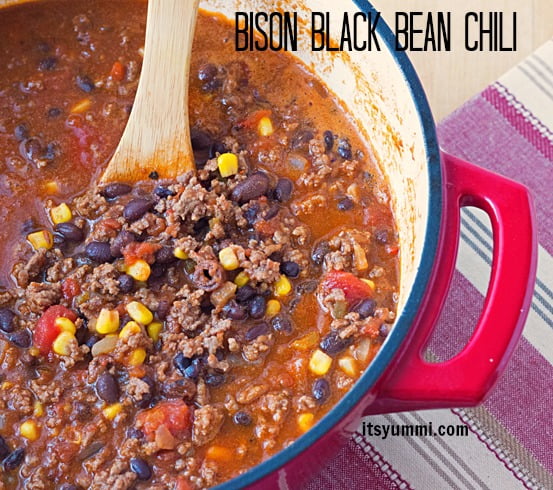 I've made chili with many different proteins, and different cuts of meat. Ground meat chili is the most popular here in the northern midwest U.S., while the gang down in the southern half of the U.S. tend to favor big pieces of meat in their bowl.
There's pretty much a chili for every taste bud out there, too. Turkey, beef, and even lamb have made their way into my chili bowls, but there's something very special and healthy about this bison chili recipe! Here's why:
FOOD FACTS ~ BISON (facts gathered from the National Bison Association)
THE ANIMAL: Bison are handled as little as possible. They spend their lives on grass, much as they always have, with very little time in the feedlot. They are not subjected to questionable drugs, chemicals or hormones. The members of the National Bison Association feel so strongly about this that they have a resolution opposing the use of these substances in the production of Bison for meat.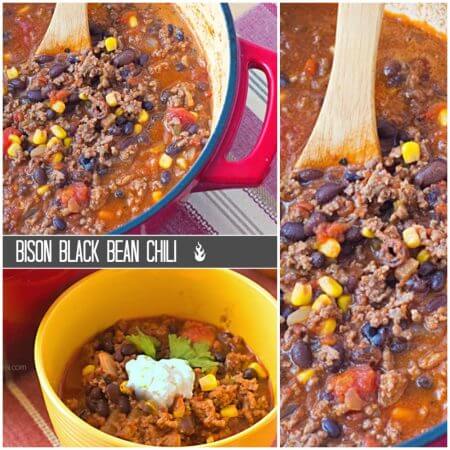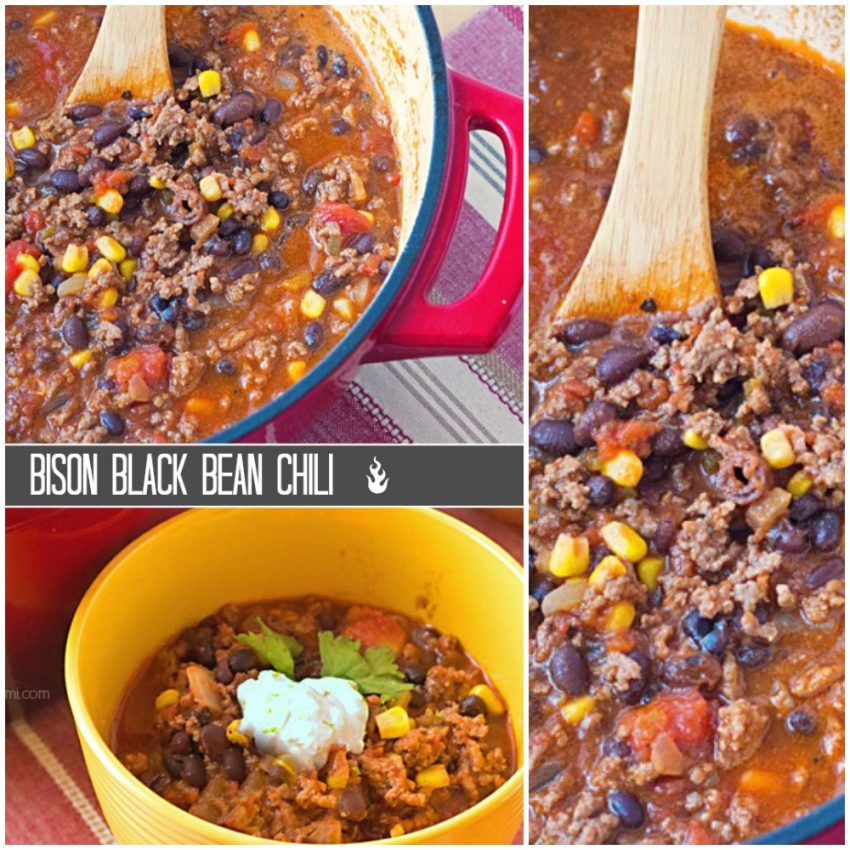 Nutrition in Bison Recipes
Nutrition facts: Bison is a lean, and highly nutrient dense food because of the proportion of protein, fat, mineral, and fatty acids to its caloric value. Comparisons to other meat sources have also shown that Bison has a greater concentration of iron, as well as some of the essential fatty acids necessary for human well being.
Readers' Digest magazine has even listed bison as one of the five foods women should eat because of the high iron content. I, along with an estimated 3 million Americans, suffer from iron deficient Anemia. Eating iron-rich foods is very important to keeping red blood cells and oxygen flowing through our bodies, so bison recipes are high up on my list of foods to make and consume often. The fact that bison is delicious makes it more of a win-win for my body, and for yours, too!
Oh, and another great iron-rich recipe is spinach, which many people turn their noses up at. Not me…Bring on the rich, creamy creamed spinach!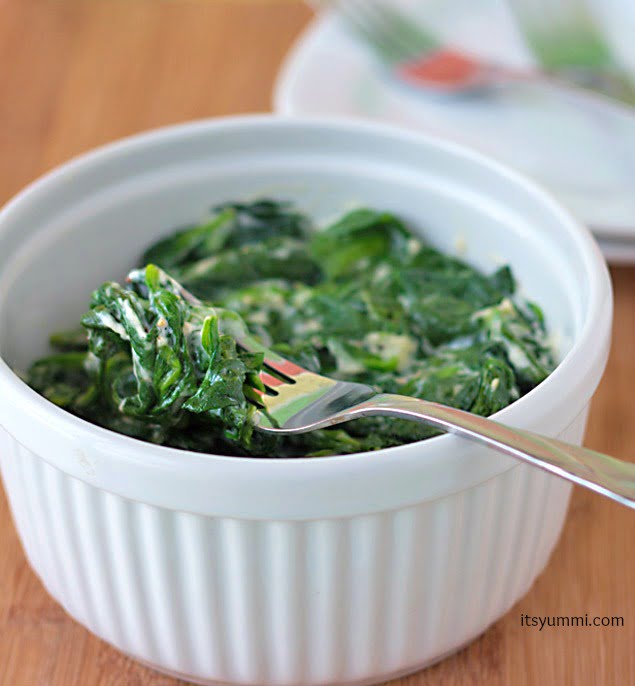 Because of its high nutritional value and special handling methods, bison can be expensive. If you haven't learned yet, I'm not the richest kid on the block. With a grocery budget of just $40 a week, I have to use low cost ingredients in my recipes. But purchasing quality meat like bison keeps Brian and I healthy, saving us money on medical costs. So, for me, it's worth the investment.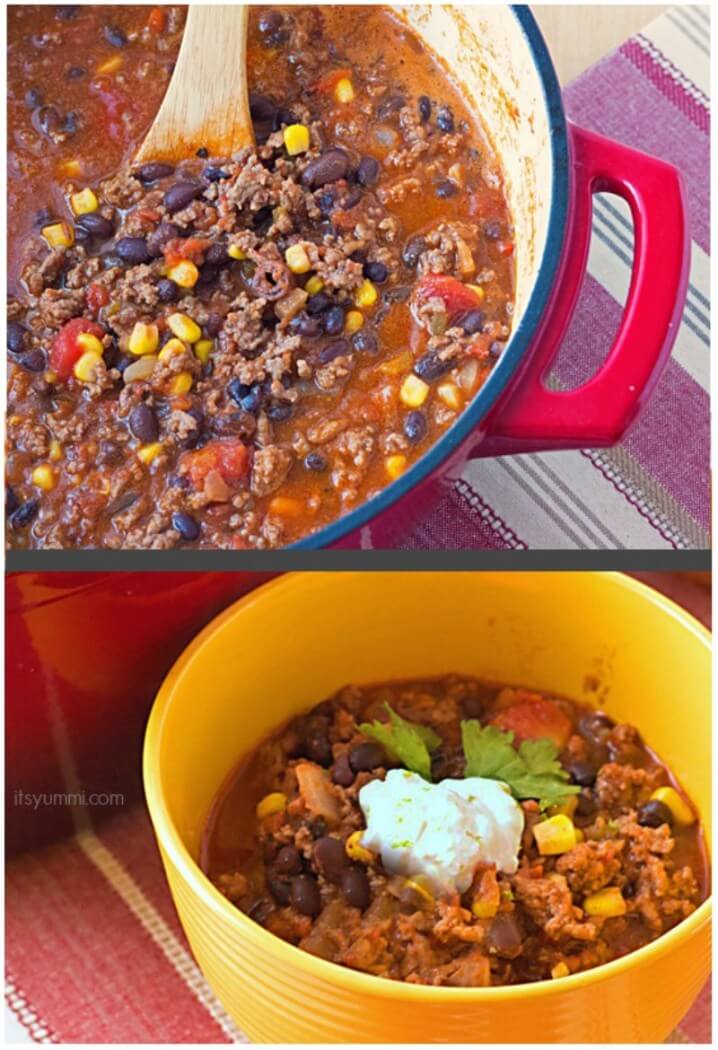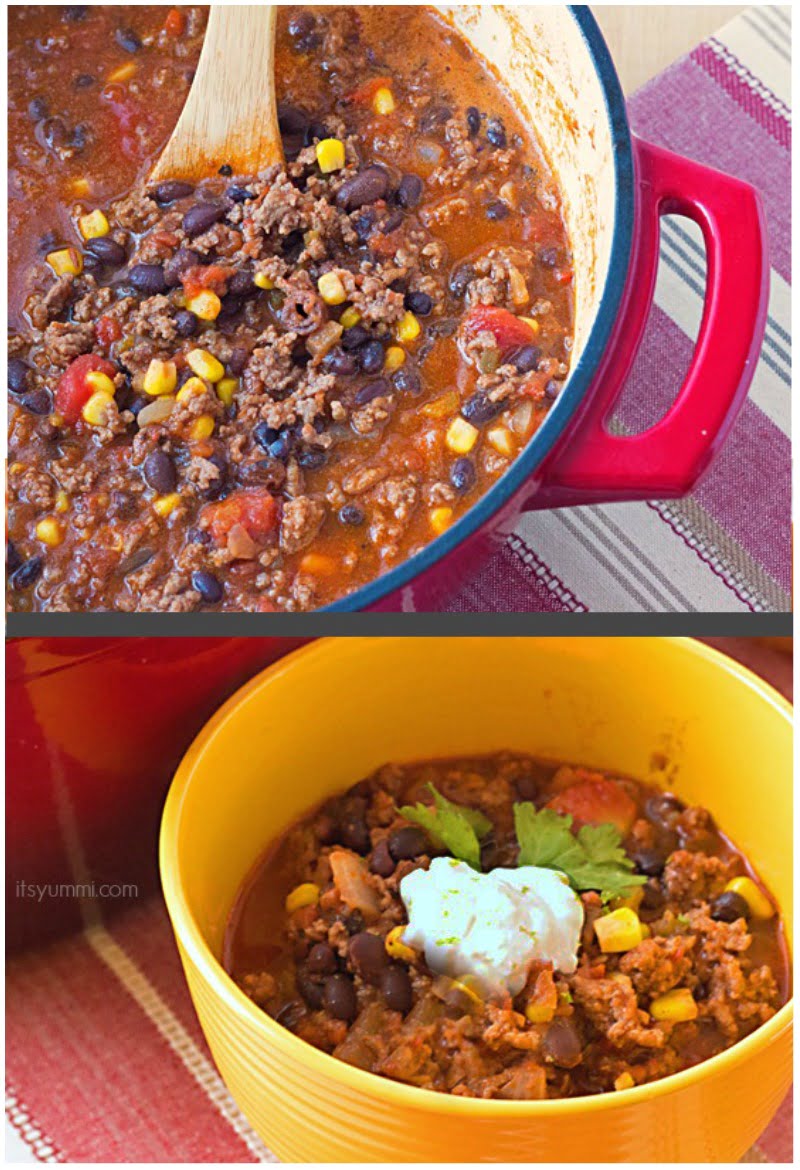 About the bison chili recipe:
Bison chili can't be made in 15 minutes like my bratwurst chili can. Because there are layers of flavor that need time to develop, it takes a bit longer. But the extra time is worth it!
Instead of beef stock, I used red wine as the base flavor. Why? Similar to wanting a glass of red wine to compliment a fine steak, wine brings out the flavor of bison in a way that water or stock can't. I abstain from alcohol, but alcohol in the wine cooks out, so I'm not concerned about it. If you completely abstain from alcohol, substitute some organic, no-salt-added beef stock and you'll be in for a fantastic treat.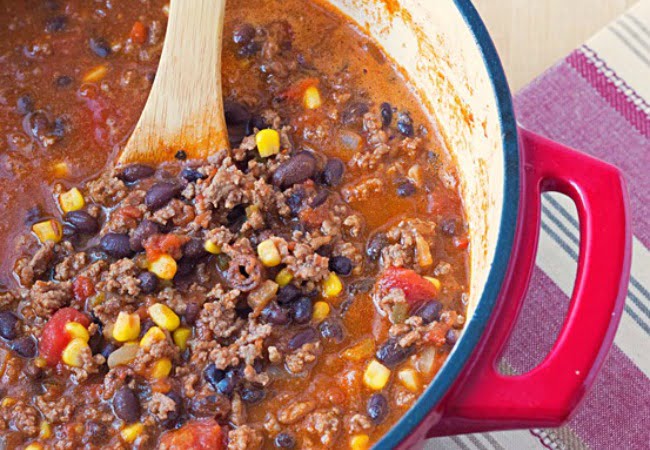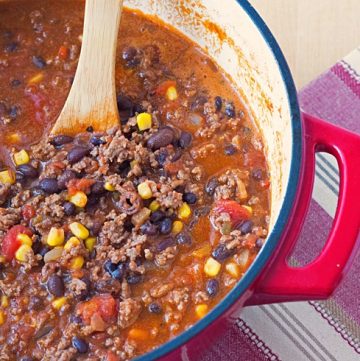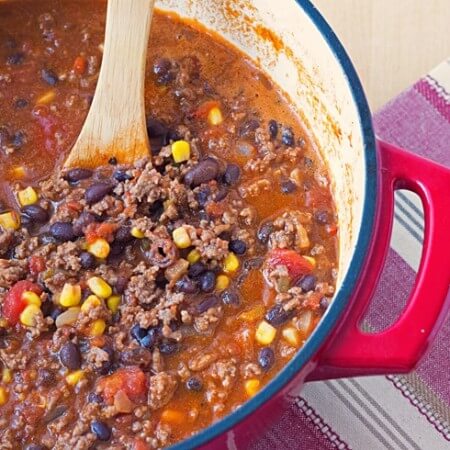 Bison Chili with Black Beans
Lean, delicious, iron-rich bison is seasoned with dark red wine and several layers of spice, corn, bulgur, and fiber-rich black beans to create a healthy and delicious chili!
Ingredients
3

tablespoons

grapeseed oil

or extra-virgin olive oil

1

pound

ground bison (also known as buffalo)

1

large

yellow or white onion

diced

2

cloves

garlic

minced

14 ½

ounces

canned organic no-salt-added diced tomatoes

1

cup

corn niblets

frozen or canned

½

cup

bulgur

1

chipotle pepper in adobo sauce

seeds removed and finely diced (see notes)

2

Tablespoons

ancho chile powder

1

Tablespoon

chili powder

1

teaspoon

instant coffee

(optional)

¾

teaspoon

salt

30

ounces

canned organic no-salt-added black beans

rinsed

1

cup

dry red wine

2

cups

no-salt-added beef bone broth

or beef stock
Instructions
Heat oil in a Dutch oven over medium-high heat. Add bison, onion and garlic. Cook, stirring and breaking up the meat with a wooden spoon, until the meat is no longer pink, 3 to 5 minutes.

Reduce heat to medium, add chipotle pepper, and cook until the onions are starting to soften, 5 to 7 minutes.

Add bulgur, ancho chile powder, chili powder, instant coffee, and salt and cook, stirring, until aromatic, 30 seconds to 1 minute.

Stir in beans, corn, and tomatoes.

Add wine and beef stock and bring to a boil, then immediately reduce heat to medium-low and simmer, with the lid partially covering the pot, stirring occasionally, until the liquid is reduced and thickened and the bulgur is tender, about 50 minutes.
Notes
Chipotle peppers in adobo sauce are usually found in the Mexican aisle of the grocery store. They come with the seeds and membrane intact, which makes them VERY spicy. To mellow the flavor and reduce the spice, remove the seeds with a knife before finely chopping the pepper. br]
Recipe adapted from [Eating Well
Nutrition
Serving:
1
g
Calories:
421
kcal
Carbohydrates:
42
g
Protein:
24
g
Fat:
15
g
Saturated Fat:
4
g
Cholesterol:
39
mg
Sodium:
435
mg
Potassium:
816
mg
Fiber:
13
g
Sugar:
3
g
Vitamin A:
1040
IU
Vitamin C:
7.7
mg
Calcium:
70
mg
Iron:
5.1
mg