Steakhouse Style Creamed Spinach
Steakhouse style creamed spinach is a rich, creamy, low carb side dish that's just like the kind you'd find at an expensive steak house. It's packed with high nutrition and great taste, so grab your apron and come on into the kitchen… I'll show you how easy it is to make this yourself!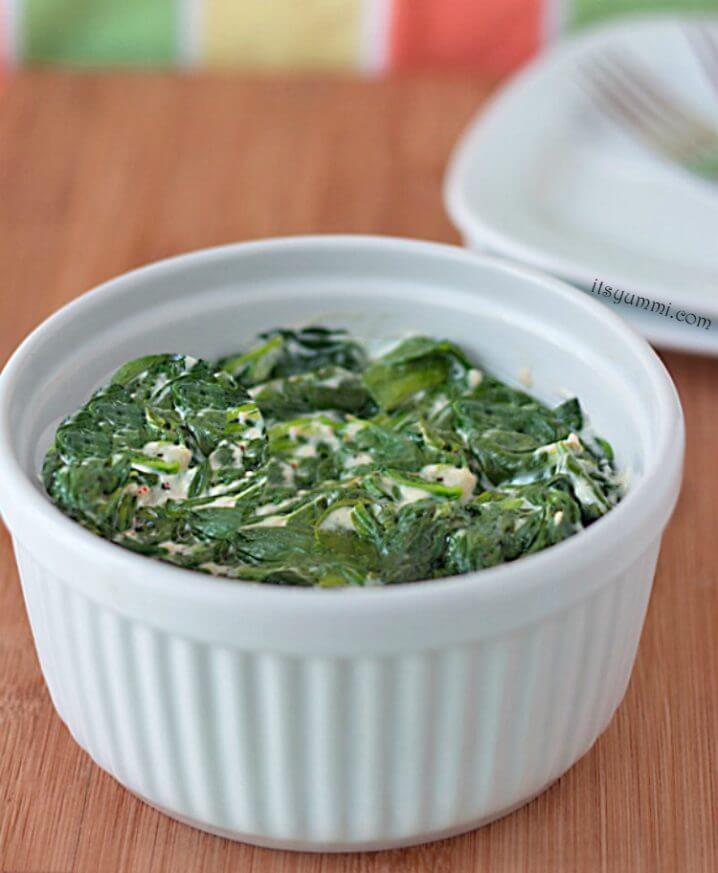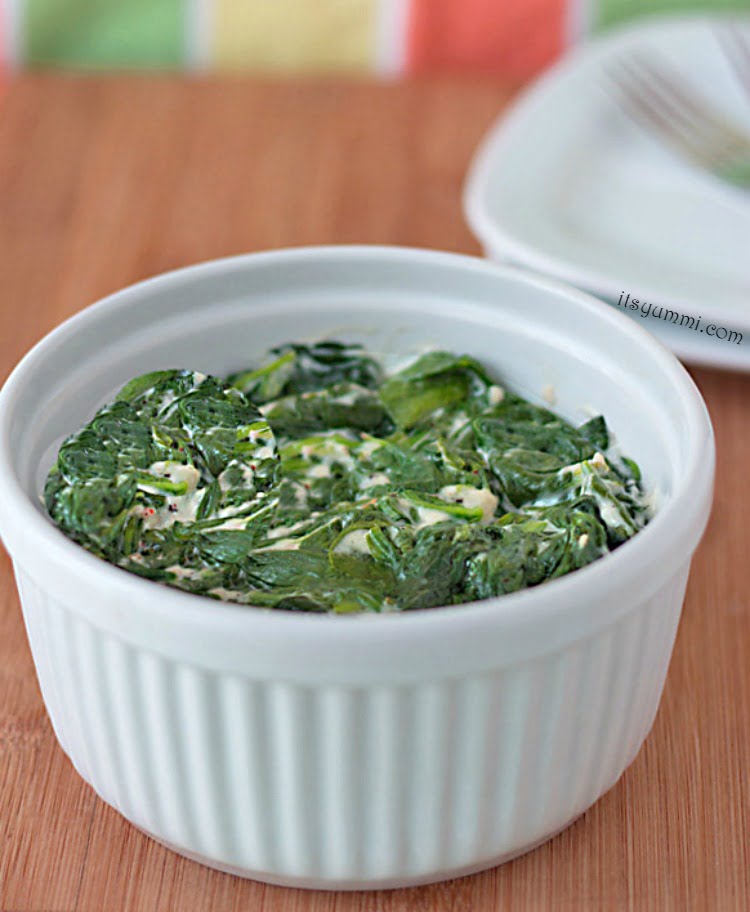 I may not be in the majority, but I'm one of those people who grew up HATING spinach and now I absolutely love it! Warm, cold, in salad or lasagna, and even in smoothies, I'm pretty much smitten with it. For the most part, it's because I've eaten so much of it since being diagnosed with Pernicious Anemia. Spinach is an incredible source of iron, and because my body doesn't absorb nutrients the way it should, I have to eat LOTS of iron-rich foods. I won't touch liver with a 10-foot pole, so this recipe for steakhouse style creamed spinach is my go-to for an iron infusion 🙂
Unless you've been severely out of touch with the world, I'm sure you know that spinach is good for you. Here are a few tidbits of information to help you #FeedYourSpirit and your brain!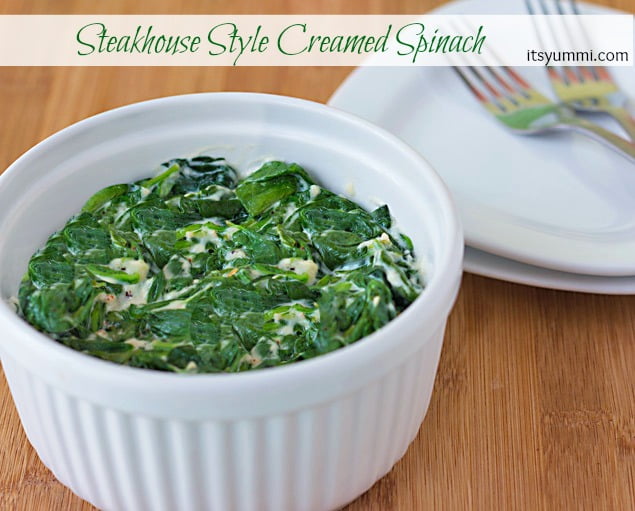 FOOD FACTS ~ SPINACH
Spinach is an edible flowering plant in the family of Amaranthaceae. It's native to central and southwestern Asia. It is an annual plant, which grows to a height of up to 30 cm. Spinach may survive over winter in temperate regions. Wikapedia
Spinach has an extremely high nutritional value and is rich in antioxidants. It's a good source of vitamins A, B2, C and K. It also contains magnesium, manganese, folate, iron, calcium and potassium.
1 cup of raw spinach has just 7 calories, NO fat, 1 gram of protein, and less than 1 gram of carbohydrates (sugar)
The flavonoids and antioxidants found in spinach, particularly the antioxidant beta-carotene, have been shown in multiple studies to help combat many cancers, including breast, prostate and ovarian cancer. Spinach also boosts eye health and has strong anti-ageing properties.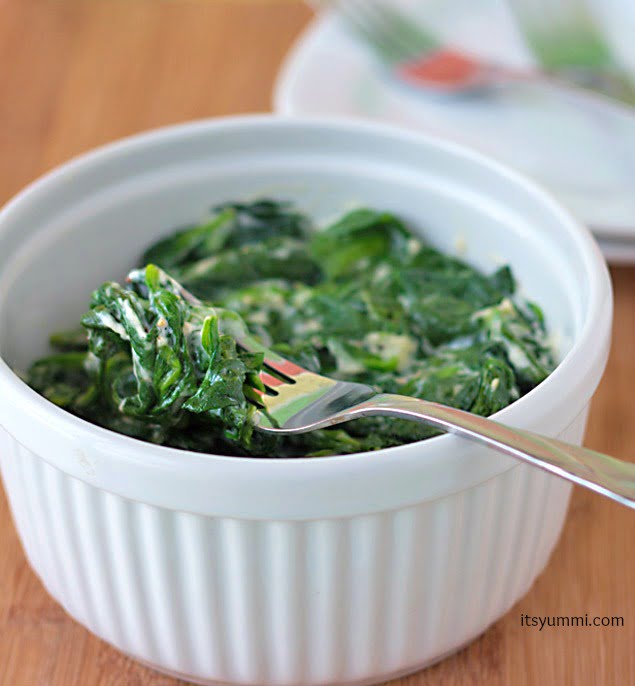 Make sure to bookmark or Pin this recipe so that you have it handy, because I'll be posting a new recipe this Thursday that uses this creamed spinach recipe! Better yet, use this form to give me your email address and I'll send you the recipe as soon as it's published! Free recipes, straight to your inbox = WINNER WINNER, a YUMMI dinner! 🙂
RECIPE FOR STEAKHOUSE STYLE CREAMED SPINACH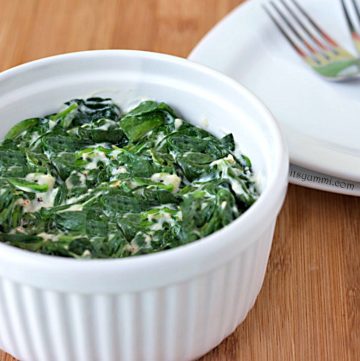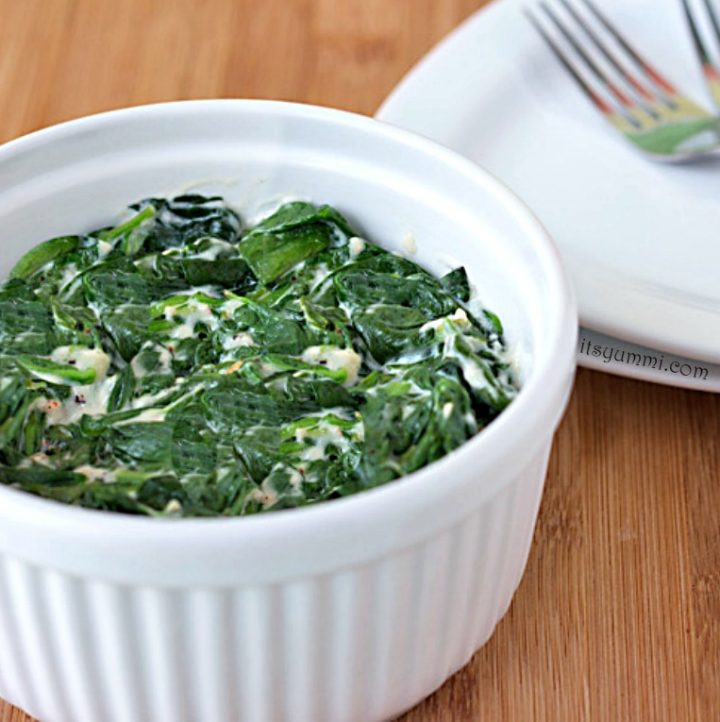 Steakhouse Style Creamed Spinach
This low carb recipe for steakhouse style creamed spinach is just like the kind you'd find at an expensive steak house, Learn how easy it is to make it at home!
Ingredients
1

pound

fresh spinach (regular or baby)

stems removed

1

Tablespoons

unsalted butter

2

large garlic cloves

peeled and finely minced

¼

teaspoon

xanthan gum**

3

liquid ounces (1/3 cup) half & half (or whole milk)

2

Tablespoons

heavy whipping cream

⅛

teaspoon

red pepper flakes (optional)

small pinch sea or kosher salt (more if desired)

⅛

teaspoon

ground black pepper

⅛

teaspoon

ground nutmeg

2

Tablespoons

freshly grated Parmesan cheese
Instructions
Place the spinach in a colander and rinse with cold water (even if it's bagged and says it's pre-washed); allow to drain slightly.

Meanwhile, set a large skillet over medium-high heat and add the wet spinach to it. Season with salt and cover with a lid. Stir occasionally and cook until wilted 2-3 minutes (you can also steam in a microwave, if desired).

Transfer steamed spinach into a colander set in a sink and allow it to sit until it's cool to the touch. Then, grab handfuls of spinach and squeeze as much water as you can from it (as if you were packing a snowball). Transfer balls of spinach to a cutting board and roughly chop.

Melt butter over medium heat in the same large skillet, then add minced garlic and saute until lightly golden, 1-2 minutes. Add the Xanthan gum or flour and stir until pale and smooth, about a minute. Whisk in half & half and cream in a steady stream, reduce heat to low, and cook until the sauce is smooth and slightly reduced, about 2 minutes.

Add the spinach back to the pan. Toss to combine with the cream sauce, add the pinch of red pepper flakes (if using) and dust with a grating of fresh nutmeg. Add grated cheese and stir to incorporate. Taste for seasoning, adding more salt and pepper if desired. Serve immediately.
Notes
** Xanthan gum is a low carb thickening agent that you can find in the Asian or low carb section of the grocery store. If eating carbohydrates doesn't bother you, omit the Xanthan gum and use 2 teaspoons all-purpose flour.
Nutrition
Calories:
237
kcal
Carbohydrates:
11
g
Protein:
13
g
Fat:
18
g
Saturated Fat:
11
g
Cholesterol:
51
mg
Sodium:
439
mg
Fiber:
5
g
Sugar:
2
g