Hello to all of you hunting for the best chocolate chip cookies!
I'm curious.  How do people who claim to have the "world's best" _______ (fill in the blank) actually PROVE that their dish is indeed the best one in the known world?  It's not possible, people.  Whomever you are, you'll never convince me that you traveled the entiiire world to taste every piece of brisket from every restaurant and home smoker before making the summation that yours tastes better than all the rest.
So knock off the big talk.  Or start saving up for a trip around the world.  😉  Sorry for the mini rant… had to get that off of my chest.  Let's move on, and make Boo's BEST Chocolate Chip Cookie recipe.  YEP, they're the BEST, and I'll fill you in on the deets so that they can be YOUR best recipe, too!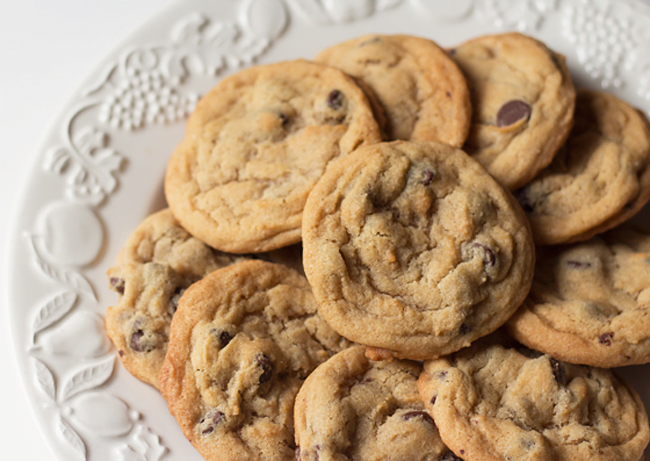 Have I told you how my nickname, "Boo" came to be?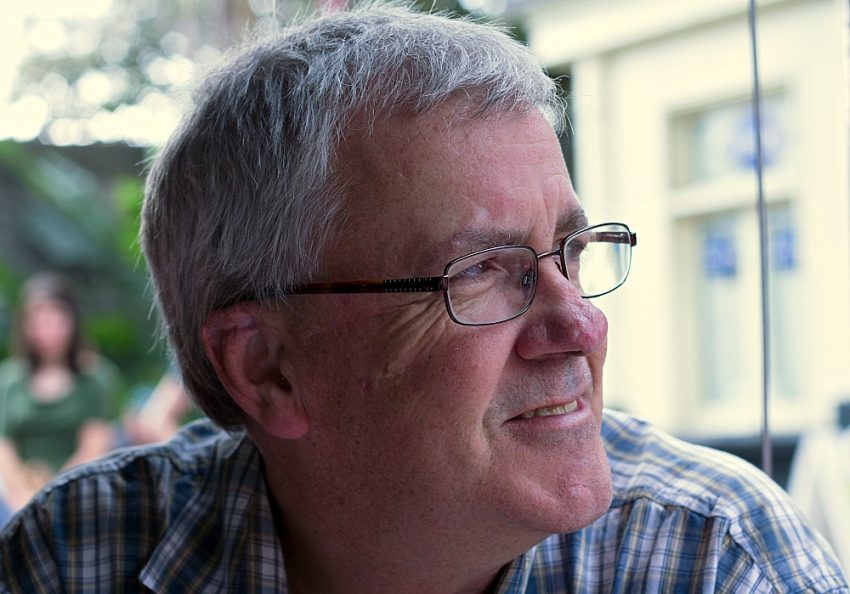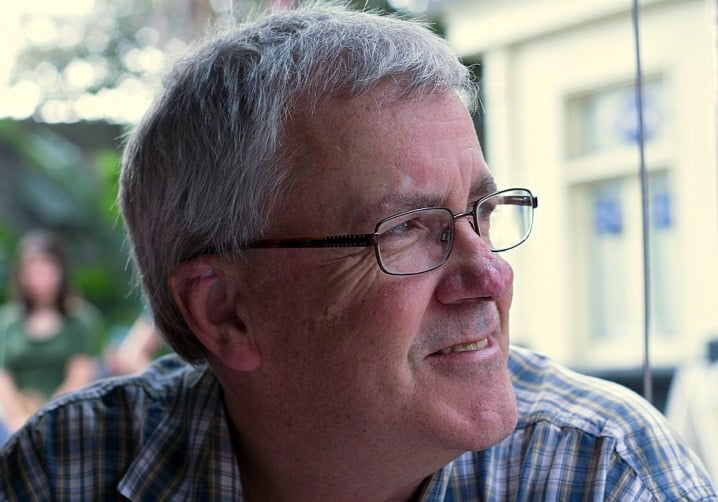 When Brian and I were first dating, we were both in our 40's, but neither of us had dated in quite some time, so those first feelings of infatuation took me right back to being in junior high.  You know, mushy love, puppy dog eyes across the table… the sort of thing that's common for a couple of teenagers and not too likely for a couple of people nearing their mid-life crises.
Anyhoo, we were out to dinner one night and Brian look exceptionally handsome.   I reached my arm across the table, gently held his hand in mine and whispered, "Do you have ANY idea how handsome you are?"   There was just one problem.  I had a couple of bites worth of bread in my mouth, so when I said the word "handsome", it came out sounding more like "hasome".  Yes, yes… I KNOW I'm not supposed to talk with my mouth full.  Lesson learned.
Anyway, after I said it,  Brian produced a smile a mile wide and his big brown eyes just sucked me right in as he said, "And you are incredibly booful."  From there on out, he was my "Has" and I was his "Boo".   6 years later, we're still using those names for one another.  Yep, it's childish and sappy, but I bet you're smiling.
I've made countless varieties of cookie recipes since we've been together, but when the decision must be made as to which his favorite is, he'll tell you that it's a tie between my oatmeal raisin cookies (which are nothing more than the recipe straight from the lid of the Quaker Oats box!) and these pure, simple, delicious chewy chocolate chip cookies.
I add a touch of cinnamon to them, use bittersweet chocolate chips instead of semi-sweet, and I tweak the fat ratio a bit, leaving them tender on the inside and crispy on the outside… just the way a great chocolate chip cookie recipe should be.
Once I figured out the secret to the best chocolate chip cookies, I moved on to make Boo's best ever brownies, too.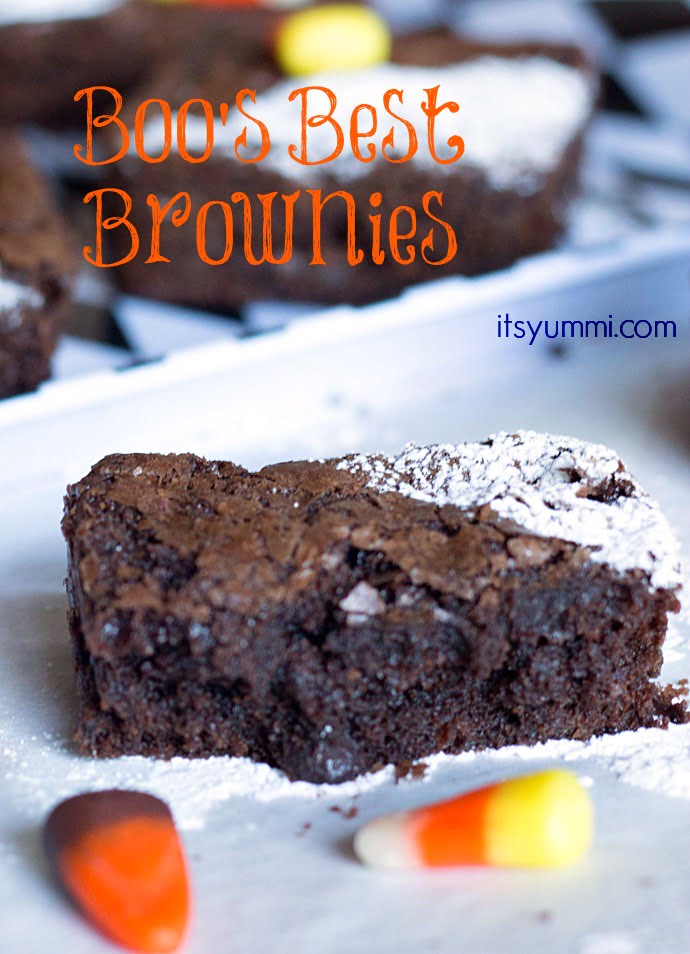 These truly are my BEST chocolate chip cookies.
Oh, and if plain chocolate chip cookies aren't enough for you, how about browned butter chocolate chip cookies with bacon?!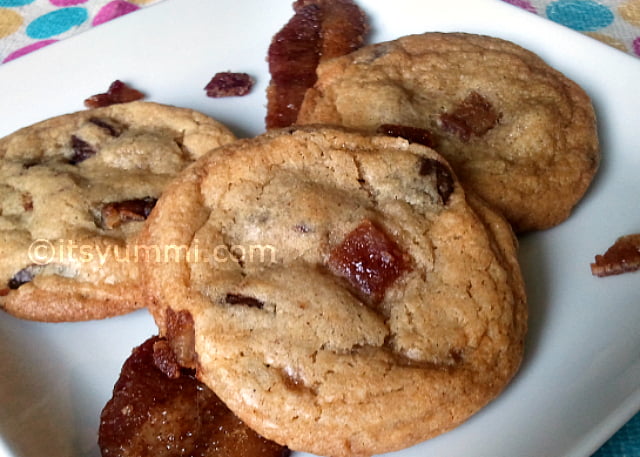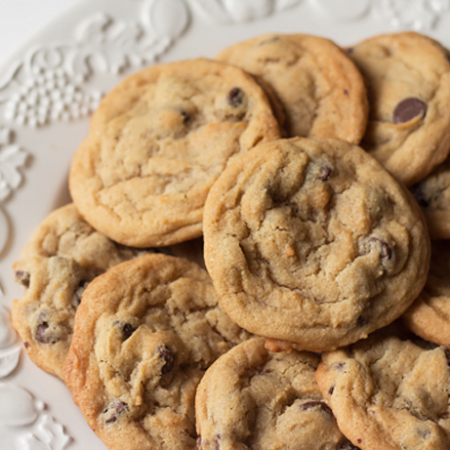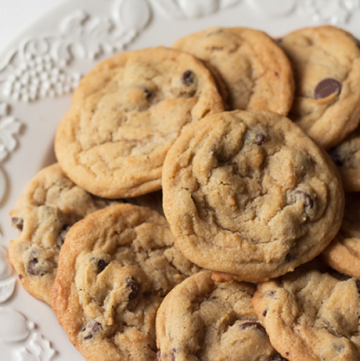 Boo's BEST Chocolate Chip Cookies
Chewy chocolate chip cookies that are crispy on the outside and tender on the inside. The additions of cinnamon and some extra fat make these cookies melt-in-your-mouth delicious!
Print
Pin
Rate
Ingredients
16

oz.

all-purpose flour (sifted)

2

tsp.

baking soda

1

tsp.

salt

1/2

tsp.

cinnamon

8

oz.

(2 sticks) unsalted butter

4

Tablespoons

(1/4 cup) shortening

6

oz.

granulated sugar

8

oz.

packed brown sugar

2

tsp.

vanilla extract

2

large eggs

,

plus 1 egg yolk

8

oz.

bittersweet chocolate chips or chunks
Instructions
Heat oven to 350 F. (325 convection)

Line 2 sheet pans with parchment paper or silicone baking mats.

In a small bowl, whisk together flour, baking soda and salt; set aside. In the bowl of a stand mixer, or a large mixing bowl, cream together the butter, shortening, granulated sugar, brown sugar, and vanilla on high speed until creamy and combined, about 2 minutes.

Add eggs and yolk, one at a time, mixing well after each addition. Stir in flour mixture on low speed or by hand. Do not over mix! Stir in chocolate chips/chunks.

Use a medium cookie scoop (2 Tablespoon size) to place 12 balls of dough on the pan, evenly spaced.

Bake for 9-10 minutes. Remove pans from oven and allow to stand for 2 minutes on baking sheet before transferring to wire racks to cool completely.
Recipe Nutrition
Nutrition Facts
Boo's BEST Chocolate Chip Cookies
Amount Per Serving
Calories 134
Calories from Fat 63
% Daily Value*
Fat 7g11%
Cholesterol 16mg5%
Sodium 68mg3%
Carbohydrates 18g6%
Protein 1g2%
* Percent Daily Values are based on a 2000 calorie diet.