Cabbage Rolls with Turkey Sausage and Farro
If you love traditional cabbage rolls made with beef and rice, I challenge you to try this healthier, tastier version. My low carb recipe is stuffed with turkey sausage and farro, so they're low in fat and calories, but high in health factor and great taste!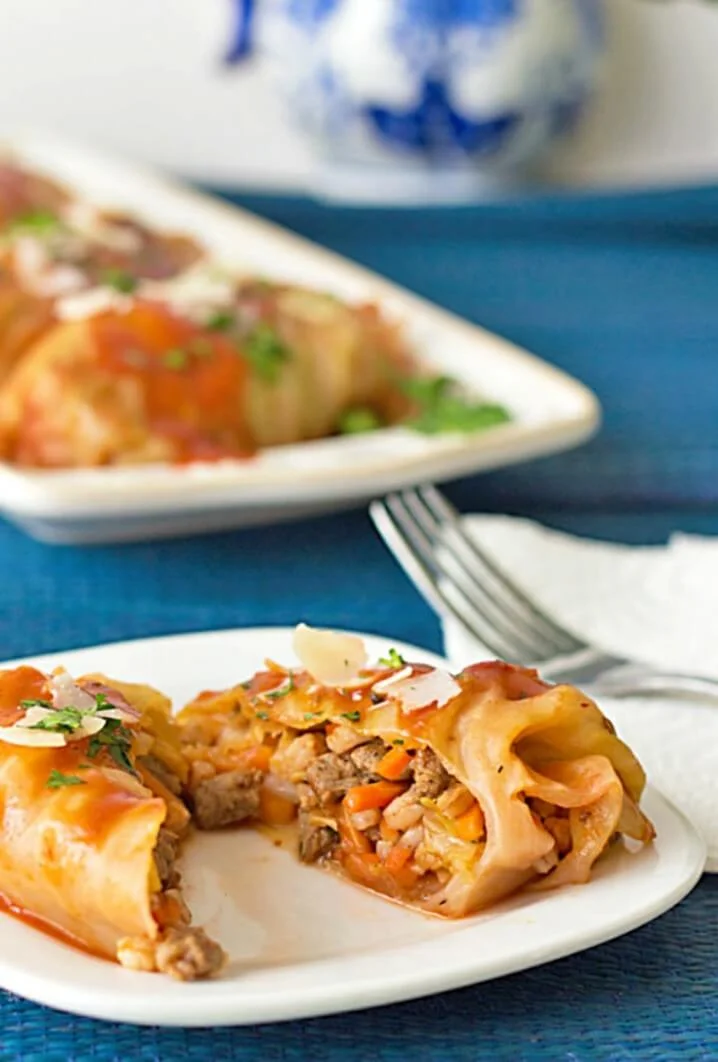 Disclaimer: I'm happy to be part of the Jimmy Dean blogger program. The terms of this sponsored business relationship may vary, but could include Jimmy Dean providing me with free product or other forms of monetary or non-monetary compensation. As is the case with all of my sponsored posts, all opinions and thoughts on the product are my own.
You probably know by now that one of my passions is finding ways to turn ordinary meals into extraordinary meals, especially by making them healthier. That's why when Jimmy Dean invited me to become a member of #TeamJimmyDean, and I was given the chance to use their pre-cooked turkey sausage crumbles in a recipe, I was super excited.
First of all, there's the fact that I love pork more than warm pajamas on a cold night. Secondly, it's turkey sausage… that means it's lower in fat and calories. SCORE ONE for this healthy recipe makeover.
Then I decided to replace the carb-loaded rice that's typically used in cabbage rolls with a healthier, nuttier, and tastier grain. I almost used quinoa, but I love the slightly chewy texture that farro has, and I have to say that it was the perfect pairing with the sausage. I added some fennel seed to the mixture, making it taste even more like real pork sausage. Winner winner, healthy dinner!
Oh, and for those of you who don't care for turkey sausage, feel free to use the Traditional Pork Sausage Crumbles or the Hot & Spicy Crumbles. Variety is the spice of life, right? #JDCrumbles for the win!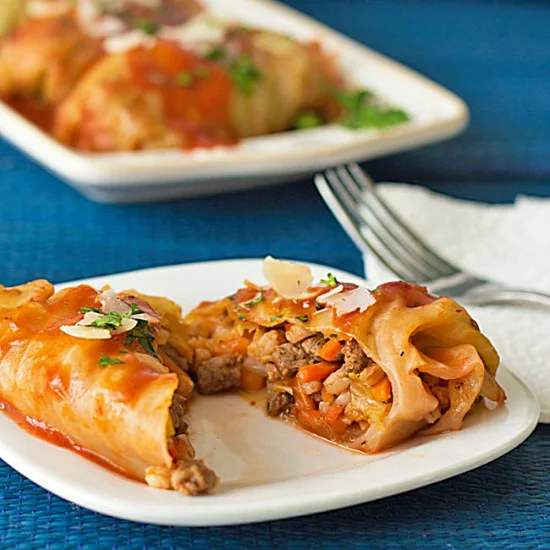 TIPS FOR MAKING GREAT CABBAGE ROLLS
There's not much that grosses me out more than overcooked cabbage. When it's cooked perfectly, cabbage is tender crisp, with a nice light green color. When it's overcooked, cabbage leaves become slimy and disgusting, not to mention the fact that all of the healthy nutrients are cooked out of them. Follow these two easy steps for perfectly cooked cabbage rolls.
BLANCH and SHOCK the cabbage. No no no… not electric shock. Let me explain. To blanch the cabbage and easily remove the leaves without tearing them, bring a large pot of water to a boil. You'll want enough water in the pot to completely submerge an entire head of cabbage. While the water is boiling, create an ice water bath by filling a large mixing bowl with ice water. Once the water on the stove comes to a heavy, rolling boil, use tongs to hold the cabbage under the water for about 1 minute. After 1 minute, lift the cabbage carefully out of the water and set it onto a rimmed sheet pan (to collect the dripping water). Use the tongs to gently peel a few of the outer leaves away from the cabbage, then immediately place them into the ice water bath so that they'll stop cooking. That's called SHOCKING the cabbage. Put the rest of the head of cabbage back into the boiling water for another minute, then repeat the steps above to shock those leaves. You'll want 6 leaves for the cabbage rolls recipe, so you should really only need to repeat the steps once. If you're making a larger batch, keep repeating steps as necessary. Oh, and if there are still smaller, inner leaves left over, they're perfectly fine to eat as is, toss into a salad, or even to make coleslaw with.
Don't overfill the rolls! Each cabbage roll should hold about 1/3 cup of filling… 1/2 cup TOPS. If you over stuff them, you won't be able to wrap them tightly enough, giving them a 99.9% chance of opening up during cooking, spilling their contents. Umm, of course I know NOTHING about this from personal experience. It's all just an educated guess. Uh huh… suuuure it is. Of course, you could use a bunch of toothpicks to help hold everything together, but I have no patience for trying to pull them all out, and it just bugs me to leave them in there, so I don't use 'em. I sure won't stop you from doing it if it'll help you out and give you less grief.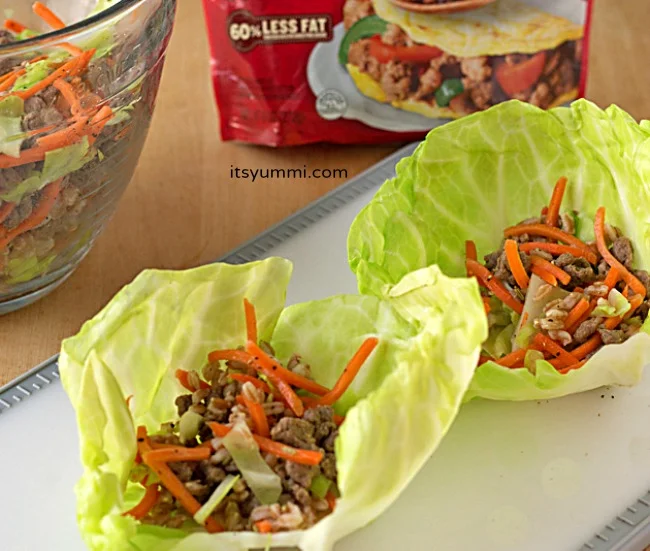 RECIPE TIPS & NOTES I saved some time by cooking the rolls in my pressure cooker, but since not too many people own one, I'm going to give you the recipe for cooking them on a stove top. Since everything is precooked except for the vegetables used in the filling, these could also be baked in the oven, made in a slow cooker, or even *gulp* cooked in a microwave oven. The cooked cabbage rolls freeze beautifully, too. Just make sure to wrap them in an airtight container so they don't get freezer burned.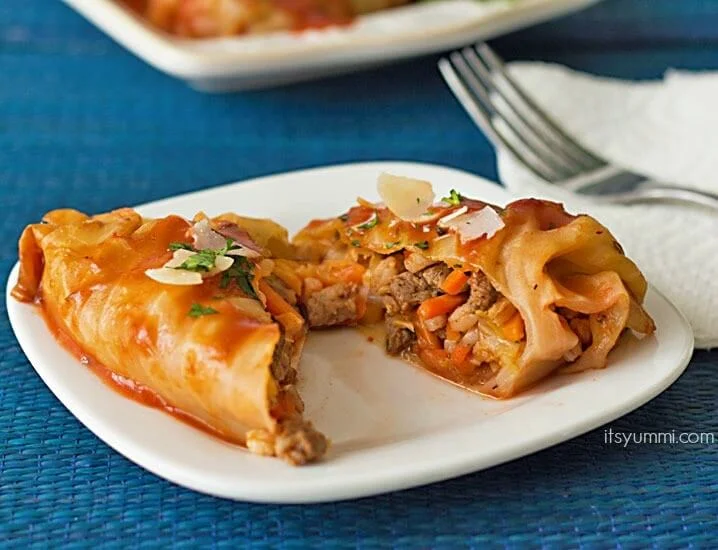 For another easy recipe with sausage, be sure to check out my recipe for 4-Ingredient Cheese and Sausage Pizza Bake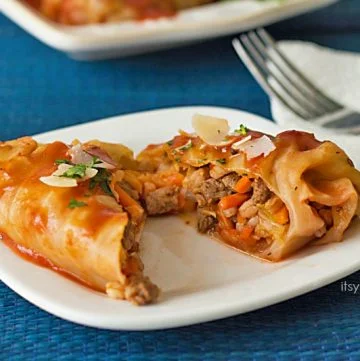 Cabbage Rolls with Turkey Sausage and Farro
Cabbage Rolls with Turkey Sausage and Farro are just like the comfort food you love but made healthier and tastier, so you can eat without the guilt! This is a heart-healthy recipe.
Ingredients
⅔

cup

cooked ground turkey sausage

or use sausage links, but remove the casings before cooking

1

head

green cabbage

½

cup

carrots

very thinly cut (I use julienne cut carrots)

½

cup

farro

rinsed and drained

½

teaspoon

fennel seed

optional

2

cups

tomato sauce

I use organic

2

cups

chicken bone broth

or low-sodium chicken stock

½

teaspoon

salt

½

teaspoon

pepper

1

Tablespoon

fresh oregano

or 1/2 teaspoon dried

1

teaspoon

balsamic vinegar

¼

cup

shaved Parmesan cheese

for garnish (optional)

¼

cup

chopped fresh parsley

for garnish (optional)
Instructions
Cook farro according to package directions, then set aside in a large mixing bowl.

Prepare an ice water bath to shock the cabbage leaves in.

Cook farro according to package directions. While farro is cooking, rinse cabbage under cold water. Discard any dark green or torn outer leaves.

Bring a large pot of water to a full rolling boil. Use a pair of large tongs to submerge the cabbage under water for 1-2 minutes. Use tongs to gently remove 6 of the outer leaves. Immediately place them into the ice water bath to stop the cooking process, then place leaves on a rimmed baking sheet lined with paper toweling to collect excess water.

Coarsely chop a wedge of the remaining cabbage until you have 1/2 cup of small, bite-sized pieces.

Place the cooked sausage, chopped cabbage, carrots, fennel seed (if using), salt, and pepper into a large bowl with the cooked farro; stir to combine. In a separate bowl, whisk together tomato sauce, stock, balsamic vinegar, and oregano, and set aside.

Place 1/3 cup of filling onto the bottom third of each cabbage leaf (the part closest to you). Fold in the sides and then roll the cabbage up tightly around the filling (like you would roll a burrito). Lay rolls in a single layer in the bottom of a large heavy pot, then pour the sauce over the top of them.

Turn heat to high and bring the sauce to a boil, then immediately reduce heat to a simmer, place lid on the pot, and cook for 20 minutes.

Use tongs to remove rolls from the sauce and transfer them to a serving platter. Serve with the sauce, and garnish with Parmesan cheese and parsley, if desired.
Nutrition
Serving:
2
rolls
Calories:
364
kcal
Carbohydrates:
56
g
Protein:
30
g
Fat:
4
g
Saturated Fat:
1
g
Cholesterol:
34
mg
Sodium:
1532
mg
Potassium:
1412
mg
Fiber:
16
g
Sugar:
18
g
Vitamin A:
5090
IU
Vitamin C:
130.1
mg
Calcium:
289
mg
Iron:
5.4
mg