4 Ingredient Cheese and Sausage Biscuit Pizza Bake
This Cheese and Sausage Biscuit Pizza Bake takes just 4 ingredients cheese and is one of the easiest dinner recipes you'll ever make, it's so delicious!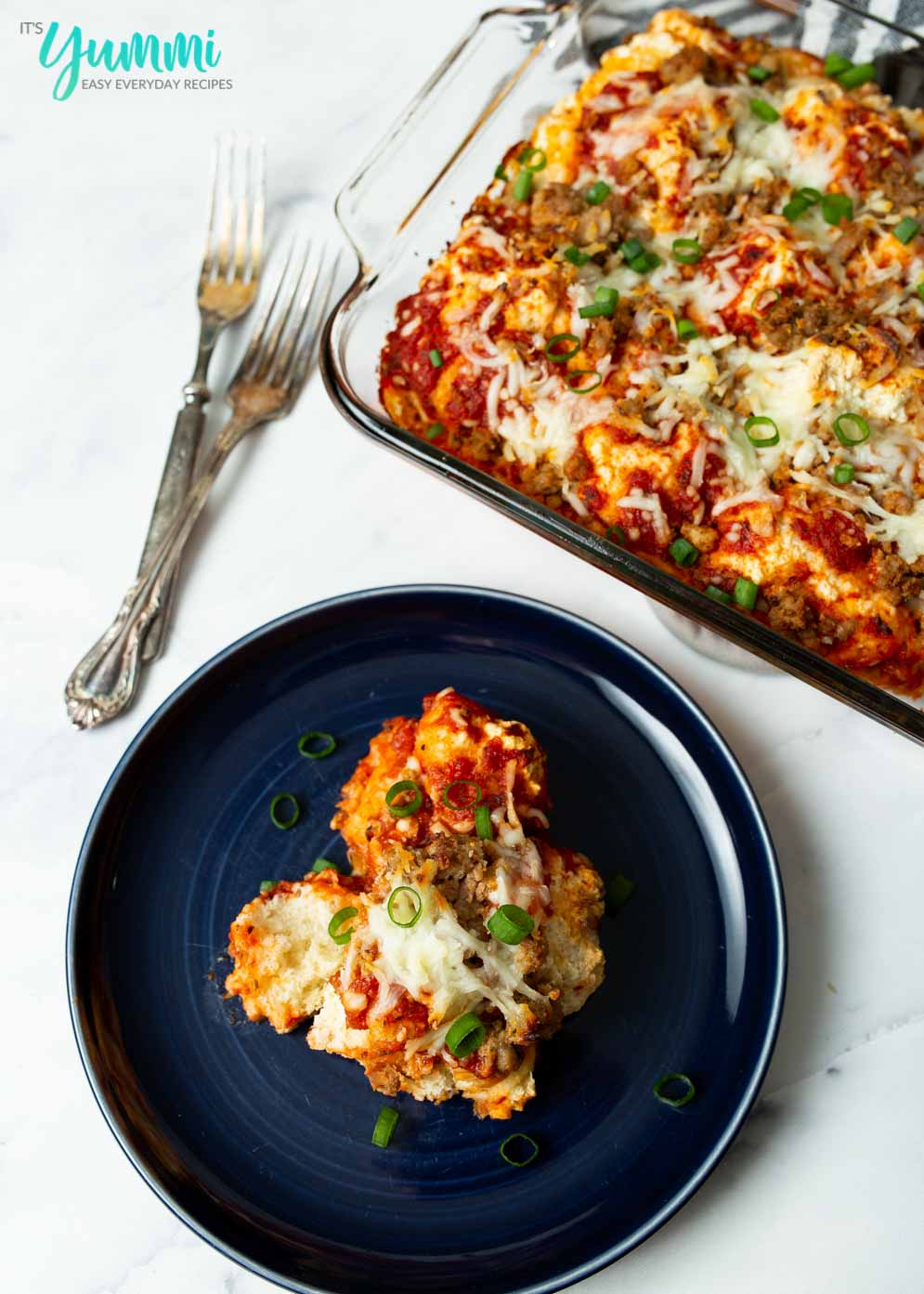 This cheese and sausage biscuit pizza bake is an easy-to-make casserole. I wouldn't be surprised if it's becomes be added to the weekly dinner rotation. It's a lot like our cheesy sausage biscuits… but with pizza.. *YUM*
It is filled with your favorite pizza toppings, baked onto a flaky biscuit crust. It's also the perfect dish to take to a friend who needs their fridge filled with ready to eat food.
I'd equate this dinner to the ultimate comfort meal like Slow Cooker Pizza Soup. Or perhaps we can call this the meal of laziness when we don't feel like making a pizza crust. Which really is what the pizza soup is too.
Regardless all you need is 4-ingredients and just 10 minutes to pull this together.. this is the lazy dinner of champions.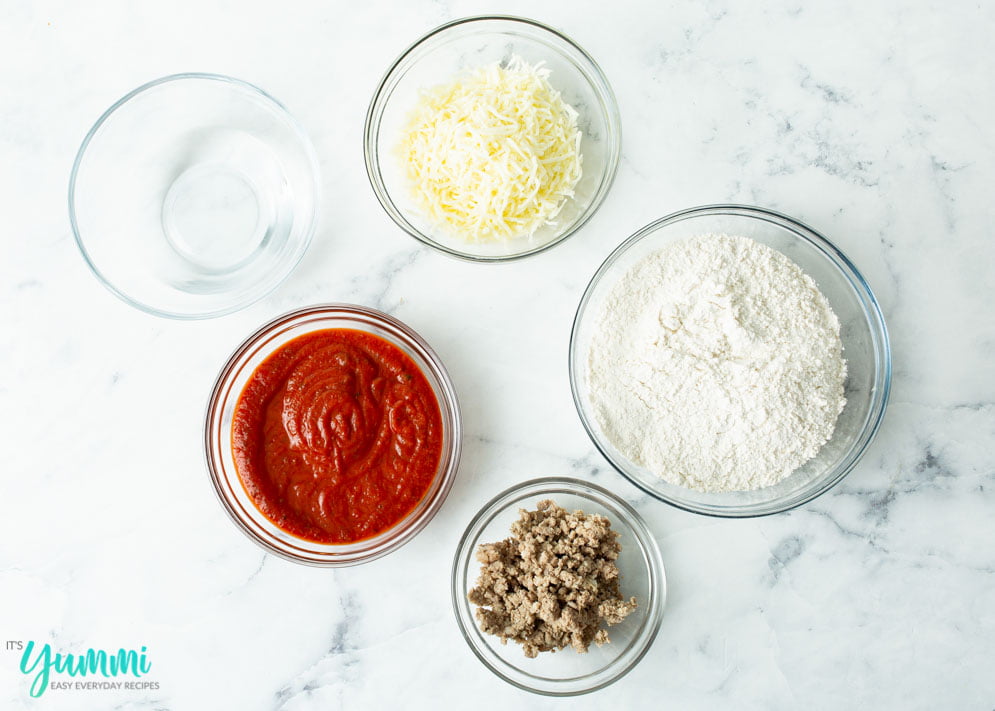 There are so many ways to pull this dinner together and we'll go through some of the ways you can substitute what you have to make it.
Bisquick or Homemade DIY Bisquick for the biscuits
So lets start with the biscuits dough. We personally used our DIY bisquick mix to make this recipe. If you don't feel like going to the store for bisquick you can easily make it at home (not to mention it is so much cheaper) so be sure to check out our recipe for it.
Your other option is simply using store-bought Bisquick. This is a solid option if you have it sitting in your pantry. Another option is using prepared biscuits like Grands.
Can I use Grands instead of Bisquick for this biscuit pizza bake?
Yes most definitely. Simple roughly chop the dough into pieces and prepare the biscuit pizza bake according to the instructions.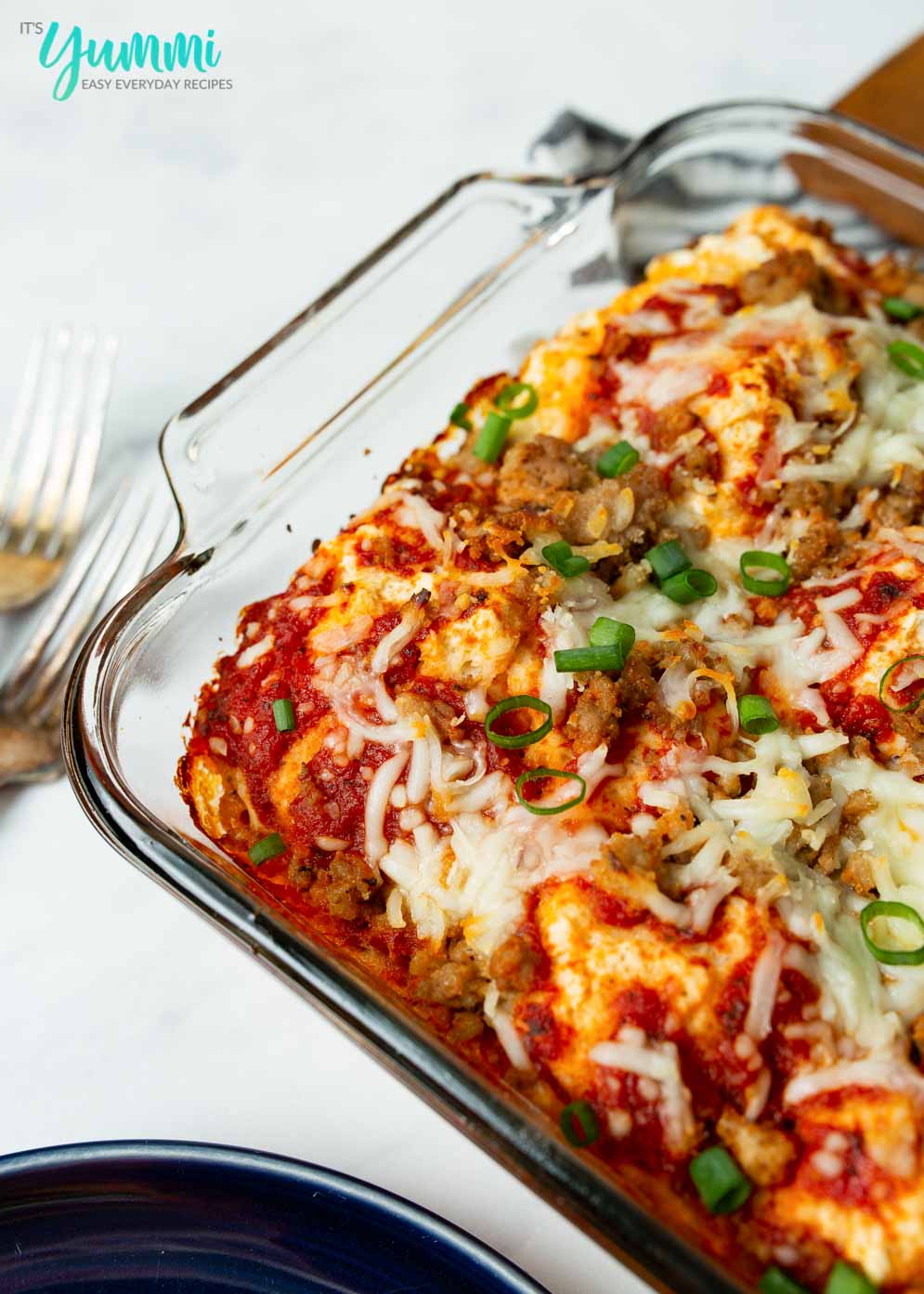 What else can I add to this biscuit pizza bake?
We made this recipe basic. Essentially the bare minimum ingredients to pull this dinner together. Sometimes we go basic and it's just these 4-ingredients, other times we go all out and add everything our heart desires. Here are some pizza topping ingredients to add to this biscuit pizza bake.
Onions
Pepperoni
Bacon
Tomatoes
Mushrooms
Green pepper
Chicken
Ham
Artichokes
Green Olives
Pineapple – I don't understand this pineapple on pizza but know many who do so mentioning it 😉
Really the pizza flavor combinations are endless.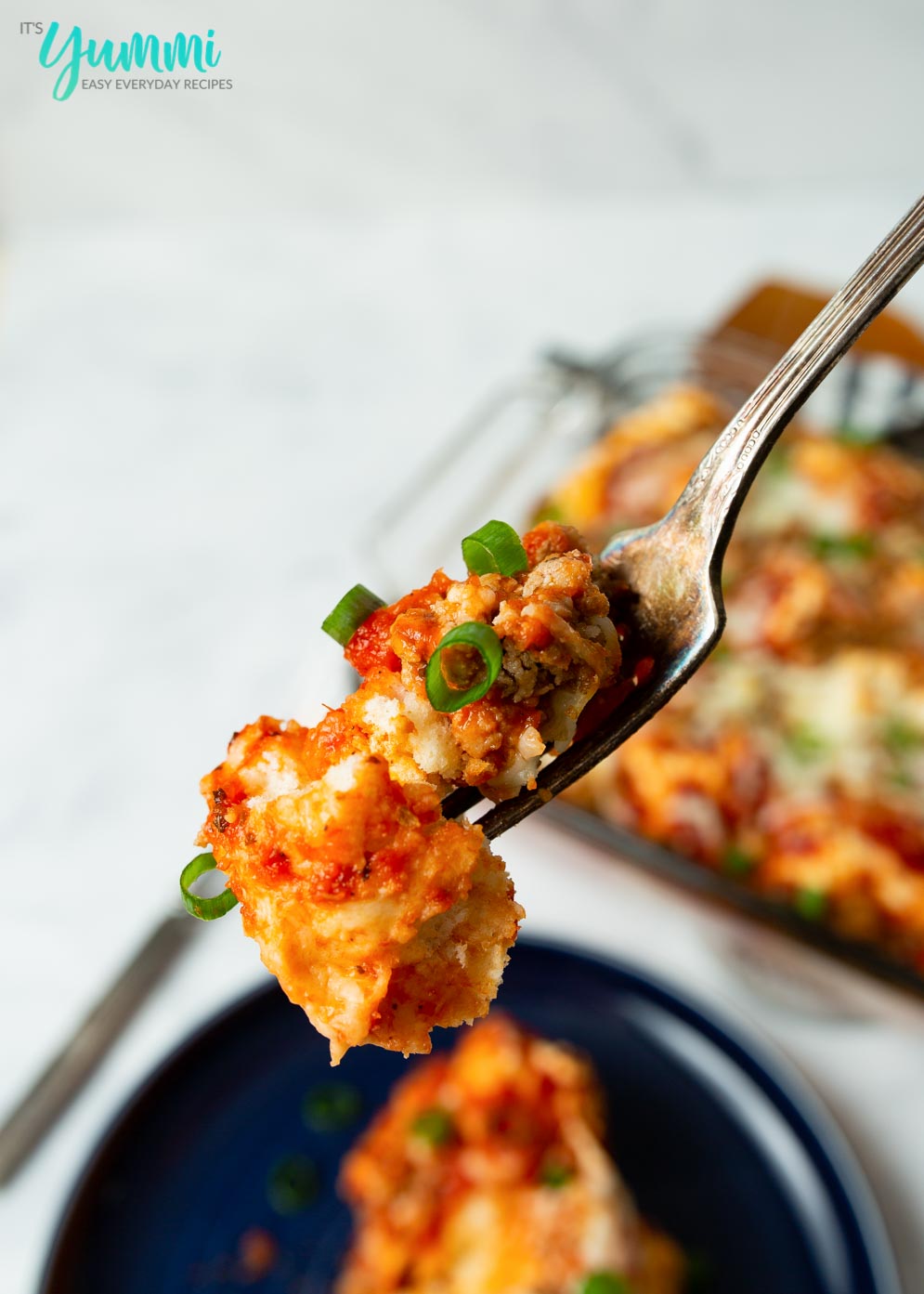 I hope you enjoy this recipe as much as we have in our family. Here are a few other recipes you might enjoy using our DIY Bisquick.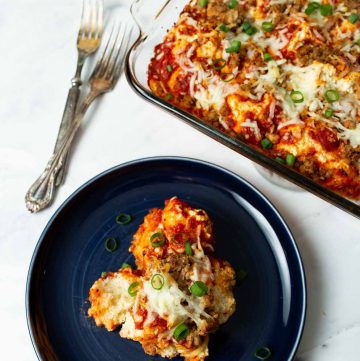 Cheese and Sausage Biscuit Pizza Bake
This 4 ingredient cheese and sausage pizza bake takes all of your favorite pizza toppings and bakes them on top of a flaky biscuit crust. Feel free to jazz it up by adding some diced veggies, extra meat, or more cheese.
Ingredients
3 ¾

cups

homemade baking mix

or Bisquick

1

cup

water

14

ounces

pizza sauce

8

ounces

cooked and crumbled sausage

8

ounces

shredded mozzarella cheese
Instructions
Heat oven to 375 degrees F. Spray a 3-quart casserole dish or 13 x 9-inch glass baking dish with cooking spray.

Add baking mix and water to a medium mixing bowl and stir with a spoon to combine until a soft dough forms. Drop half of the dough by spoonfuls into the bottom of the baking dish and use your fingers to spread it out. NOTE: If you use a 13 x 9 dish, it may not cover the entire bottom. I used a 3-quart dish with a smaller bottom, so the crust covered the entire surface.

Ladle one cup of pizza sauce evenly over the dough, arrange half of the sausage over the sauce, and place half of the cheese evenly over the sausage. Repeat with the remaining dough, sauce, sausage, and cheese.

Bake for 25-30 minutes, or until golden brown. Cut into squares to serve.
Nutrition
Serving:
1
g
Calories:
424
kcal
Carbohydrates:
39
g
Protein:
16
g
Fat:
23
g
Saturated Fat:
8
g
Cholesterol:
44
mg
Sodium:
1337
mg
Potassium:
348
mg
Fiber:
2
g
Sugar:
9
g
Vitamin A:
428
IU
Vitamin C:
4
mg
Calcium:
253
mg
Iron:
3
mg