4 ingredient cheese and sausage pizza bake is one of the easiest dinner recipes you'll ever make, and it's so delicious!
This cheese and sausage pizza bake is an easy-to-make, 4 ingredient casserole. It's filled with your favorite pizza toppings, baked onto a flaky biscuit crust. It's also the perfect dish to take to a friend who needs their fridge filled with ready to eat food.
You may have noticed that there's been a serious lapse of time in between my posts over the past couple of months. I've had some minor life events happen that have made it necessary for me to switch gears with my full time business. I had planned to share the details of those changes with you today, but something far more important will be taking center stage.
Actually, it's the reason that I mentioned in my opening line that this cheese and sausage pizza bake is great to take to friends who are in need of heat-and-eat meals. You know, like friends who have suffered a loss in the family, or who are too ill to cook for themselves….that sort of thing.
I adapted the recipe from one that I found in The Big Book of One Pot Dinners, by Betty Crocker. Just about every delicious recipe in that cookbook is quick and easy to make, and a perfect "fridge stuffer".
I'll share my version of the pizza bake recipe with you in just a moment, but first, I'd really like to share what's going on, because frankly, it's breaking my heart.
The husband and 8 month old son of my friend Ashley are both very, very ill. Ashley, her husband Ryan, and their son, Miles are living a virtual nightmare right now.
You can read the complete story here, but the "nitty gritty" is that nine days before the Christmas of 2013, Ryan (then 29 years old) was diagnosed with stage 4 colon cancer. Just one week earlier, they had learned that Ashley was pregnant with their miracle baby, Miles. Oh my gosh, can you imagine the roller coaster of emotions to go from elation to devastation in just a few days time?
In addition to supporting Ryan through his chemo treatments, keeping their household running, and operating a  successful food blog, Ashley managed to have a healthy pregnancy and a safe delivery of Miles. It wasn't until 8 weeks later that the problems with Miles began. After Miles had a seizure they learned that their sweet baby boy was in kidney failure.
After three different hospitals and numerous tests, it was confirmed that Miles has a rare disease called Primary Hyperoxaluria (type 1) and he will need a life-saving liver and kidney transplant. Is that not the most horribly sad thing you've ever heard?
Their days are busy keeping up with bi-weekly chemotherapy for Ryan and around the clock care of Miles who needs hemodialysis four days per week and peritoneal dialysis daily along with too many medications to count. The medical costs and routine household bills are piling up quickly. Oh, and things got even worse last Sunday (how is that even possible, right?) when Ryan was in a car accident! Thankfully, nobody sustained injuries… but their car was totaled.
So I've hooked up with a group of food bloggers to share some delicious "stuff your fridge" recipes, and to share the Wagner's fundraising page with you because they really do need support, prayers, and kindness from strangers, friends, and family. If everyone who reads our posts today donates even one dollar, and then shares the post with a friend who does the same, we can substantially ease the Wagner's financial burden.
I hope you'll consider helping the Wagners by offering your good thoughts, prayers, and perhaps some of your pocket change.
If you'd like to follow along with their journey, feel free to hook up with the Team Ryan Facebook page.
I hope you enjoy this cheese and sausage pizza bake recipe.
Oh, and please scroll down to see the rest of the recipes being shared today. Thank you so much for letting me share with you today. Have a blessed day, and please remember to hug your loved ones tightly… life and love are precious, and a gift.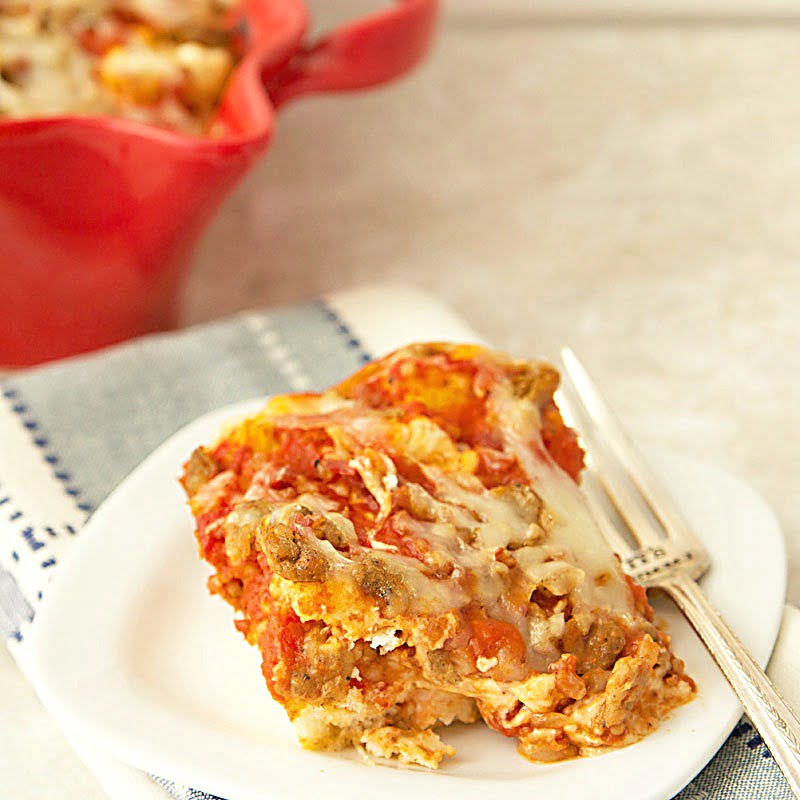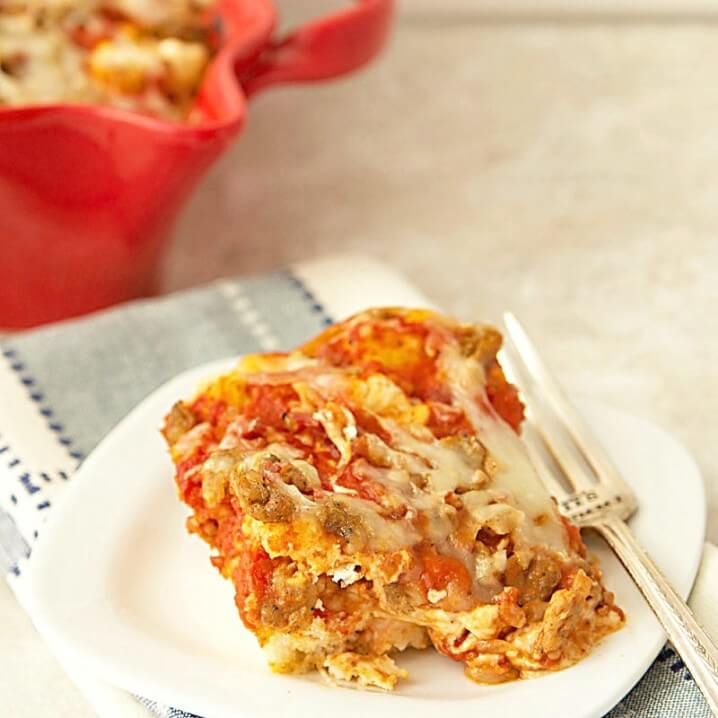 Here are the rest of the #TeamRyan Recipes
Sugar Dish Me made this Easy Chicken Broccoli Bake
That Skinny Chick Can Bake made Mexican Chicken Manicotti
Food Faith & Fitness made a Paleo Casserole with Turkey, Peppers, Zucchini, and Tomato
Spend with Pennies made Chicken Noodle Casserole (from Scratch)
Wishes & Dishes made this Creamy Chicken Tetrazzini
Frugal Foodie Mama made Pizza Pierogi Casserole
Snappy Gourmet made Chicken Cordon Bleu Pasta Casserole
Miss in the Kitchen made a Chicken and Mushroom Tortellini Bake
Life, Love, and Good Food made this Poppy Seed Chicken Casserole
Bless This Mess made Quick and Easy Summer Chicken Salad
Mandy's Recipe Box collected 30 Freezer Meals
Hugs and Cookies made Baked Parmesan Meatball Casserole
Barbara Bakes made this Veal & Wild Mushroom Stew
A Cedar Spoon made Sausage, Roasted Red Pepper, & Gouda Macaroni & Cheese
A Family Feast made these Easy Freezer Meatballs
Stuck on Sweet made Homemade Goulash
Two Healthy Kitchens made a 5-Ingredient Easy Pasta Bake
It Bakes Me Happy made a Peach Skillet Galette