Cheese Blintzes with Mixed Berries
The recipe for these cheese blintzes is one that you won't want to miss because your brunch guests will go wild for them! A blend of ricotta, cream, and cottage cheeses are nestled inside of delicate crepes, baked up and served with warm mixed berry preserves and sour cream.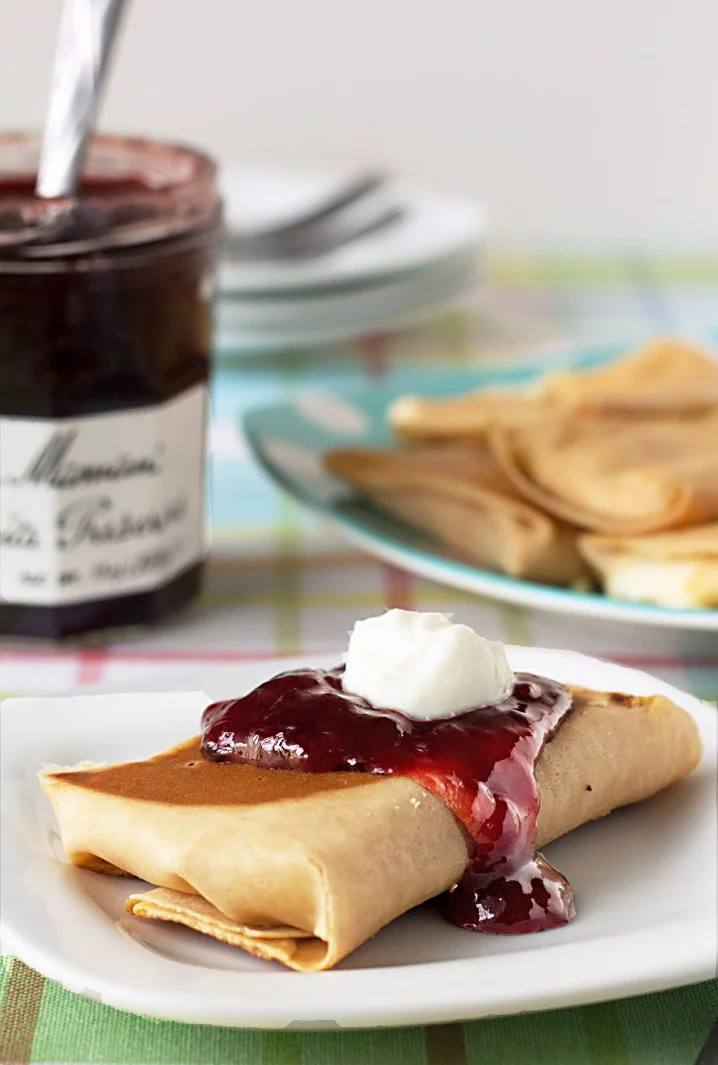 Oh my WORD, this week's been filled with delicious recipes! I hope that you've had a chance to visit some of the contributing blogger's sites to bookmark and Pin your favorites. On Monday, I shared a recipe for Carrot Cake Steel Cut Oatmeal. A couple of days ago, I shared a recipe for Key Lime Cheesecake with a Hazelnut Crust.
While both of those would make a beautiful appearance on your brunch table, these cheese blintzes will be the star of your show! They're delicate and decadent and filled with creamy cheeses that have been lightly sweetened with a bit of Dixie Crystals sugar, then delightfully topped with Bonne Maman preserves. This is yummi at its best!
Hey, I made you a fun little gift! Take a looksie and let me know what you think about this. It's a little animated .gif file to show you how to fold crepes into blintzes. Wheeee!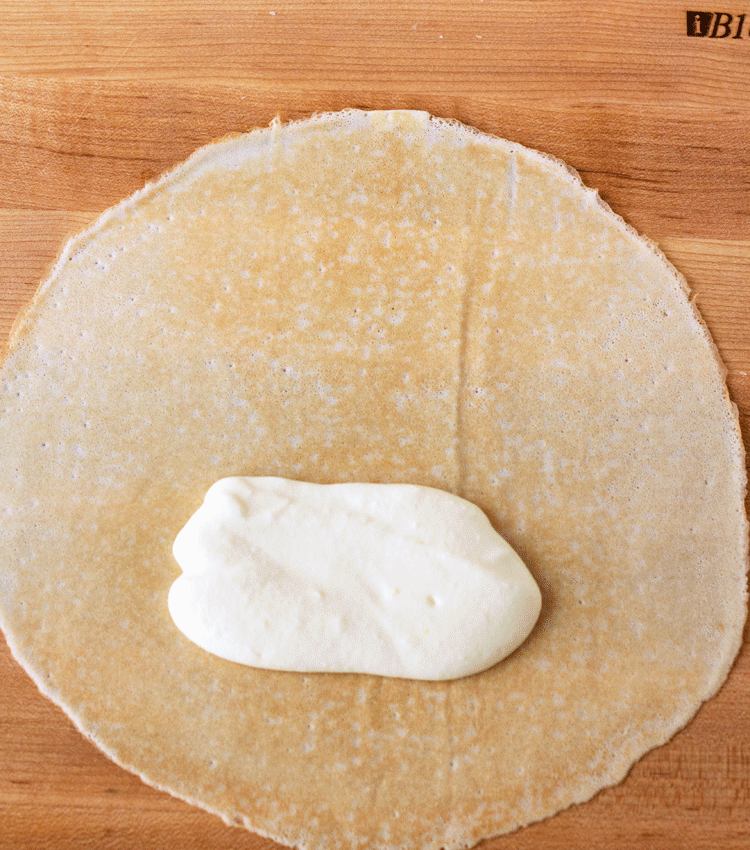 I realize it's not as awesome as Oprah buying a car for all of her studio guests, but I'm just a little ol' blogger. It's the thought that counts, right? 🙂 I thought it was super fun to make, so let me know if you'd like to see more of them in future posts!
So now let's dig in to the recipe for these cheese blintzes. If you scour Pinterest or Google, you'll see that there are a few different filling options for blintzes. Some people prefer a thick, hearty filling made of ricotta cheese. Others prefer decadent sweetened cream cheese, and still others prefer the healthy route of cottage cheese. Being the middle-of-the-road girl that I am, I couldn't decide whether these cheese blintzes should be "naughty" or "nice", so I combined a little bit of each type of cheese into my filling. This makes for a not too sweet yet not too rich blintz. Just like baby bear's bed, these cheese blintzes are just right!
I mixed up the crepe batter in the super nice batter bowl that the good folks at OXO gave me, and I used their batter dispenser to hold and dispense the crepe batter into the pan. It made things so much easier than trying to use a little measuring cup, and cleanup was a breeze, too. Making crepes is a lot like making pancakes, except that you'll want to use a small, non-stick frying pan. The one I used was 8 inches in diameter, and the crepes ended up being a little bit larger than I wanted them to be. The next time I make these cheese blintzes, I think I'll use my little 6-inch saute pan instead.
SHORT CUT – TIME SAVING TIP Shhh….Don't tell anyone, but if you don't want to make the crepes for these cheese blintzes, you don't have to. Look in the produce section of your favorite grocery store and I bet you'll find prepackaged crepes right around the same place that you'd find the egg roll wrappers. You're welcome 🙂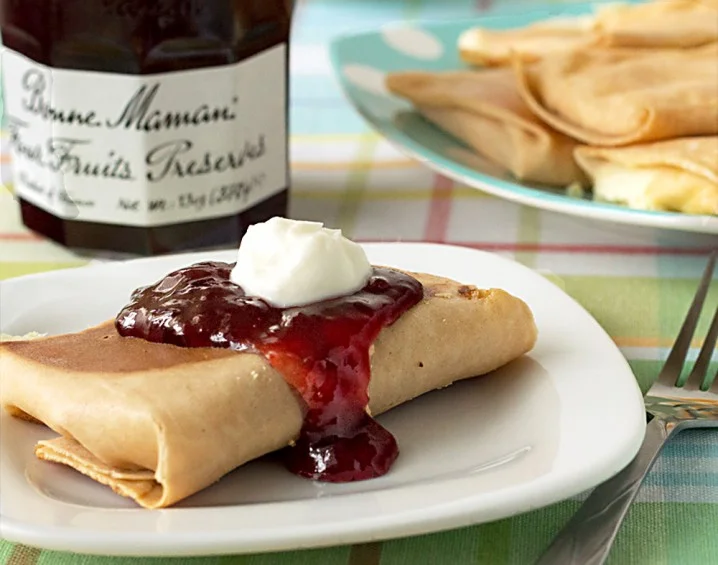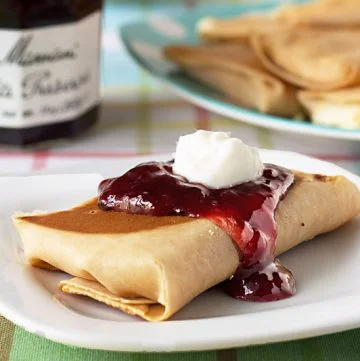 Cheese Blintzes with Mixed Berries
A blend of 3 cheeses (ricotta, cream, and cottage) are blended together and nestled inside of light and tender crepes, then baked up and served with fresh preserves. This is a decadent and delicious brunch or breakfast recipe!
Ingredients
Crepe Batter

8

ounces

(1 liquid cup) milk (any kind)

¼

cup

cold water

2

eggs

1

cup

all-purpose flour

Pinch salt

1

Tablespoon

sugar

3

Tablespoons

unsalted butter

melted, plus more for cooking the crepes

Cheese Filling

1 ½

cups

ricotta cheese

4

ounces

cream cheese

3

tablespoons

confectioners' sugar

1

lemon

zested and finely grated

1

egg

Toppings

Preserves or fresh fruit in flavor of your choice

Sour cream
Instructions
Cheese Filling

To a food processor or blender, add the ricotta cheese, cream cheese, cottage cheese, confectioners' sugar, lemon zest, and egg. Put on the lid and blend until smooth. Refrigerate the filling for about 15 minutes to firm it up a bit before filling the crepes, so that it doesn't ooze out of the blintzes.

Crepes

Combine milk, water, eggs, flour, salt and sugar in a blender. Blend on medium speed for 15 seconds, until the batter is smooth and free from lumps. Scrape down the sides of the blender and pour in 3 tablespoons of melted butter. Blend it again for a second, just to incorporate. Refrigerate the batter for 1 hour to let it rest. If the crepes are made immediately, they have a tendency to be rubbery; when you let the batter rest, the crepes have a better texture.

Put an 8-inch crepe pan or nonstick skillet over medium heat and brush with a little melted butter. Pour 1/4 cup of batter into the pan and swirl it around so it covers the bottom evenly. Cook for 30 to 45 seconds, until the crepe batter sets. Lightly bang the edge of the pan with a wooden spoon to loosen the crepe; then flip it and cook another 30 seconds. The art of flipping a crepe in the air takes practice, so make sure no one is looking when you get the first one going. If this intimidates you, use a heatproof rubber spatula to loosen and flip the crepe. The crepes should be pliable, not crisp, and lightly brown. Slide them onto a platter and continue making the crepes until all the batter is used. Cover the stack of crepes with a towel to keep them from drying out. This recipe will make ten (10) 8-inch crepes.

Blintz Assembly

Heat oven to 400 degrees F.

Spoon 1/4 cup of the cheese filling along the lower third of each crepe. Fold the bottom edge away from you to just cover the filling; then fold the 2 sides in to the center. Roll the crepe away from you a couple of times to make a package, ending with the seam side down.

Put an ovenproof skillet over medium heat. Brush with melted butter. Pan-fry the blintzes for 2 minutes per side until crisp and golden.

Transfer the pan to the oven and bake for 10 minutes so the egg in the filling cooks slightly and the cheese sets. Using a spatula, transfer the blintzes to serving plates.

Serve while still warm, along with preserves and a dollop of sour cream.
Nutrition
Calories:
50
kcal
Carbohydrates:
4
g
Protein:
2
g
Fat:
3
g
Saturated Fat:
2
g
Cholesterol:
20
mg
Sodium:
28
mg
Sugar:
1
g