Chicken Enchilada Soup Recipe + Tortilla Chips Recipe
Chicken enchilada soup is a delicious, Mexican-style homemade soup recipe, perfect for Cinco de Mayo or Taco Tuesdays. Leftovers are no problem, because this meal freezes well. Your family will love this easy one pot dinner recipe!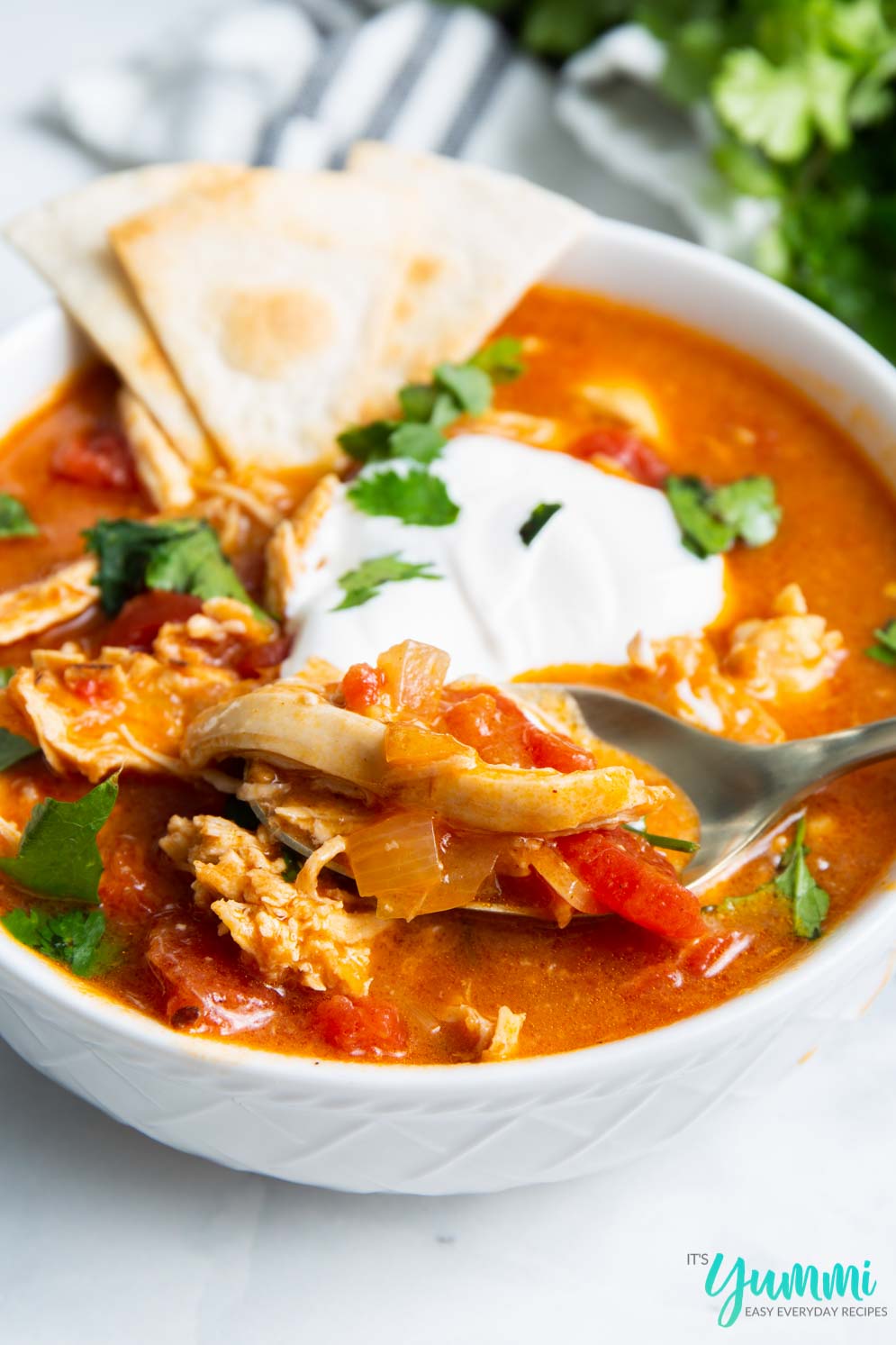 I'm not sure why, but so many Mexican recipes focus on providing mouth burning heat. I don't know about you, but I use spices and hot sauces to add flavor, not to burn my taste buds.
This is especially true in the case of chipotle seasoning, because it's easy to go overboard, ending with a dish that's destroyed by "fire". Seasoning food shouldn't be about adding spicy heat, it should be about adding flavor. Stepping down from my soapbox now…
Chicken Enchilada Soup Recipe Seasoning Tips
When making spicy dishes like Habanero black bean soup, it's best to avoid "dumping" hot sauce in. Add a few drops at a time and taste as you go. It's easy to add more spice if you want to, but nearly impossible to remove heat from a dish that's been over seasoned.
When I created the chicken enchiladas soup recipe, I started off adding just a few drops of chipotle flavored Tabasco sauce. Then, I tasted the dish after it had finished cooking and added a few more drops of sauce.
Seasoning the soup this way achieves the smoky, spicy heat level I enjoy. I think the smoky, savory flavor of chipotle hot sauce helps to bring the chicken enchiladas soup recipe to a really delicious level of flavor.
It's worth mentioning as well that these chicken enchilada flavors are so on point that we've made so many variations of this soup. We've got our Instant Pot Chicken Enchilada Soup recipe and then also our Chicken Enchilada Casserole which is pretty much this soup in casserole form.. almost Mexican flavour perfection.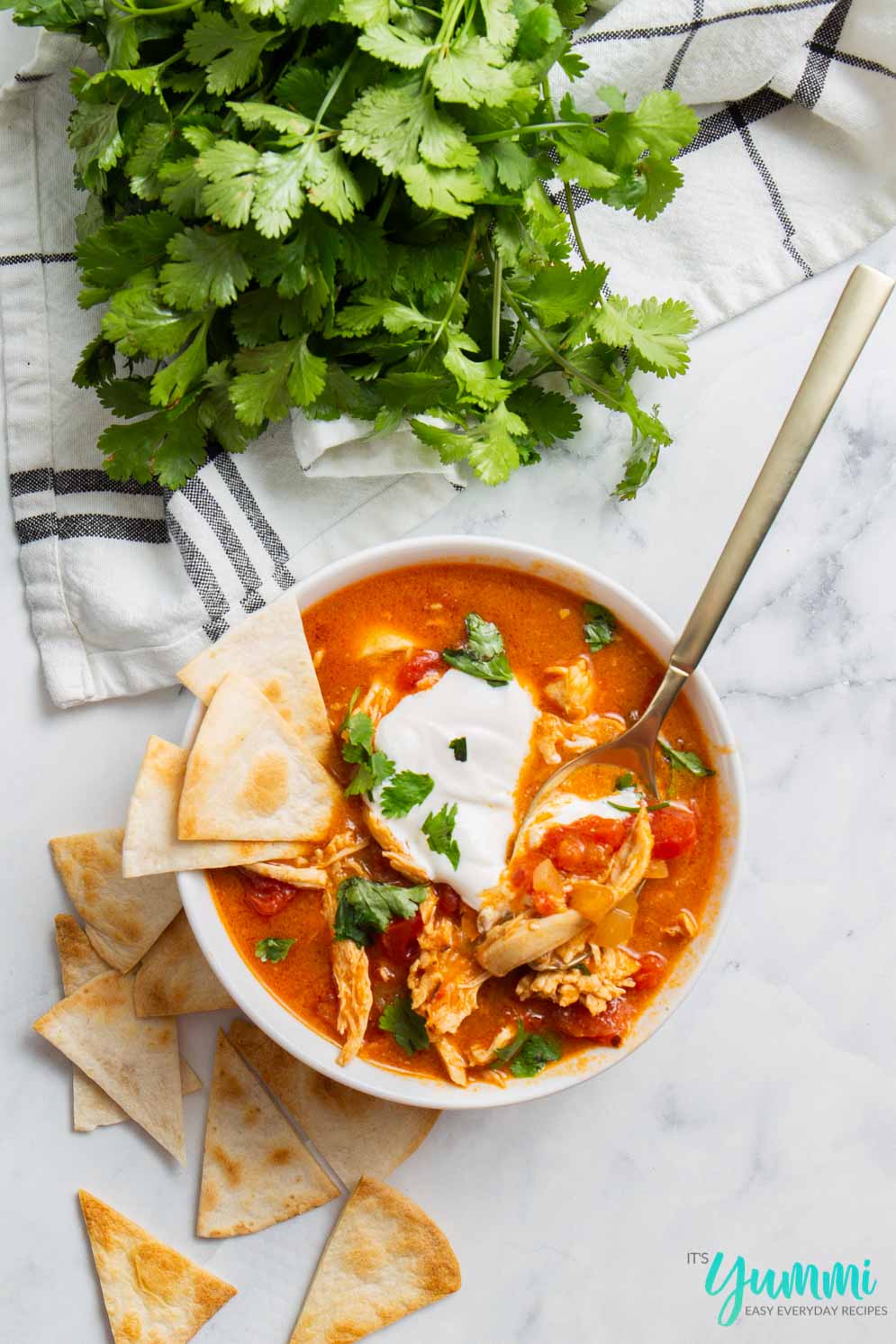 Homemade Tortilla Chips Recipe
Flour or Corn tortillas both can be cut and baked, making them a perfect garnish to serve with the chicken enchilada soup.
Homemade tortilla chips (or strips) are easy to make! Just follow the directions written out in the photo below. Easy peasy!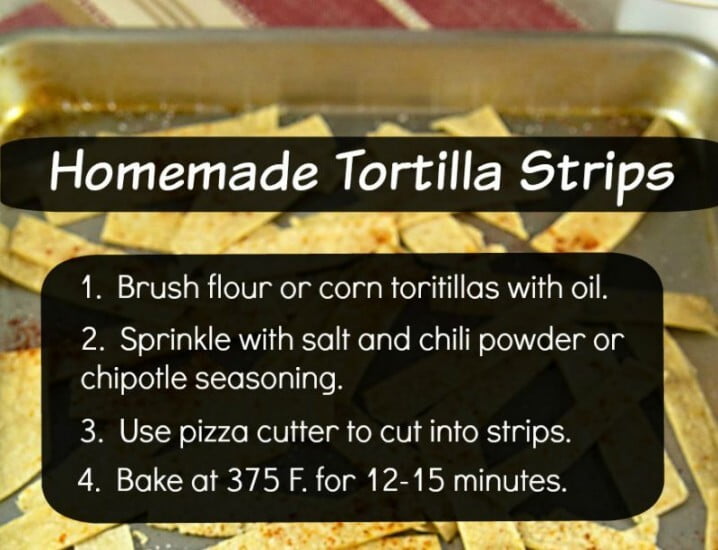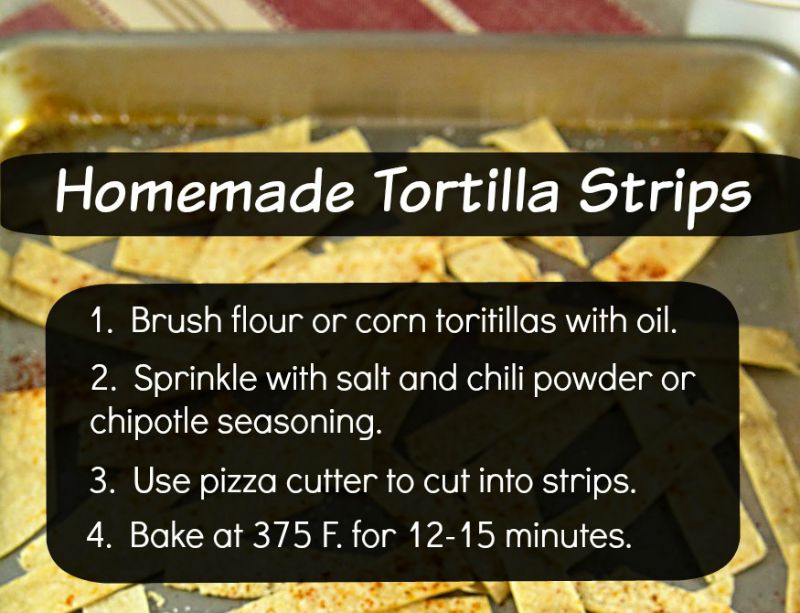 Potluck dinners are common for any occasion, so I like to make dishes that are easy to transport.
This chicken enchilada soup is easy to transfer to a freezable container after it's been cooked on the stove top. From there, it can be wrapped and frozen for future use, or transported warm, right to a potluck.
Are you hungry yet? Ready to make this easy chicken enchilada soup recipe and take it to your next holiday potluck? Let's get cookin'!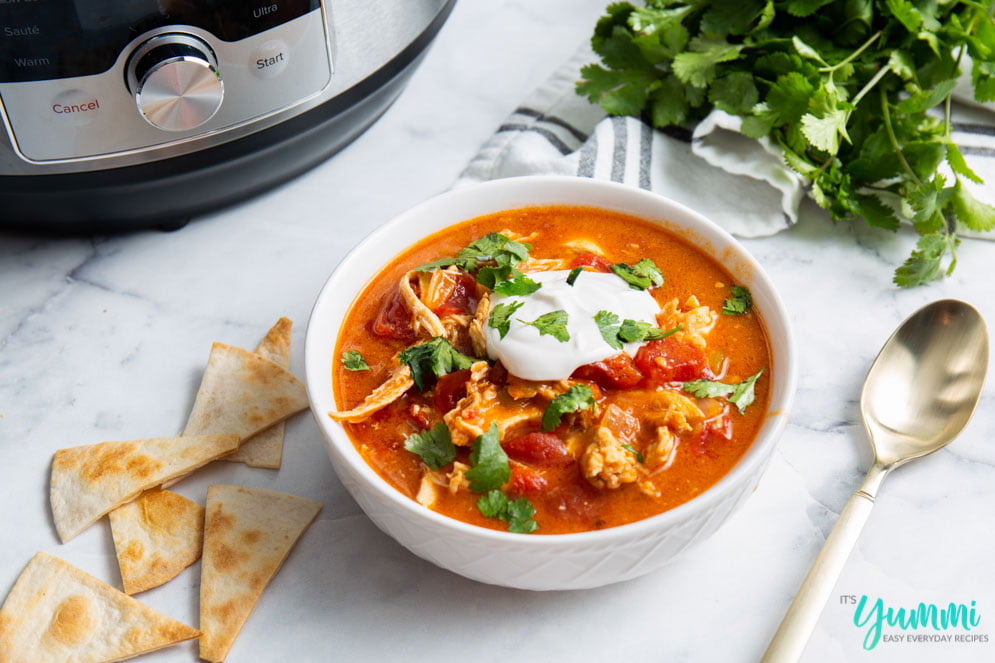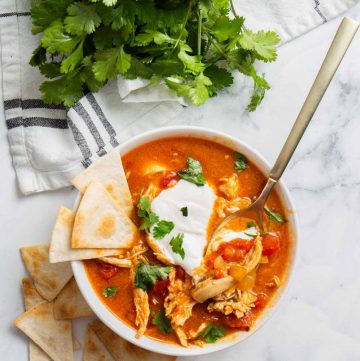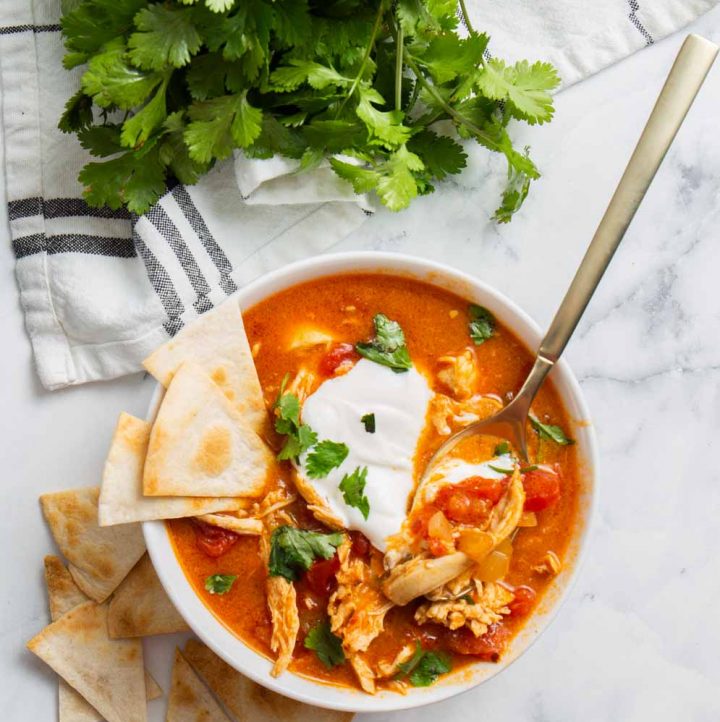 Chicken Enchiladas Soup (Stove Top Recipe)
Chicken enchilada soup is a delicious, Mexican-style homemade soup recipe, perfect for Cinco de Mayo or Taco Tuesdays. Leftovers are no problem, because this meal freezes well.
Ingredients
2

Tablespoons

olive oil

or other neutral flavored, healthy oil

1

medium

onion

diced

1

pound

boneless skinless chicken breasts

cut into bite sized pieces

1

cup

long grain rice

uncooked (I used organic brown rice)

16

ounces

chicken stock

14

ounces

canned diced tomatoes

2

Tablespoons

chopped green chiles

10

ounces

enchilada sauce

red or green will work

1

cup

frozen corn kernels

¼

teaspoon

chipotle hot sauce

(6 or 7 drops)

1

teaspoon

chili powder

½

teaspoon

cumin

½

teaspoon

salt

optional

15

ounces

canned black beans

drained and rinsed

1

cup

shredded Mexican cheese
Optional toppings: tortilla chips, shredded lettuce, diced tomatoes, diced green onions, sour cream
Instructions
Heat oil in a large skillet or pot over medium-high heat until it shimmers (about 1 minute). Add onion and chicken and cook for 6-7 minutes, until the onion softens and chicken is no longer pink, stirring occasionally.

Add rice and stir. Cook for 2-3 minutes, stirring occasionally, until rice is starting to turn golden.

Add chicken stock, tomatoes, chiles, enchilada sauce, corn, Tabasco, chili powder, and cumin. Stir to combine, then bring liquid to a boil.

Reduce heat to medium and bring to a simmer; Cover the skillet and cook, stirring every few minutes to prevent rice from sticking. Let it cook until the rice has absorbed all of the liquid (about 20 minutes for white rice and 30 minutes for brown rice).

Remove from the heat. Add the black beans and stir to combine. Top with cheese. Cover and let it rest for 5 minutes, or until cheese melts.

Ladle into bowls and add optional toppings as desired.
Nutrition
Serving:
1
g
Calories:
370
kcal
Carbohydrates:
44
g
Protein:
25
g
Fat:
10
g
Saturated Fat:
3
g
Cholesterol:
51
mg
Sodium:
793
mg
Potassium:
675
mg
Fiber:
6
g
Sugar:
5
g
Vitamin A:
480
IU
Vitamin C:
9.9
mg
Calcium:
138
mg
Iron:
2.8
mg