Habanero Spicy Chicken Soup with Black Beans
Spicy Chicken Soup with Black Beans is flavorful, healthy, and is made in under 30 minutes! Loaded with healthy protein and fiber, the comforting soup will fill you up without weighing you down. It's one of my favorite chicken dinners!
The recipe uses a green habanero hot sauce that's flavorful, but not fire blazing spicy. This spicy chicken black bean soup is freezer-friendly and perfect for dinner tonight!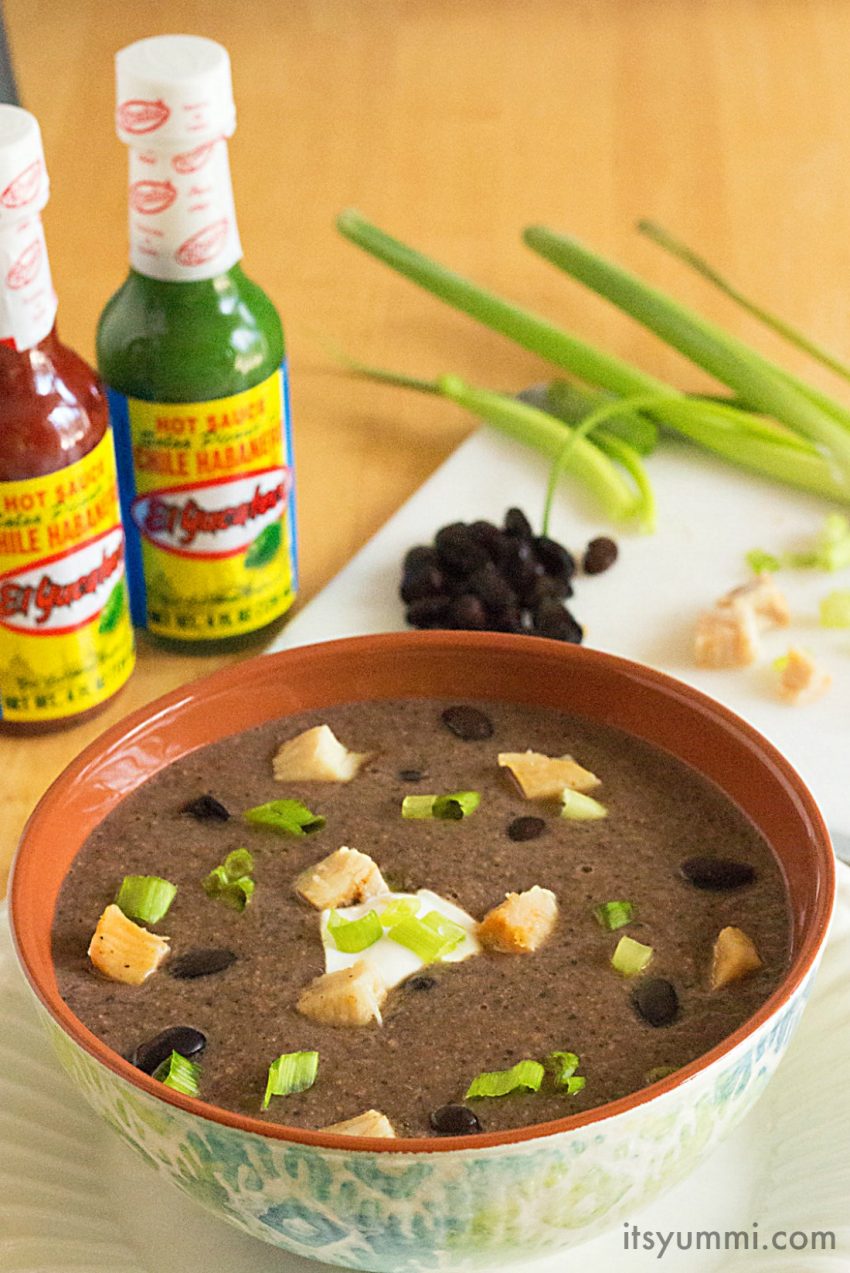 Are you a spicy food lover?
To be honest, I love spicy food, but my stomach begs to differ. Before the "attack of old age and ulcers", you could find me during happy hour at the bar with a basket of the spiciest Buffalo chicken wings offered. I always kicked up my chili to 5-alarm status, and hot sauce was my condiment of choice.
Burning the lining of my stomach is no longer a sporting event, but I never outgrew my love for the bold flavors that come along with the heat from a hot sauce. When I create recipes these days, I focus on the "less is more" approach. I think about how I can amp up the flavors in my dish instead of the heat level.
A perfect example of that is my recipe for Sweet and Spicy Bratwurst Chili. The chili is packed with flavor, but not a lot of tear-inducing spice.
A stroll through the ethnic food aisle of the grocery store will prove just how popular spicy food is. My local grocery store carries no less than 15 varieties of hot sauce!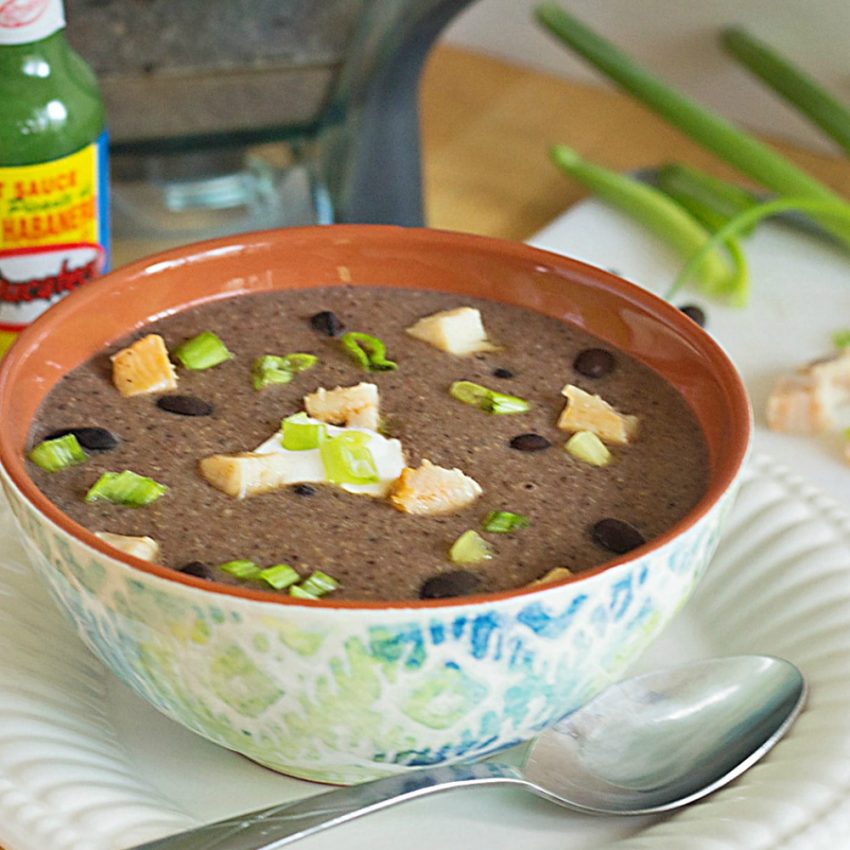 FOOD FACTS – Habaneros
As habaneros mature, they turn from green to red. Therefore, green habanero sauce isn't as spicy as red.
The red sauce is thicker than the green. To prevent too much from coming out of the bottle at once, I used a toothpick to help get a smaller amount out.
Most habaneros have 200k to 300k units on the Scoville scale. That's a lot of heat, so it is best to use habanero peppers sparingly!
What's in the spicy chicken soup?
The soup has onion, garlic, jalapeno pepper, cooked chicken breast, green hot sauce, and for fiber and to tone down the heat, canned black beans.
Black beans are full of healthy fiber, and they absorb flavors well, making them the perfect addition to this easy soup recipe.
I only use a little bit of hot sauce in the soup, so feel free to punch up the flavor with more. Or be bold and use a larger jalapeno and/or red habanero sauce.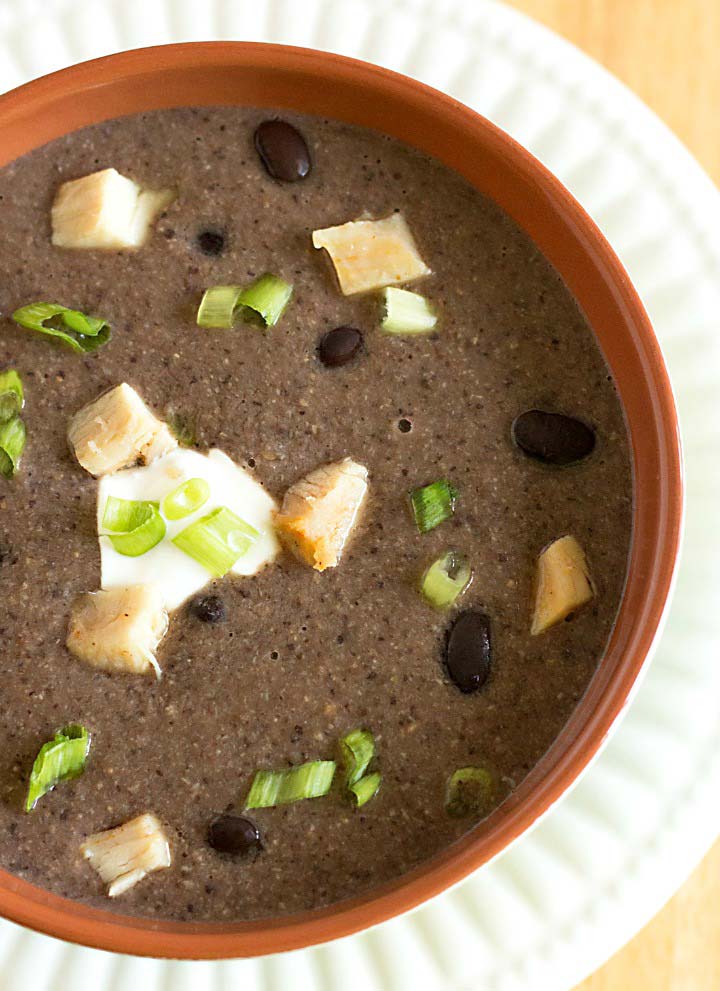 If you like black beans, I think you will love my bison black bean chili recipe and my vegetarian black bean and corn quesadillas, too!
Can you freeze soup?
This soup is perfect for freezing, as both black beans and chicken freeze well. Freezing the soup is a great meal prep idea for quick lunch or weeknight meals. Also because any leftovers need to be eaten within 3 days, while frozen soup will stay good for up to 3 months.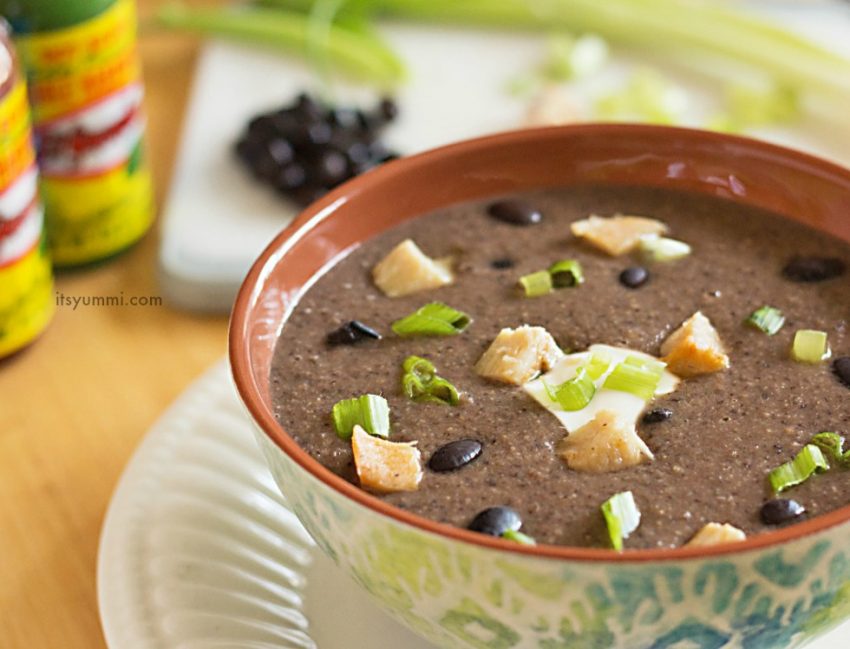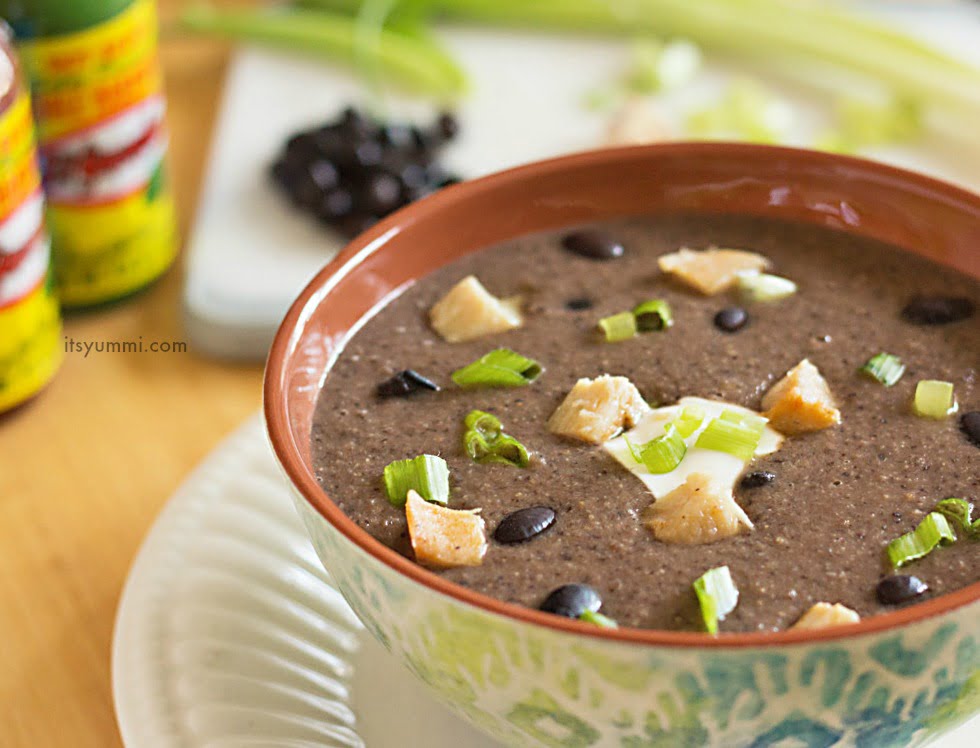 Easy Soup Recipes
Are you hungry for more flavorful and easy soup recipes? Look below my spicy chicken soup recipe for 15 more comforting soup recipes, from me and my blogging friends.
One last thing…
If you make (or plan to make) this soup recipe, will you please help me, by leaving a quick comment and rating for the recipe? Thank you SO much!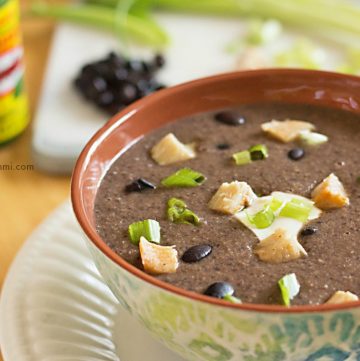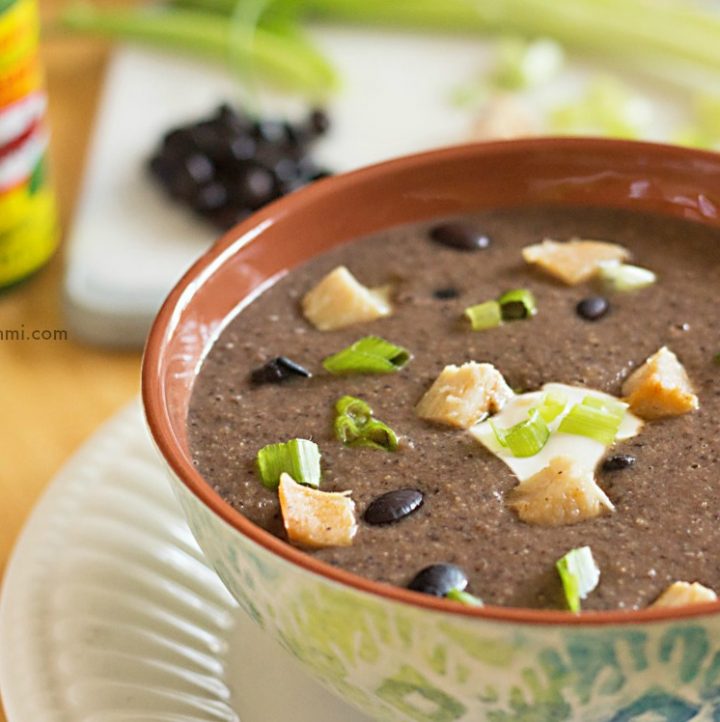 Habanero Spicy Chicken Soup with Black Beans
Habanero Spicy Chicken Soup is made with canned black beans and green hot sauce. It's a 30-minute black bean soup recipe, perfect for dinner tonight!
Ingredients
1

tablespoon

avocado oil

grapeseed oil, or olive oil

1

small

white or yellow onion

finely chopped

1

small

jalapeno

seeded and diced

3

cloves

garlic

finely chopped

5

cups

(3 15-ounce cans) black beans

drained and rinsed

4

ounces

cooked chicken breast

chopped (reserve a few pieces for garnish)

½

teaspoon

hot sauce

(I used El Yucateco Green)

4

cups

chicken bone broth

stock or regular broth

¼

teaspoon

salt

use more or less, to taste

sour cream

for garnish

sliced green onions (scallions)

for garnish
Instructions
Heat the oil in a Dutch oven over medium-high heat. Add the onions and jalapeno; saute until almost tender, about 3 minutes. Add the minced garlic and continue cooking for 1 more minute.

Add the black beans, cooked chicken, hot sauce, bone broth, and salt. Simmer on medium-low heat for 15 minutes, allowing the flavors to marry together. Taste and add more seasoning if needed.

Using a blender or immersion blender, puree half of the soup, then add it back to the pot, stirring to combine with the unpureed soup. Doing this will leave some whole beans for texture.

Ladle into bowls and garnish with sour cream, some of the grilled chicken, and sliced green onions.
Nutrition
Serving:
2
cups
Calories:
316
kcal
Carbohydrates:
38
g
Protein:
30
g
Fat:
5
g
Cholesterol:
24
mg
Sodium:
1095
mg
Potassium:
769
mg
Fiber:
15
g
Vitamin C:
8.5
mg
Calcium:
88
mg
Iron:
4.4
mg
I truly hope you will love the spicy chicken soup with black beans as much as I do!
Now, as promised, here are more comforting soup recipes: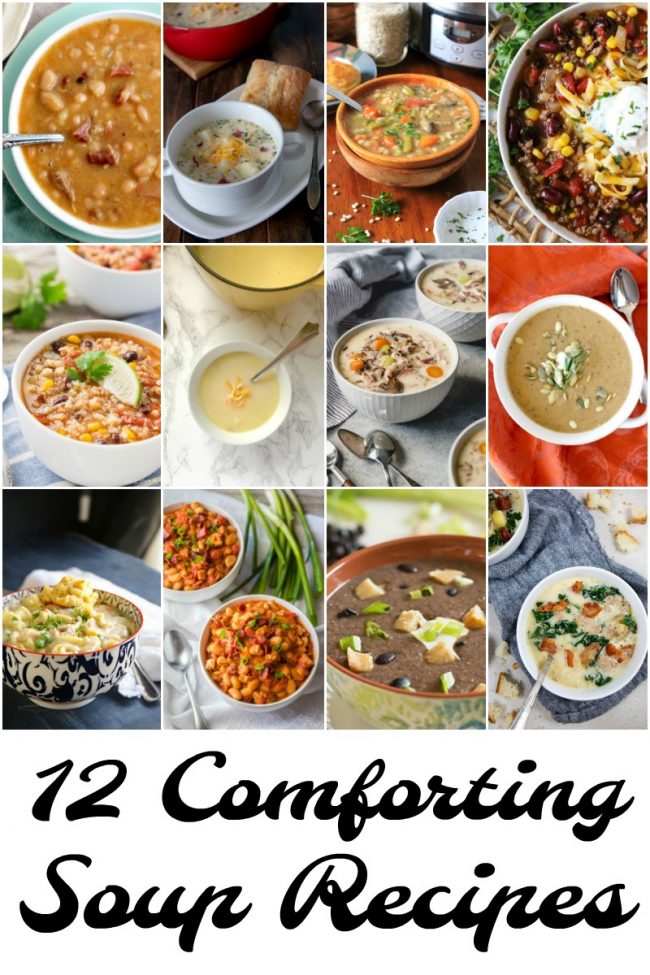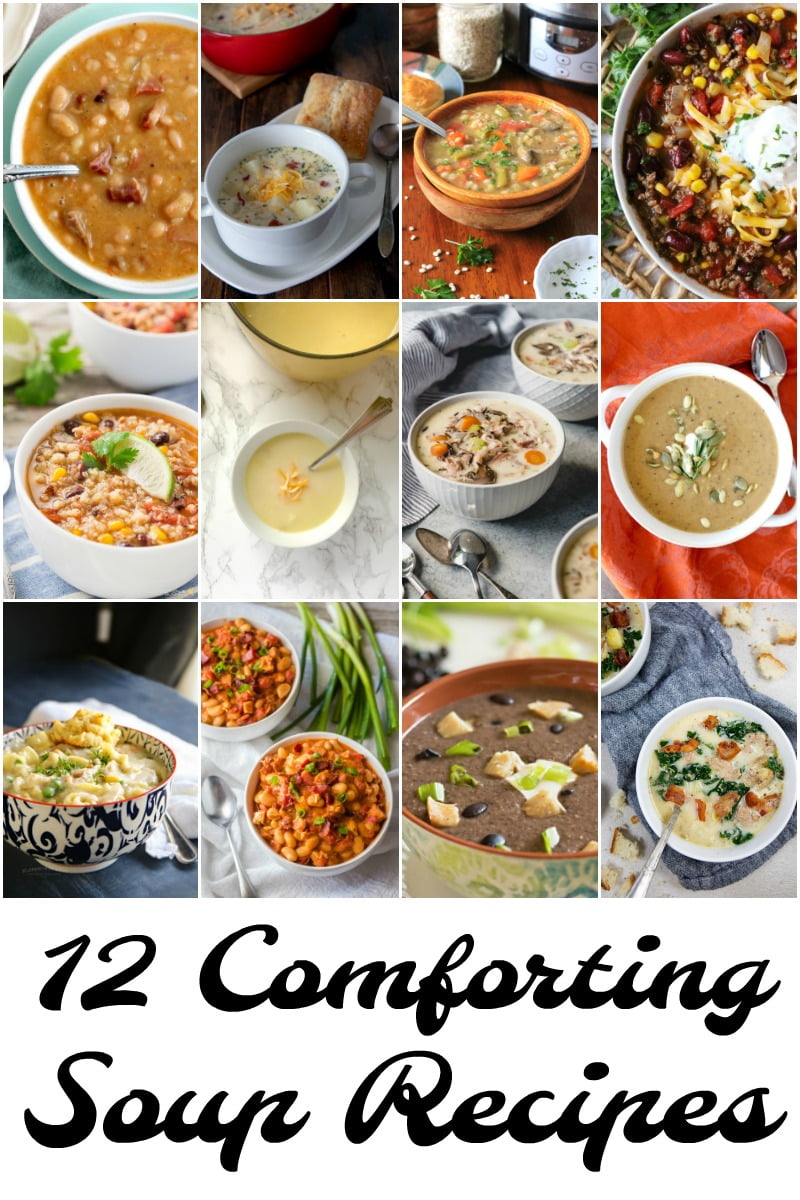 This spicy chicken soup post, originally written in August 2014, has new content.