Cranberry Sausage Stuffing (or Dressing)
Cranberry sausage stuffing casserole is a favorite Thanksgiving side dish of mine. This savory dressing recipe is loaded with pork sausage, fresh herbs, plus fresh cranberries and apples. Whether it's baked into casserole form or stuffed inside of a holiday turkey, this is the best stuffing recipe I have ever made. And definitely the most delicious stuffing I've ever eaten!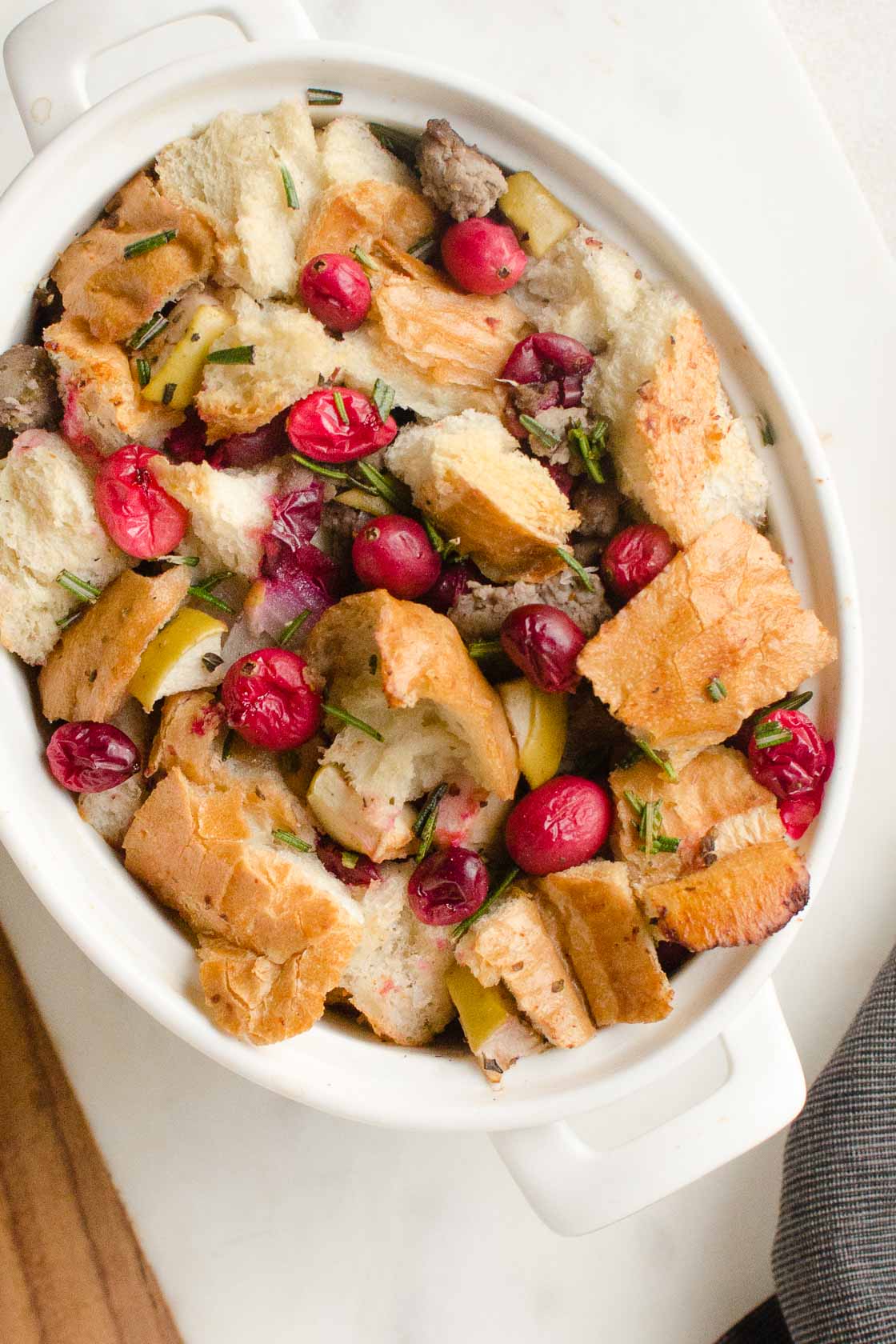 Do you call it stuffing or dressing?
Seriously, I want to know, so please leave a comment for me below this post!
Technically, the terminology depends on how the dish is prepared. If it's baked in a bird = stuffing. Baked in a dish = dressing. But for as long as I have been eating this Thanksgiving side dish, my name for it is my favorite cranberry sausage stuffing.
Think there are many different ways we can call it depending on where you live.. but well, my point is, this homemade dressing or stuffing is the best! Or, maybe I should say the best I've ever eaten. So whatever we call it.. it's divine.
Why this Cranberry Sausage Stuffing recipe works:
This holiday dressing recipe is my favorite for a couple of reasons.
First of all, it's not a pile of mush; you can actually see and taste the individual ingredients that are in it.
We know there are people who love boxed stuffing, but I am definitely not a fan. It tastes too salty and the bread cubes are so tiny that when you add liquid to them, they form one giant lump of stuffing.
This sausage stuffing recipe is a 180 degree flip of boxed stuffing. Moist and flavorful, but not mushy.
The other reason I love this stuffing recipe is because of the fresh cranberries in it.
I use dried cranberries in things like my cranberry oatmeal breakfast cookies, but the tartness isn't as noticeable in dried cranberries as it is in fresh cranberries.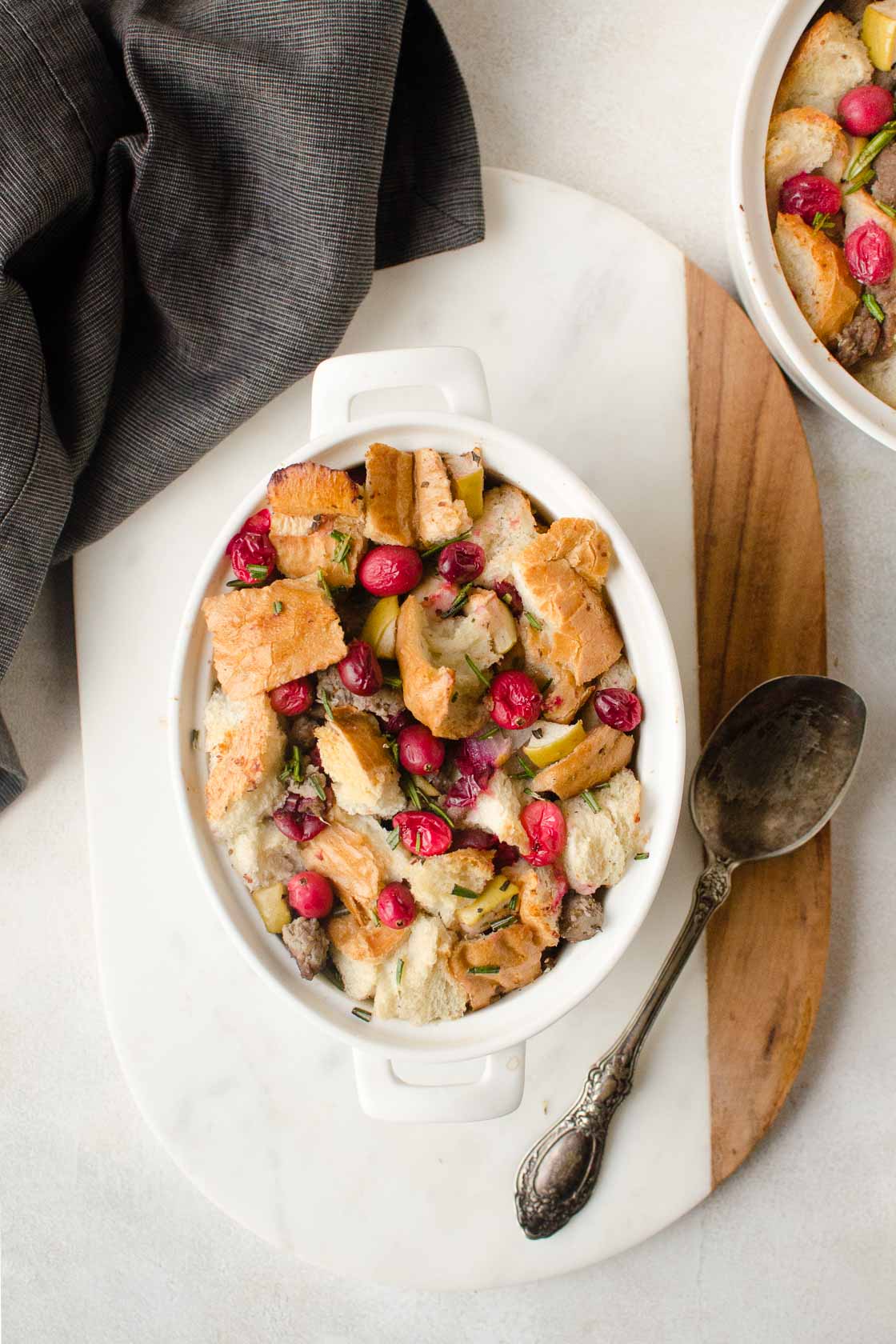 How do you fix mushy stuffing?
Keeping crust on the bread prevents it from soaking up too much moisture. That being said, to make stuffing more moist, either:
remove the crust from the bread
add more chicken stock when you make the stuffing recipe
cut the bread into smaller pieces
How wet should my stuffing be?
The nice thing about stuffing is that you can make it any consistency you want. The bread is dry to begin with, so it can take a while for liquids to soak in. To prevent stuffing from being mushy, I recommend adding the liquid a little at a time, stopping when it reaches your desired consistency.
In addition to the cranberry sausage stuffing, here are some other tasty ways to use fresh cranberries: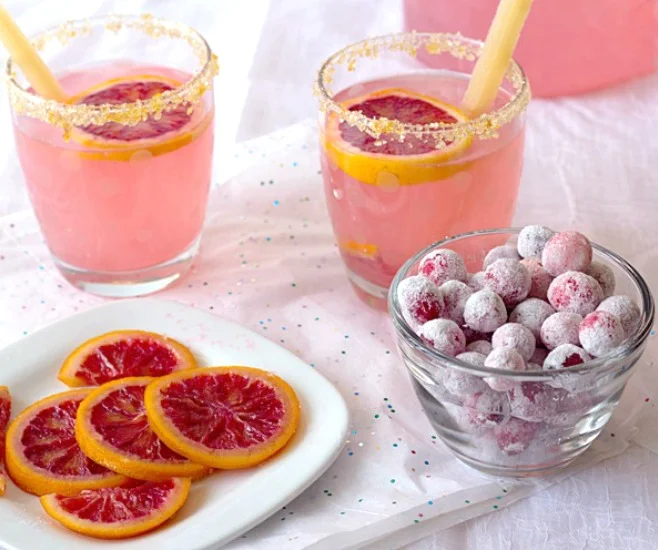 I do love pumpkin pie, but I'm awful at fluting pie crust. Our friends over that That's Low Carb has a divine pumpkin pie recipe. Our family does pumpkin pie both Thanksgiving and Christmas. ?
Can I make stuffing with dried cranberries?
If you don't care for fresh cranberries, you can definitely use dried cranberries in the stuffing, or leave them out completely. I won't cry… too much. 😉
How long do you cook sausage stuffing in the oven?
For cranberry sausage stuffing in a casserole dish, cook at 350F for 25 minutes or so.
If you are stuffing a bird with sausage stuffing, cooking time is based on how long your turkey needs to cook.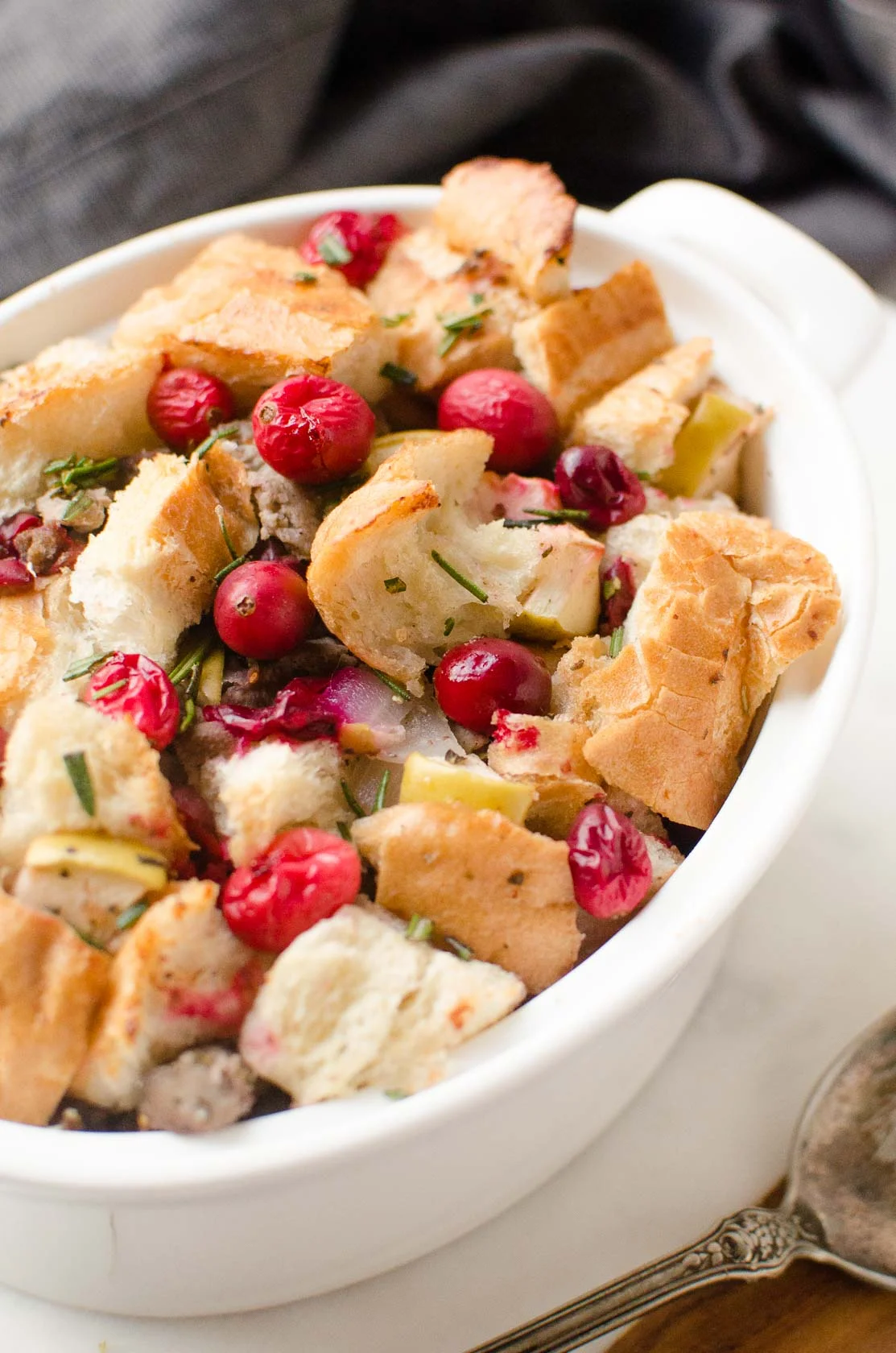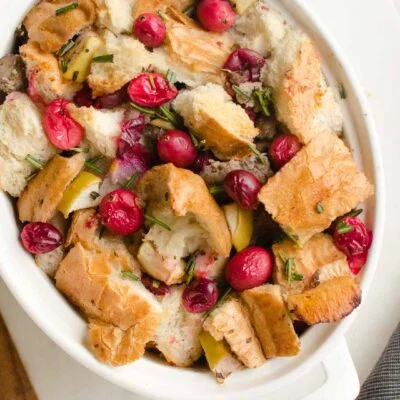 Favorite Cranberry Sausage Stuffing or Dressing
This is the best stuffing I've ever eaten! Fresh cranberries, apples and fresh herbs, plus sausage and homemade bread cubes.
Ingredients
1 ½

cups

fresh cranberries

1

pound

ground sausage

(pork, turkey, or chicken)

1

medium

onion

diced

1

stalk

celery

diced

1

clove

garlic

minced

6

cups

dried bread cubes

or stuffing cubes

1

teaspoon

chopped fresh parsley

or 1/4 teaspoon dried

½

teaspoon

chopped fresh oregano

or 1/8 teaspoon dried

½

teaspoon

chopped fresh sage

or 1/8 teaspoon dried

1

sprig

fresh thyme

or 1/8 teaspoon dried

⅓

teaspoon

celery seed

¼

teaspoon

ground ginger

½

teaspoon

salt

⅓

teaspoon

ground black pepper

2

cups

chicken bone broth

or chicken stock

½

cup

diced celery

1

medium

Granny Smith apple

cored and diced small (I leave the skin on, but you don't have to)
Instructions
Preheat oven to 350 degrees F (325 convection)

Place cranberries in a medium saucepan with enough water to just barely cover them, and bring to a boil. Reduce heat to medium and cook just until skins pop. Drain, and cool.

Meanwhile, place sausage, apples, onion, and celery in a large, deep skillet. Cook over medium high heat until sausage is browned, about 5 minutes. Add garlic during last minute of cooking to avoid burning. Drain and cool.

In a medium baking dish, mix cranberries, sausage mixture with apples, and, bread cubes. Season with parsley, oregano, sage, thyme, celery seed, ground ginger, salt, and pepper.

Stir in chicken broth until desired consistency is achieved. You may not need the entire 2 cups.

Bake 25 minutes, or until surface is crisp and lightly browned. Check after 15 minutes and add more stock or broth if needed.
Nutrition
Serving:
1
g
Calories:
266
kcal
Carbohydrates:
17
g
Protein:
13
g
Fat:
15
g
Saturated Fat:
5
g
Cholesterol:
40
mg
Sodium:
647
mg
Potassium:
268
mg
Fiber:
2
g
Sugar:
5
g
Vitamin A:
115
IU
Vitamin C:
5.6
mg
Calcium:
48
mg
Iron:
1.5
mg