Cranberry Blood Orange Spritzer Recipe
This spritzer recipe is a healthy, cranberry blood orange spritzer is a fruit sweetened holiday drink. Fresh blood oranges and cranberries pack this healthy drink recipe with healthy antioxidants and a sweet, tangy, refreshing taste.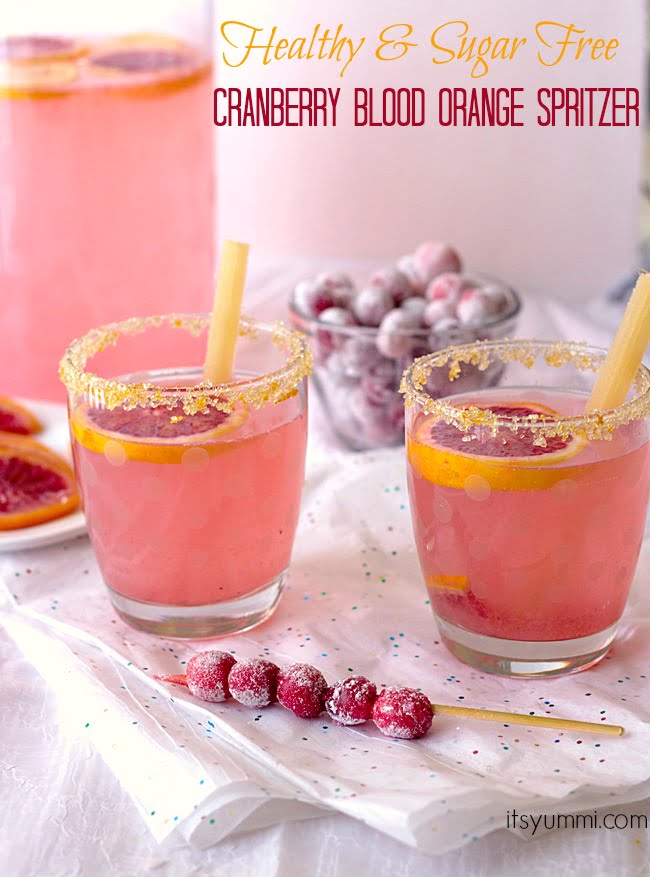 I'm not being a grump when I say that I'm seriously glad to see 2013 come to an end. I have unmet goals that I'd like a fresh start on, including my plan to be 50 pounds lighter by my 50th birthday at the end of January.
My goal to be #FitBy50 was derailed by the dreaded carb-loaded holidays.
Although I have lowered my intake of carbohydrates over the past 9 months, it seems impossible to dismiss them completely. Truthfully, I'd rather eat starchy carbs in moderation than to deny myself. That leads to binge eating by the light of the refrigerator. No, I've NEVER done that. Well, maybe once or twice… or 10 times.
Anyhoo, the problem began when I couldn't decide between making mashed potatoes, sweet potato casserole, or stuffing for Thanksgiving dinner. Feeling the need to make and consume them all is my downfall.
What to do when you're a health goals slacker:
With 33 days before my 50th birthday, I'm only half way to my goal. *Insert hammer to head*. Losing 25 pounds in 33 days is doable for some people, but I'm not hopeful. It's my own fault. I wasn't making the most of my gym membership, so I cancelled it in November. I'll just jump back onto the healthy eating wagon and try again.
Walking an average of 6-8 miles on the sales floor during work helps. It's not high intensity aerobics, but it's keeping my heart in good shape and it burns off what I eat.
One thing I KNOW will help me stay on track with my healthy eating plan is to have the health key™ system at Pick 'n Save at my disposal when I'm grocery shopping. The system is a simple guide to eating better and living healthier.
How the Health Key System Works:
There are 18 different color coded tags to help you identify foods that you're buying. Like tags for items that are gluten-free, organic, lean, vegan, or low in saturated fat. The tags are located under the pricing information, so they're pretty easy to spot. You can find complete health key information on the Pick 'n Save site.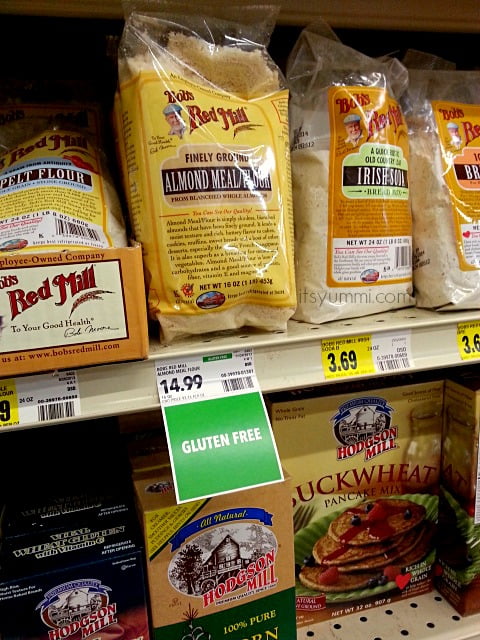 Now you know how and where to select healthier foods, so let's toast!
Start the year right with an easy drink recipe: cranberry blood orange sugar-free spritzer.
I used Wisconsin cranberries and juicy, delicious blood oranges from Frieda's produce, which were both conveniently located in the Pick 'n Save produce aisle at the location that I shopped at.
FOOD FACTS
Blood Oranges
Blood Oranges may look like regular oranges on the outside, but their inner flesh ranges from rosy-red to a deep burgundy purple. Their flavor is less acidic than a regular orange with light raspberry notes. The Moro Blood Orange variety is one of the most popular in the United States, having the darkest internal color.
Cranberries
A cousin of the blueberry and huckleberry, cranberries are loaded with antioxidants, vitamin C, and phyto (plant based) nutrients that can help prevent urinary tract infections.
I've been alcohol-free for the past 16 years and I can honestly say that a New Year's Eve celebration without an alcoholic beverage can be just as tasty, equally as fun, and much safer than a boozy counterpart. Besides, you'll save money because you won't need to worry about finding a designated driver or cab fare while you're enjoying this spritzer recipe, and the kids can have a glass or two with you at the stroke of midnight. See how helpful I can be? 🙂
I garnished the spritzer with sugar-free candied blood oranges and sugared cranberries, which despite the name, are also sugar-free. To make sugar-free candied fruit, use a low-glycemic sugar substitute like erythritol.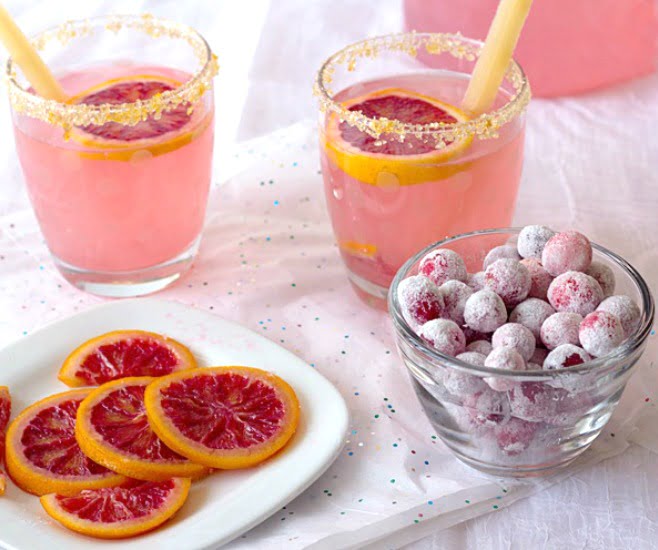 I hope you enjoy this sugar-free spritzer recipe!
I also hope that no matter how you celebrate it, that you have a fabulous and safe New Year's Eve.
I look forward to bringing you lots of healthier recipes to help you feed your stomach and your spirit well in the new year!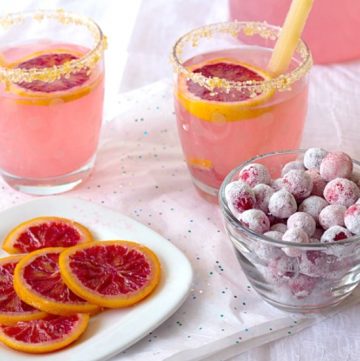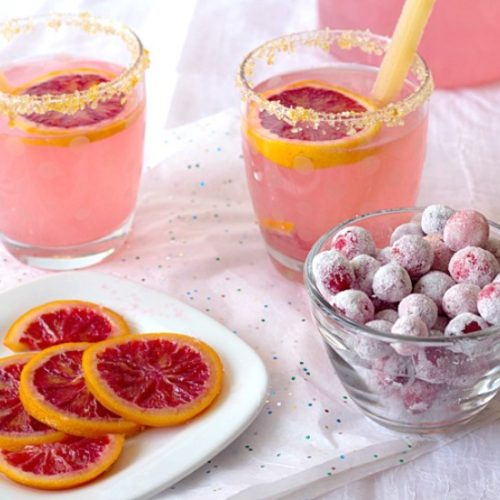 Healthy Cranberry Blood Orange Spritzer
Fresh cranberry and blood orange juices are combined with sugar free simple syrups and carbonated soda to make this refreshing and festive spritzer. It's alcohol free, sugar free, and kid friendly!
Ingredients
FOR THE CRANBERRY SIMPLE SYRUP
8

ounces

(1 cup) water

1

cup

Erythritol (or other granular sugar substitute*)

2

cups

raw cranberries (fresh or frozen)
FOR THE BLOOD ORANGE SIMPLE SYRUP
½

cup

water

½

cup

Erythritol (or other granular

cup-for-cup sugar substitute*)

2

blood oranges

UNPEELED, cut into 1/8th inch slices

5

cups

sugar free lemon lime soda

juice of 2 blood oranges

½

cup

no sugar added cranberry juice
Instructions
PREPARE SIMPLE SYRUPS and CANDIED FRUITS:
Prepare simple syrups separately, using two medium sized saucepans.

In each saucepan, bring sugar and water to a boil over high heat. Stir until sugar has dissolved, then remove one pan from the heat completely and lower temperature to a very slow simmer in the other. Add blood orange slices to the simmering pan and cranberries to the pan you removed from the heat. Simmer oranges for 25 minutes, or until white pith is translucent, using tongs to flip slices occasionally. Remove orange slices from pan and spread onto parchment lined sheet pan to dry completely.

Add orange syrup to a large pitcher or punch bowl.

Allow the cranberries to steep in the simple syrup for 30 minutes. Use a slotted spoon to remove cranberries from the liquid and place them onto a parchment lined sheet pan and allow to dry for about 2 hours, until they become tacky to the touch. Then roll them in granulated sugar substitute. Store in an airtight container for up to 4-5 days.
FOR THE SPRITZER:
Add HALF of cranberry syrup to the orange syrup. You can add more later if you want your spritzer to be sweeter. Add cranberry juice, orange juice, and sugar free soda. Stir to combine. If spritzer is too sweet, add tap water 1/2 cup at a time until desired sweetness is achieved. Serve with sugared cranberry skewers, candied blood oranges, and Frieda's sugar cane swizzle sticks, if desired.
Notes
* Erythritol is used cup for cup like regular sugar. If you're using a different brand of granulated sugar substitute, read the label for how much should be used.
Nutrition
Calories:
247
kcal
Carbohydrates:
63
g
Protein:
1
g
Sodium:
68
mg
Fiber:
3
g
Sugar:
50
g