Cheesy ranch biscuits recipe that are warm, fluffy and cheesy. I wonder, is there anything more delicious with dinner than a warm biscuit, slathered with butter? Actually, there is. Warm, fluffy, cheesy ranch biscuits, slathered with butter!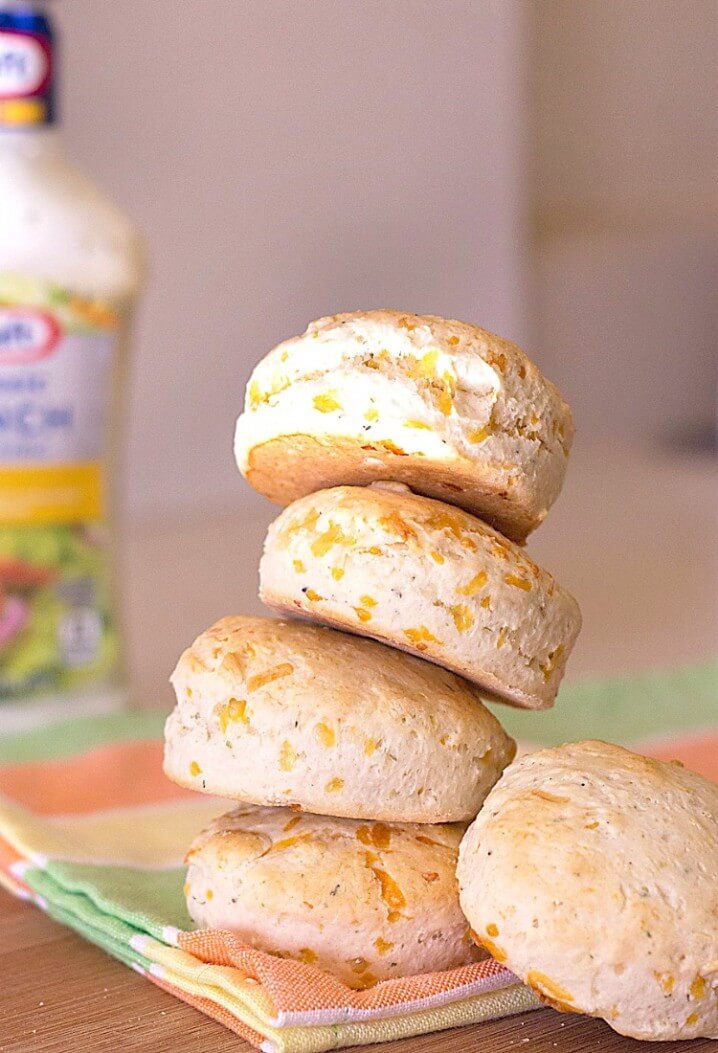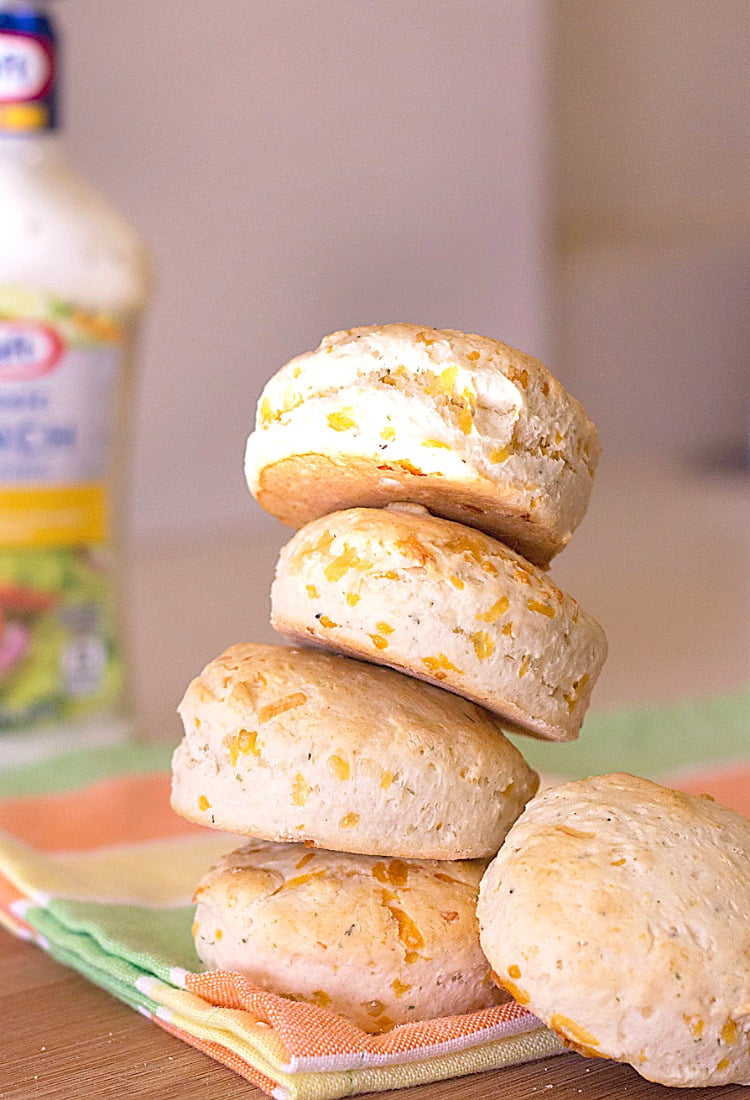 I'm a huge fan of cheese in my biscuits. Truthfully, I'm obsessed with cheesy biscuits, and Red Lobster's Cheddar Bay Biscuits are to blame for that. I devour them by the basket full. My blogging friend, Anna, has a Red Lobster Copycat Cheddar Bay Biscuits recipe on her site. I'm a tiny bit afraid to make it, for fear I'll grow too large to fit through my front door.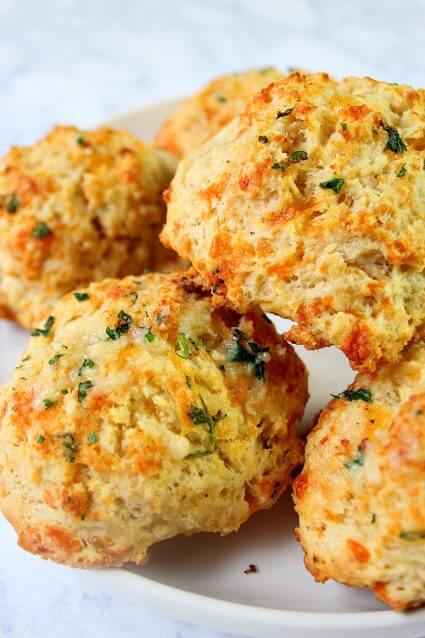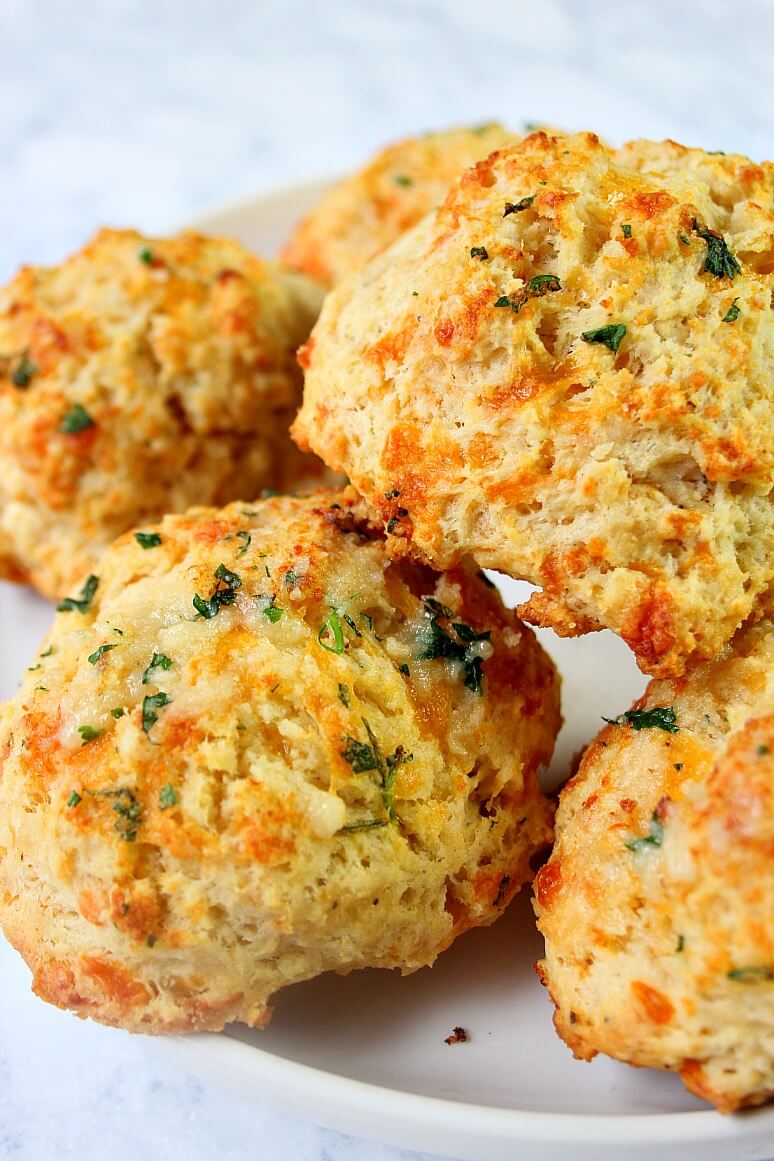 Anyway, it's widely known that ranch and Italian salad dressings are the base for lots of delicious salad recipes. The thing is, when it comes to developing recipes, I like to color outside of the lines of ordinary.
If you ask me, the flavors of ranch dressing are perfect for turning ordinary ingredients into extraordinary meals. I love ranch flavor so much that I even made my own ranch seasoning blend! It's common knowledge.. We love our ranch here in the the United States.. more like obsessed.
Ranch dry seasoning and ranch pourable salad dressing are great for flavoring salads, chicken, rice, and even soup. Brian and I both love to drizzle ranch dressing over baked potatoes for an extra kick of flavor.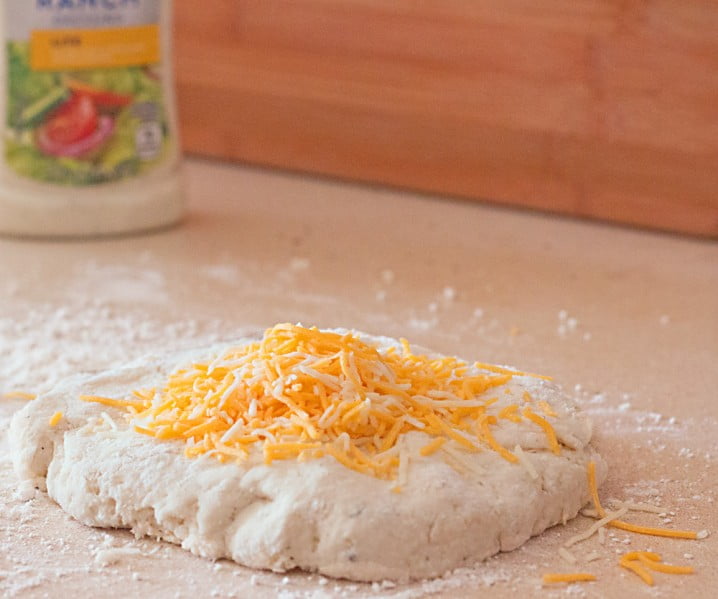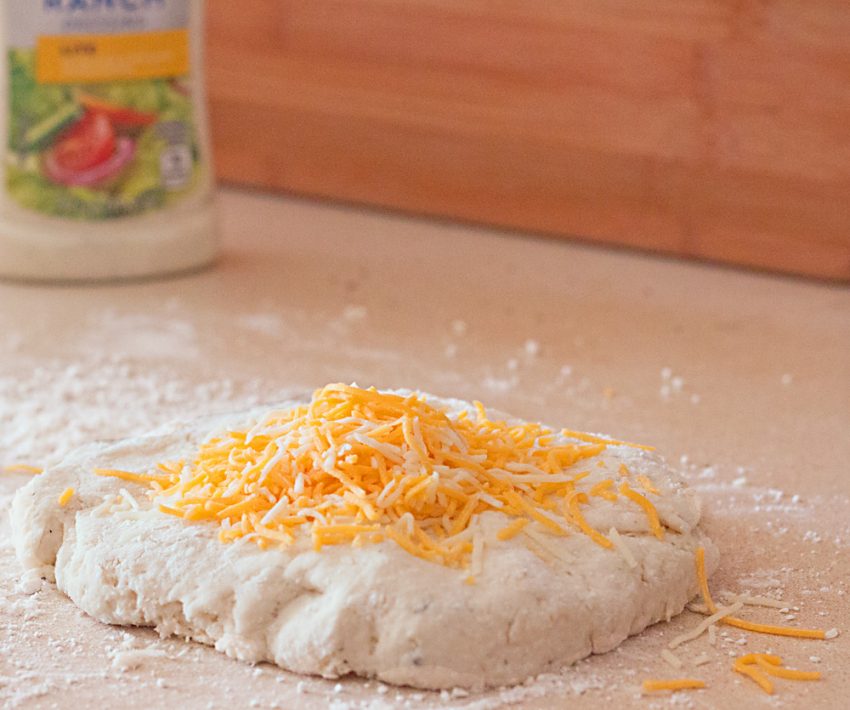 Making these cheesy ranch biscuits can be as easy or as detailed as you want. If you have a scratch biscuit recipe, just substitute ranch dressing for about half of the milk that the recipe calls for, then fold in some cheddar cheese before rolling and cutting them.
If you're not much of a scratch baker, or you're in a hurry to eat some warm, flaky cheesy ranch biscuits, use my recipe for convenience baking mix and follow the recipe, below.
My recipe is just like the boxed dry biscuit/pancake mix that you can buy at the store, with one difference. My mix doesn't have the nasty chemicals, so the biscuits you make with it will be much tastier, and much less expensive to make!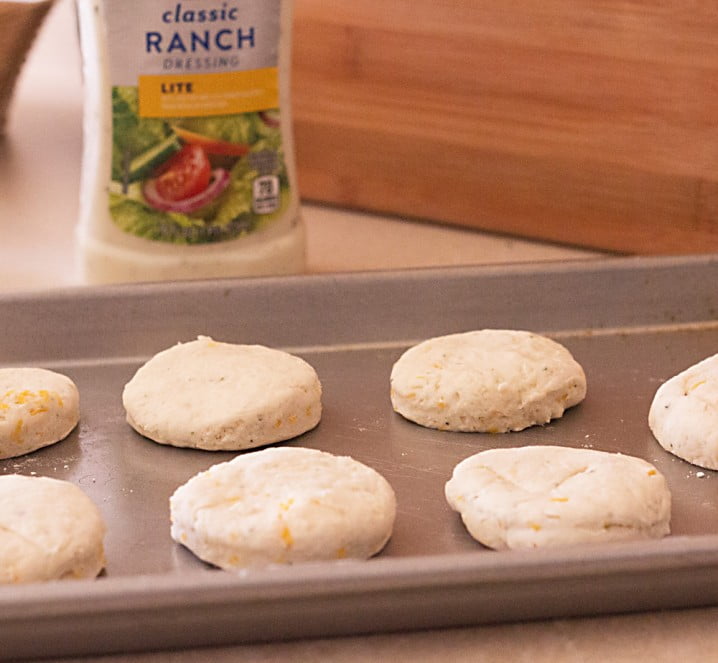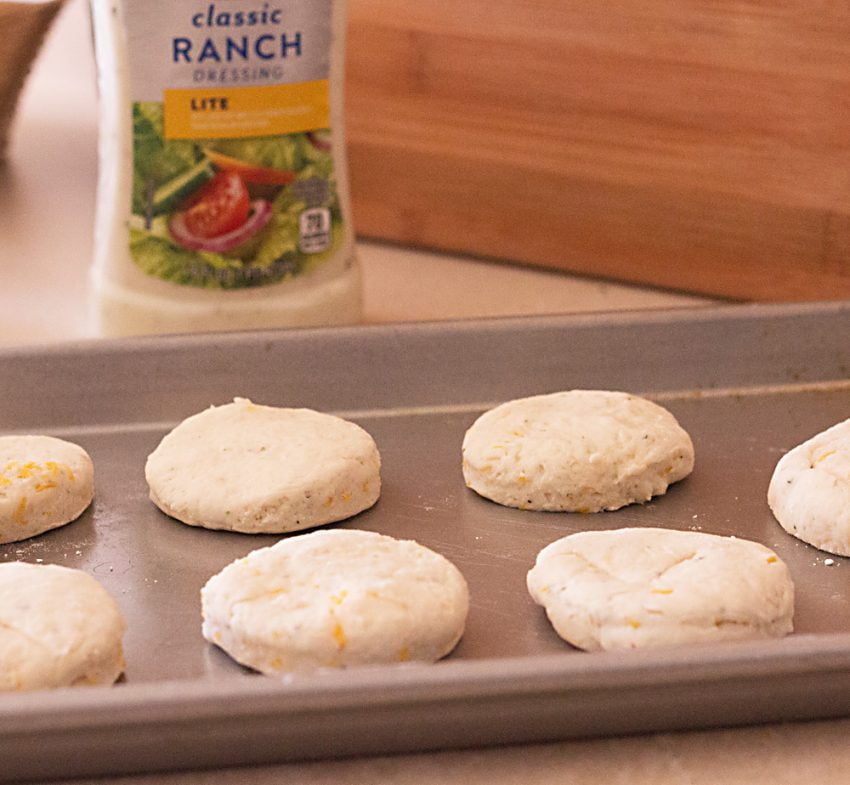 Baking Tips
For tender, flaky biscuits, try not to over work the dough. The more you knead and re-roll it, the tougher your biscuits will be.
For nicely browned tops, brush the tops of the uncooked biscuits with a little bit of milk. Make sure the milk has at least 2% fat, because skim milk doesn't help them to brown much.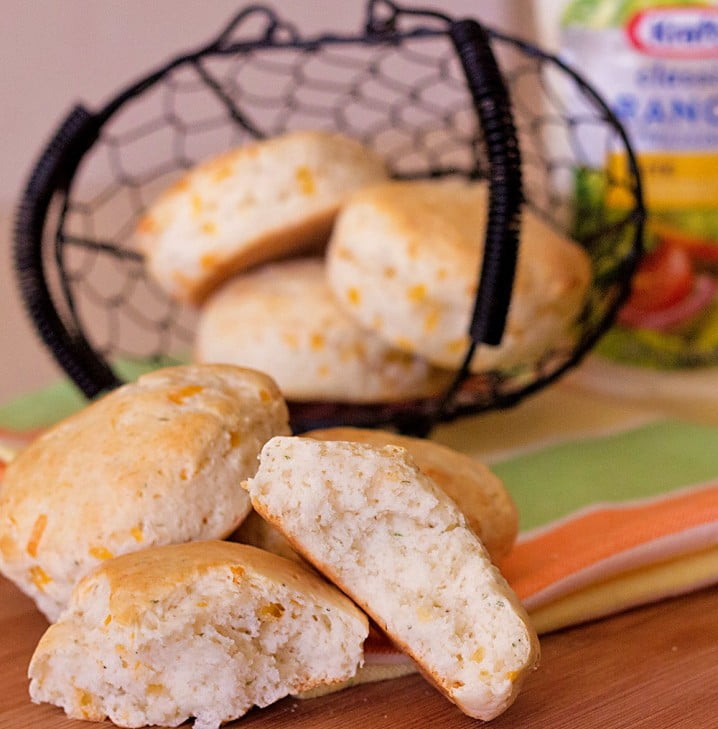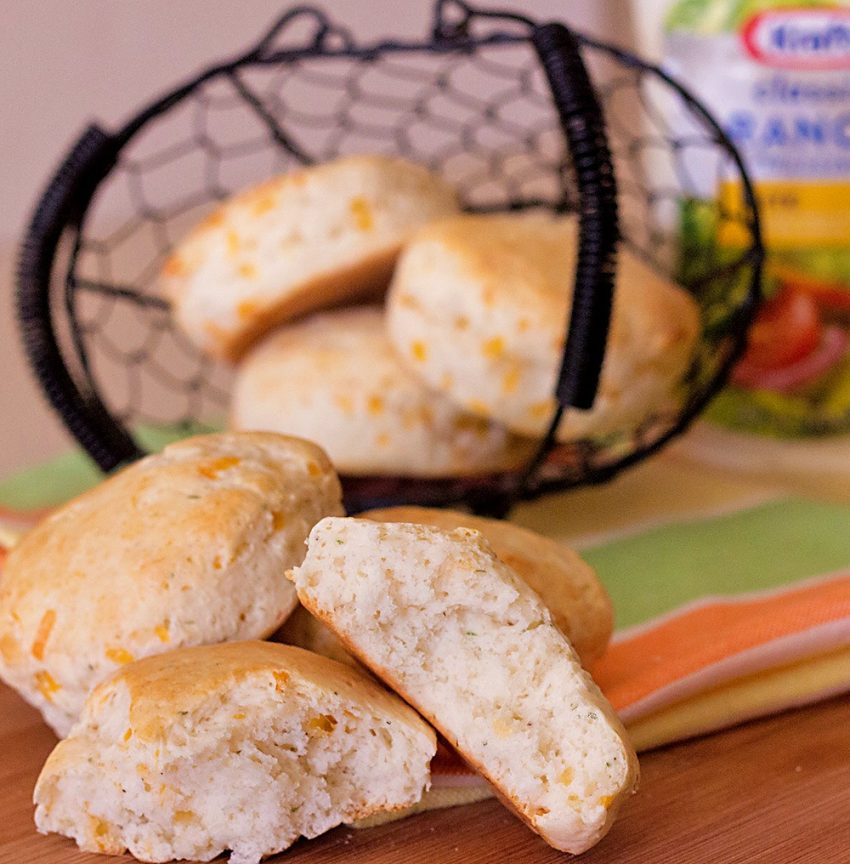 If you have questions about making the cheesy ranch biscuits, please leave me a comment or send an email.
I want you to have baking success. Your stomach deserves the very best.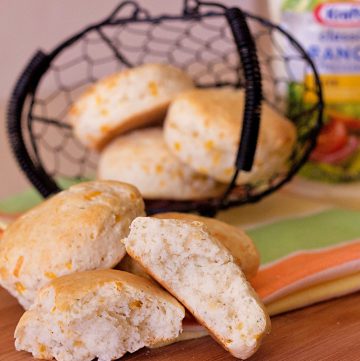 Easy Cheesy Ranch Biscuits Recipe
These fluffy biscuits are seasoned with special ranch seasonings and stuffed with cheddar cheese for a savory biscuit that'll be the one your family asks for over and over again!
Ingredients
1.5

cups

convenience baking mix

plus extra for dusting work surface for rolling biscuits.

¼

cup

ranch salad dressing (I used Kraft low-fat)

½

teaspoon

dry ranch seasoning mix

2

ounces

almond milk (regular milk can also be used)

plus more for brushing tops of biscuits

⅓

cup

cheddar cheese

shredded (I used Kraft)
Instructions
Heat oven to 450 degrees Farenheit

Dust a large work surface lightly with a couple tablespoons of dry baking mix or all-purpose flour.

In a large mixing bowl, add baking mix, salad dressing, dry ranch seasoning, and milk. Use a wooden spoon or silicone spatula to stir, just until combined (mixture will be wet and shaggy).

Turn out dough onto floured work surface and knead 2-3 times; use hands to flatten gently into a circle. Add cheddar cheese; Fold and knead 3-4 more times to incorporate the cheese into the dough. Use hands or a rolling pin to shape dough into a circle, approximately 1/2 inch thick.

Use a 2 inch biscuit cutter to cut out 5-6 biscuits (re-roll dough once, if necessary) and space them at least 1 inch apart on an ungreased jelly roll pan or cookie sheet.

Use a pastry brush to apply a thin layer of milk onto the tops of the biscuits.

Bake for 8-10 minutes, or until biscuit tops are golden brown.

Serve warm with butter, or cool and use instead of bread for a sandwich. Enjoy!
Nutrition
Calories:
8
kcal
Fat:
1
g
Cholesterol:
1
mg
Sodium:
5
mg
Want more delicious biscuit recipes to try? Check these out!
I Pinned a recipe for Angel biscuits (biscuits with yeast) to my breads board on Pinterest that would be fabulous to use this cheddar ranch biscuits recipe with.
Oh em gee, what about adding cheddar and ranch to Joan's 7-up biscuits?! I don't know about you, but that would have me shouting, "It's yummi!"
If you're looking for a super simple, delicious biscuit recipe, try these 3-ingredient cream biscuits from Mrs. Happy Homemaker!
I was compensated for this post, but as is always the case, all thoughts and opinions stated here are my very own.