Homemade Bisquick Mix (DIY Bisquick)
Homemade bisquick mix (DIY Bisquick) is easy to make and it'll cost you a few pennies per batch to make, not dollars! And all you need is 5 ingredients!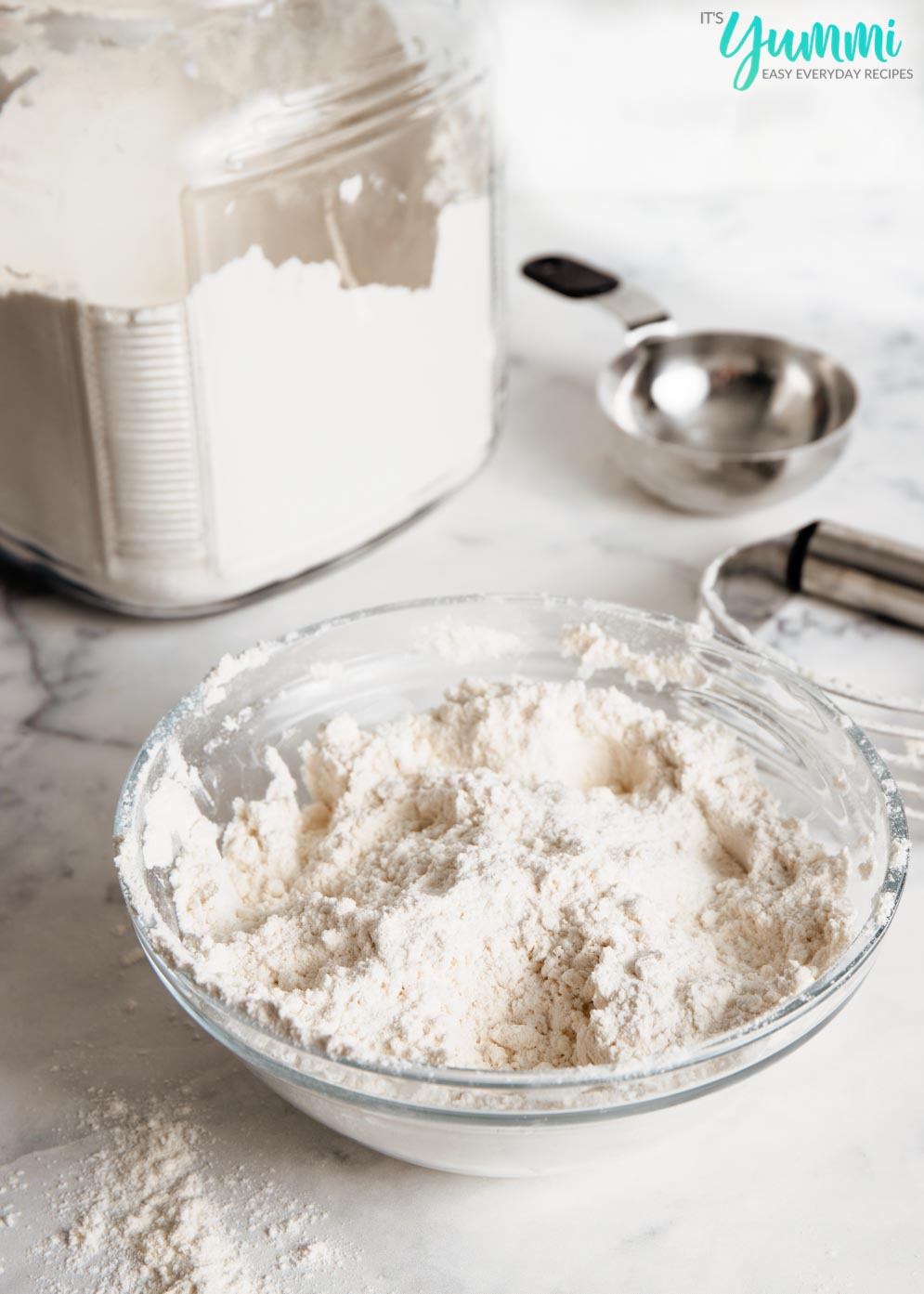 If you're the type of person who likes to save money on groceries, but hates sacrificing taste, WE UNDERSTAND YOU!
With the holidays on the horizon we also need something we can quickly make biscuits in a pinch.
In addition to the lack of flavor, I also despise the added chemicals that are a part of many convenience foods. That being said, there are days when I don't feel well, I've got plans that require me to spend as little time in the kitchen as possible, and/or I'm just too danged lazy or tired to spend a lot of time preparing meals.
Those are the days when I love to reach for a convenience mix or ready-to-eat meal.
So in my effort to save a few dollars and some cooking time, but still have a grasp on what chemicals I'm putting into our bodies, I've started making some of my own pantry staples.
What is Bisquick?
The brand Bisquick is a pre-mixed baking flour sold in the United States that quickly became a staple in the American household. It is a convenience food that can be made to make biscuits, pancakes, dumplings, muffins – the options are endless.
It being a convenience food though it does run a hefty price tag for what it is! So with our DIY bisquick using simple ingredients we can help with the cost of this super convenient pantry staple.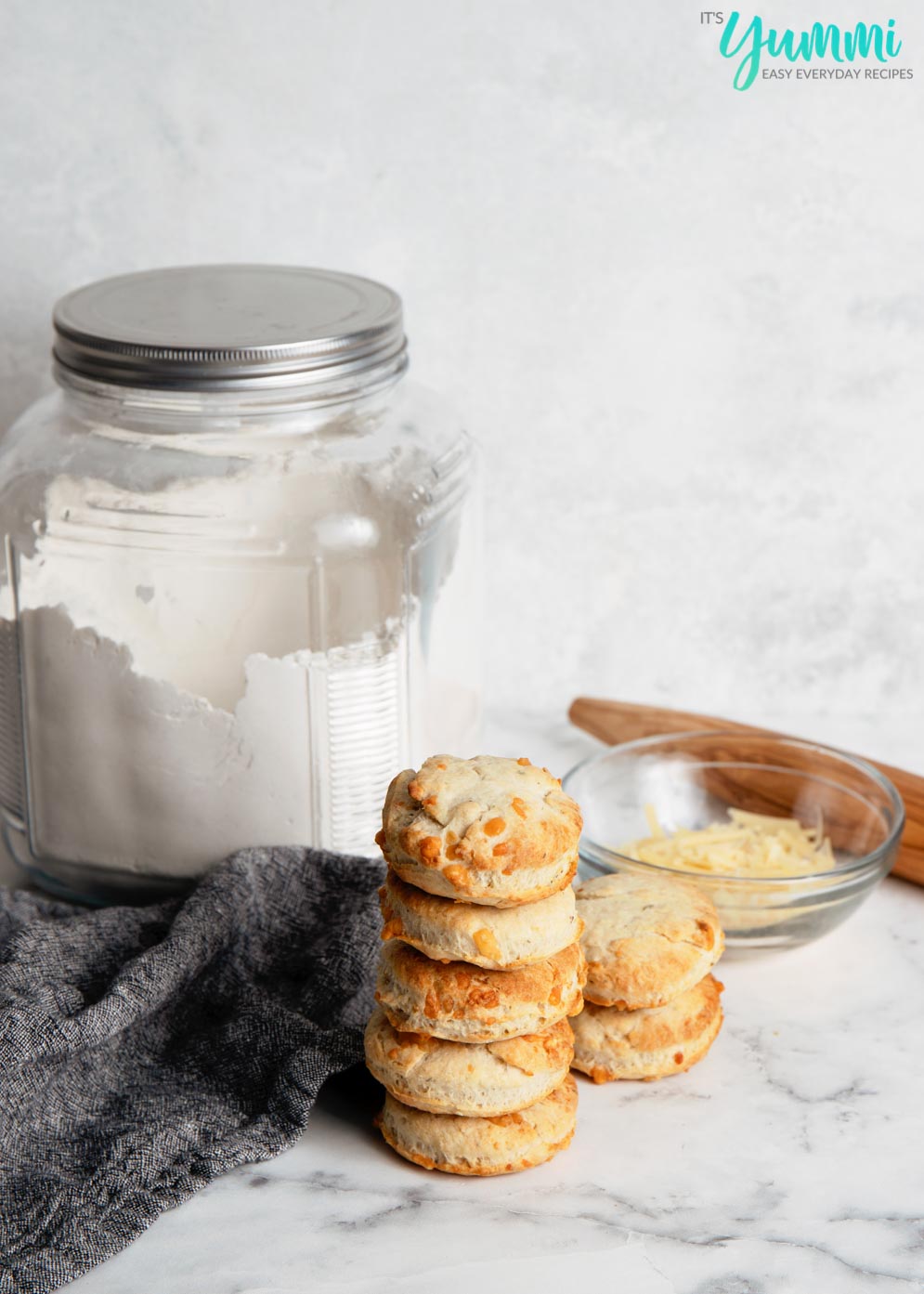 Aside of the time and money savings, I love that this homemade bisquick mix recipe because it only uses five ingredients!
How to Make your own Bisquick from scratch.
All-purpose flour
Baking Powder
Salt
Sugar
Shortening
If you're trying to watch your sugar intake, it's made with only four ingredients. We personally just like that little bit of sweetness that traditional bisquick has. It's what I grew up on and still a favorite flavor.
So FIVE INGREDIENTS! If that's not something to shout about, I don't know what is. Plus, it's so stinkin' easy to make a batch.
If you have a food processor, it can be ready to use in less than 3 minutes. It's as simple as combining the dry ingredients and then pulsing in the shortening. If you're using your hands or a pastry cutter, it'll probably take you a minute or two longer.
That's still far less time than it would take me to wait in the check-out line at the grocery store. Making your own bisquick is just SO EASY.
If you have a go-to DIY recipe that you'd like to share or even one that you'd like to see me create a recipe for, I'd love to hear about it!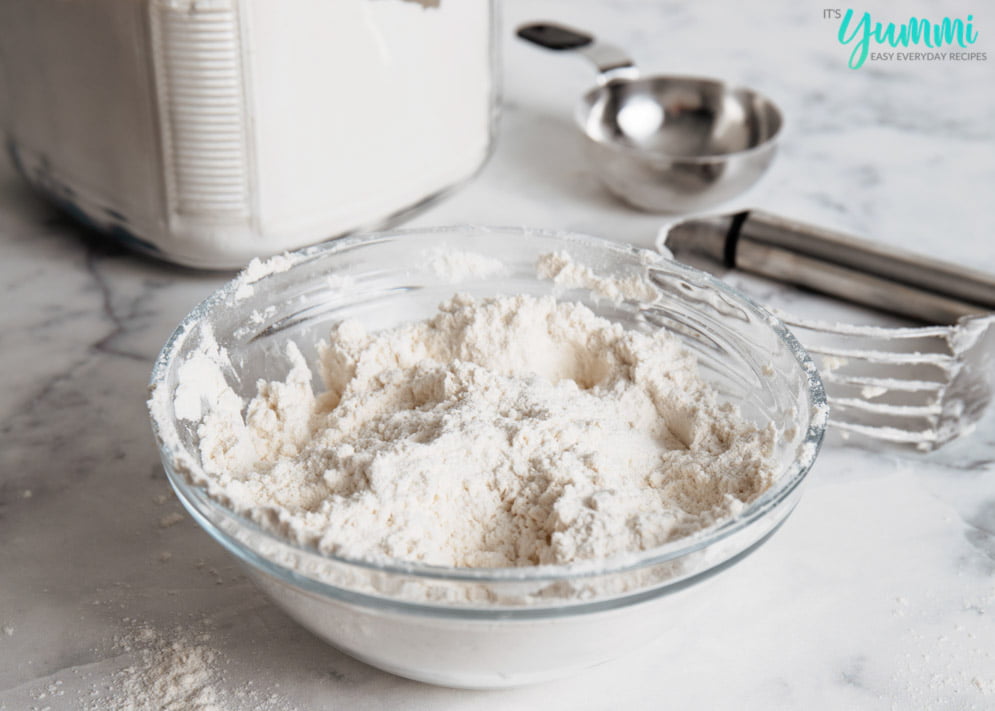 How long will our homemade bisquick last in the pantry?
Up to three months! We've found that honestly it hardly ever lasts that long in our household with what we use it for BUT if all else fails and you end up not using it all in time you can freeze the flour.
Storing in freezer: Store in the freezer up to a year.
Storing in refrigerator: Store in the refrigerator up to six months.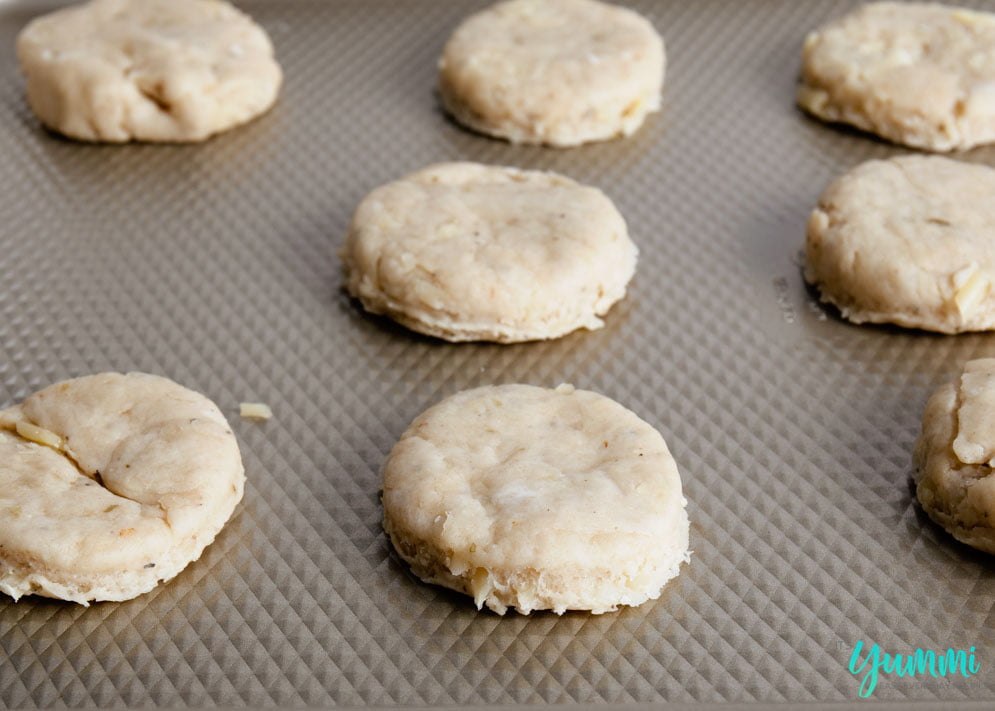 Making a Gluten-Free Bisquick Mix
We experimented with this a bit and can say that we think we found that swapping the all-purpose flour with a general 1-1 gluten-free baking mix worked EXTREMELY well.
I've also been wondering about making this into a low carb baking flour using this low carb baking mix. Something we are going to work on if people are interested!
Truly think that with this recipe the sky is the limit. It's so simple, easy and way more cost effective to make vs. buying. See below all the other delicious recipes you can make with this homemade dry bisquick mix!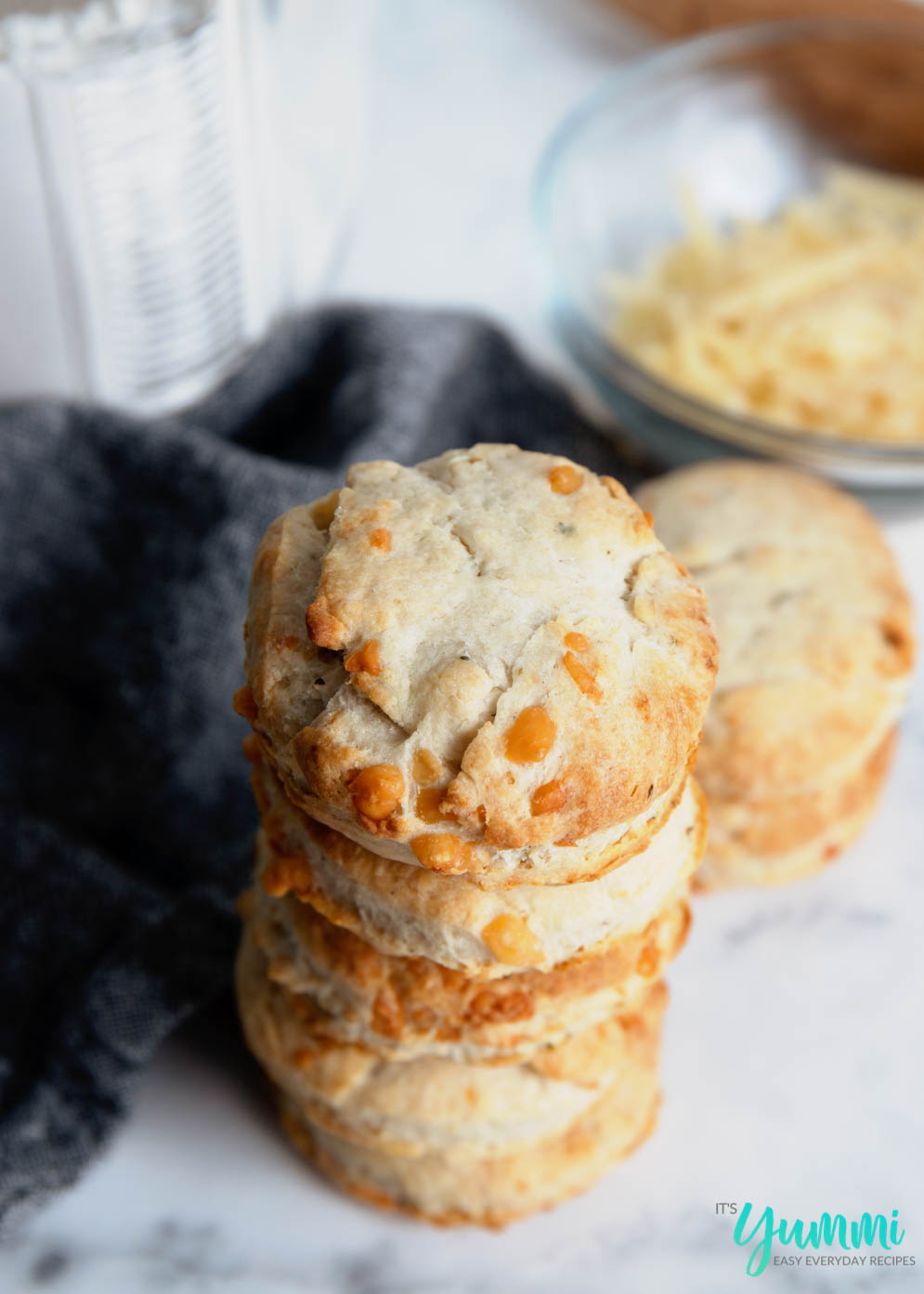 Recipes you can make make with this homemade bisquick mix:
I hope you love to use this homemade bisquick mix!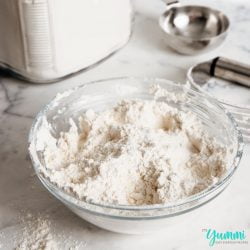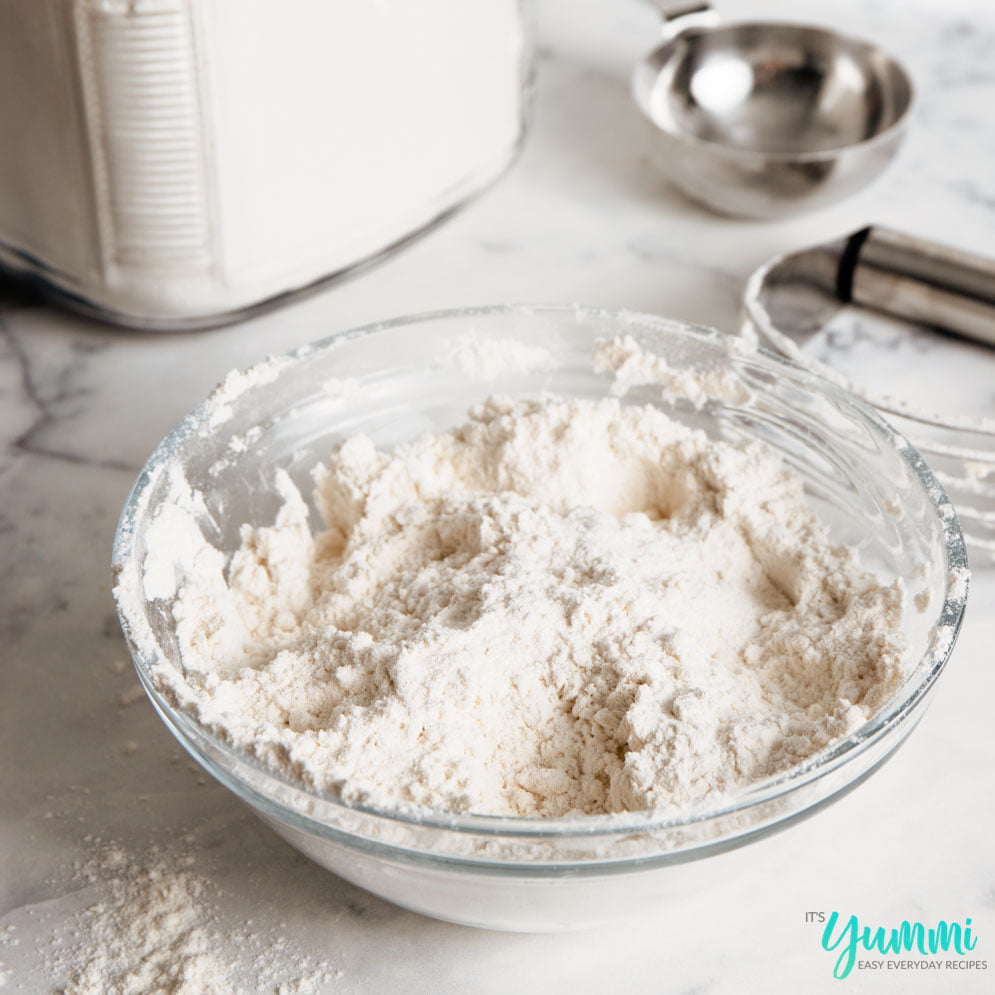 Homemade Bisquick Mix Recipe (DIY Bisquick Baking Mix)
If you like the convenience and versatility of boxed baking mixes, but hate the added chemicals and expense of them, learn how to make your own!
Ingredients
8

cups

all-purpose flour

⅓

cup

baking powder

2

teaspoons

salt

2

Tablespoons

sugar

optional

1

cup

vegetable shortening

or processed lard (found in the baking aisle of the grocery store)
Instructions
Combine all dry ingredients in a large bowl or the bowl of a food processor.

If using a food processor, pulse to combine dry ingredients, then add shortening and pulse until mixture resembles coarse meal. Otherwise, use a pastry cutter or your fingers to incorporate the shortening into the dry ingredients.

Store tightly covered in a pantry or the refrigerator. Can also be frozen.
Notes
What exactly is "coarse meal"? Crumbly, but clumpy. Does that make sense? You'll have little bits of butter that are the size of peas.
Nutrition
Serving:
0.25
cup
Calories:
173
kcal
Carbohydrates:
24
g
Protein:
3
g
Fat:
6
g
Saturated Fat:
1
g
Sodium:
146
mg
Potassium:
33
mg
Calcium:
5
mg
Iron:
1.5
mg