Fried Apple Pie Egg Rolls Dessert + VIDEO
Fried apple pie egg rolls are a fun twist on traditional apple pie. These fried apple hand pies, with their sweet crispy crust, are perfect for picnics or packing into lunch boxes. This is one of my favorite apple dessert recipes!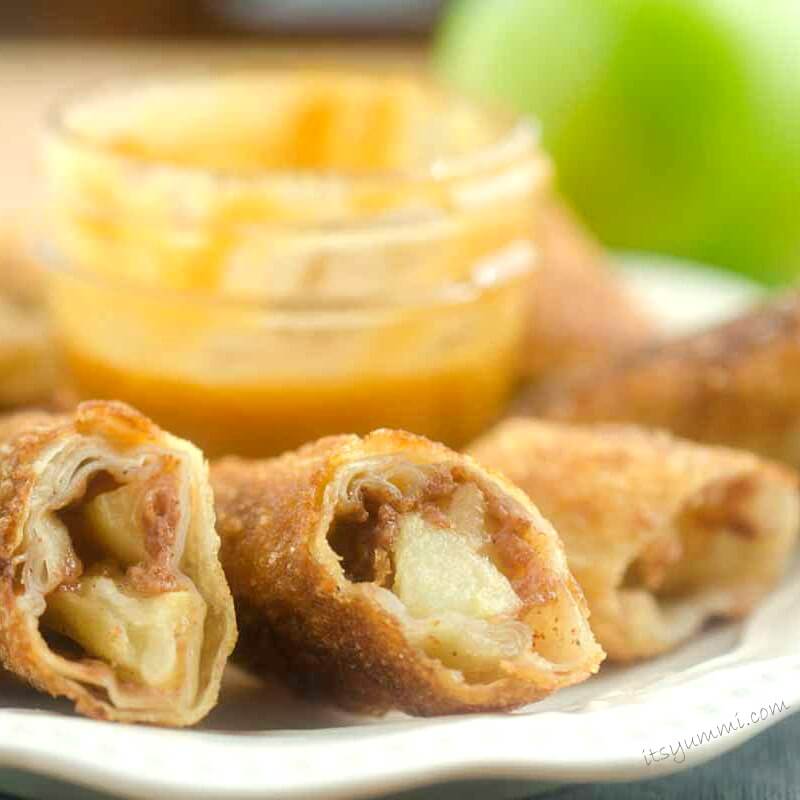 I love to create recipes, and since It's Yummi is a recipe resource for YOU, I think there should be a few of your favorite recipes here. A few years ago, a reader contacted me about creating a recipe for her. Her boys absolutely love apple pie, but they prefer the filling and not so much crust.
That reader's email ultimately led to the creating of this easy fried apple pie egg rolls recipe.
As is the case with many bloggers, my recipes and photography improve with time, and this easy dessert recipe is no exception. The original apple pie egg rolls post is one of the first posts on this site, and the photos were taken long before I owned a DSLR camera. It's a bit embarrassing for me to see how awful the old photos are. But it's rewarding to know that my photography skills have improved, so I am able to recreate a popular recipe and share it with you again!
Incidentally, if you have a favorite food that you don't yet have a recipe for, use my contact page to let me know about it. Then, I'll see what I can do to create one for you. The same goes for indulgent recipes that you love, but want to make a bit healthier. Many of my low carb recipes were created because of my desire to have delicious desserts, without needing to buy larger clothes.
Anyway, back to the fried apple pie egg rolls. This is what Sandra Lee might call a potential semi-homemade dessert recipe. The egg rolls are super easy to make; you need egg roll wrappers and apple pie filling. The filling is so easy to make that if I have fresh apples in the house, I make it. When I need them made quickly, I use canned apple pie filling. Both versions are equally yummi.
BUT, the egg rolls are extra delicious dusted with powdered sugar, or dipped into homemade caramel sauce. HEAVEN.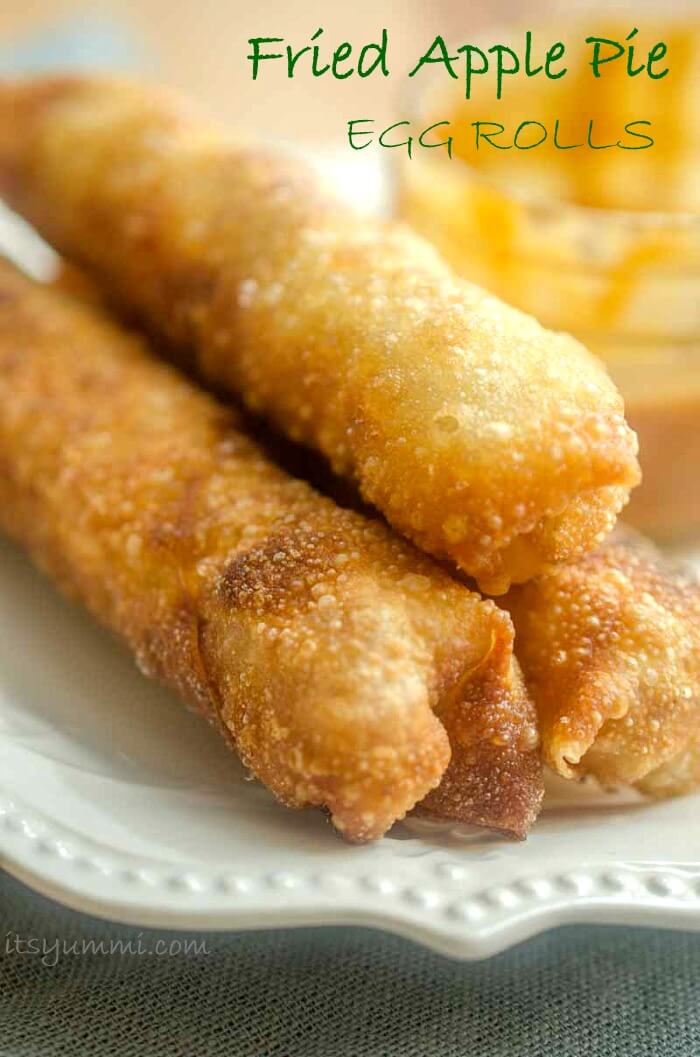 OH, and if you're trying to stay away from fattening desserts, but you just LOVE apple desserts, give these recipes a try. They're tasty treats that will be kinder to your waistline:
Skinny Apple Pie Shake – made with apple butter… oh yeah!
Peanut Butter Apple Crumble – this deliciousness is gluten-free, vegan, and made with whole grains.
Low Sugar Flourless Vegan Apple Crisp – Low carb apple dessert's in the house!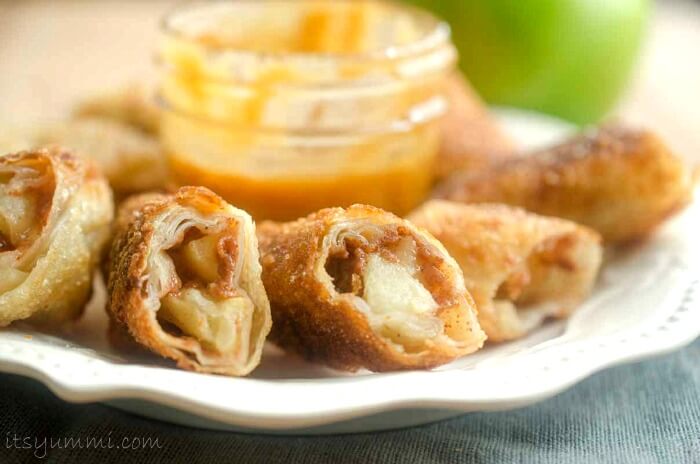 But since I'm an "all things in moderation" girl, I'm going in for a couple of these deep fried apple pies of crazy goodness!
If you're going to make the apple pie filling yourself, you'll spice up the apples with some cinnamon, a little sugar, and some lemon juice. You'll cook the filling for a few minutes and then roll it up inside of the egg roll wrappers. The third step is frying them in a high smoke point oil.
When I made these fried hand pies the first time, I used peanut oil. Healthier choices are ghee (clarified butter) or avocado oil. I use grass fed gee these days. I usually make my own, using butter from grass-fed cows, but it's readily available to purchase at many stores now, too.
This recipe is really versatile. If you're not a fan of apples, use cherry pie filling, or blueberry, or peach… or whatever floats your boat.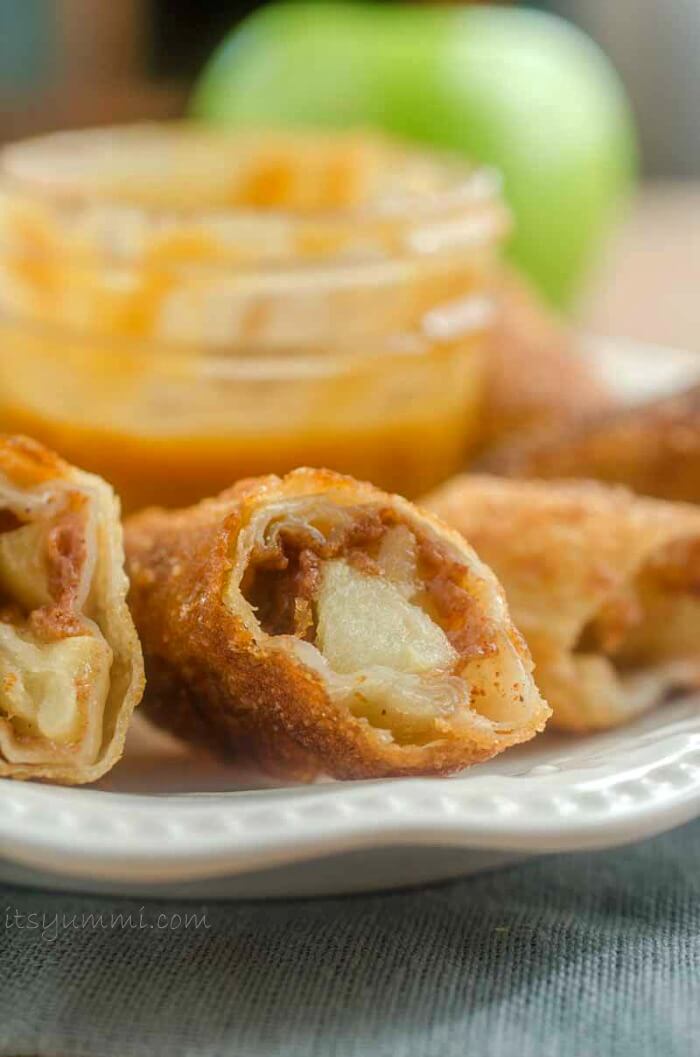 The important thing is that you get some of these fried apple pie egg rolls into your belly, as soon as possible.
Like this afternoon. Or tonight. Is now a good time? 😉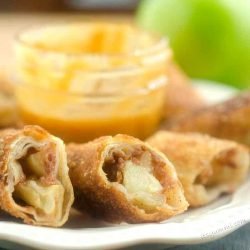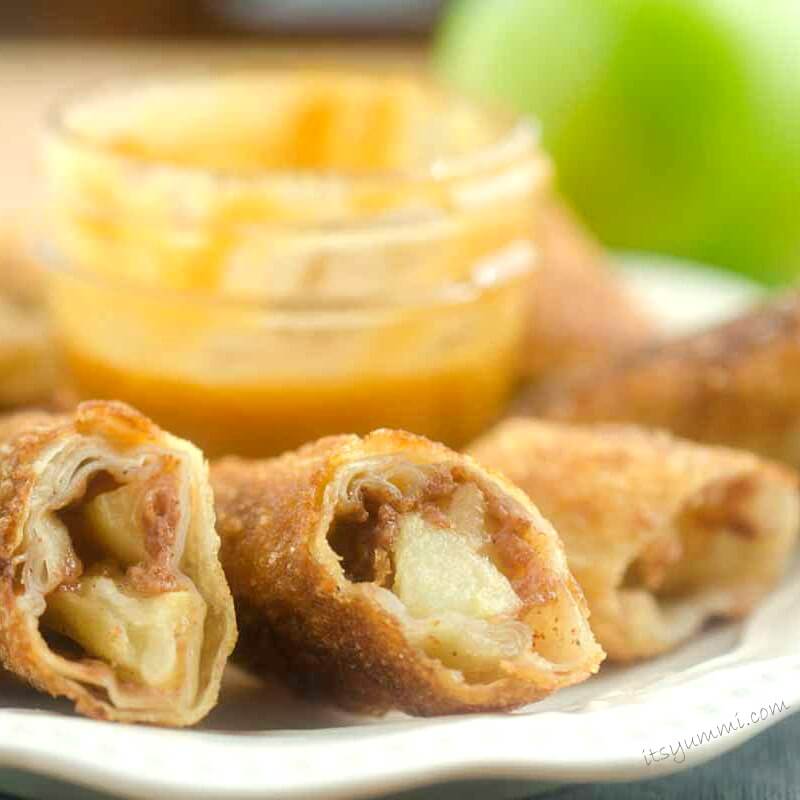 Fried Apple Pie Egg Rolls
Warm apple pie filling is tucked into egg roll wrappers, then deep fried, creating a delicious hand held snack or dessert.
Ingredients
12

egg roll wrappers

ghee

for frying (or a high smoke point oil)
Filling
3

cups

diced apples (peeled)

¼

cup

granulated sugar

1.5

Tablespoons

all-purpose flour

¾

teaspoon

ground cinnamon

1

teaspoon

lemon juice
Instructions
Add all filling ingredients to a mixing bowl and stir well to combine.

Place one egg roll wrapper onto a hard work surface in front of you, with one corner pointing down towards you (so the wrapper looks like a diamond).

Place 2 heaping Tablespoons of filling slightly below the center of each wrapper. Fold in both sides to the center and start at the bottom, tightly rolling up the wrapper, making sure that the sides stay tucked in to avoid leakage. Use a dab of water to secure the tip of the wrapper to itself.

Repeat steps with remaining filling and wrappers.

Heat oil in a large dutch oven, deep skillet, or deep fryer to 350 degrees F.

Fry each egg roll for 4-5 minutes or until browned and crispy, turning occasionally to make sure all side get browned. Remove from oil and drain briefly on paper toweling before serving.

If desired, dust egg rolls with powdered sugar, or serve with chocolate ganache or caramel sauce.
Nutrition
Calories:
213
kcal
Carbohydrates:
27
g
Protein:
3
g
Fat:
10
g
Saturated Fat:
6
g
Cholesterol:
28
mg
Sodium:
184
mg
Fiber:
1
g
Sugar:
7
g