Garlic Herb Oven Roasted Chicken
Oven roasted chicken with garlic and fresh herbs is one of our favorite chicken dinners! This heart-healthy recipe creates a juicy, delicious chicken dinner in under an hour! It's classic comfort food for a Sunday supper, yet simple enough to make for a weeknight dinner.
This chicken recipe is gluten-free, low-carb, paleo, and Whole30 compliant, too!
If the aroma of 40 cloves of fresh garlic, rosemary, and thyme doesn't grab your senses, the taste will have you CRUSHING on this delicious oven roasted chicken dinner!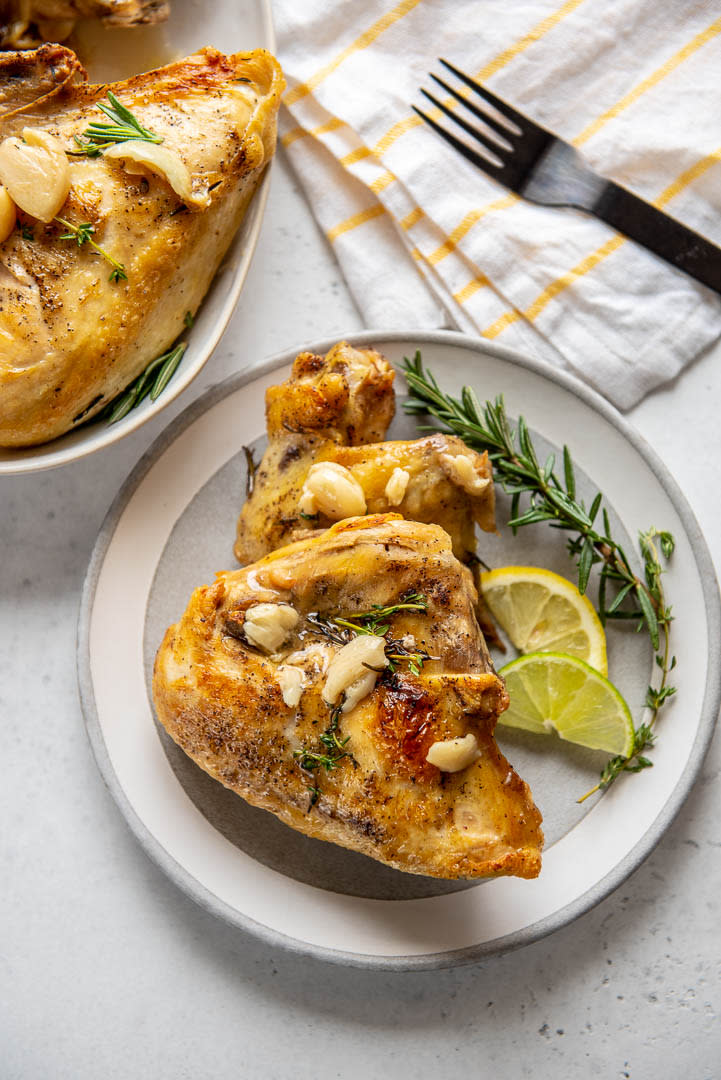 About Wear Red Day for Heart Health Month
Do you know that February is American Heart Month? The annual event kicks off on February 1st, with National Wear Red Day, a day where people wear red to show support for the awareness of heart disease.
Late in 2015, the tightly knit food blogging community was shocked to the core, when one of our own died in her sleep of a heart attack. She was in her 40's and left behind young children, so it was a reminder that preventing our risk of heart disease is something we all need to think about.
Know your risk factors, talk with your doctor, and take action to protect your heart health. Share this blog post to inspire others to take action, too.
Since my father died of heart disease at 48 years young, I am ever mindful of my genetic predisposition of having heart disease. One of the ways to reduce the risk of heart disease is by making heart-healthy eating choices.
This recipe for garlic and herb oven roasted chicken makes a chicken dinner that is full of ingredients that are good for the heart.
Garlic Herb Oven Roasted Chicken Dinner
This is the heart-healthy chicken, in all of its delicious beauty. The crispy golden skin, juicy, flavorful meat, and the intoxicating aroma of 40 cloves of garlic. Insert drooling here.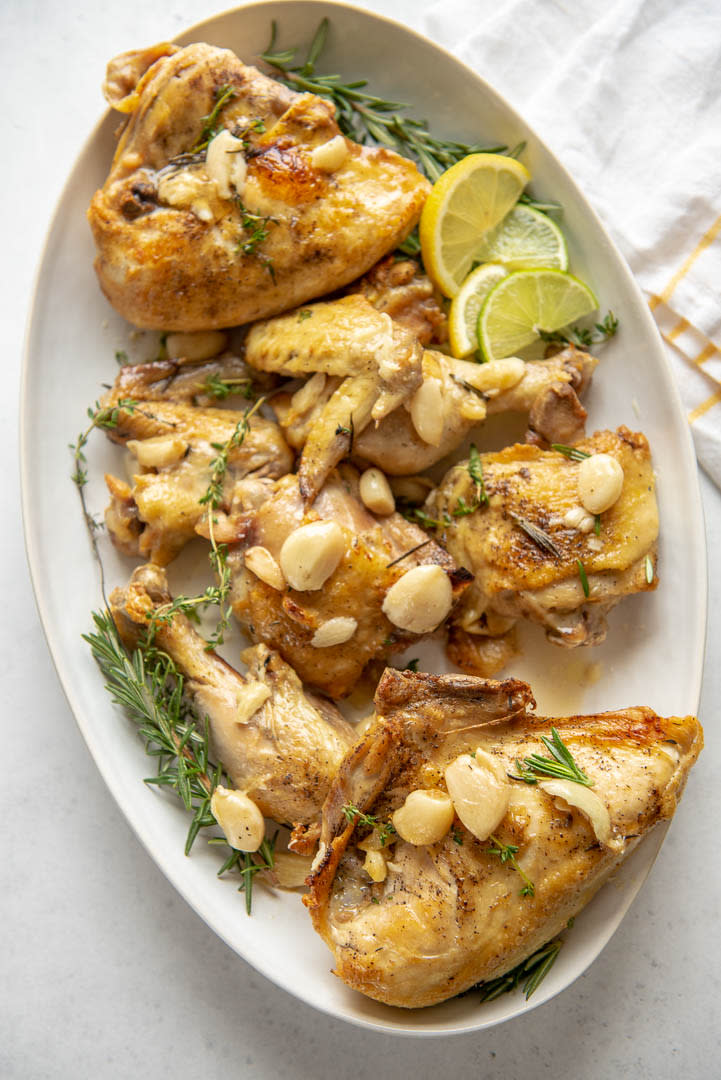 We don't use the term heart-healthy lightly either. Check out these healthy facts about garlic:
Food Facts – Garlic
Studies and clinical research show that eating garlic is healthy for humans. One search on Google will result in millions of hits; far more information than most brains can consume in one sitting.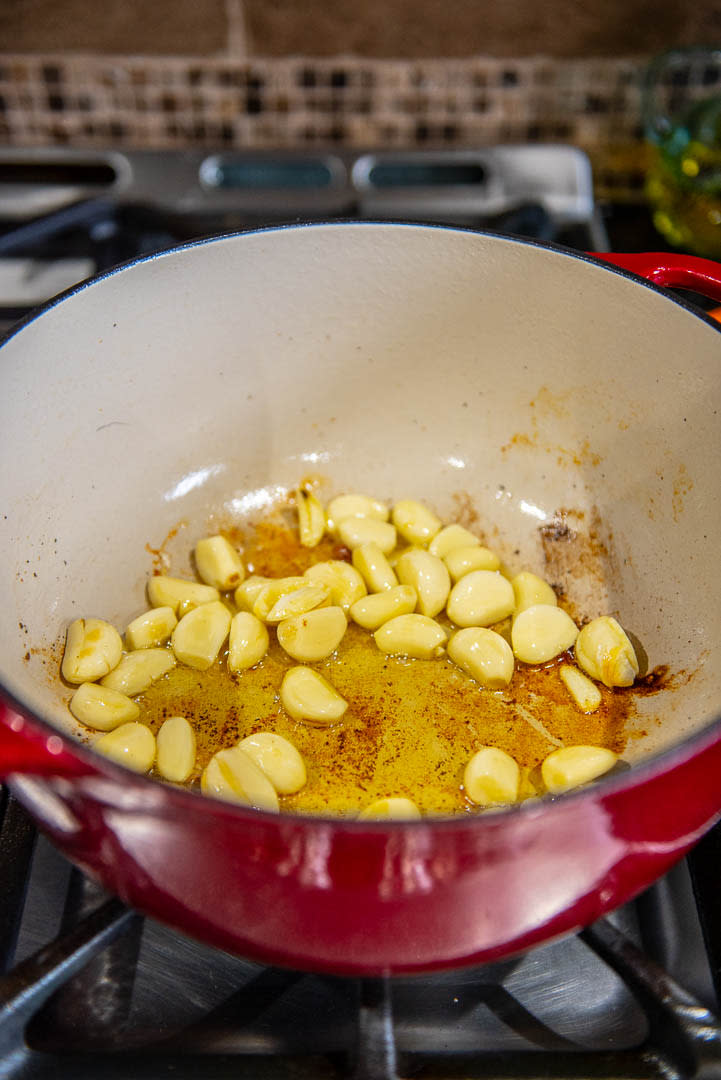 Garlic has long been hailed for its healing powers, especially against infectious diseases like cold and flu, but studies also show that eating garlic can also:
Reduce the risk of heart diseases such as coronary artery disease, heart attack, and stroke.
Assist us in maintaining healthy levels of cholesterol and blood pressure.
Help to protect against cancer, especially cancers of the brain and prostate.
Many people believe that the therapeutic effects of garlic come from sulfur-containing compounds. Those are the very same compounds that give garlic its stinky odor.
So garlic is heart-heathy AND delicious! Enjoy it at every opportunity.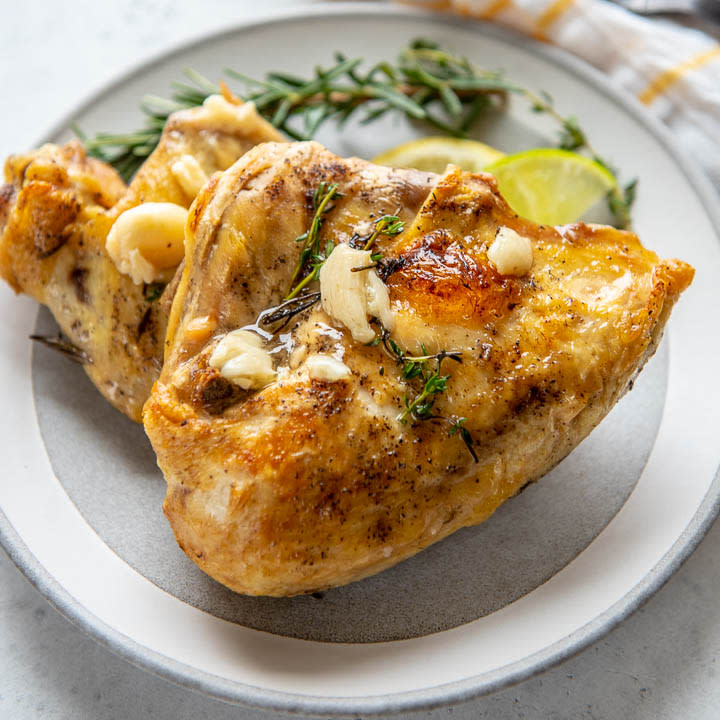 How do you roast a chicken fast?
This recipe is great because it's so quick to make, cooking up in under an hour. Rather than roasting a whole chicken, we use bone-in chicken parts, allowing the chicken to cook faster. If you want to impress your dinner guests, you can roast a whole chicken using the same recipe shown below.
Keep in mind, however, that when making a whole oven roasted chicken, you should place the garlic cloves, herbs, and lemon slices inside the cavity of the chicken.
Want a few more quick chicken dinner ideas?
I hope you enjoy this heart-healthy, garlic herb oven roasted chicken dinner!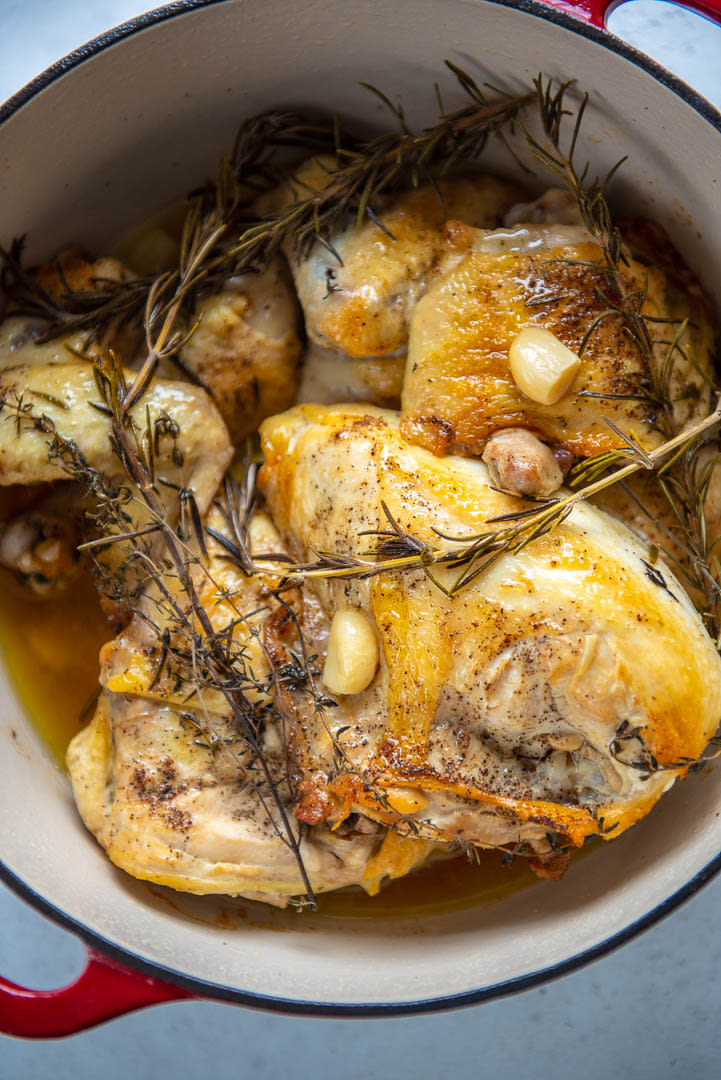 If you plan to make this recipe, will you please leave a comment and rate the recipe, below this post? I appreciate your feedback so much, and your comments will be helpful for other readers to see, too.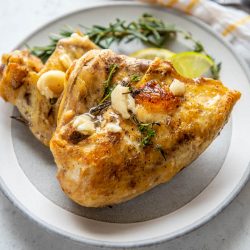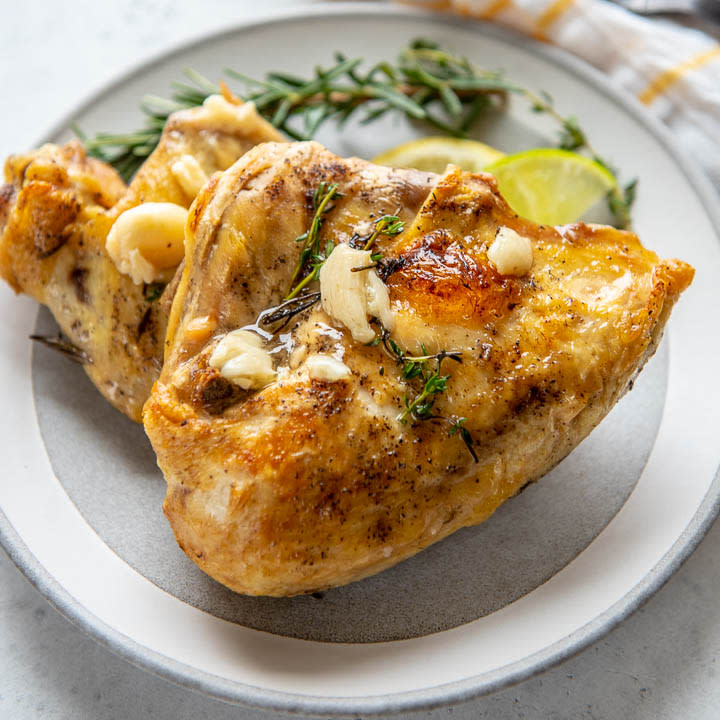 Garlic Herb Oven Roasted Chicken (Heart Healthy Recipe)
Fresh rosemary and thyme, along with 40 cloves of garlic, go into making this oven roasted chicken one of the healthiest, juiciest, and most delicious chicken dinners you'll ever eat!
Ingredients
3

pounds

whole chicken

cut into parts

1

teaspoon

salt

1

teaspoon

freshly ground black pepper

3

Tablespoons

avocado oil

or extra virgin olive oil

40

cloves

fresh garlic

peeled

4

sprigs

fresh rosemary

4

sprigs

fresh thyme

1

large

lemon

cut into slices (about 1/8th inch thick)
Instructions
Heat oven to 350 degrees F.

Pat chicken pieces dry with paper toweling, then season the skin with salt and pepper.

Heat oil in a large, heavy-bottomed pot (such as a Dutch oven) over medium-high heat until it's very hot, but not smoking.

Place chicken pieces skin side down into oil and cook 3-4 minutes, or until chicken releases easily from the pan and is golden brown. You may need to do this in batches so as not to overcrowd the chicken.

Transfer browned chicken pieces temporarily to a platter; Reduce burner heat to medium and add garlic cloves to the pan. Cook 2-3 minutes, stirring occasionally to prevent garlic from burning.

Turn off burner heat and place chicken pieces skin side up on top of the garlic. Place sprigs of rosemary and thyme and slices of lemon on and around the chicken, cover the pot with a lid and place onto the middle rack of the hot oven.

Cook for 40 minutes, or until cooking thermometer inserted into the thickest part of a breast reads 163 degrees F. Remove pot from the oven and transfer the chicken pieces and garlic cloves to a serving platter. Tent platter with aluminum foil and allow the chicken to rest for 5-10 minutes before serving.
Nutrition
Serving:
2
pices
Calories:
498
kcal
Carbohydrates:
13
g
Protein:
32
g
Fat:
35
g
Saturated Fat:
8
g
Cholesterol:
122
mg
Sodium:
701
mg
Potassium:
466
mg
Fiber:
1
g
Vitamin A:
275
IU
Vitamin C:
27.9
mg
Calcium:
83
mg
Iron:
2.4
mg