Bacon Wrapped Chicken Roll Ups
Chicken roll ups are an easy dinner idea made with boneless chicken breasts. This Bacon wrapped chicken roll ups recipe is a family favorite! Chicken stuffed with cream cheese and spinach, then wrapped with bacon and oven baked until the bacon is crispy and the chicken is juicy. Chicken bundles are a quick and easy low carb dinner recipe, perfect for weeknights.
One of my wonderful readers requested that I share a budget friendly chicken recipe that is very easy to make, using 5 ingredients or less. Ask and you shall receive, my friend!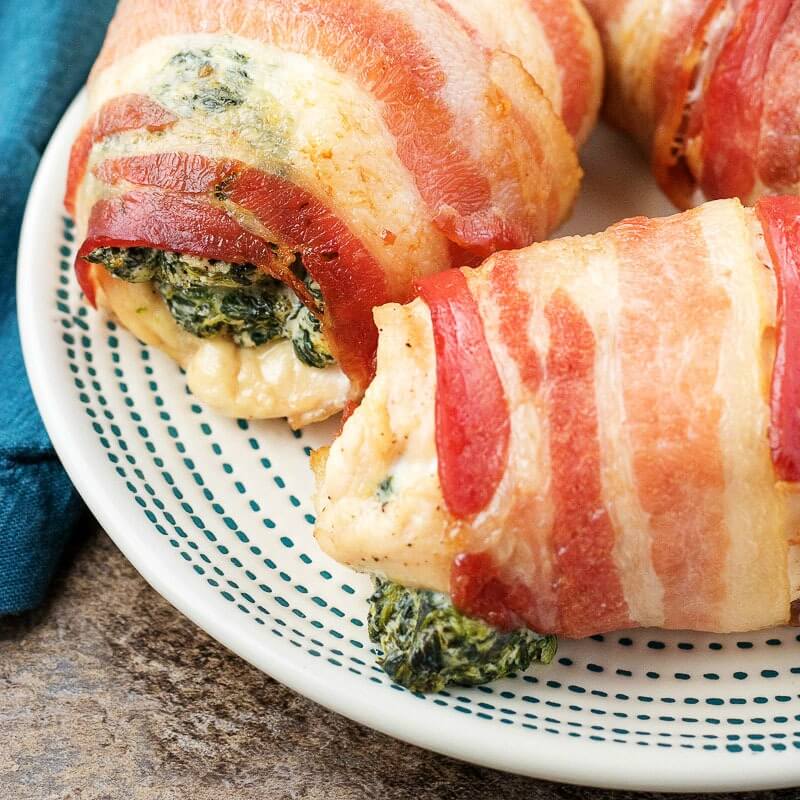 Bacon Wrapped Chicken Roll Ups Recipe Notes
I love this bacon wrapped chicken recipe on multiple levels.
First, and of utmost importance, it includes BACON.
Ohhhh, bacon, you fat-laden pork product… I adore you. Salty bacon adds great flavor to otherwise bland chicken breasts, and bacon grease adds flavor, while also helping to keep the chicken moist.
RECIPE NOTE: I use thin cut bacon when preparing the chicken roll ups recipe. This is because the short cooking time of the chicken bundles doesn't give thick cut bacon enough time to render down and become crispy.
Let's not forget the CHEESE, either.
Because it melts so well, CREAM CHEESE is one of my favorite things to add to stuffed chicken breast recipes. If you're not a fan of cream cheese stuffed chicken, you can use any type of soft, meltable cheese you like inside of the chicken roll ups. Provolone, farmer's cheese, or mozzarella would be great choices!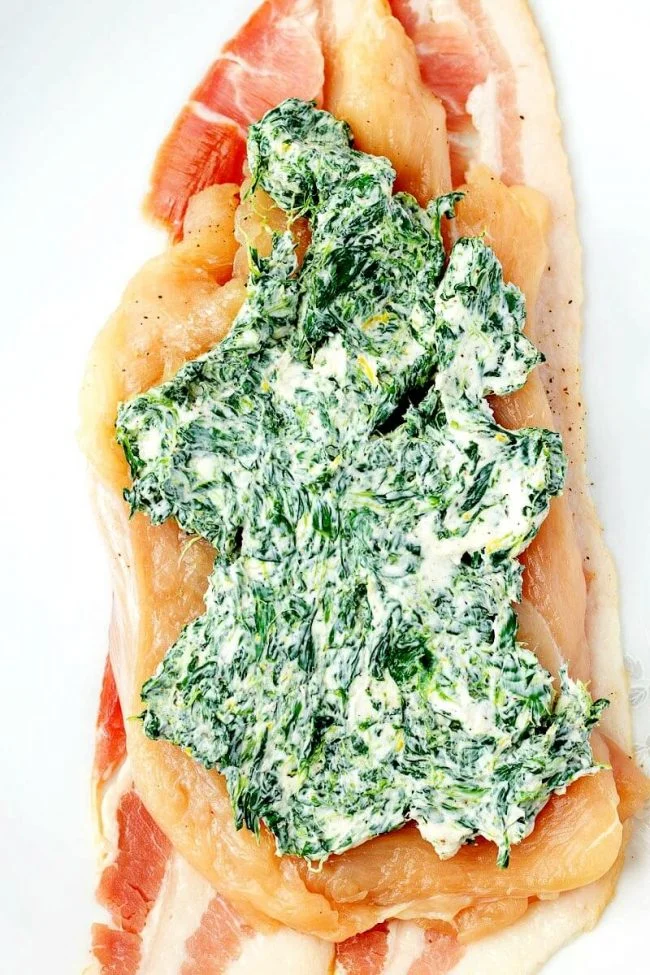 Healthy Ingredients
On its own, this is a quick and easy low carb dinner recipe. But if you don't follow a low carb lifestyle, place the high fat ingredients aside for a moment, because this easy chicken roll ups also include some good-for-you healthiness. How's that, you say?
Let's start with lean, WHITE MEAT CHICKEN.
Chicken is healthy and delicious, but if you don't care for it, keep reading. Further down in this post are suggestions for alternative proteins.
Packed with iron and antioxidants, it's one of the healthiest veggies around, especially for me. I admit, I never learned to appreciate and love the taste of spinach until I was diagnosed with anemia. I hated the taste of it, but then a genius decided to cover it with artichoke hearts, Bechamel sauce, and lots of ooey, gooey, Parmesan cheese, in the form of spinach artichoke dip. Once that happened, I knew that there were redeeming qualities in it that could no longer be overlooked!
Truthfully, it's all in the cooking process. There's not much more unappetizing than overcooked veggies, and spinach is VERY easy to overcook. It requires barely more than 2 minutes in a steam bath to look and taste wonderful. Trust me on this. Try my Steakhouse Style Creamed Spinach recipe alongside a mustard peppercorn rubbed rib eye. You won't regret it!
RECIPE NOTE: For convenience purposes, this bacon wrapped chicken recipe uses frozen spinach. Just place the frozen spinach into a colander to drain, then squeeze as much water as you can from it. I usually wrap it in a few sheets of paper towel to help wring out any excess moisture. If you prefer to use fresh spinach leaves, you will want to steam them first, then squeeze to remove any excess water.
If you have spinach haters in your family, the chicken roll ups also taste delicious stuffed with finely chopped broccoli.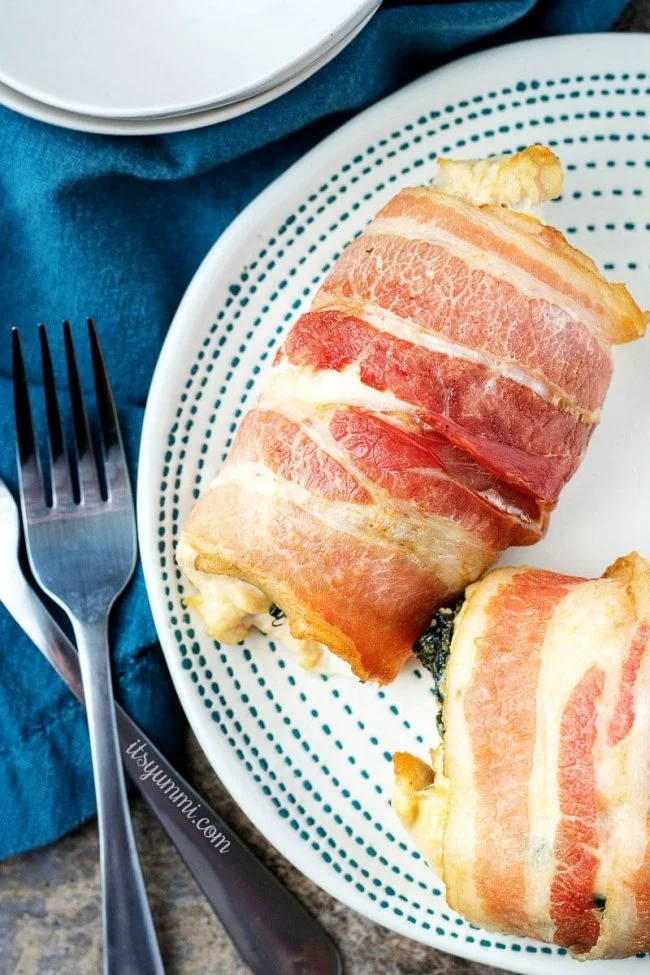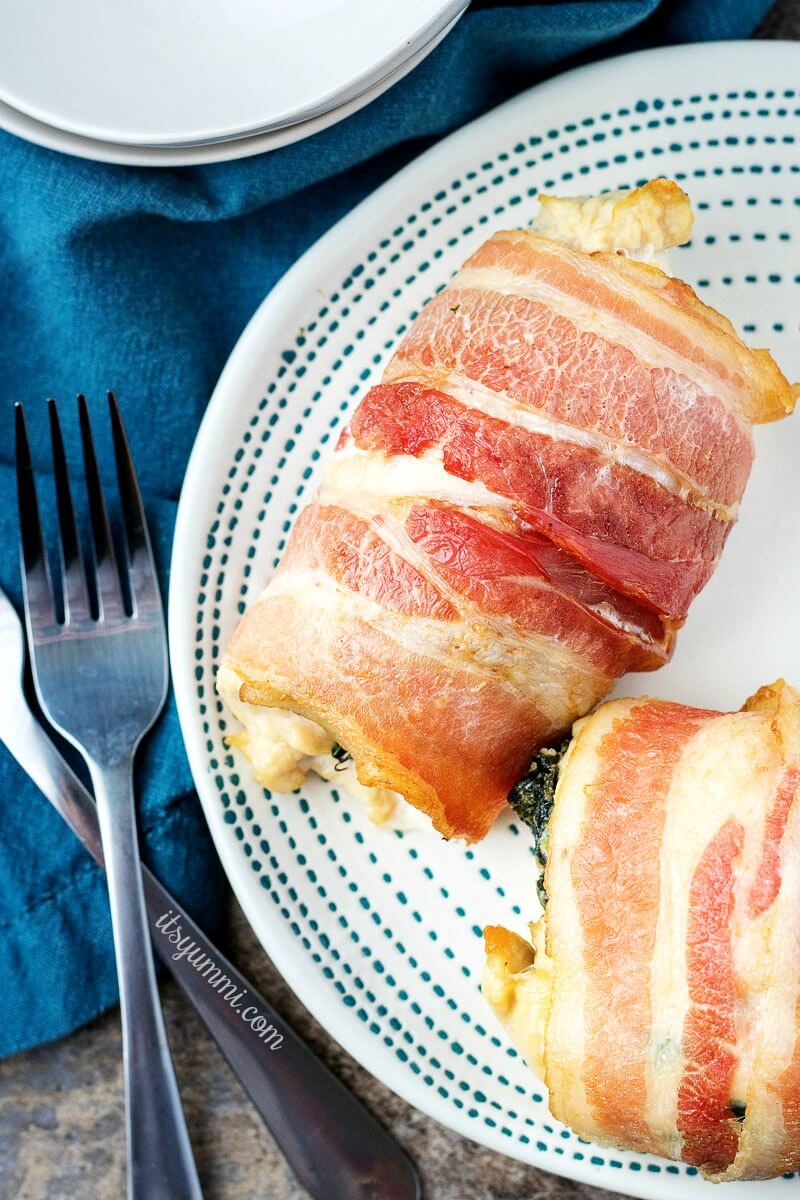 Chicken Roll Ups Ingredients
Minimal ingredients, quick cook time, and this low carb 30 minute meal is budget friendly, too. Check coupons.com or your Sunday newspaper and there are usually coupons available for bacon and cream cheese.
boneless skinless chicken breasts
bacon – I suggest using thin sliced bacon rather than thick-cut. The cook time for this recipe isn't long enough to get thick cut bacon crispy. If you really want to use thick cut, I would partially cook it in a frying pan before wrapping the chicken with it.
spinach – You can use fresh baby spinach, chopped up regular spinach leaves, or thawed and drained frozen spinach.
cream cheese – I use light cream cheese to keep the calories and fat low. Any variety of cream cheese can be used.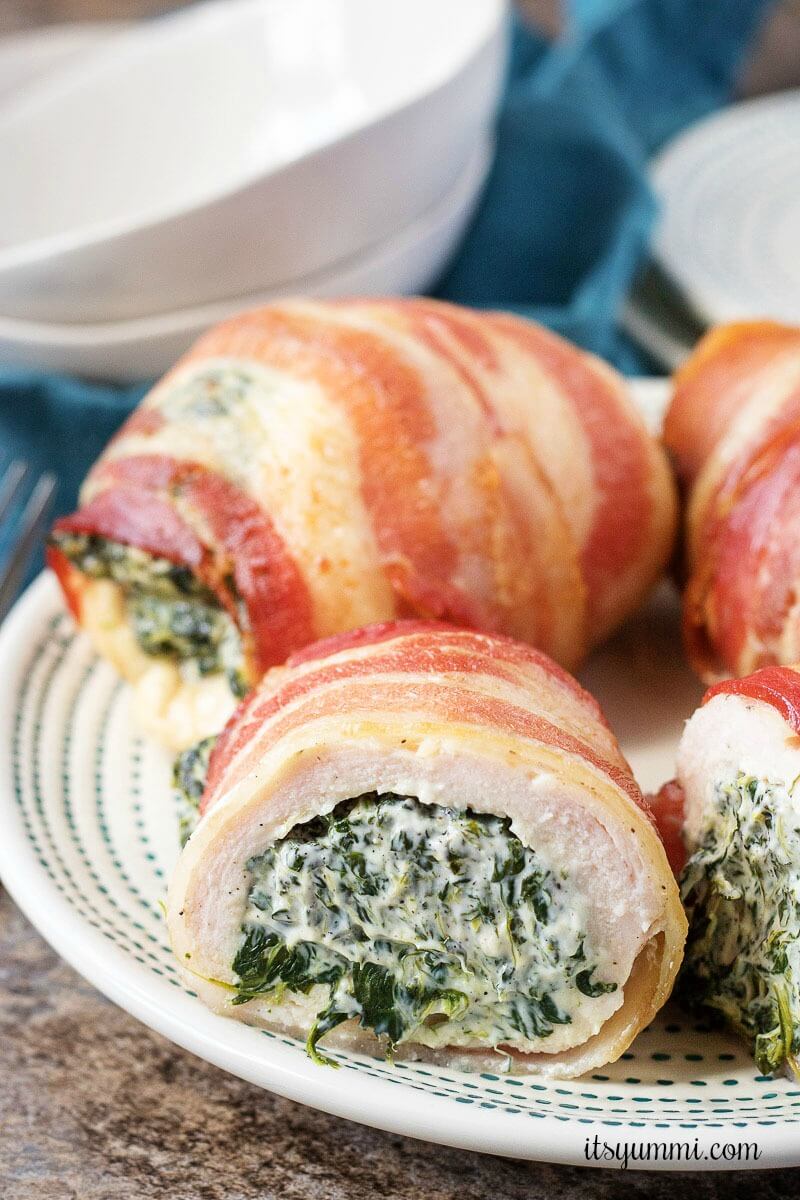 Beyond the Chicken Roll Ups:
Roll up recipes are fun to make, and there are so many ways to create delicious bundles. A few ideas include:
How to Make Bacon Wrapped Chicken Roll Ups
When you make this recipe, will you please do me a favor? I want to hear about and/or see a photo! Ways you can share the love:
Instagram – Post a photo on Instagram and tag @itsyummi
Facebook – Leave a comment and/or post a photo on the It's Yummi Facebook Page
Rate the Recipe – Leave a comment below this recipe post and when you do, you'll see an option to rate the recipe. It is SO helpful for other readers to see notes on how the recipe worked for you!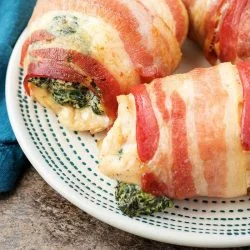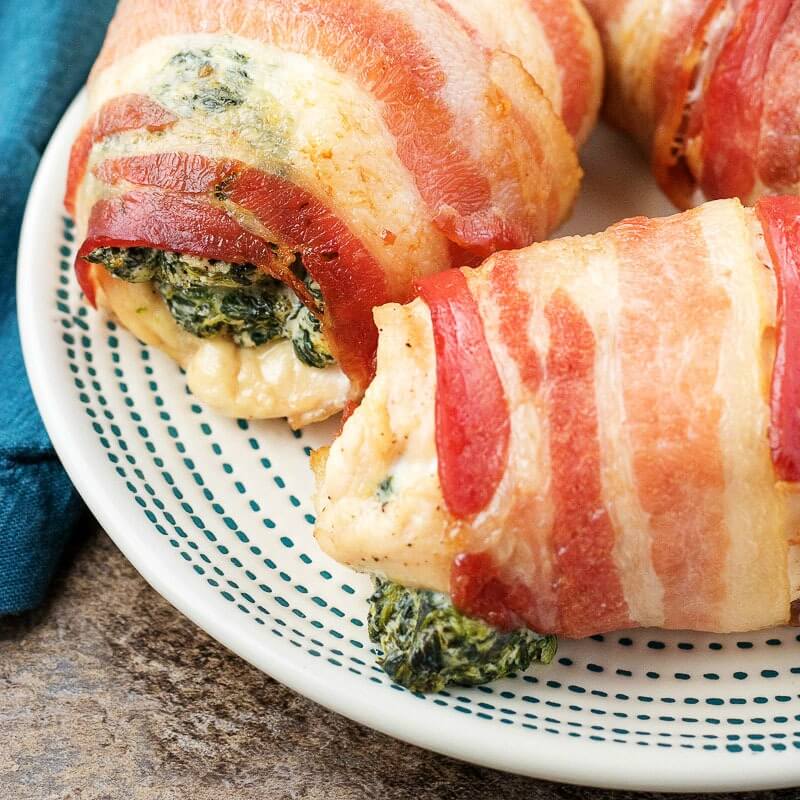 Bacon Wrapped Chicken Roll Ups (Low Carb)
Boneless skinless chicken breasts stuffed with cream cheese and spinach, then rolled up, wrapped with bacon and baked up for an easy low carb, healthy weeknight dinner!
Ingredients
4

boneless skinless chicken breasts

8

oz

cream cheese

(see notes)

8

slices

bacon

(see notes)

4

oz

frozen spinach

thawed and well drained

1

teaspoon

lemon zest

1

teaspoon

lemon juice

½

teaspoon

salt

1

teaspoon

black pepper
Instructions
Place chicken breasts, one at a time, between two pieces of plastic wrap and use the flat side of a meat mallet to pound them flat.

In a small bowl, combine cream cheese, spinach, lemon zest, lemon juice, salt, and black pepper.

Depending on the size of the chicken breasts, place 3-4 tablespoons of the mixture in the center of each chicken breast, then spread filling out and roll chicken into a bundle, starting with the short end. Leave some space around the outer edges of the chicken so the filling doesn't ooze out.

Wrap two pieces of bacon around each breast and use toothpicks to hold the bacon ends together.

Place into a greased casserole dish and bake at 375 degrees F for 35 minutes, or until a cooking thermometer shows the internal temperature of the chicken to be 163 degrees F (proper cooking temperature for poultry is 165 degrees F, but there will be "carryover cooking" after the dish is removed from the oven.
Notes
* Cut down on the calories and fat by using light or fat free cream cheese.
** Use thin cut bacon. Thick cut doesn't work well, because it doesn't have enough time to get crispy in the oven.
Nutrition
Serving:
1
g
Calories:
516
kcal
Carbohydrates:
4
g
Protein:
34
g
Fat:
39
g
Saturated Fat:
17
g
Cholesterol:
163
mg
Sodium:
916
mg
Potassium:
681
mg
Sugar:
2
g
Vitamin A:
4135
IU
Vitamin C:
4
mg
Calcium:
98
mg
Iron:
1.4
mg