Lightened Up Banana Split Cake Roll
This banana split cake roll recipe is from The Better Homes and Gardens cookbook, Skinny Dinners. With just 168 calories per slice of banana split cake roll, this is a guilt free dessert recipe you will crave! It's a Weight Watchers Freestyle friendly recipe too, with only 1 Weight Watchers Freestyle point per slice!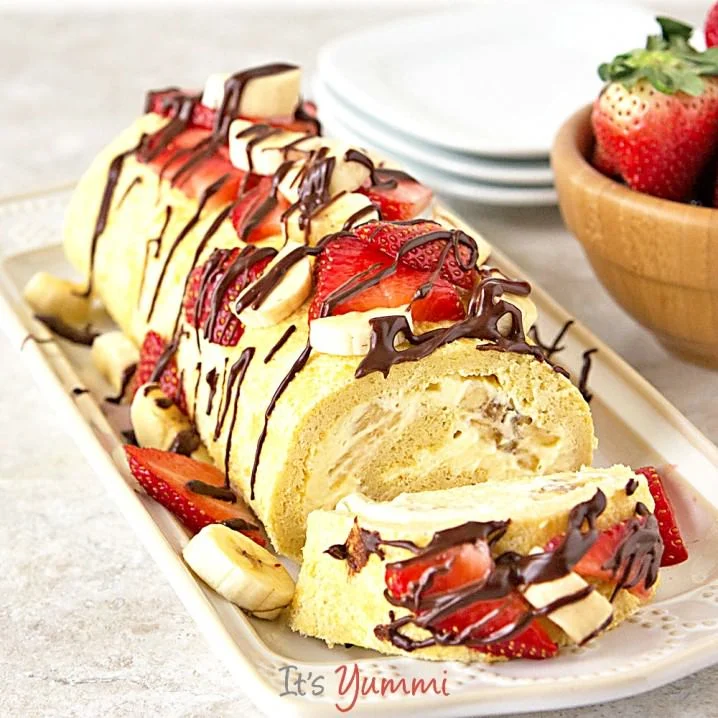 If you've been around this blog for a while, you know how much I adore healthier desserts. But when I'm trying to keep the calorie count down, I don't want a dense piece of cardboard-like cake. I need something that'll make me feel like I'm indulging and being a little bit naughty. This banana split cake fits that bill. Perfectly, I might add.
How can you possibly go wrong with a light vanilla sponge cake that's been filled with fluffy, sugar-free whipped cream, sugar-free vanilla pudding, and sliced fresh fruit, then rolled up and drizzled with chocolate ganache?
I remember feeling a similar euphoria when I made low carb raspberry cheesecake bites over the summer. Any time I can have the taste of a fully loaded dessert without standing on the scale in terror and tears the next day, I'm a happy girl.
I've always been a fan of the Better Homes and Gardens cookbooks, but admittedly, I usually have to add a little bit of "this or that" to make the recipe really shine. Usually, but not always. This is one of those "skinny" cake recipes that needed no tweaking whatsoever!
The only substitutions to the banana split cake roll recipe that I made were minor, and they were only made because I'm trying to avoid the use of processed ingredients if I can help it.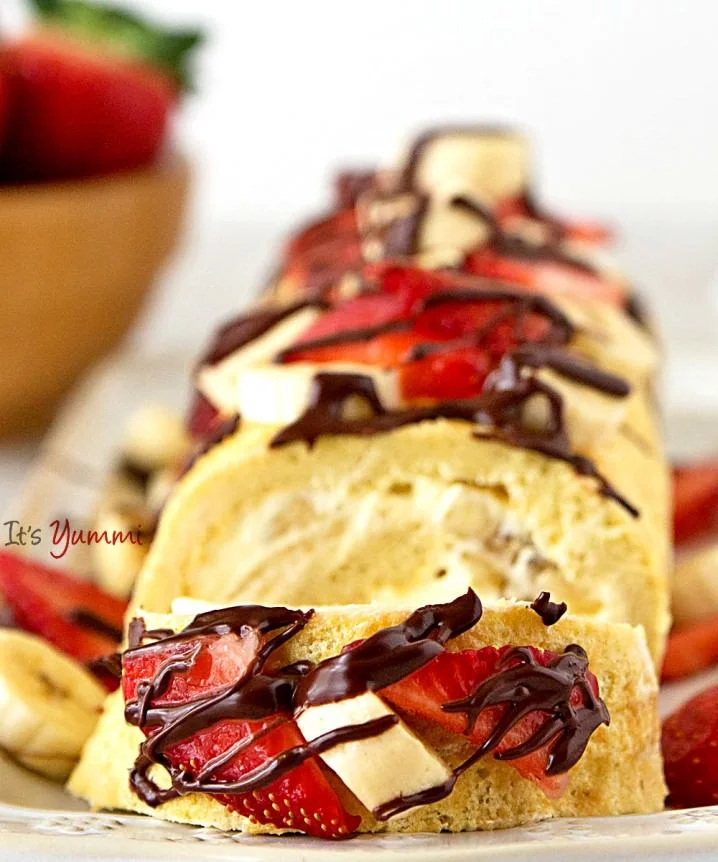 Recipe Notes: Banana Split Cake Roll:
** I made a batch of fresh, sugar-free whipped cream instead of using processed sugar-free whipped topping. Making your own whipped cream is as simple as placing very cold heavy whipping cream into a very cold mixing bowl and whipping it with an electric mixer on high speed until heavy, stiff peaks form. It takes about 2 minutes or so. To help the cream whip up, I place it into a stainless steel mixing bowl and toss the whole thing in the freezer for a couple of minutes before whipping.
** I used a non-GMO, low glycemic sugar substitute (Erythritol) instead of the granulated sugar called for in the recipe. Not only does that remove a few more calories in the recipe, it also makes this dessert safer for people with blood sugar issues. *NOTE: This recipe still has natural sugars in it, and there are other sugar substitutes in the pudding mix that aren't low glycemic, so if you have a condition such as diabetes, please know that you'll need to follow your doctor's orders for eating lightened up cake recipes like this one.
I really say enough good things about Erythritol, though. It doesn't have an after taste like some other artificial sugars do, it's not nearly as expensive as some of the sweeteners out there, and it caramelizes (browns), so when I bake with it, my muffins and cookies get that nice golden color that they're supposed to get.
** Instead of using sugar-free chocolate syrup, I just made a batch of 3-ingredient sugar-free chocolate ganache to drizzle over the top of the cake.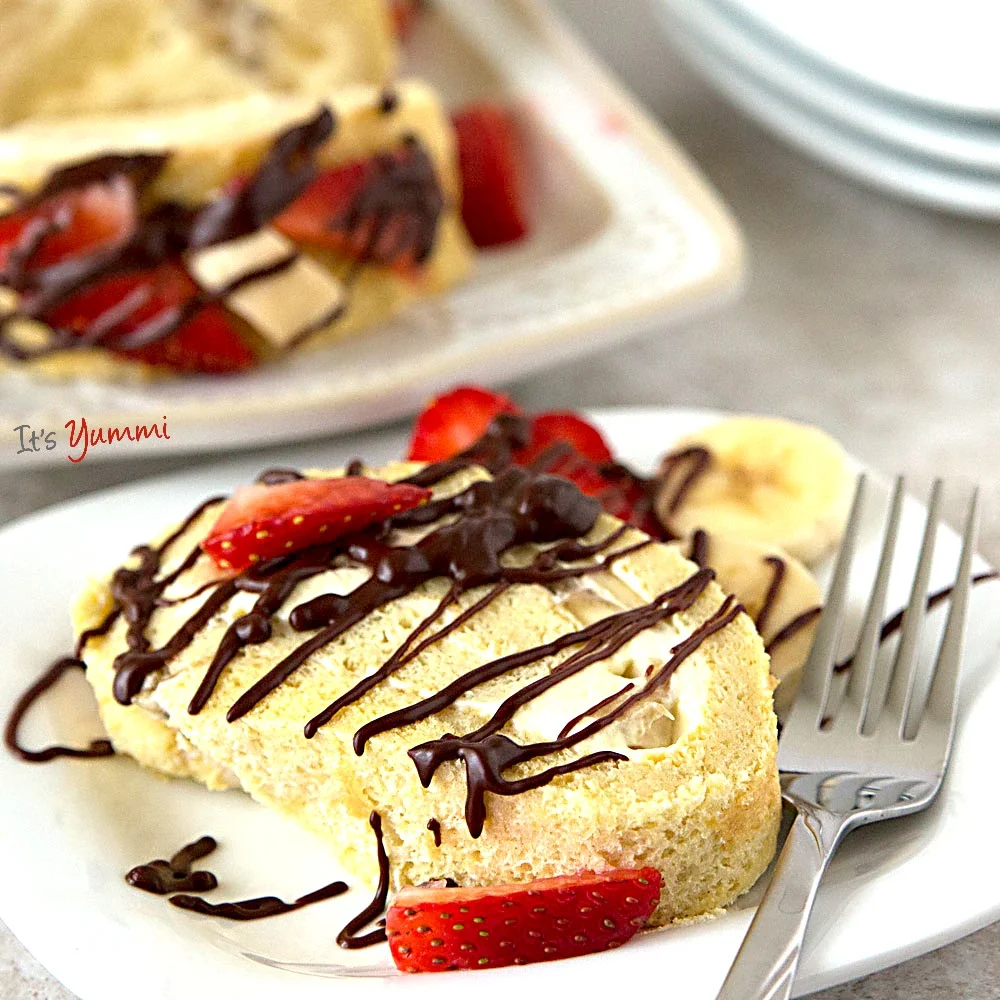 Lightened Up Banana Split Cake Roll
Light vanilla sponge cake is rolled up with a filling of sugar-free vanilla pudding, whipped cream, and sliced bananas and strawberries, then drizzled with bittersweet chocolate ganache.
Ingredients
5

egg whites

3

egg yolks

Nonstick cooking spray

½

cup

sifted cake flour

1

teaspoon

baking powder

¼

teaspoon

salt

2

teaspoons

pure vanilla extract (I substituted 1 teaspoon of Nielsen-Massey vanilla bean paste for a more intense vanilla flavor)

½

cup

granulated sugar (I used Erythritol )

1 ½

cups

fat-free milk

1 4-

serving-size package fat-free sugar-free reduced-calorie vanilla instant pudding mix

1

cup

sugar-free whipped dessert topping (I made my own whipped cream)

2

medium bananas

sliced

4-6

large fresh strawberries

sliced

2

tablespoons

unsweetened chocolate ganache or sugar-free chocolate-flavor syrup
Instructions
For cake

Place egg whites in a large bowl and egg yolks in a medium bowl; let stand at room temperature for 30 minutes. Meanwhile, coat a 15x10x1-inch baking pan with cooking spray. Line bottom of pan with parchment paper. Coat parchment paper with cooking spray; set aside. In a small bowl stir together cake flour, baking powder, and salt; set aside.

Heat oven to 350 degrees F. Add vanilla to egg yolks; beat with an electric mixer on high speed about 5 minutes or until thick and lemon colored. Gradually beat in 1/4 cup of the sugar, beating on high speed until sugar is almost dissolved. Sprinkle flour mixture over egg yolk mixture; use a spoon or mixing spatula to gently fold in the flour, just until combined. Thoroughly wash beaters. Beat egg whites in a very clean bowl with an electric mixer on medium speed until soft peaks form (tips curl). Gradually beat in the remaining 1/4 cup sugar, beating until stiff peaks form (tips stand straight). Fold 1/2 cup of the beaten egg whites into the egg yolk mixture to lighten. Fold in the remaining egg whites. Spread batter evenly in prepared pan.

Bake about 12 minutes or until cake springs back when lightly touched. Immediately loosen edges of cake from pan; turn cake out onto a clean, lint free dish towel (I use flour sack towels ). Remove parchment paper. Starting from a short side, roll towel and cake into a spiral. Cool on a wire rack.

For filling, in a medium bowl whisk together milk and pudding mix just until thickened. Fold in whipped topping. Cover and chill for at least 1 hour.

Unroll cooled cake; remove towel. Spread filling to within 1 inch of edges. Thinly slice one of the bananas over the filling. Roll up cake. Cover and chill for at least 2 hours or up to 8 hours. To serve, thinly slice the remaining banana. Top cake roll with sliced banana and sliced strawberries. Drizzle with chocolate, slice and serve.
Notes
Nutritional information shown is as written if using the recipe directly as written in the cookbook, without my ingredient substitutions. My adapted version is lower in sugar and calories because of the use of Erythritol instead of granulated sugar.
This recipe was reproduced with permission from Better Homes and Gardens via their publisher, Houghton-Mifflin Harcourt. I was provided with a free copy of the cookbook for my review purposes, but was under no obligation to create this recipe or to post about the book.
Nutrition
Calories:
1615
kcal
Carbohydrates:
275
g
Protein:
45
g
Fat:
39
g
Saturated Fat:
14
g
Cholesterol:
491
mg
Sodium:
1834
mg
Fiber:
9
g
Sugar:
182
g
This banana split cake roll recipe was reproduced with permission from Better Homes and Gardens via their publisher, Houghton-Mifflin Harcourt. I was provided with a free copy of the cookbook for review purposes, but I was under no obligation to create this recipe or to post about the book.