How to Make Chocolate Ganache without Heavy Cream
Learning how to make chocolate ganache without heavy cream is possible! You can make a delicious chocolate ganache with milk. Watch our how-to video tutorial and grab the recipe below.

Can you make chocolate ganache without cream?
A few days ago, I was putting together a cake roll and I wanted to drizzle chocolate ganache over the top of it.
I gathered bittersweet chocolate, walked over to the fridge to grab the butter and cream, and my dream of a smooth, velvety chocolate waterfall was dashed. I was completely out of heavy whipping cream.
Traditional chocolate ganache is made with equal parts melted chocolate and heavy cream, but it doesn't have to be made that way.
If you ever want to jazz up a dessert with a layer of decadent chocolate ganache, but you don't have heavy whipping cream in the fridge, don't panic! With just 3 simple ingredients that you probably have in your kitchen at this very moment, you can make your very own chocolate ganache without cream.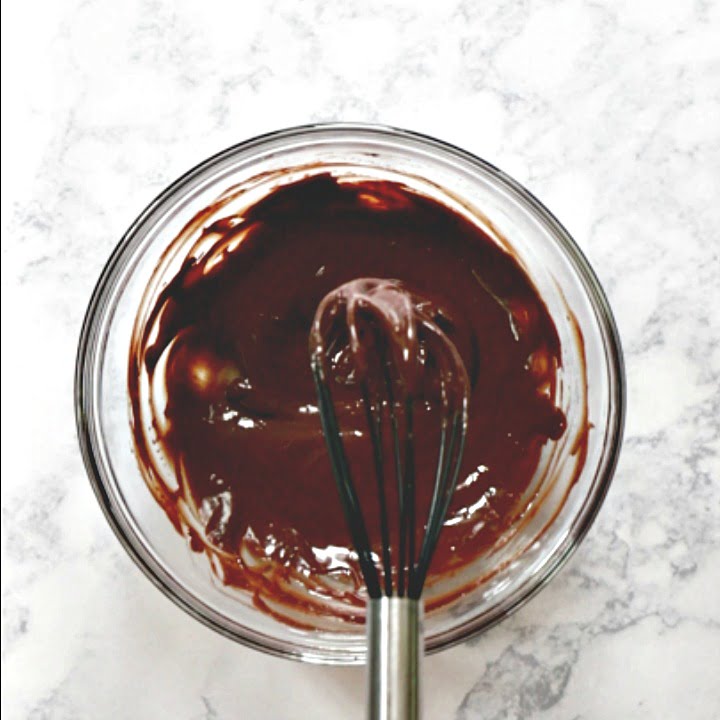 Making a chocolate ganache with milk
The price of cream is expensive, so I didn't want to spend the money to buy it. I was feeling discouraged until I used my brain and realized that heavy cream is just milk with a higher percentage of butterfat in it. By using whole milk with butter added to it, a homemade version of heavy cream is created.
After I make homemade cream, I add it to melted chocolate to make chocolate ganache without heavy cream!
My culinary education is paying off! Woot woot!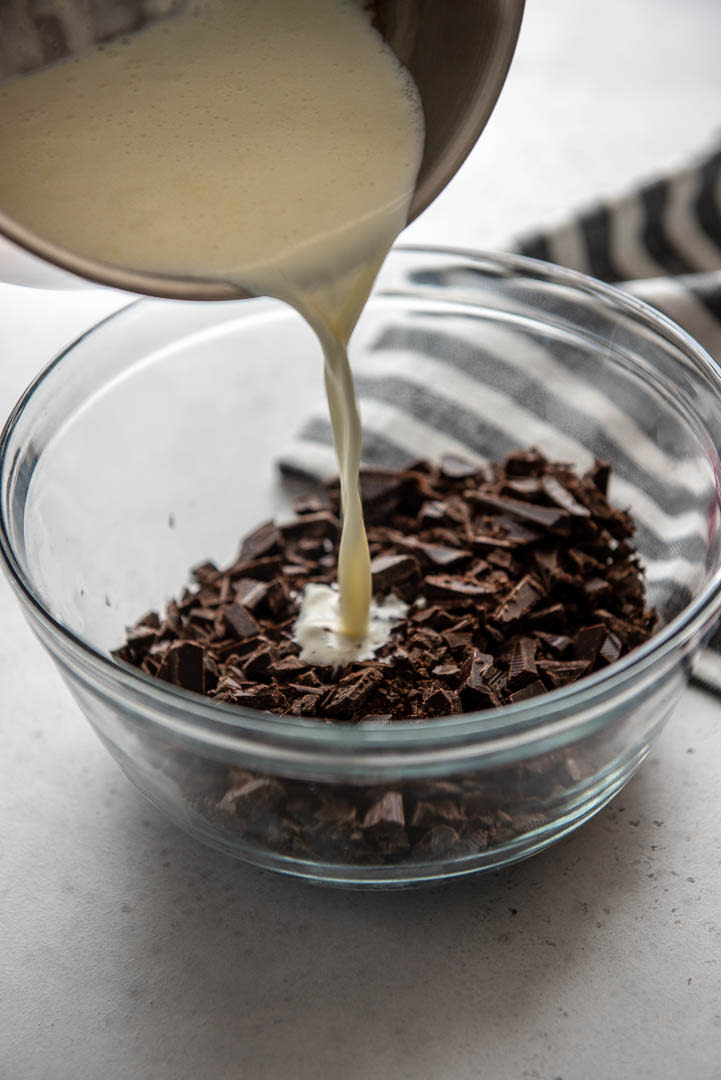 How to make a chocolate ganache without heavy cream
Learning how to make chocolate ganache with milk is really simple. There are just two little things that are important to remember for the process:
Chop or grate your chocolate into very small pieces.
If you skip this step, your chocolate will take too long to melt, and/or your butter and milk solution will get too cold, causing the chocolate to stop melting completely.
If that happens, don't panic, it's not the end of the world. You'll have to re-heat everything over a double boiler. To avoid that problem, chop or grate the chocolate as finely as you can so it'll melt quickly and smoothly for you.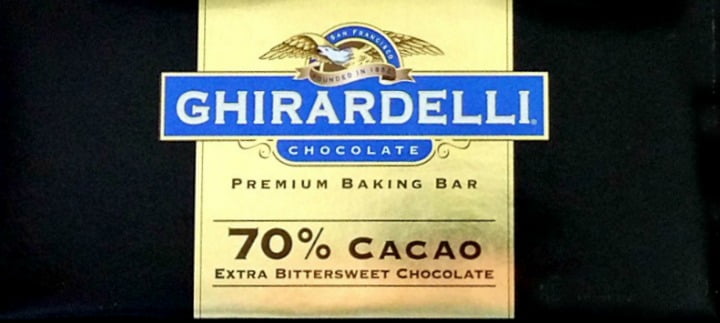 For the smoothest chocolate ganache, use high-quality chocolate.
I'm on a tight grocery budget, but when it comes to the taste and texture of chocolate, I spare no expense. You definitely get what you pay for.
I use bittersweet chocolate in most of my baked goods, mainly to keep the sugar content down, but also because I prefer the deeper flavor that dark chocolate brings.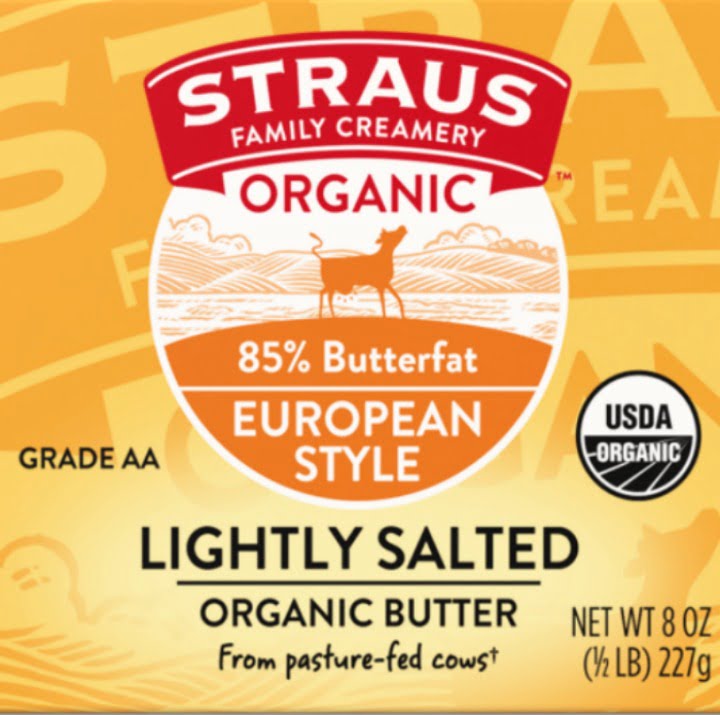 Splurge on the purchase of the butter, buying a brand with a high percentage of butterfat.
At roughly 3 bucks a pound, it's not inexpensive, but spending an extra dollar per pound will get you great quality, high-fat butter.
American butter has more water in it than European butter does, so I spend my money on the European stuff. It makes baked goods tastier and frosting creamier. Look for a brand with at least 83 percent butterfat, and buy organic butter if you can afford it. The cows feed on grass instead of corn by-products.
Oh, and let's not forget about how amazing real organic butter tastes in the creamy mashed potatoes!
Does chocolate ganache have to be made with dark chocolate?
No, not at all!
Ganache can be made using:
milk chocolate
semi-sweet chocolate
bittersweet chocolate
white chocolate
The important thing is to use real chocolate and not hydrogenated, oily, pretend chocolate.
However, the lighter the chocolate, the more butterfat it has in it, so you may need to add more milk to achieve a perfect chocolate ganache without heavy cream.
Finished chocolate ganache is very glossy in appearance and completely liquid. The higher the butterfat content, the less glossy the chocolate ganache will appear.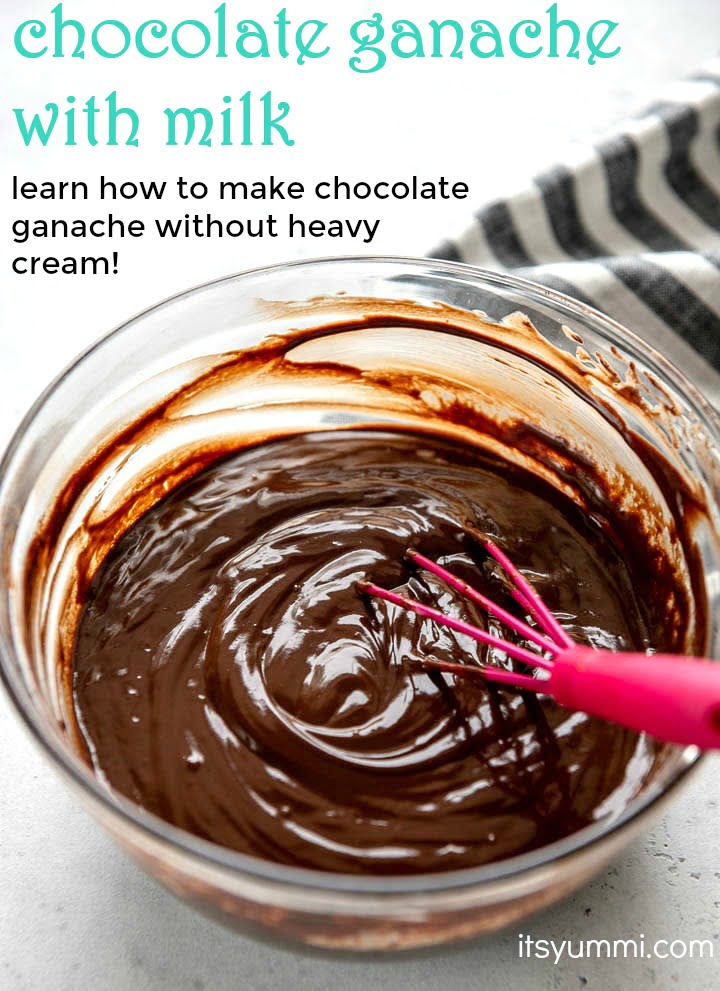 How to Make Chocolate Ganache without Cream (VIDEO)
Watch this quick, one-minute video tutorial to see just how easy it is to make chocolate ganache without heavy cream. Scroll down below the video to get a printable recipe and instructions.
Can I use chocolate ganache with milk to make frosting?
To thicken ganache enough to use it as chocolate ganache icing, place it into a refrigerator to chill and set more quickly. Or, simply leave it to sit at room temperature for an hour or so.
Either way, stir it every 10 minutes or so, until it thickens to the consistency that you want it to be. After it cools completely, the ganache should be thick and almost solid on the top, but soft in the center.
At that point, you will use an electric hand mixer or stand mixer with a whip attachment to beat air into the chocolate ganache.
It may take up to 10 minutes before you see the mixture changing, but then it will become light and fluffy chocolate ganache frosting!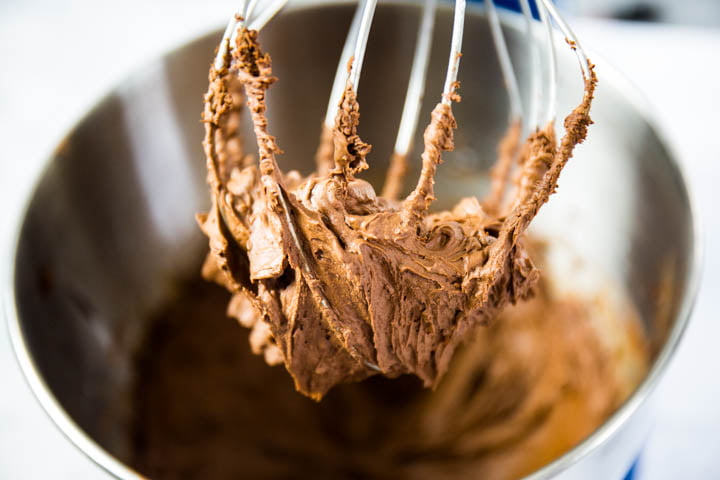 Ways to use Chocolate Ganache
You can use chocolate ganache to top cakes, candies, cookies, or even use it as a fruit dip or drizzle it over ice cream.
Now that you know how to make chocolate ganache without heavy cream, it's time to whip up a batch!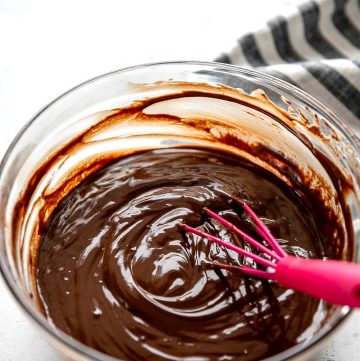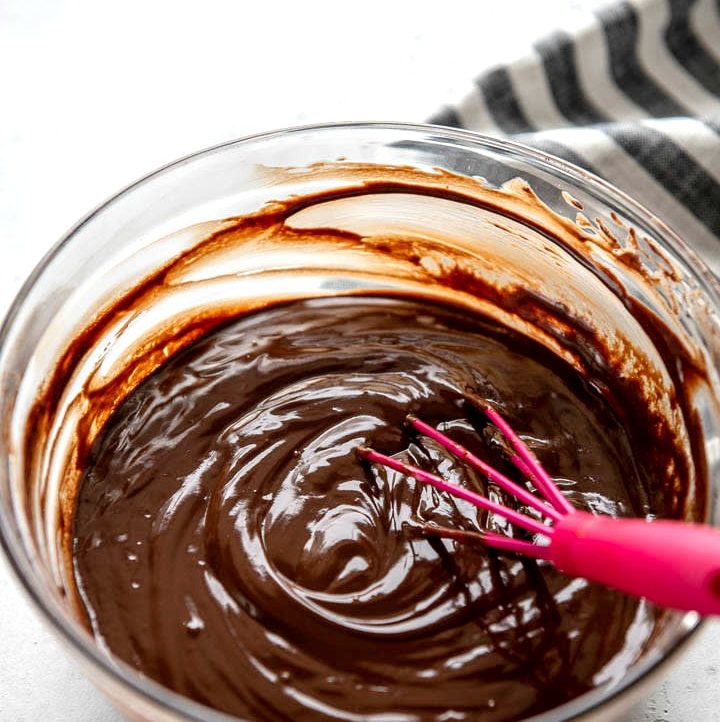 How to Make Chocolate Ganache without Heavy Cream
Learn how to make chocolate ganache without cream! Make your chocolate ganache with milk instead. 3 simple ingredients! Learn how to make frosting with ganache, too!
This recipe yields 1/2 cup of chocolate ganache.
Ingredients
2

Tablespoons

unsalted butter

softened

¼

cup

whole milk

2% and sweetened condensed milk will also work

4

ounces

bittersweet chocolate

finely chopped or grated
Instructions
Place chopped or grated chocolate into a medium-sized, heatproof bowl and set aside.

Place milk and butter into a small saucepan over medium heat. Cook 2-3 minutes, stirring occasionally, until butter has melted completely. Increase heat to medium-high and allow mixture to cook another couple of minutes until you see tiny bubbles around the edge of the saucepan. Do not allow the milk to boil or it will burn.

Pour the hot milk into the bowl of chocolate and allow it to sit for 5 minutes, then stir until the chocolate has completely melted and the mixture is glossy and smooth.

Use as is for a simple dessert topping over cake, ice cream, or cookies. For a thicker chocolate ganache, allow it to set room temperature for about an hour, stirring every 10 minutes. It will set up more quickly if it is refrigerated.
Notes
This recipe yields 1/2 cup of chocolate ganache without cream.
Nutrition
Serving:
1
g
Calories:
894
kcal
Carbohydrates:
62
g
Protein:
9
g
Fat:
68
g
Saturated Fat:
40
g
Cholesterol:
73
mg
Sodium:
40
mg
Potassium:
723
mg
Fiber:
9
g
Sugar:
44
g
Vitamin A:
855
IU
Calcium:
139
mg
Iron:
7.2
mg