Mission BBQ Catering Menu & Price [Updated: September 2023]
Mission BBQ catering is the perfect catering option for any meat lover! The catering menu offers two main options: choose a party pack or choose from the Meat Market/Smokehouse signatures and add Sides/Bakery.
The Party pack contains 2 or 3 meats, up to 3 sides, one bakery, and sauces.
The quantity is adapted to the number of guests, starting from 10, 20, and up to 50 people.
In an office meeting, you can also build a lunch box for the whole crew!
When ordering a party pack, there are 7 meat types, each of them cooked uniquely, 5 types of sides, 4 options of heavenly bakery items, and 10 different sauces to choose from.
If you opt to order from the smokehouse, more delicious food items are available.
These are chicken, salmon, BAY-b-Back Ribs, and Spare Ribs.
"Check out other catering restaurants and services."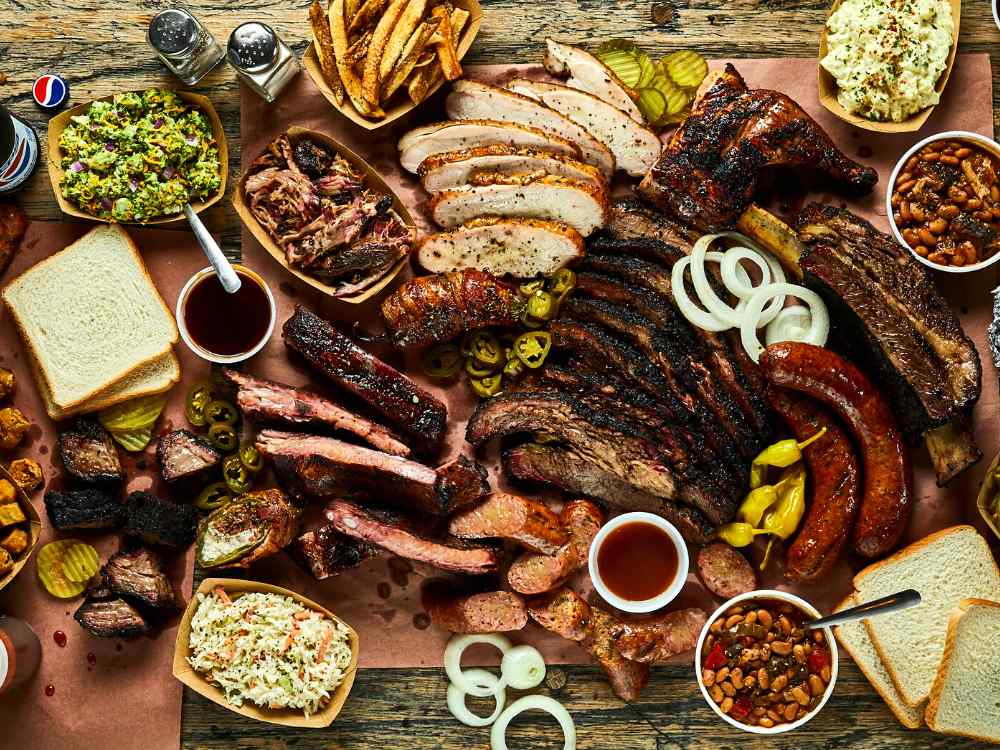 Mission BBQ Catering Party Packs Menu
Options
Items
Price/Pound
Choose 2/3 meats
• Chopped Brisket
• Sliced Brisket
• Pulled Chicken
• Pulled Pork
• Turkey
• Sausage (Classic #41)
• Sausage (Jalapeno/Chz)
$14.94/Person + Tax
Choose 3+ Sides
• Maggie's Mac-N-Cheese
• Green Beans & Bacon
• Baked Beans with Brisket
• Seasonal Side
• Cold Slaw
$14.94/Person + Tax
Choose From The Bakery
• Sliders/Cornbread Combo
• Slider Rolls
• Cornbread
• Buns
$14.94/Person + Tax
Choose Your Sauces
• Smoky Mountain
• Memphis Belle
• KC Classic
• Tupelo Honey Heat
• Bay-B-Que
• Texas Twang
• Carolina Vinegar
• Alabama White
• Craftsman Special
• Georgia Mustard
$14.94/Person + Tax
Serves
Items
Size
10 people
• Smoked Meat
• Bakery
• 3 Qt's of Sides
• Homemade BBQ Sauce
4 lbs
20 people
• Smoked Meat
• Homemade BBQ Sauce
• 6 Qt's of Sides
• Bakery
8 lbs
30 people
• Smoked Meat
• Bakery
• 9 Qt's of Sides
• Homemade BBQ Sauce
12 lbs
40 people
• Smoked Meat
• Homemade BBQ Sauce
• 12 Qt's of Sides
• Bakery
16 lbs
50-50,000 People
You Bet!
Build Your Own Mission BBQ Box Lunches
| | |
| --- | --- |
| Options | Items |
| Option-1 | Includes 1 Sandwich |
| Option-2 | Includes 1 Sandwich, 1 Homemade Side Dish |
| Option-3 | Includes 1 Sandwich, 2 Homemade Side Dishes |
Options
Items
Choose More Than 2 Meat
• Pulled Chicken
• Pulled Pork
• Chopped Brisket
Choose More Than 2 Side
• Maggie's Mac-N-Cheese
• Green Beans & Bacon
• Baked Beans with Brisket
• Cold Slaw
Meat Market Smoked Here – All Day
Menu Name
Price/Pound
Chopped Brisket
Marinated Memphis Belle
$23.58
Brisket
Oak Smoked, Texas Inspired
$25.98
Turkey
Lean & Mean, Sliced
$19.98
Pulled Pork
Hand Pulled, Slow Smoked
$18.78
Sausage
Chz or Classic #41 & Jalapeno
$19.98
Pulled Chicken
Juicy & Tender
$17.98
Mission BBQ Smokehouse Signatures
Menu Name
Price/Pound
Salmon
Moist & Mild, North Atlantic
$13.49
Chicken
Half a Yard Bird
$10.29
Ribs
All Rack
Spare Ribs St. Louis Style
$30.29
Back Ribs BAY-b Tender, Fall off the Bone
$30.99
Sides Made From Scratch
Menu Name
1⁄4 Price
Baked Beans with Brisket
$12.69
Mac-N-Cheese
$12.94
Cold Slaw
Crisp & Creamy
$12.04
Green Beans with Bacon
$12.49
Kettle Chips
$6.84
Salad
Garden Greens
$17.54
Super Seasonal Side
Potato Salad
$13.14
Bakery Menu
Items
Price/Pound
Slider Rolls
$4.99 DZ
Fresh Sandwich (Buns)
$6.99 DZ
Corn Bread
$0.99 EA
Large Brownie & Cookie Tray
Feeds 50+ people
$62.50
Small Brownie & Cookie Tray
Feeds 25+ people
$32.50
Seasonal Sweets
YES
Beverages Ice Cold
Items
Price/Pound
Kettle Brewed Iced Tea
Handmade, Sweet & Unsweetened
$7.50 GAL
Summertime Lemonade
$7.50 GAL
Bottled Classics Old School
$3.44 EA
Bottled H2O
$2.39 EA
Canned Sodas
$1.85 EA
Popular Items on Misson BBQ
Here are the most popular choices, according to clients:
01. Pulled Chicken
Chicken is probably the most popular meat worldwide, but Mission BBQ surely knows how to give a unique American taste.
It's one of the most ordered food dishes, as it combines a delightful taste with great nutritional value.
If bought from the meal market, the Pullet Chicken contains 404 calories per serving, with 53 grams of protein and only 18 grams of total fat.
It's also available in the party pack as a sandwich that offers similar nutritional values.
02. Ribs
As a restaurant that specializes in BBQ, Mission BBQ prepares its ribs in multiple ways: BAY-b-Back 10 Bone/5 Bone or Spare Ribs 10 Bone/5 Bone.
Ribs are included in the Smokehouse section, so they are not available in Party Packs, but can be ordered for catering in high quantities (each serving comes as a full rack).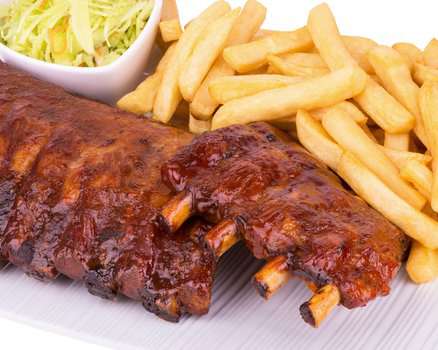 03. Brisket
Brisket is a must-try for any meat lover. Mission BBQ lets their customer select the way their Brisket is going to be prepared: carver's choice, lean or moist.
If bought from the "Meat Market section", there are even 2 combos available: choose 1 or 2 sides and a drink to complete the menu.
04. Maggie's Mac-N-Cheese
Maggie Mac-N-Cheese is the most popular side dish ordered from the Mission BBQ catering menu.
Anyone, child or elder loves this dish, so its popularity is no surprise. There are around 170 grams and 304 in one serving, with a total of 15 grams of protein.
All homemade sides have similar, great prices, so in the end, it's all a matter of taste.
05. Corn Bread
Lastly, let's not forget about the sweet part of the menu. Freshly baked, warm and irresistible, the Corn Bread is surely a crowd's favorite when it comes to bakery food items. It's simple and flavorful, the perfect combo!
Catering Order Process In Details
While a physical or phone order is still possible for Mission BBQ catering, technology has introduced us to a much easier option: online ordering.
If requested, the restaurant can provide an estimated catering cost. This is helpful when it comes to complex, grandiose events like weddings.
Here are some simple steps to request an estimate:
Access the website: https://mission-bbq.com/
Click on the catering menu
Click the orange button with the Inscription: Request estimate. A form will open on the screen
Complete the form with all contact data and info about the event
Wait to receive all the details about the catering cost and services
If you plan on holding a smaller event, like a simple, joyful birthday party, online ordering is the perfect plan.
Here are the steps to place an online catering order:
After accessing the website, click on "Online ordering"
Pick the location that's closest to your home. You can enable your current location for an easier search.
Select your option. A party pack contains either 5 or 10 servings; you can buy as many as possible. Also, you can opt for the meal market/ smokehouse signatures.
Complete the order details and payment method, then pick up your BBQ
Our Review About Mission BBQ
Mission BBQ is a restaurant that prides itself on its patriotic love and authentic American taste.
The name suggests it: the owners are on a mission to serve everyone who sacrifices their time to serve their country.
With a large chain of BBQ locations opened and great success in today's catering world, it's surprising that the restaurant started only 11 years ago, in 2011, with two friends with a passion for BBQ and America.
Expanding and spreading its message all around the United States, Mission BBQ reminds its customers to give back to their heroes.
The "Giving back" section of their page contains numerous descriptions of fundraising associations and national organizations that are worth anyone's attention.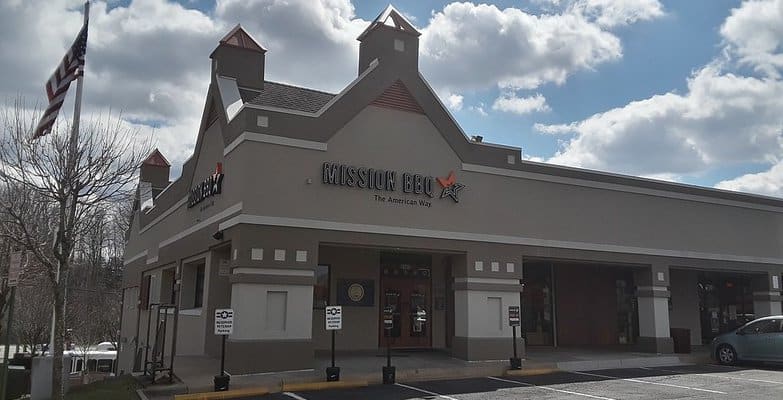 Mission BBQ Additional Information Links
Frequently Asked Questions of Mission BBQ Catering
A Pound of Barbecue From The Meat Market Catering Menu Can Feed How Many People?
While party packs are carefully arranged to feed an exact number of people, ordering from the Meat Market catering menu can be more flexible but also trickier.
You can buy the meat at a certain price per pound, and a pound will probably be enough for about 3 or 4 people.
If you are also serving sides, rest assured that it will be more than enough!
How Many Locations Are There of Mission BBQ That Provide Catering?
There are 109 Mission BBQ locations, all providing a catering menu. Simply access their website and choose the restaurant that's closest to you.
However, not all locations have available online ordering, so a phone call or a walk to the place might be necessary.
What's The Appropriate BBQ Catering For a Kid's Birthday Party?
Depending on their age, kids are usually satisfied nutritionally with half the normal serving of an adult.
Of course, we have to keep in mind that they are pickier and sensitive to certain food items, so taking a look at the kid's menu on Mission BBQ's official website is a wise idea.
Does Mission BBQ Provide Any Catering Services?
Yes, especially for complex events like weddings, big corporate parties, and many more.
The information about the catering services is included in the response to the estimated cost request for your event.
These services include delivery, cleanup, setup, custom menus, servers, and cake cutting.
Are Soldiers Given a Discount For Mission BBQ Catering Orders?
The restaurant is donating to multiple national organizations, like the USO or Wounded Warrior Projects, but unfortunately, is not offering any individual military discounts regarding catering.
Final Words
A big event is coming up, and you require a unique, American, nutritious catering choice? Mission BBQ is closer than you think.
With 5 or 10 people party packs, business lunches, a rich meat market that serves by the pound, and homemade, incredible dishes at great prices, this restaurant should surely be on your list.