Top 10 Chain Restaurants That Offer Catering For Party & Events
Chain restaurants that offer catering are the absolute bomb with their wallet-friendly and fanatic food combos.
Here come our favorite chain restaurants that have catering options available:
Chick-fil-A
Chipotle
Jimmy Johns
Subway
Olive Garden
Panera Bread
PF Changs
Jersey Mikes
Boston Market
Buffalo Wild Wings
These restaurants should be your go-to choice for catering for several reasons. Their locations are everywhere, making catering easier with little delivery charges.
Simultaneously, they offer the best prices for the most delectable dishes with a fantastic variety to pick from.
Of all these places, Olive Garden ranks the best for upscale catering with the best fusion cuisine style – Italian- American. This is where you always head for a special family occasion.
However, if you're hunting for the cheapest prices with the highest value, Subway is your ideal choice for catering.
As for the vegans and vegetarians, your best shot at mouth-watering food is Panera Bread. They are way ahead of the vegan and vegetarian catering game than their competitors.
If you're following a Keto diet and want to get some juicy food catered, we suggest going for P.F. Chang.
Their keto-friendly options are pretty impressive. For the best gluten-free deals, head to Buffalo Wild Wings.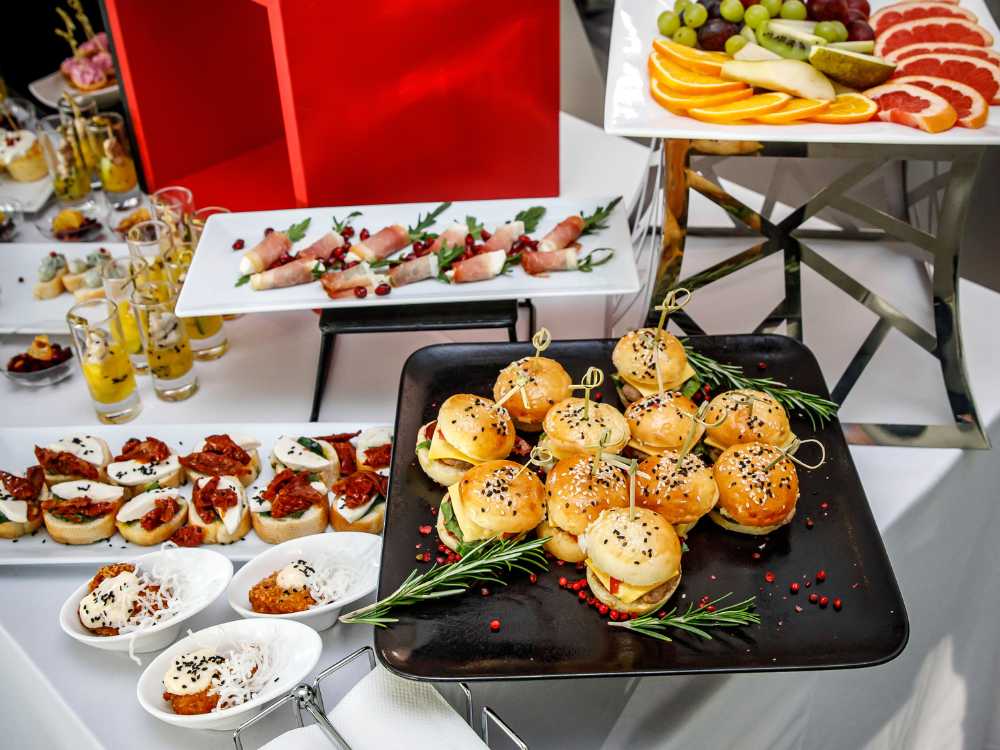 What is Restaurant Catering?
Restaurant catering refers to the food catering done by any restaurant of your choice for a particular location.
The catered food is typically fully cooked and caters to every event, from birthdays to weddings and graduation parties.
The food might be of your selection with individual meals, food stations, or buffet-style catering.
01. Chick-Fil-A
Chick-fila-A's breakfast catering includes various biscuits, trayfuls of Chick-n-Minis, fruit cups, and Greek yogurt parfait.
As for their other catering trays, you may order grilled chicken bundles, nuggets, grilled chicken subs, cool wraps, mac and cheese, salads, and dessert trays – cookies and brownies.
The entrées on the catering menu range from chicken sandwiches to spicy grilled chicken subs.
There's the option for various salads and wraps to be catered including market salad, and cobb salad.
Packaged meals, drinks, and other sides are of course, there as well.
02. Chipotle
Chipotle catering brings authentic Mexican cuisine to your table with burritos by the box which feeds a minimum of six guests. These burrito boxes would be entirely customized according to your needs.
To have a say in your catering order, go for their build-your-own option to pick your selection's mains, sides, and dips.
Since no Mexican catering is complete without the chips, and dips, there's a whole menu dedicated to them with guac, salsa, and more.
03. Jimmy Johns
Jimmy John's catering menu consists of amazing crowd-pleaser assortments – 18 & 30 count and mini Jimmys, letting you order your favorite and original sandwiches.
Go for their individually boxed meals for a more customized box with a sandwich, a cookie, chips, and pickles.
There's an entire range of fresh sandwiches with tomato, mayo, and lettuce, coming with different ingredients and in various sizes – regular, giant, and little John.
To complete your catering order, throw a bunch of drinks, sides, and desserts – chocolate chip cookies, and raisin cookies alongside your order.
04. Subway
Subway catering features off-chart sub platters with classic combo platters and flavor craver platters, each having 15 portions, serving up to nine people.
There's another platter for you to customize where you could play with five different sandwich combos, creating 15 portions.
The giant subs – 3-foot and 6-foot are the best catering items that could easily feed an entire army of friends (up to a crowd of 25).
Subway to Go is your individually boxed meal with a sub, a side option, and a cookie.
Of course, there are platterfuls of desserts, chips, and drinks.
05. Olive Garden
For the authentic flavors of Italian-American fusion cuisine, go for Olive Garden catering.
There are multiple individual pans of entrées, varying from chicken alfredo to spaghetti with meat sauce.
The appetizers include calamari, fried mozzarella, breadsticks, etc.
Soups and lunch-sized favorites are also a part of the catering menu with lasagna, shrimp scampi, and more. You could set up a pasta station with two types of pasta, salads, and breadsticks.
Olive Garden Catering does provide kids' meals, gluten-sensitive options, alcoholic and non-alcoholic drinks, and desserts.
06. Panera Bread
Panera Bread caters to an excellent breakfast range with boxed breakfasts, 15+ sandwiches, 3 baked egg souffle, lots of baked goods, fruit bowls, and oatmeal options.
There are boxed lunches with baguettes, sandwiches, and salad combos.
There are multiple sandwich and salad options on the catering menu, alongside 10+ options for vegetarians.
They also serve soups, sides, sweets, beverages, and other sides.
07. P.F. Chang's
Asian- American cuisine expert, P.F. Chang's catering menu comes with 5+ appetizers and lots of dim sums.
The main entrées are a wide array of sesame chicken, pepper steak, Mongolian beef, and more while rice and noodles are part of the menu as well.
They do serve individual meals with customized boxes and rice.
P.F. Chang's also has three catering packages, serving 10 –20 guests.
08. Jersey Mike
Jersey Mike's sandwich catering is a party essential. They have subs by the box, full of cold subs, each box is enough to serve a dozen.
Then there are subs by the bag enough for four people. You may choose from the mini, regular, or giant sizes.
There are boxed lunches with subs, cookies, and chips. You may also order chips or other drinks separately alongside freshly-baked brownies and cookies.
09. Boston Market
if you're going for Boston Market's hot buffet menu, they have four entrées, excellent hot sides, and other extras.
Boston Market does have many sandwich platters, and boxes with other a la carte menu items.
Their three catering packages are all-inclusive of food and party essentials.
10. Buffalo Wild Wings
Buffalo Wild Wings catering includes many wing platters such as traditional, boneless, and cauliflower wings.
There are tenders, chicken wraps, potato wedges, salads, mac and cheese, and chocolate fudge cake.
What is The Difference Between Catering Services and Restaurants Catering?
Restaurants are where you go to dine in. Catering services, on the other hand, prepare the food and either deliver or let you pick them up.
Catering services typically cater to special events and feed a larger crowd.
Which Chain Restaurants That Cater But Reasonable?
If you're seeking the highest food quality but the cheapest catering prices, your best shots are Subway, P.F. Chang, and Olive Garden.
All these places are renowned for their excellent dishes and affordable price tags that do not drain your wallet to feed an army.
What is The Perfect Menu For Small Party Catering?
The perfect catering menu for a smaller party includes starters or canapes. Then there are entrées which are indispensable.
Throw a salad, some sides, and a dessert of your choice to put together the perfect menu for a smaller party.
Of course, depending on your choices, you could always add something more.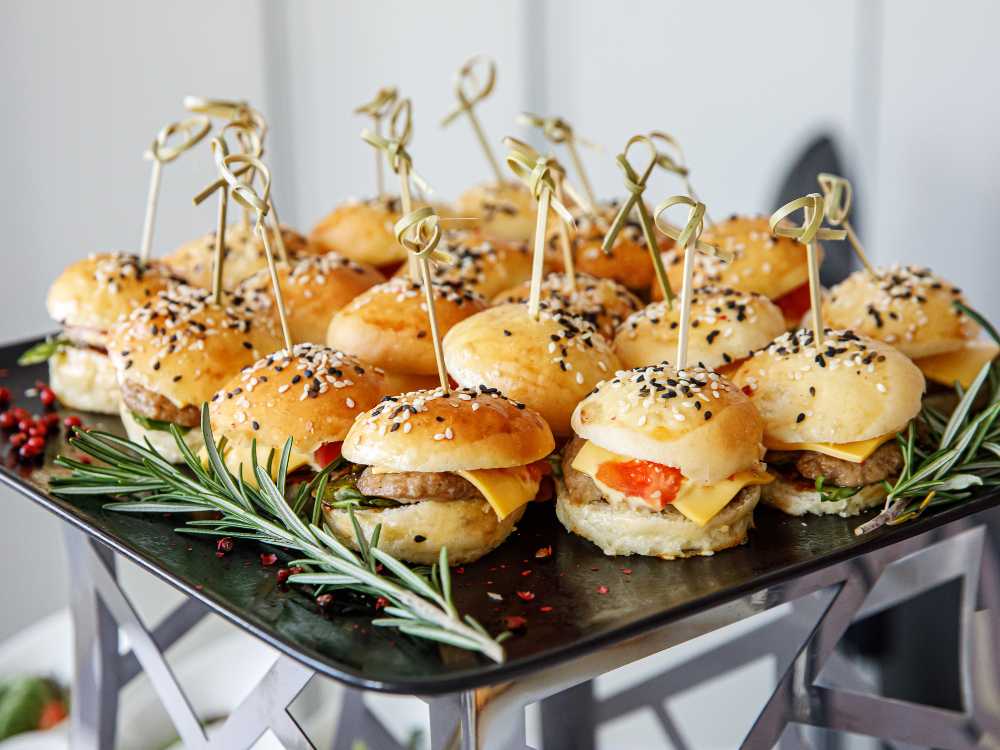 Website Links of Restaurants That Offer Catering
Final Thoughts
Party planning can be nerve-wracking at times. This is why you should order catering from a chain restaurant to take over food at your next event.
Chain restaurants that offer catering have diverse menus with a lot to choose from and reasonable prices for the excellent quality they deliver.
The locations are accessible and the food is mouth-watering and you will never have to worry about going without at your event when you order from them.