Sandwich Catering: Top 11 Popular Restaurants For Sandwich Party
Sandwich catering is the best option when you have to throw a memorable lunch/dinner party.
It doesn't only offer an amazing variety of nutritious sandwiches & sides to guests but also fulfills their appetites.
However, it's important to choose the best sandwich-catering restaurant for an outstanding experience.
This article discussed the following top 11 amazing sandwich-catering restaurants for your next party.
Subway
Jimmy John's
Panera Bread
Jersey Mike's subs
Firehouse Subs
Potbelly Sandwich Shop
Jason's Deli
Which Wich
McAlister's Deli
Corner Bakery Café
Applespice
Each one of these has its specialty for sandwich catering. For example, if you're looking for hot toasted sandwiches, Panera Bread is the best pick.
Similarly, Firehouse Subs is great for gluten-free subs and premium quality cheese and meat rolls subs.
When you and your guests are more concerned about nutrition, go for Jason's Deli sandwich catering. Each of their sandwiches and wraps is high in nutrition and includes wholesome ingredients.
For the best subs in town with top-quality meat & cheese, Jersey Mikes is the best. Similarly, Jimmy John's is the most suitable option for you if you are looking for vegan subs and sandwiches.
Let's explore these restaurants in detail so that you can choose the best one for you.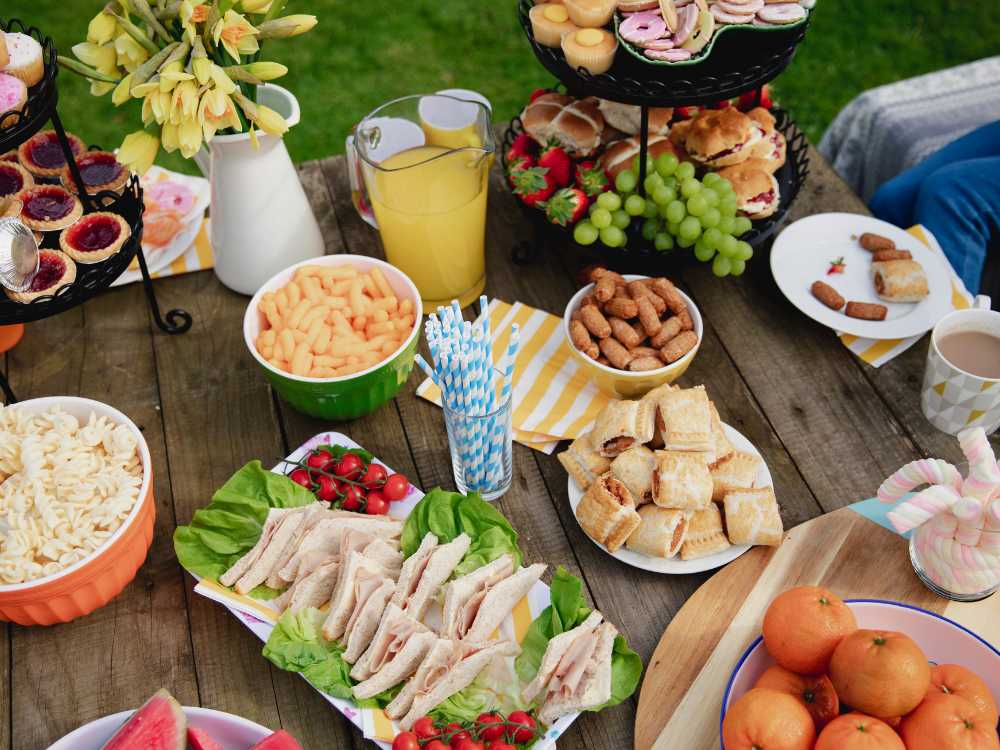 What is Sandwich Catering?
Sandwich catering involves offering sandwiches, wraps, subs, etc. to a number of people at an event. Sandwich catering is usually done for the events that take place during lunch times or maybe at dinner times.
In this catering, sandwiches or subs trays/platters are served to the guests with tempting salads, soups/sides, desserts, and drinks.
Here are the top 11 popular restaurants that serve sandwich catering.
01. Subway
Subway is popular for its subs that come in outstanding taste and an amazing variety of flavors. Of all subs flavors, Subway's Turkey breast sandwich and oven-roasted steak & cheese are the best.
The most exciting thing is that Subway also offers you to create your customized sub by mixing and matching ingredients.
Besides these, Subway's sandwich catering also includes assorted sandwich platter bundles, sandwich-boxed meals, and wrap-boxed meals. You also order custom platters from Subways for your event.
02. Jimmy John's
Jimmy John's is famous for its premium sandwiches with tempting tastes, freshness, and quality ingredients.
Its popular sandwiches include spicy East Coast Italian, beach club, big John, the Veggie, and The JJ Gargantuan.
If you are looking for vegan sandwich options, Jimmy John's allows you to create your customized vegan sandwich. You decide on the ingredients and they prepare it for you.
Their catering also includes drinks, sides, and desserts to make combos. You can either choose pickup or delivery for catering orders at Jimmy John's.
03. Panera Bread
Panera Bread is famous for its toasted hot sandwiches with melted cheese, lots of salads, and protein of your choice.
All Panera Bread sandwiches are excellent in taste, freshly prepared with the best quality ingredients and tempting sauces.
The most selling ones include toasted steak and cheese, roasted turkey and avocado, smokehouse BBQ chicken, and Bacon Turkey Bravo.
Their catering menu also includes vegetarian options, boxed lunches, soups, bundles, salads, sides, sweets, and desserts.
04. Jersey Mike's Subs
As its name depicts, Jersey Mikes is famous for the best subs in town. The restaurant claims that their subs contain top-quality cheese and meats in their subs to uplift the taste and aroma.
Jersey Mike's sandwich catering includes a great variety of subs by the box and bag. It also includes boxed lunches, refreshing fresh and colorful salads, chips & drinks, and fresh-baked cookies from the oven.
Different hot and cold subs at Jersey Mike's come in three varying sizes i.e., mini, regular, and giant.
The top-selling subs flavors include chicken cheese steak, chipotle cheese steak, Jersey Shore's favorite, the veggie, BLT, and stickball special.
05. Firehouse Subs
Firehouse Subs specializes in offering private recipe roll subs with premium quality meats and cheese.
Their sandwich catering includes standard subs platters, deluxe subs platters, salads platters, deluxe salads platters, cookie/brownie platters, and dessert platters.
At Firehouse Subs, their standard and deluxe subs include deli-quality meats, provolone, lettuce, tomatoes, onions, mayo, and kosher dill pickles.
Meat choices include chicken, roasted beef, turkey, salami, ham, and pepperoni.
The best thing is that they also offer gluten-free subs as well as vegetarian options. However, the price of their gluten-free sub is a bit higher than the other subs on the menu.
06. Potbelly Sandwich Shop
Potbelly sandwich shop is famous for its legendary sandwiches that they prepare with love and serve hot.
Their popular sandwich flavors include A Wreck, Roasted Ham, Turkey breast, veggie melt, and grilled chicken.
Along with sandwiches, their catering menu also includes salads, Mac & soups, sides, cookies, and shakes/drinks.
You can also order boxed lunches and sandwich bundles from Potbelly Sandwich Shop.
07. Jason's Deli
It is the best place for those who are not only concerned with taste but also with nutrition.
Jason's Deli specializes in offering amazing sandwiches and wraps made with wholesome ingredients.
You can choose from their variety of sandwich boxes or sandwich platters.
Sandwich boxes include deluxe sandwich boxes, deli club boxes, California club boxes, gluten-sensitive club boxes, chicken wrap boxes, etc.
You can also order sandwich trays, soups and sides, hot meats, and desserts and drinks. They also serve gluten-sensitive and vegetarian menus.
08. Which Wich
It is popular for its best-crafted superior sandwiches with lots of meat, cheese, and veggies.
The most demanded flavors include Za'wich, Cali Club, garden party, ultimate BLT, and CHZBGRWich.
Every sandwich is prepared with wholesome ingredients to assure greater nutrition and outstanding flavor.
At Which Wich, you will also find gluten-free sandwich options with healthy ingredients. However, the menu and prices may differ slightly from location to location.
09. McAlister's Deli
McAlister's Deli is famous for its signature sandwiches, wraps, and fresh salads.
Their sandwich catering includes classic sandwich trays, signature sandwich trays, classic club trays, and assorted club, and wrap trays.
With sandwich trays, you can order their fresh salads i.e., Caesar salad, Savannah chopped salad or chicken avocado salad. All their menu is not only rich in nutrition but also greater in taste.
10. Corner Bakery Café
Corner Bakery Café's sandwich catering includes sandwich bundles and baskets. In each one of these, separately wrapped half-cut sandwiches or mini sandwiches in assorted flavors.
Every basket and bundle also includes any two sides of your choice as well as a dessert.
Corner Bakery café also allows you to couple your sandwich bundles with salads, soups, and pasta.
11. Applespice
Applespice is popular for its delicious hot and cold toasted sandwiches for all events.
At Applespice, you can either pick up a pre-made sandwich platter or choose from a custom deli platter. They offer to choose from a variety of meats and cheese flavors, as well as other ingredients.
Their sandwich catering menu also includes soups & salads and light combos with assorted mini sandwiches.
However, the catering menu may differ at some of the Applespice locations. So, do check their sandwich catering menu at your nearest Applespice location before placing your order.
How Much Does it Cost To Throw a Sandwich Catering Party?
It depends how several factors i.e., for how many people you want to throw a sandwich catering party. It also depends on what sides or complementary items you serve along with the sides.
A simple sandwich party for 25 persons with only salads and drinks won't cost you more than $200.
How Many Sandwiches Per Person For Catering?
If your sandwich party only includes sandwiches and drinks, then order 1-1.5 sandwiches per person.
However, you may order less if you are ordering other items with the sandwiches i.e. soups, sides, desserts, etc.
It also depends on the age group you are inviting to your party as well as the time for the party. If it is lunch or dinner time, people will be hungry and may eat more.
How To Make a Sandwich Tray For a Party?
If you want to make your customized sandwich tray for a party, lookup for the restaurants that offer this facility.
For example, Subway, Applespice, Jimmy John's, etc., are among those restaurants that allow you to make customized sandwich trays.
From the given options, add the most desired ingredients or flavors. Make combos or order simple sandwich trays to serve your guests at the party.
How To Make a Good Sandwich Platter?
To make a good sandwich platter, first, see which flavors you like the most i.e. which meat or veggies. Many restaurants such as Subway offers a variety of ingredients to choose from.
Then, choose the sandwiches that include your favorite ingredients and make your platter. Add sides, salads, soups, as well as drinks for a full-fledged party.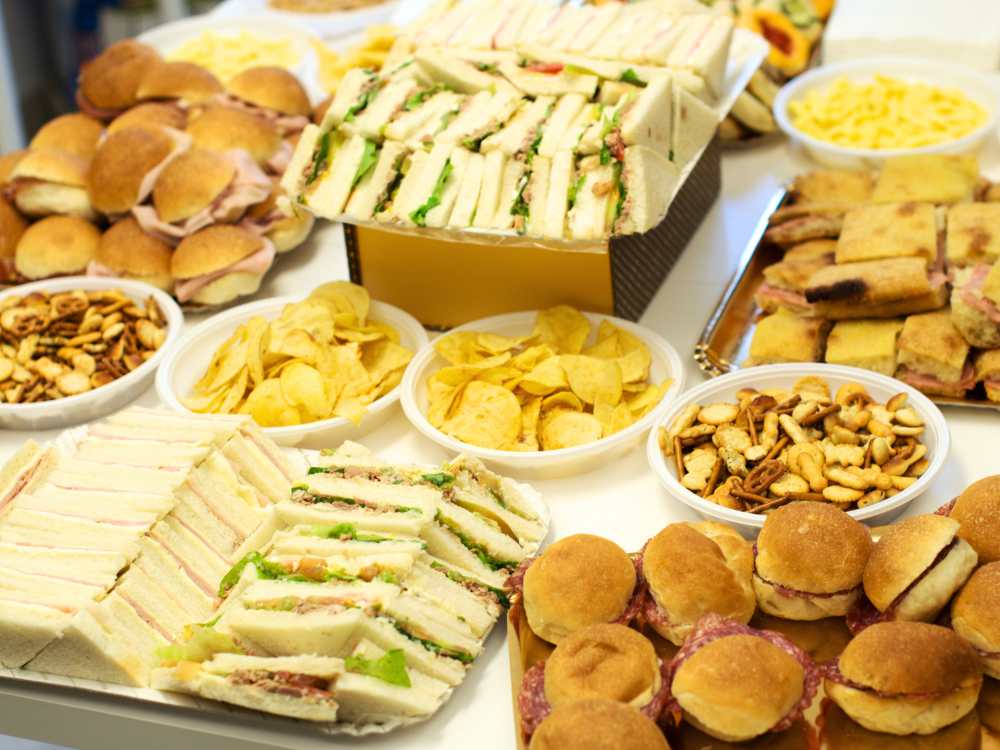 Links of Restaurants For Sandwich Catering
Final Thoughts
To throw a sandwich party, all you need is to choose the best restaurant, place an order, and it's done.
This article shares the top 11 best sandwich catering restaurants that offer delicious subs, sandwiches, wraps, and more.
Choose your favorite sandwich/sub platter from them and serve it with sides & salads to rock the party.