Moon Over Miami Egg (Healthy Breakfast Recipe Ideas)
Moon Over Miami Egg, Egg in a Basket, or Toad in a Hole. Those are some of the nicknames for this healthy breakfast. An organic, cage-free egg is cooked up inside of a slice of whole grain bread. What you name this dish is up to you, but one taste is all you'll need before you'll undoubtedly call it delicious!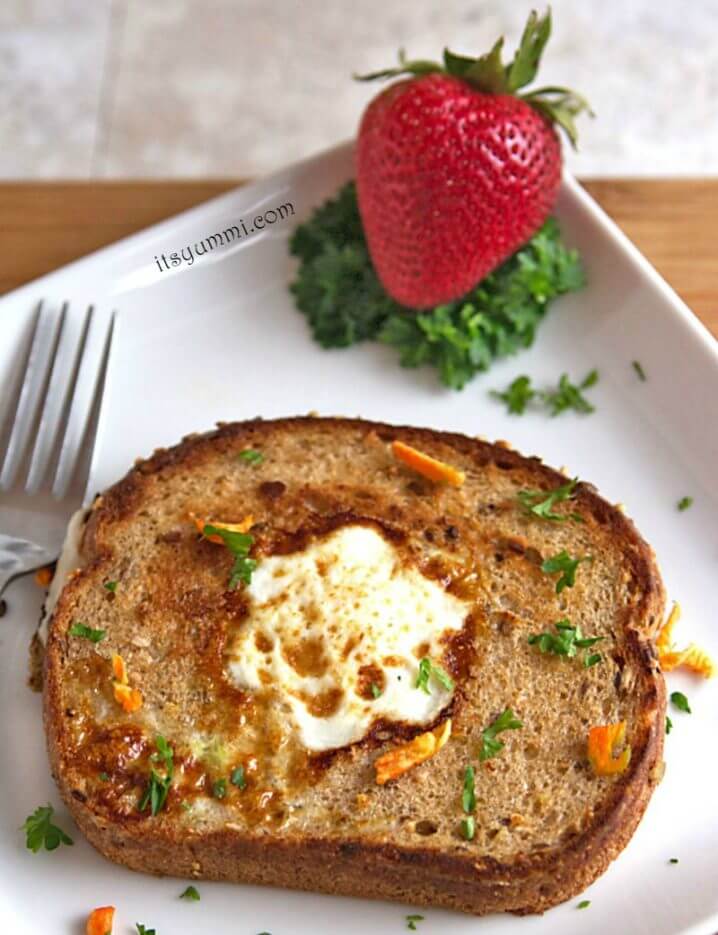 Disclosure: This post is sponsored by Blog Meets Brand and their client, Pepperidge Farm®. I have been compensated for my participation, but as always, all opinions are my own.
When I was growing up, my mom made a lot of casseroles and soups. It was in my mom's nature to use up every bit of food if at all possible, so we never really knew what would end up in our meals, but there was a good chance that we had seen at least a few of the ingredients in a meal earlier in the week. For example, the piece of leftover bread from my favorite breakfast, a Moon over Miami egg, would later become bread crumbs that would be added to meat loaf.
Mom made our meals as healthy as possible, too. Lots of whole grains and fresh vegetables were used. That good habit carried on with me. Well, for the most part. Of course, I still have a major sweet tooth for desserts, (especially chocolate desserts!), but I've never strayed away from using healthy, whole grains like brown rice and whole wheat bread.
When I was offered the chance to try the new Pepperidge Farm Harvest Blends bread, I was truly excited. I had heard that it was exclusively available in select areas of the Midwest, but I hadn't seen it in the local grocery stores here. I received samples of all three varieties: Seeded Grain, Ancient Grain, and Sprouted Grain.
I decided to use the Seeded Grain bread to make a Moon over Miami egg, but because I got the package right around lunch time, I used the Ancient Grain bread right away to put together an easy open-faced sandwich. I spread a little olive oil mayo onto the bread and topped it with some garlic and herb cheese, some fresh basil from my indoor aeroponic garden, and a thick slice of tomato. It hit the spot perfectly, and the bread was delicious! Hearty, but not heavy. The slices are small enough that I didn't feel too full, either.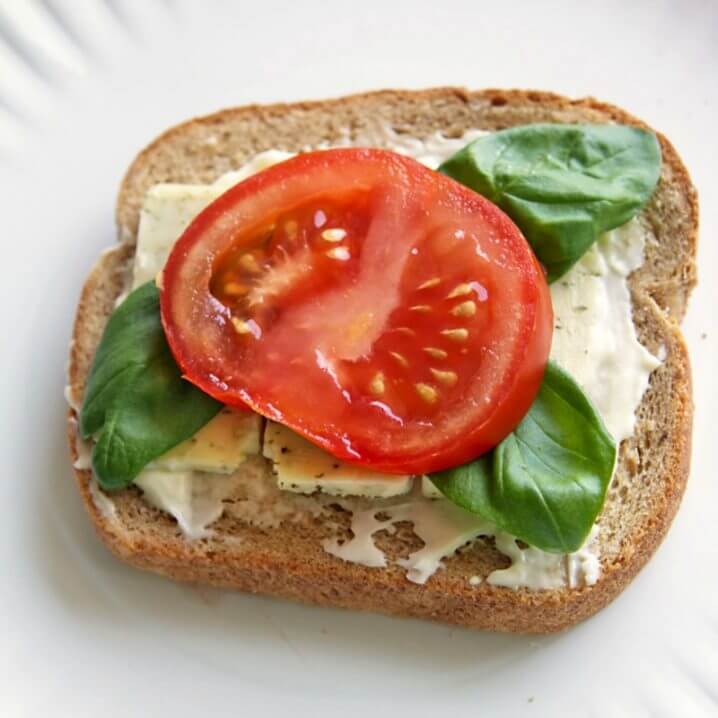 The next morning, I was ready to try the Harvest Blends Seeded variety to make the Moon over Miami egg!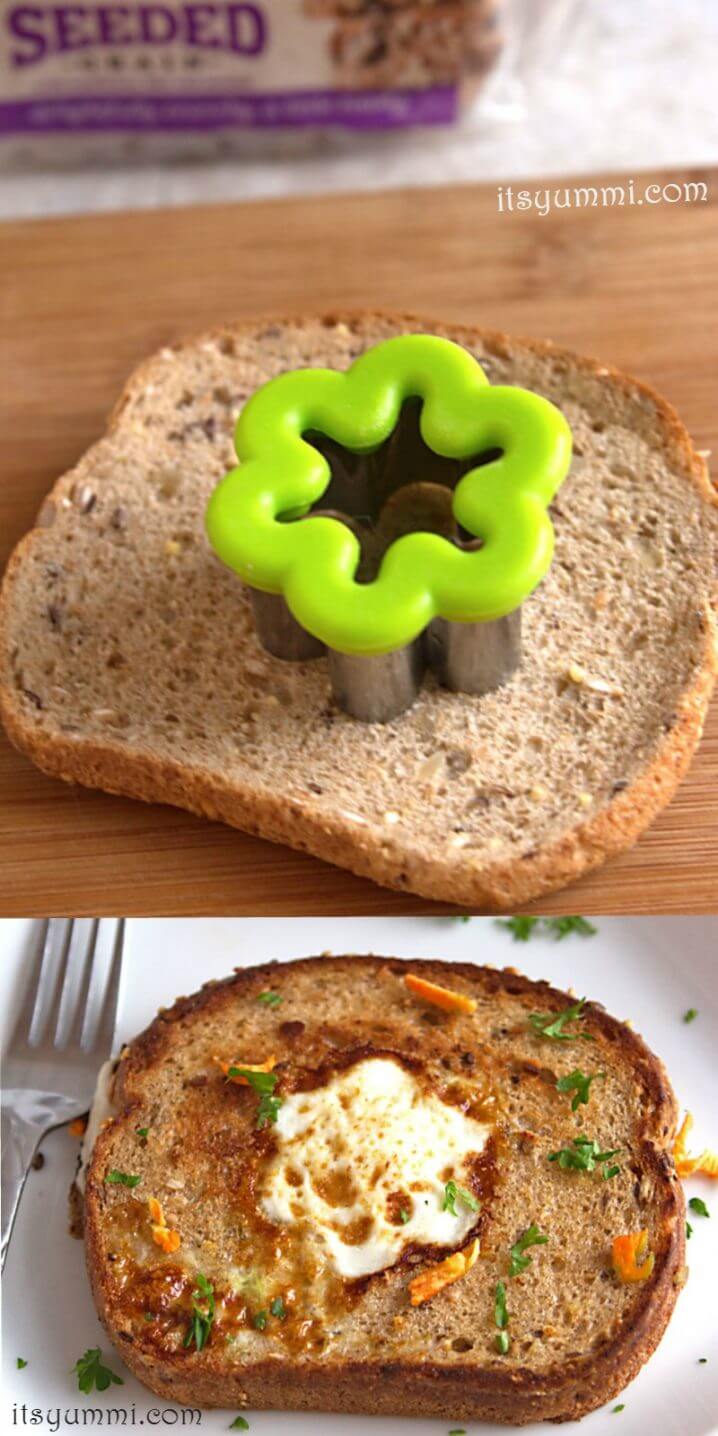 Mom used to pinch her middle finger and thumb together to pull enough bread out to make a hole in the center. I'm a perfectionist, so I used a cute mini sized cookie cutter. Go with whatever works for you, but make sure that your hole isn't too much larger than the size of your egg yolk. Otherwise, all of the white will ooze onto the top of the bread and you won't see the nice toasty bread.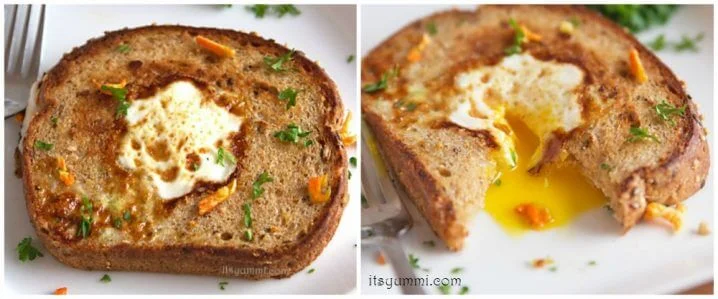 Instead of using butter in the skillet, I used a teaspoon of avocado oil. It's still fat, of course, but its a much healthier fat than butter is. If I wasn't allergic to coconut products, I would have used coconut oil. Olive oil would be another really delicious and healthy option to use when making your egg.
Here's how to make a Moon over Miami egg: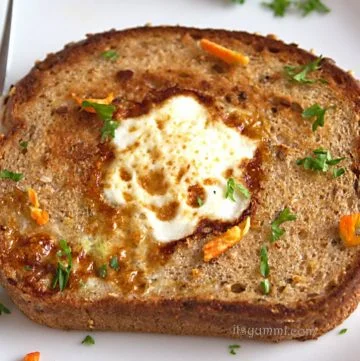 Moon Over Miami Egg
A simple, healthy egg breakfast made with cage-free, organic eggs and hearty, whole grain bread.
Ingredients
1

slice

whole grain bread (I used Pepperidge Farm Harvest Blend)

1

teaspoon

oil (avocado

coconut, or olive)

1

large egg

cage-free organic, if possible

Sea salt (tiny pinch)
Garnish options
1

sprig parsley

finely chopped

1

squash blossom

finely chopped

hot sauce
Instructions
Preheat a medium skillet over medium heat.

Use a cookie cutter or your fingers to make a hole in the center of the bread. Make the hole just large enough for the yolk to fit into.

Use a pastry brush or oil spritzer to apply oil to one side of the bread. (You could also just pour the oil directly into the pan, but applying it directly to the bread will help it get nice and golden brown.)

Place the bread oiled side down into the pan. Cook for 1 minute, then carefully open the egg over the bread so that the yolk falls into the hole in the center. Sprinkle salt over the egg.

Cook for 1 more minute to allow the bread to toast, then use a large spatula to gently flip the bread and egg over. Continue to cook until the egg is cooked to your liking. (About 2 minutes for a runny yolk and 3-4 minutes for a hard yolk.

Remove egg from pan and transfer to a serving plate with the yolk side up. If desired, apply any/all of the garnish options before serving.
Nutrition
Calories:
190
kcal
Carbohydrates:
13
g
Protein:
10
g
Fat:
11
g
Saturated Fat:
2
g
Cholesterol:
186
mg
Sodium:
184
mg
Fiber:
2
g
Sugar:
2
g

Pepperidge Farm Harvest Blends bread is available in select areas of the Midwest. Check your local grocery store for availability.