Nutty Banana Chocolate Hand Pies
Nutty banana chocolate hand pies will cure your snacking blues and spread the love perfectly! Easy to make and fun to eat, these hand pies are a real treat!
I'm a member of the Collective Bias® Social Fabric® Community, and I created this recipe as part of a social shopper amplification for Collective Bias and its advertiser, Hershey's. I've been compensated for this shop, but all thoughts and opinions expressed are my own.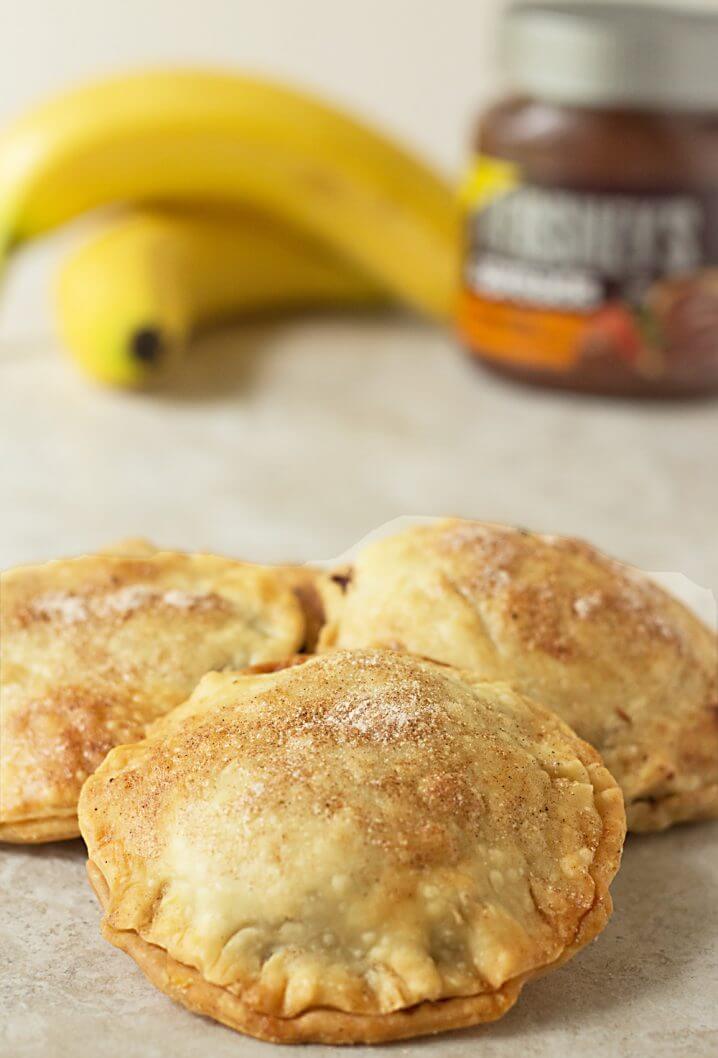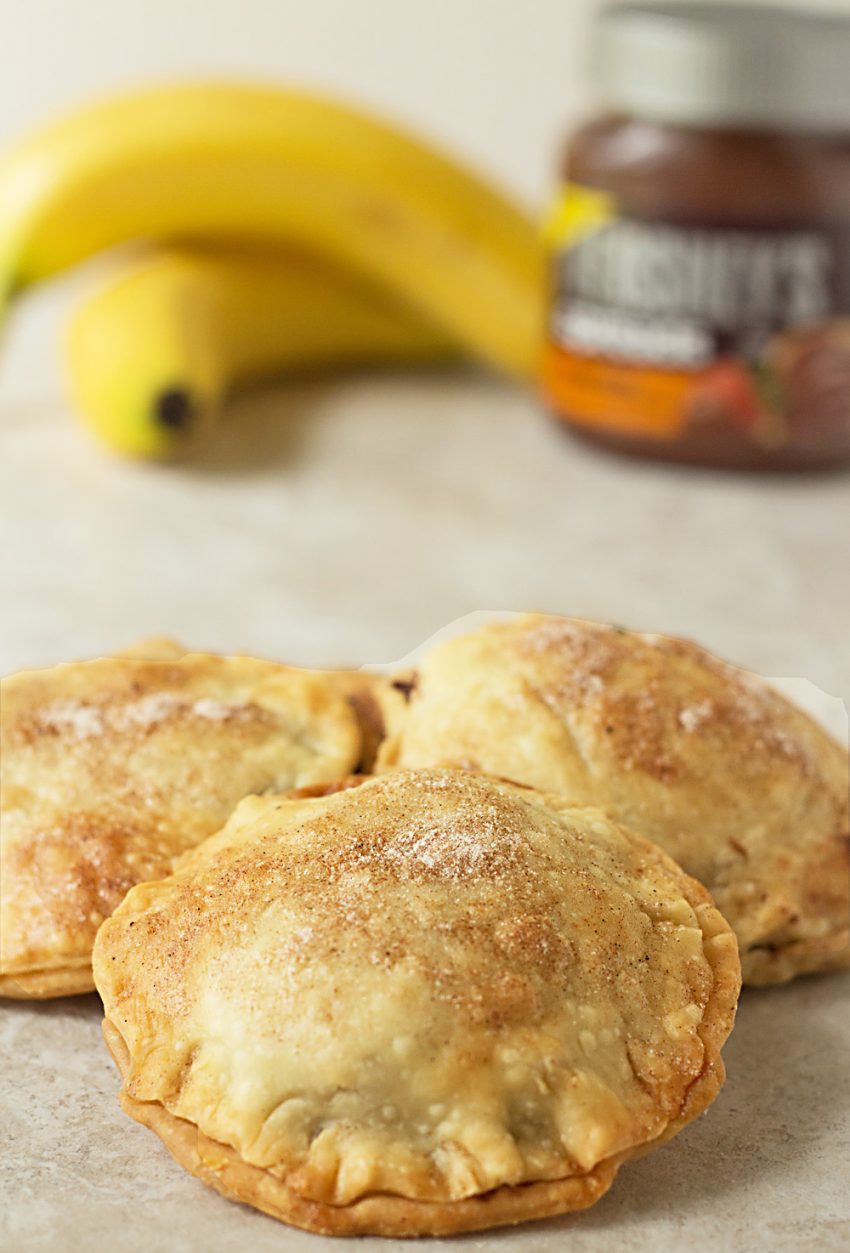 Brian and I went strolling down memory lane this past week. We were reminiscing about about our favorite childhood summer snacks.
I used to chase down the popsicle man, following the sound of his bicycle bell for blocks to get my hands on a banana Popsicle. This was decades before they started driving ice cream trucks around. Yes, I'm older than dirt. Anyway, Brian's favorite summer treat was a frozen chocolate covered banana. Those were pretty flippin' fantastic, too, especially when they were covered with nuts. So that discussion led me to crave bananas, chocolate, and nuts.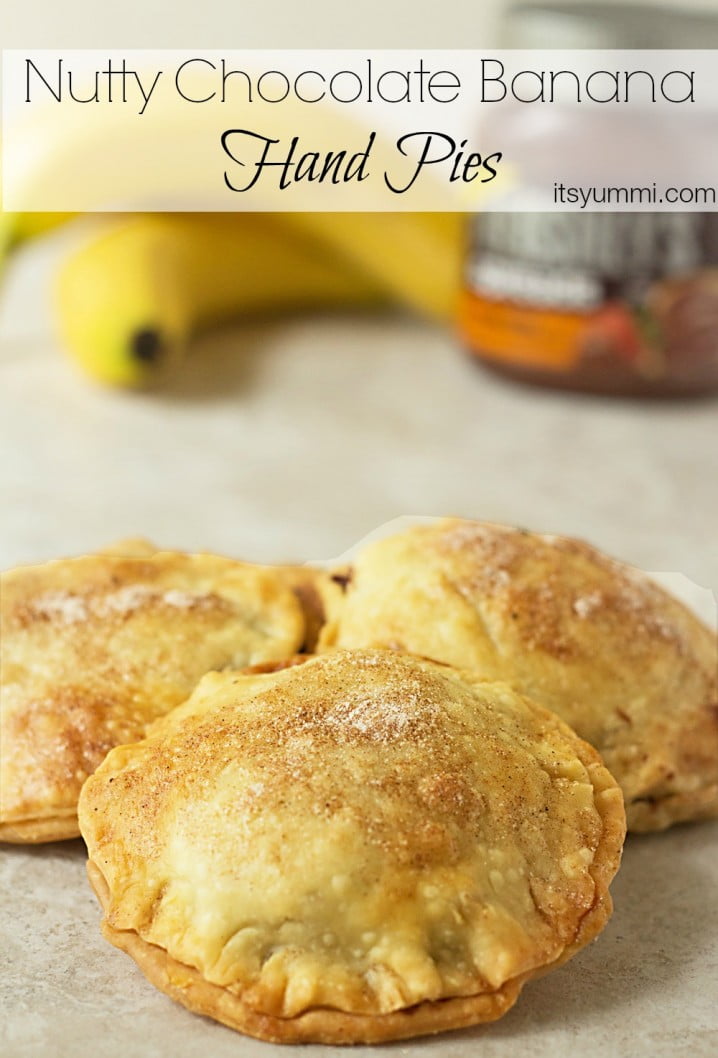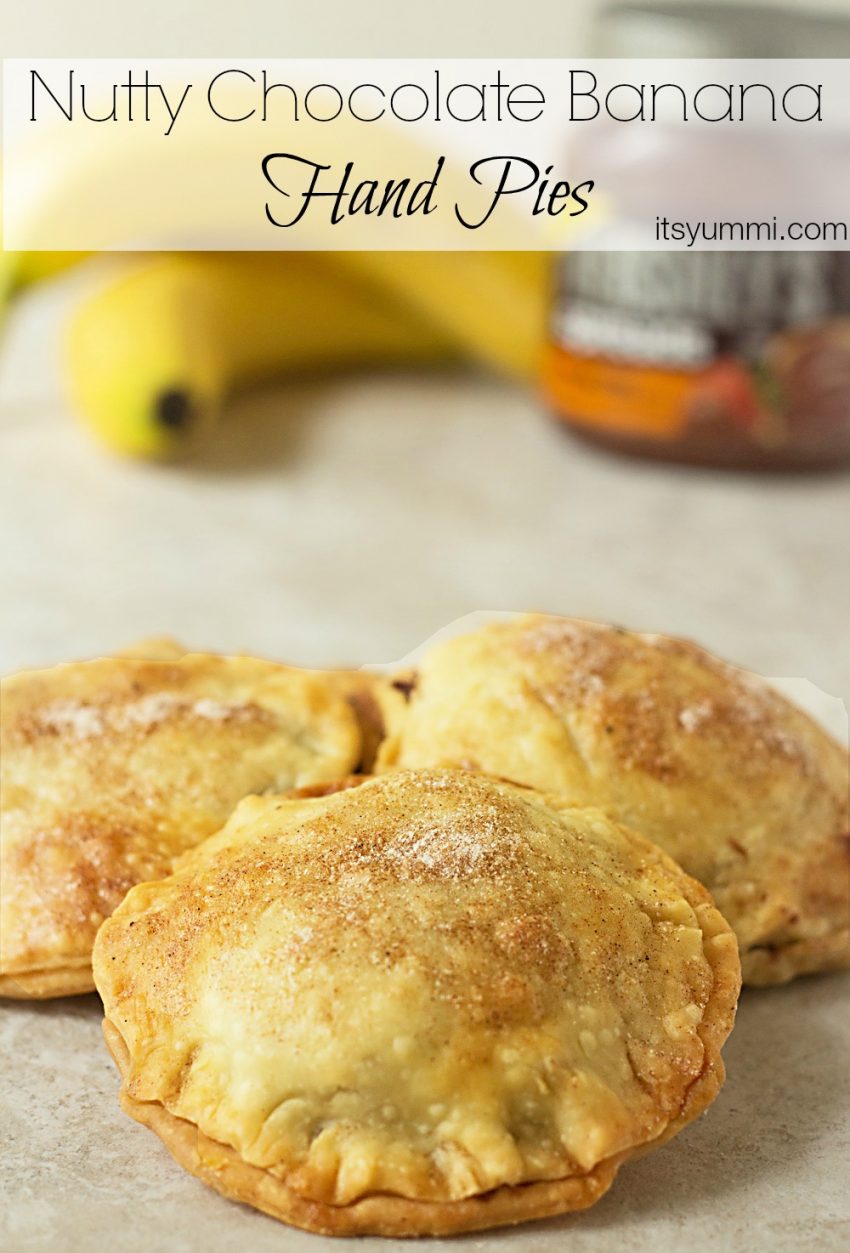 That's the craving that developed my recipe for these nutty banana chocolate hand pies.
I had half a thought to make a nutty chocolate banana ice cream, but I wanted something that wouldn't melt in the heat, so I decided on hand pies instead. I was all set to make them with miniature Hershey chocolate bars inside, but when I was at Walmart, I came across the Hershey Chocolate Spreads in the peanut butter aisle. When I realized that there was a chocolate hazelnut variety, it was love at first sight!
I wanted to be able to make the hand pies as soon as I got home, so I picked up some refrigerated pastry dough to use instead of making pie dough from scratch.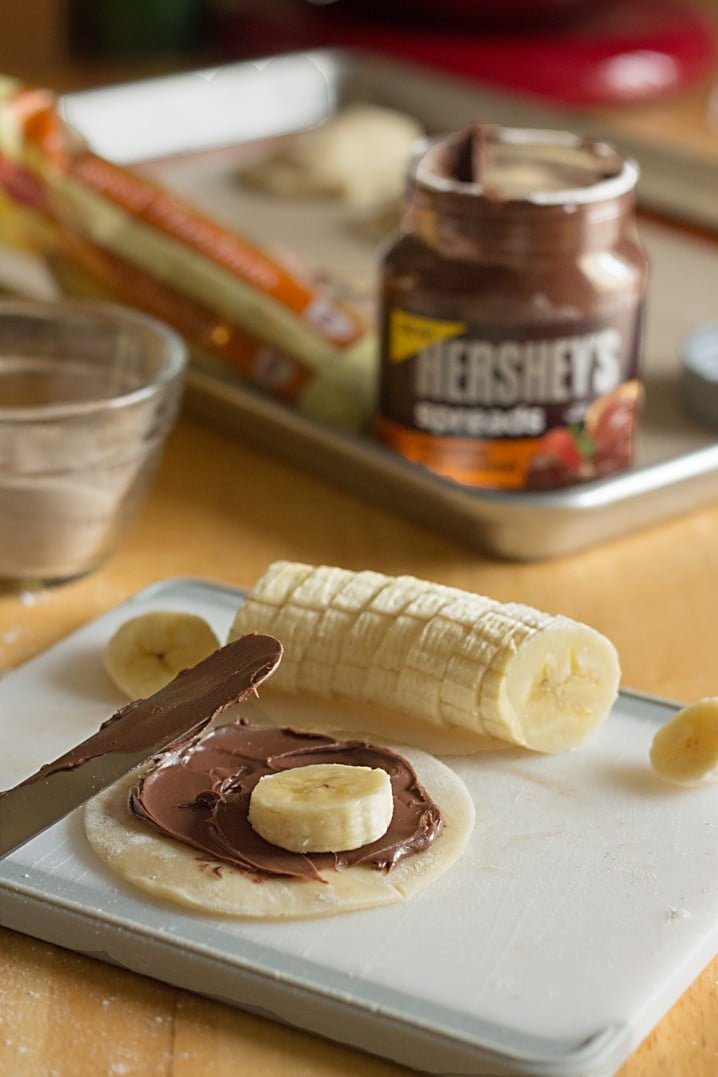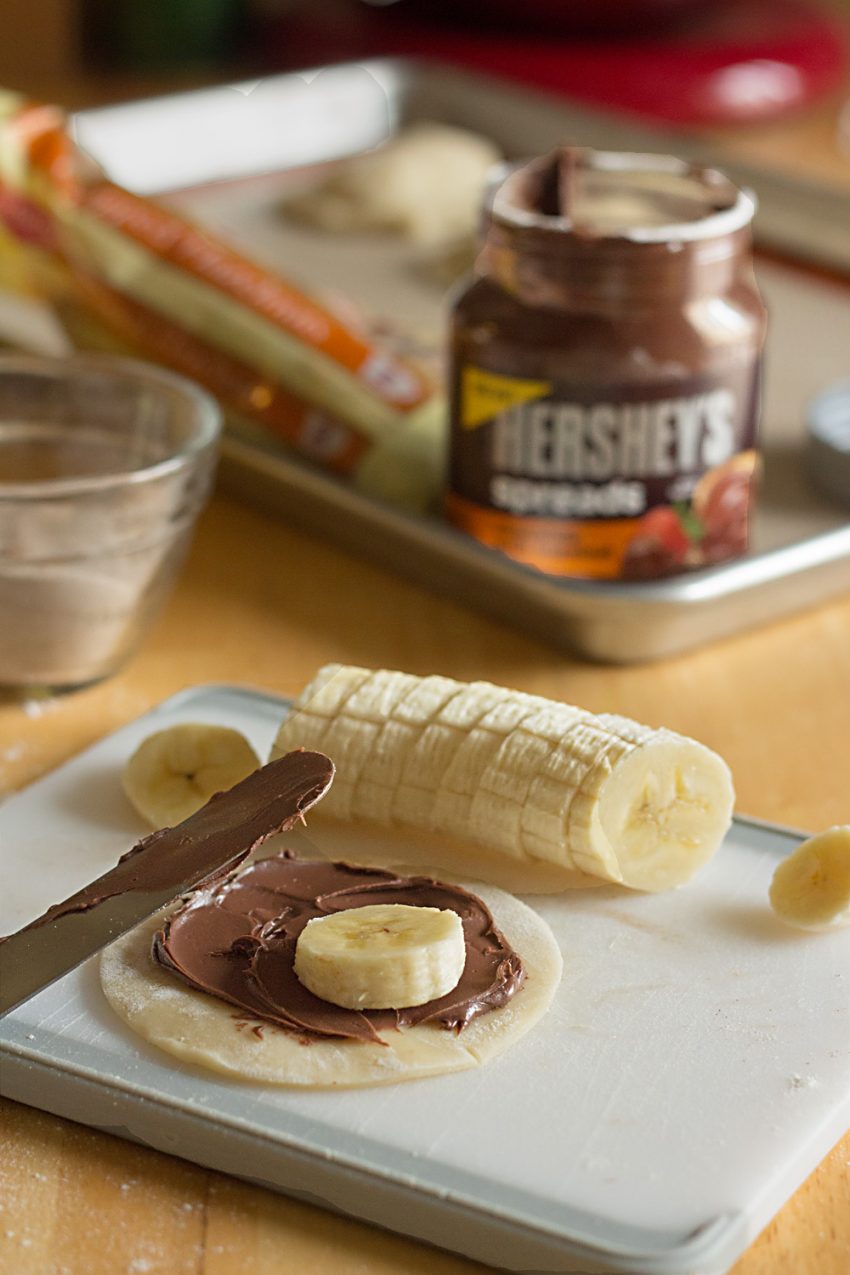 These were SO much fun to put together! I really miss having little kids around, because this is a perfect recipe for them to help with. It's so easy. Just cut out circles of pastry dough, spread the love of Hershey's around, add a couple of bananas and sprinkle some hazelnuts on top.
Yum. Now I'm craving that creamy, chocolate hazelnut goodness again.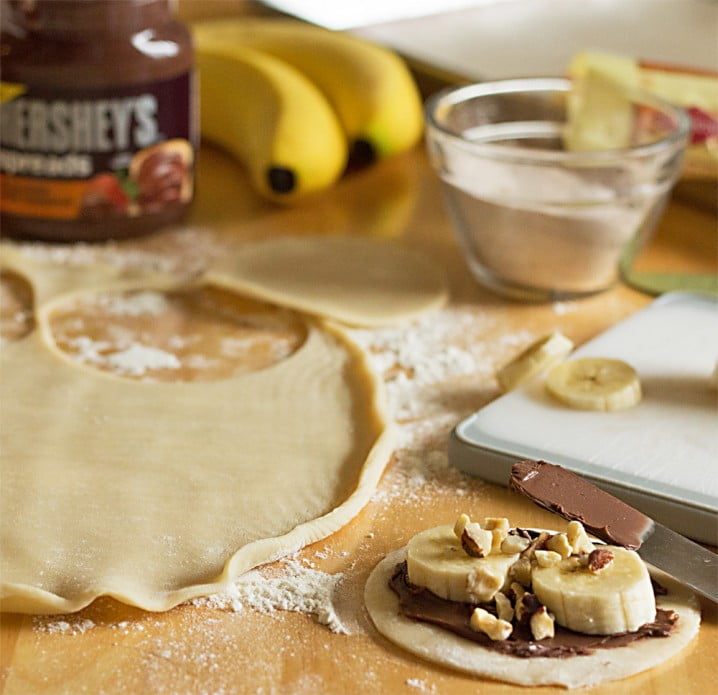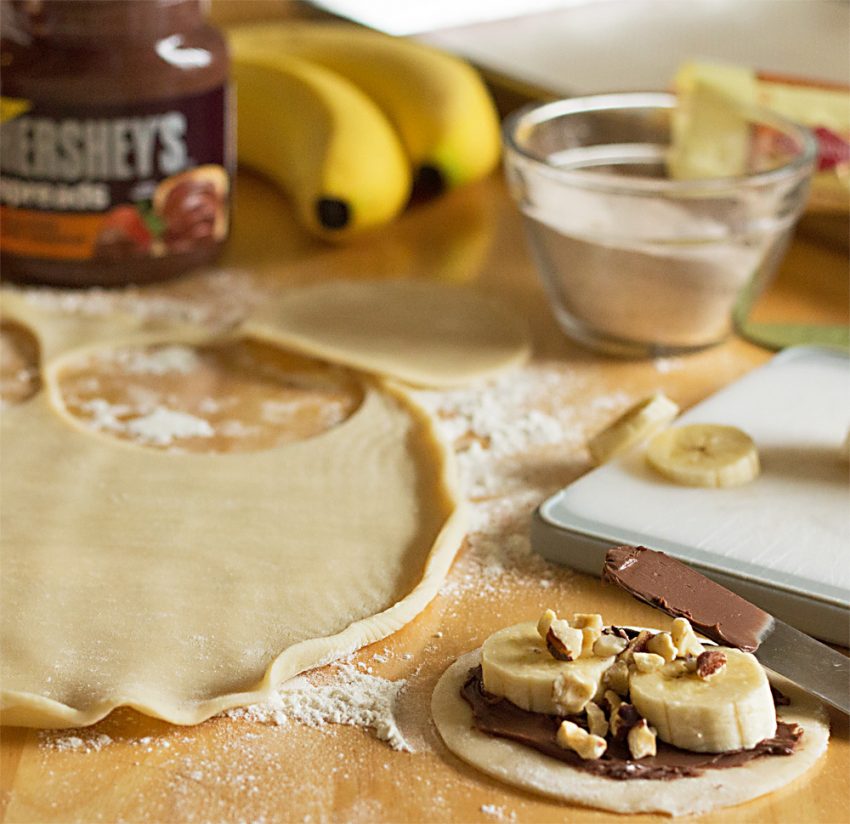 If you've been around my blog before, you probably know that I have horrible hand-eye coordination. I decorate cupcakes like a preschooler and I couldn't pipe royal icing in a straight line on a cookie if my life depended on it. That's why the edges of my hand pies are crimped so horribly. I honestly don't know what the trick is, but if you're a fumbled finger baker like I am, you can use a fork to crimp the edges of your crusts together. That way yours will look MUCH prettier than mine do.
I made decorating these nutty chocolate hand pies as easy as…well, pie!
I just brushed a little milk on the top crusts (to help it brown) and sprinkled some cinnamon sugar over the milk. Into the oven they were sent, and 20 minutes later, into my stomach they went!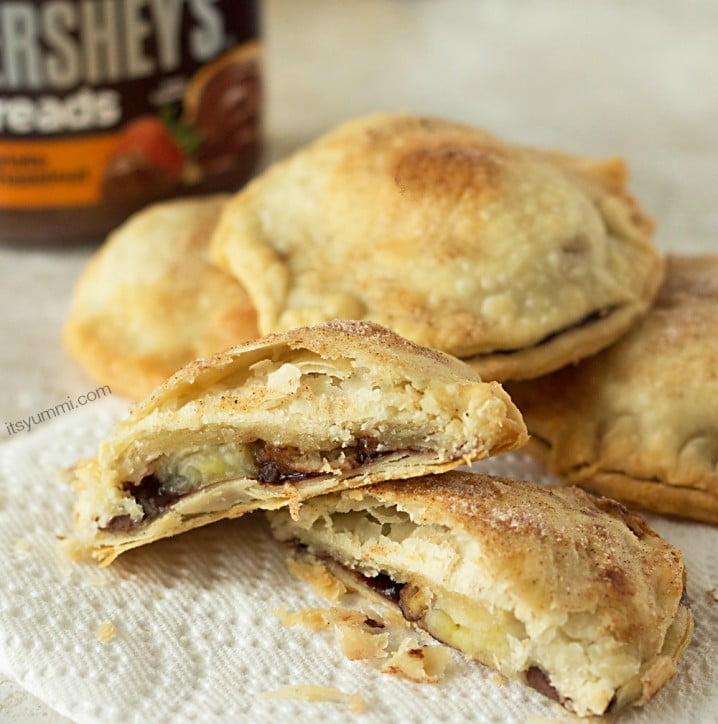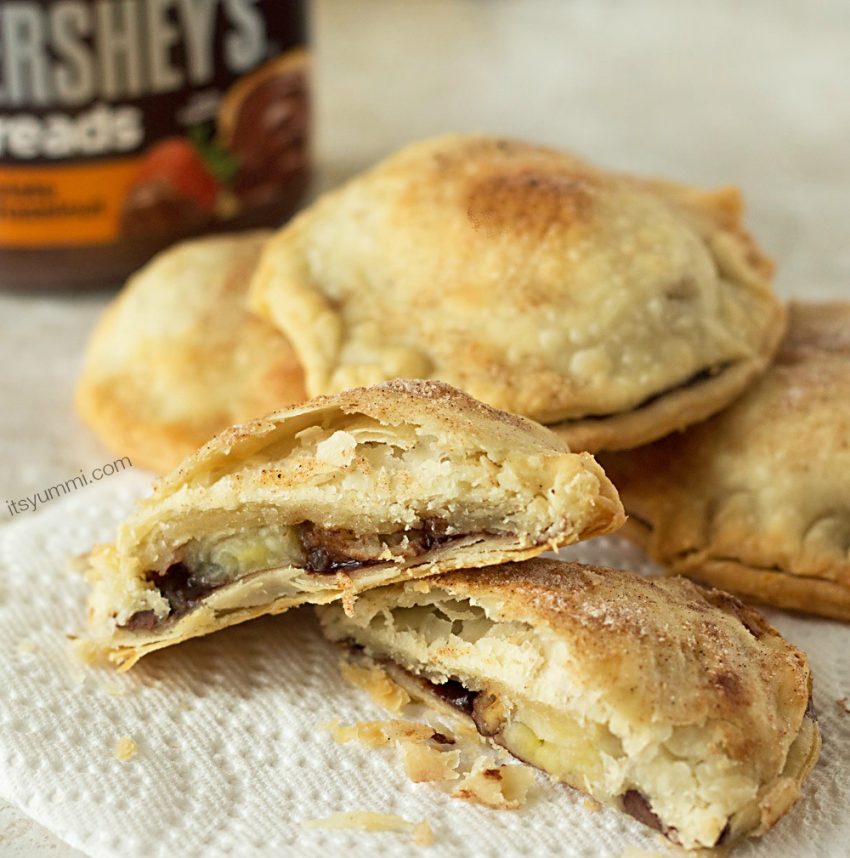 For more delicious ways to use the Hershey's Chocolate Hazelnut spread, try using it in these recipes 🙂
Hershey's has a bunch on their website, too. You can browse them HERE.
A big shout of thanks goes out to my #CollectiveBias family, for giving me the opportunity to work with such amazing and awesome brands! I puffy heart you!
Here's the nutty chocolate banana hand pies recipe. Enjoy!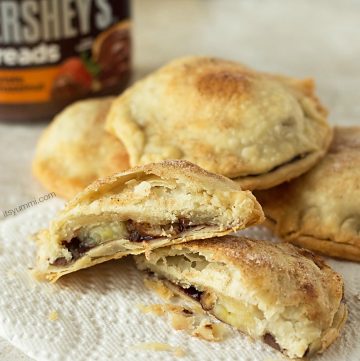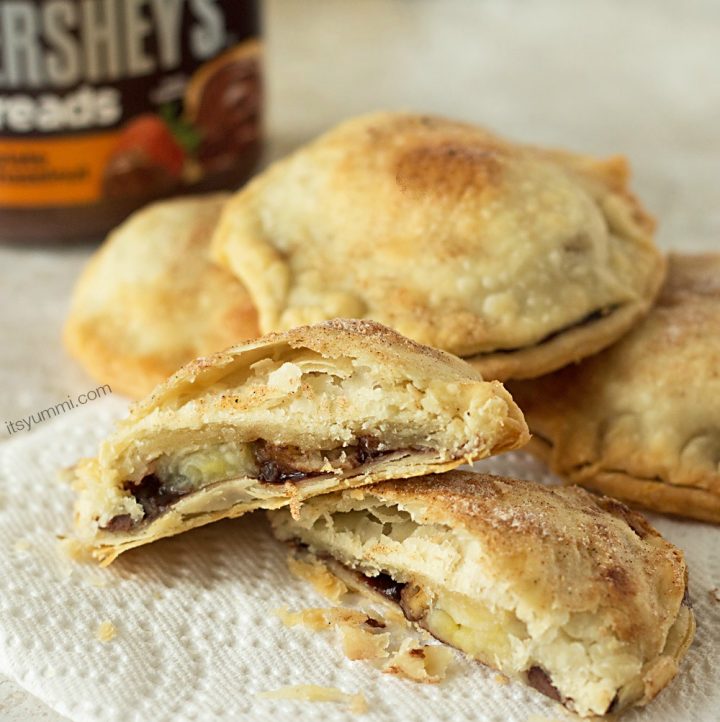 Nutty Banana Chocolate Hand Pies
Creamy Hershey's Chocolate Hazelnut Spread is tucked inside of flaky pastry dough, along with bananas and hazelnuts, to create these quick, easy, and yummi nutty chocolate banana hand pies.
Ingredients
13

oz

chocolate hazelnut spread

(I used Hershey's)

1

pkg

refrigerated pie crust

(or enough pastry dough to create two 9-inch pie crusts

2

medium

bananas

sliced

½

cup

chopped hazelnuts

2

Tablespoons

milk

(I used unsweetened almond milk)

2

Tablespoons

cinnamon sugar

any variety flour

for dusting your work surface
Instructions
Heat oven to 400 degrees Farenheit.

Prepare a large rimmed baking sheet with parchment paper or a silicone baking mat.

Lightly sprinkle a large work surface with flour. Roll out pastry dough and use a 2-inch round biscuit or cookie cutter to cut circles from the dough. You should be able to get a total of 16 circles from the 2 pie crusts.

Use an offset spatula or knife to apply chocolate spread to one side of 8 circles of dough. Leave 1/8th inch edge so that the chocolate won't seep through the seams of the pies as they're baking.

Place 2 slices of banana on top of the chocolate spread. Sprinkle a few hazelnuts around of the bananas. Place one of the plain pastry circles on top and use your fingers or the tines of a fork to crimp the edges together.

Transfer pies to prepared baking sheet. Use a pastry brush to apply milk to the tops of the hand pies. Sprinkle each pie with some cinnamon sugar.

Place pan in oven and bake for 18-20 minutes, or until pastry is golden brown. Remove pan from oven and allow pies to cool for a few minutes before serving.
Nutrition
Serving:
1
hand pie
Calories:
335
kcal
Carbohydrates:
39
g
Protein:
3
g
Fat:
18
g
Saturated Fat:
13
g
Sodium:
24
mg
Potassium:
344
mg
Fiber:
3
g
Sugar:
31
g
Vitamin A:
20
IU
Vitamin C:
3.1
mg
Calcium:
64
mg
Iron:
2.4
mg