Purple Sweet Potato Pie Recipe
It's sweet potato pie, ya'll! Here I go again… the girl from the Midwest trying to pretend that I'm born and raised southern. Remember the southern sweet potato casserole I made a few weeks ago?
Well, I just couldn't put down the south this time, either.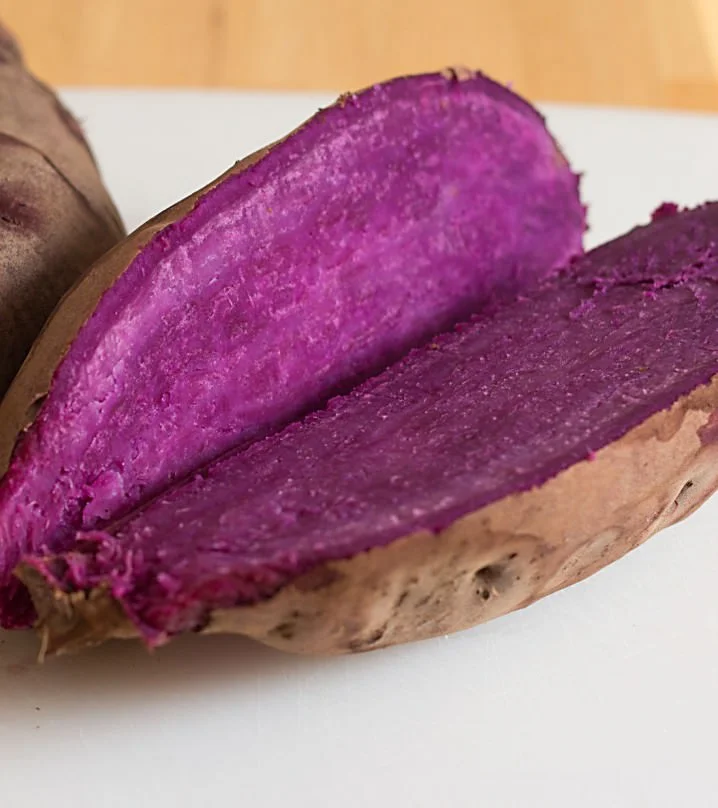 I received some gorgeous Stokes Purple® sweet potatoes from my friends at Frieda's produce, along with a box full of goodies like ginger, apples, and some dried fruit. I'll be creating dishes with them later, but for now, let's focus on a Thanksgiving pie that will make your guests stand up and pay attention! Yes, you might get some funny looks from Aunt Martha when you put the pie onto the table, but I'm telling you, the creamy texture of these potatoes is something that you just can't miss, and WOW, what a presentation they make! Look at the gorgeous color!
You can learn all about this amazing vegetable on the Frieda's website, but let me tell you right away that this is an ALL NATURAL vegetable. There's nothing genetically modified about it. Just good old fashioned healthy sweet potatoes in a fun color. They even sell an organic variety, too.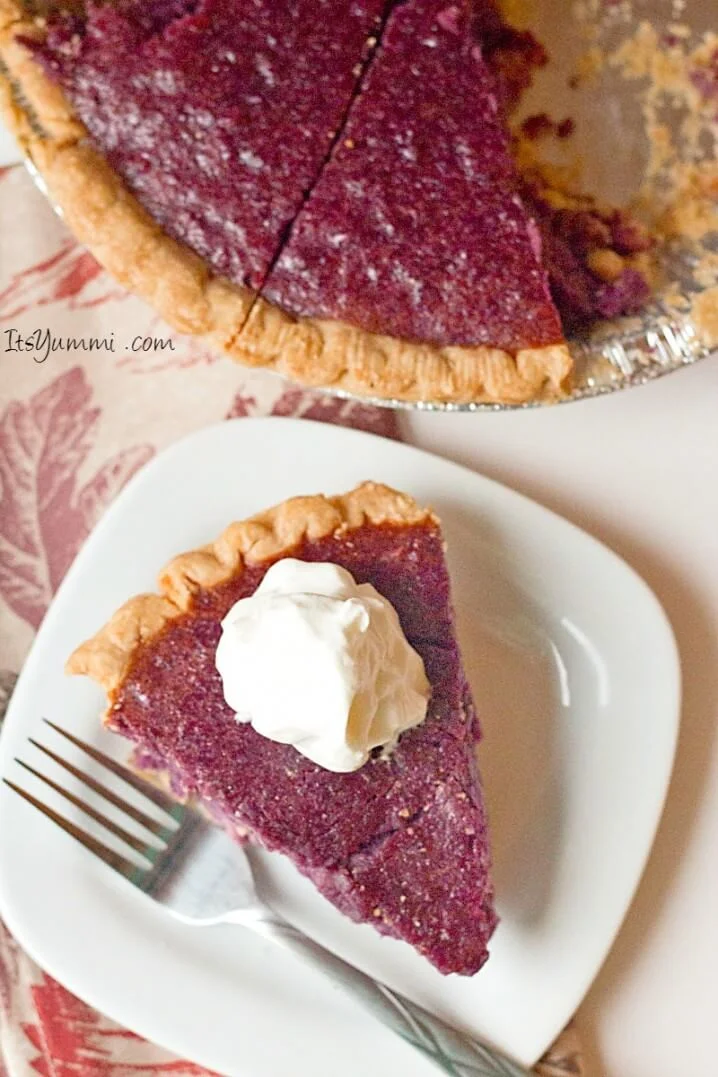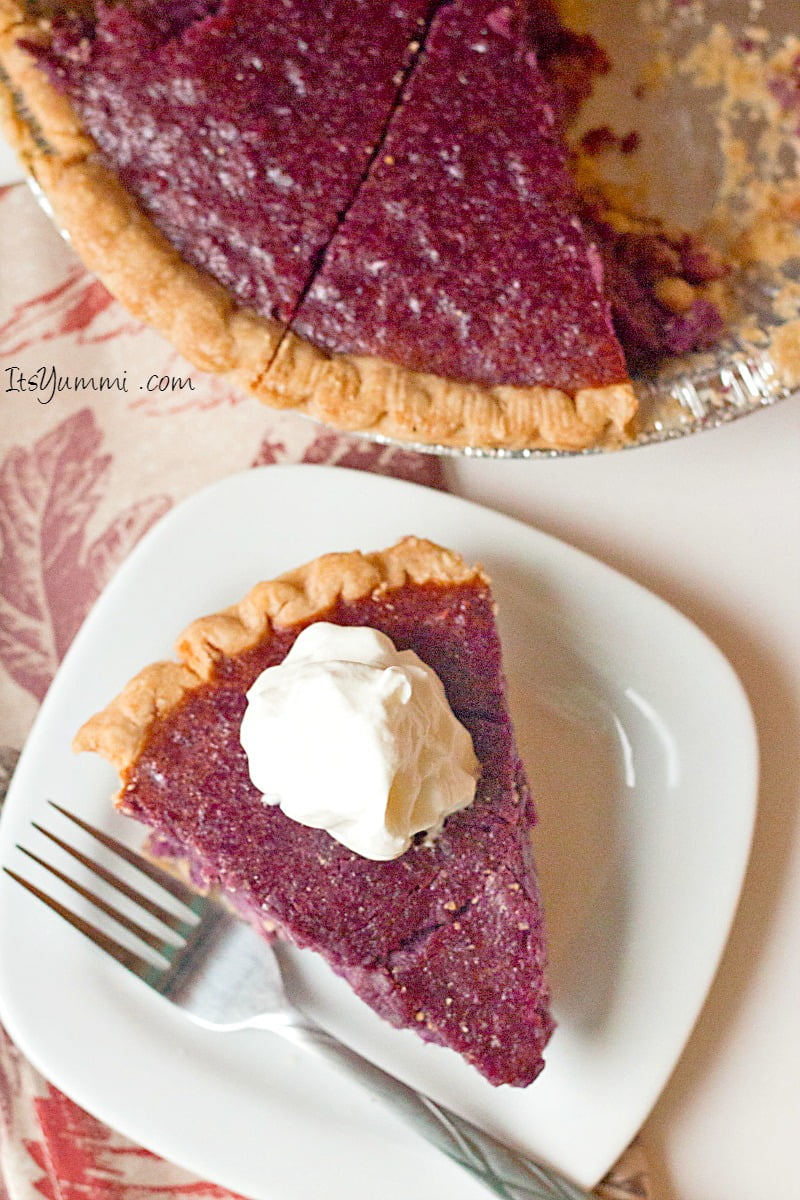 Until I made this pie, I had never even tasted sweet potato pie. Honestly, I love sweet potatoes, but the thought of turning them into a custard didn't really appeal to me. When I got the sweet potatoes, I figured I would make purple sweet potato chips with them, or use the Frieda's website recipe database to find something similarly delicious to use the potatoes in. Then it happened. It = fate.
I received my email subscription to David's blog, and guess what his recipe was… Yup, sweet potato pie!
Incidentally, have you been introduced to David and his blog, Spiced? Good gravy, that man can cook…and bake! Anyway, his post was for a classic southern sweet potato pie that looked so flippin' delicious, I just had to bake one up. Like, immediately. As in an hour after I saw his post. You can't say I'm not spontaneous, right?
Because David's originally from the south, I figured that his recipe would be the most authentic and the perfect one to use. Let me tell ya, the recipe does not disappoint. The only difference between my pie and David's is that his uses regular sweet potatoes and mine are purple. Actually, that's not true. He made his own pie crust and I used a frozen one from the store, because I had it ready to go in my freezer.
Oh, and because I'm a bit lazy.
I recommend that you do as the smart man did and make your own crust. Use my easy pie crust recipe and you can knock it out in less than 5 minutes.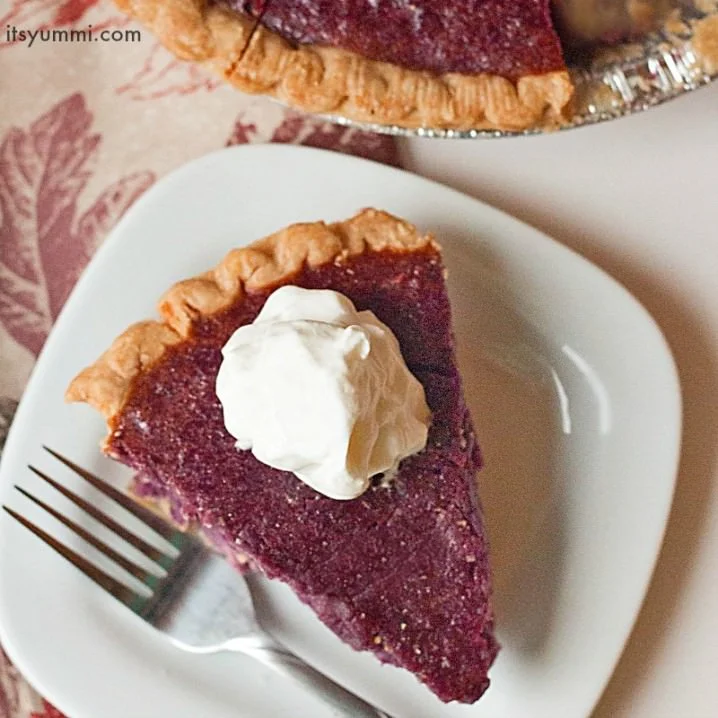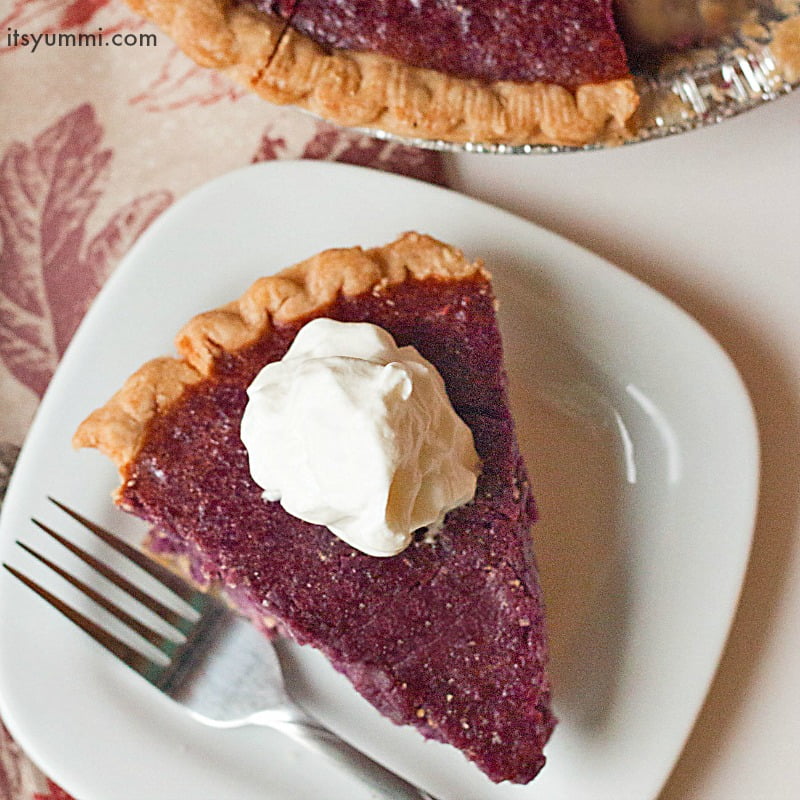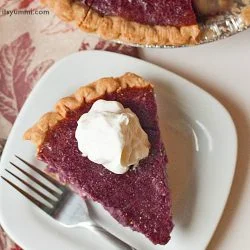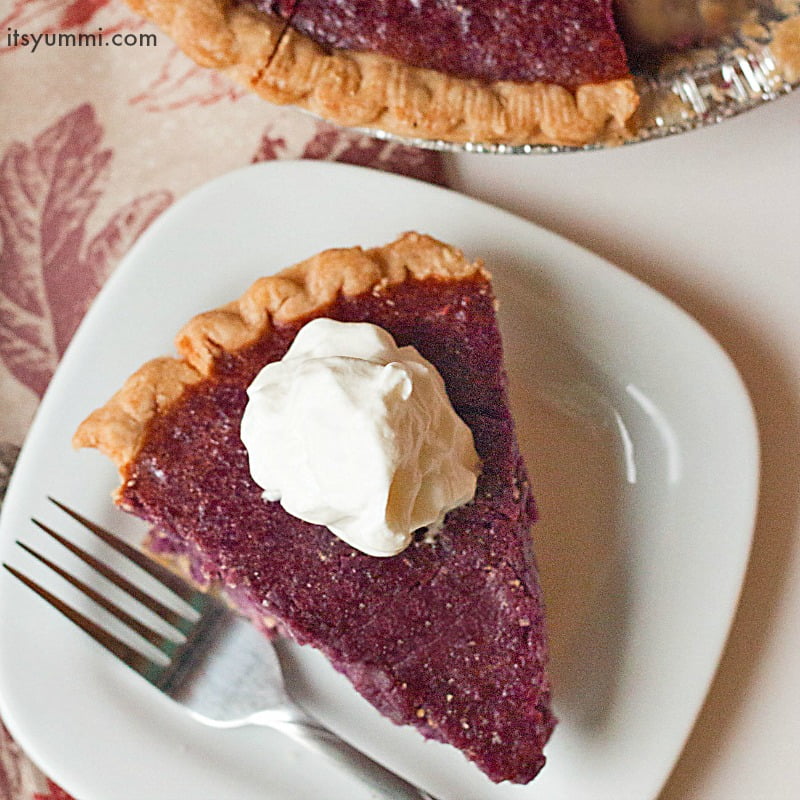 Purple Sweet Potato Pie Recipe
A southern inspired purple sweet potato custard pie. Perfect for Thanksgiving!
Ingredients
3

medium sweet potatoes (I used purple)

2.5

ounces

(5 Tablespoons) unsalted butter

7.5

ounces

(1 cup unpacked ) brown sugar

3

large eggs

6

ounces

(3/4 liquid cup) evaporated milk

½

Tablespoon

real vanilla extract

1

teaspoon

ground cinnamon

½

teaspoon

ground nutmeg

¼

teaspoon

kosher salt

pie crust (homemade or store-bought)

whipped cream

for garnish
Instructions
Place sweet potatoes into a large pot of boiling water; cook until tender, about 20 minutes.

Turn oven on at 350°F to preheat.

Drain potatoes and cool slightly, then use a spoon to remove potato from the skins. Use potato masher to mash potatoes in a large bowl until smooth and creamy; set aside. (Alternatively, you can use an electric mixer to mash the potatoes, but be very careful, as mixing too long will cause them to become pasty and sticky.)

Cream together the butter and sugar until light and fluffy; Add the eggs and mix until well combined. Add the mashed sweet potatoes, evaporated milk, vanilla, cinnamon, nutmeg and salt. Mix until well combined.

Transfer mixture into unbaked pie shell. and place onto center rack of the preheated oven.

Bake for 50-55 minutes, or until a toothpick inserted in the center of the pie comes out clean. (Tip: Check crust after about 40 minutes. If it's browning too quickly, cover crust with a thin strip of aluminum foil.)

Remove pan from oven and transfer to a wire rack to cool. Serve chilled or at room temperature, using whipped cream as garnish, if desired.
Nutrition
Calories:
266
kcal
Carbohydrates:
39
g
Protein:
5
g
Fat:
11
g
Saturated Fat:
6
g
Cholesterol:
95
mg
Sodium:
144
mg
Fiber:
2
g
Sugar:
30
g